WiseBarber's .50 Caliber Cordless Review: A Comprehensive Guide
Powerful magnetic motor
Stellar battery life
Ultra-durable blades
Design could use a few improvements
With a robust and powerful motor, exceptional battery life, and extremely efficient blades, the .50 Caliber cordless clipper ranks among the best cordless clippers in the world.
Read on to learn why.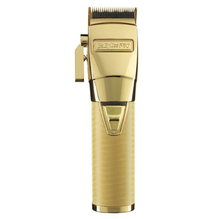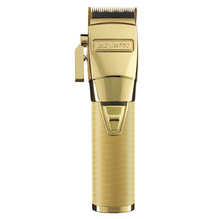 BaBylissPRO GoldFX Clipper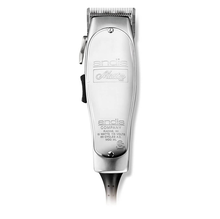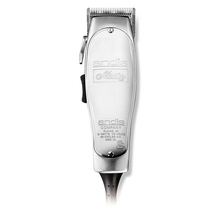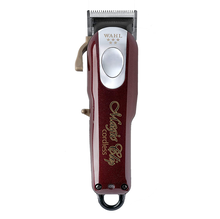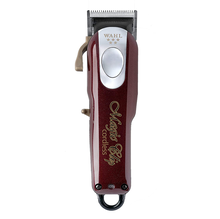 .50 Caliber Cordless (Full Review)
So, today I want to review the .50 Cal by Caliber.
And, no – I'm not talking about guns. 
I'm talking about a sleek, relatively new hair clipper causing a buzz in the barber world.
Now:
Caliber is one of the world's youngest hair clipper companies, however, it's already causing quite a stir across the globe with its highly-impressive product lineup.
Anyway:
The .50 Caliber cordless clipper is one of their most reliable, efficient, and flexible cordless clippers to date – hence, this review.
So, what makes it so great?
Well, a lot of things. And that's why you are here.
In this .50 Caliber cordless review, I'll be looking at its:
Features & functionalities
Usability and handling
Comparisons to other clippers
Its pros and cons
Lastly, my thoughts and general evaluation
Sounds good?
Let's get started.
.50 Caliber Cordless Review: Features and functionalities
The biggest questions in any buyer's mind are always:
What makes a clipper worth it? Or why should I spend my money on it and not any other clipper?
Well, the first step in answering these queries is by looking at the features and functions a clipper has to offer.
Here's what you need to know about the .50 Cal:
A Powerful Magnetic Motor
Now:
What does a powerful motor mean to a professional barber?
For me, a powerful motor needs to be robust and tackle any hair type with ease.
And guess what?
The .50 Caliber's motor fits that description.
This clipper features a linear magnetic motor that serves up an impressive 10,000 strokes per minute.
Not many cordless clippers can boast of such quality.
Also:
Although this clipper's motor doesn't yield a lot of torque, it serves up just the right amount.
Note:
A perfect combination of speed and power ensures you have complete control over your haircuts; from bulk removal to just light trimming.
Even better:
You won't have to go through the annoying routine of making several passes over the same spot; which, apart from being frustrating, takes up a lot of time.
Another cool feature about this motor is that it runs super quiet; which is impressive if you consider the speed and power the motor generates.
Moving on…
Impressive Taper Blades
Now:
If you've been searching for durable, sharp, easily-adjustable, and most of all, easy to clean blades, I am happy to report that the .50 Cal's blades don't disappoint.
How?
The .50 Caliber cordless clipper features a 440C Japanese taper blade.
And if you're wondering:
What's so special about them?
Well, they are sharp, durable, and highly effective.
When you combine these blades with a powerful motor, your haircutting experience becomes worthwhile and special.
These blades will cut down any hair they come into contact with immediately.
This means no snagging, no pulling, and no stalling.
Moreover:
You can zero gap the blade for greater precision while cutting; this feature means all your line ups, fading, and blending needs are taken care of.
Very Reliable Lithium-Ion Battery
Arguably, this is one of the best features you get from the .50 Cal hair clipper.
How?
Well, it comes with a Lithium-Ion battery – like most cordless clippers – with up to four whole hours of continuous runtime – unlike most cordless clipper.
Amazing, right?
It's quite unusual to find a hair clipper that can operate such a strong motor for that long.
Moreover:
It takes only 90 minutes to fully recharge.
A 5-Click Taper Lever
Another convenient feature of the .50 Caliber cordless clipper is its click taper lever.
Now:
This lever has 5-click levels and isn't too stiff.
And this ensures you can make precise adjustments to the blade quite easily.
However:
Since this feature involves metal on the lever going over plastic notches on this clipper, the notches tend to wear out easily.
Other Cool Features
Extremely flexible: First, this being a cordless hair clipper with over four hours of runtime means that you can cut from anywhere and at any angle regardless of the hairstyle. Secondly, if you are working or traveling outside the US, then this clipper will come in very handy. Because its input is 100V – 240V and 50/60Hz, you should be able to charge and use it anywhere in the world.
Design: The .50 Cal clipper is housed in a plastic polymer that is durable, sturdy, and to some extent, ergonomic.
Now:
I don't want to get in too deep in the features because I know there's still a lot I need to cover.
So, I'll leave this section at that.
Up next:
Let's gauge this clipper's usability and handling.
.50 Caliber Cordless Review on Its Usability and Handling
I think we can all agree:
How a clipper holds up in live-action is as crucial as how powerful its motor is, how effective the blades are, and so on.
So, let's see how the .50 Caliber fairs in this regard.
For starters, it has good ergonomics.
As such, it is easily maneuverable and can be used for extended periods.
What's more, this hair clipper features a plastic polymer housing which is durable and super sturdy.
Also:
It is very comfortable to hold because it has minimal vibrations and noise.
But:
You should note that this clipper isn't a beauty; that means it doesn't have an elegant finish or design per se.
However:
It is quite the performer.
You are going to love its:
Super-easy-to-use deep-tooth blades,
10,000 SPM motor,
And impressively long runtime.
Plus:
It's conveniently adjustable and can be zero gapped – quite easily in fact.
Don't expect this clipper to snag or pull hair at all.
Lastly:
The .50 Caliber cordless clipper comes with 5 magnetic guards that work fine.
However:
If you'd like greater versatility, you can use your Wahl premium guards.
Well, this all sounds good, but the .50 Caliber des have some downsides.
For example:
Its design and overall ergonomics could be better; especially, in weight balancing. What's more, the blades can get hot after extended use. And, finally, the taper lever could use a few improvements for added durability.
Anyway:
The review doesn't end here.
There are still a few things I must discuss before the final verdict.
Comparison with other clippers
Now:
To get a good feel of what the .50 Caliber is capable of, we'll need to benchmark it with its competition.
So, here are a few close comparisons for you:
What's in the Package?
Now, let's see what you will find inside the box.
Blade oil
Charging dock
Cleaning brush
6 magnetic guards
And a user manual
What do you think? Let me know in the comments below.
Summary of Merits
Before I wrap it up, here is a quick summary of the Caliber .50 Cal clipper's pros and cons.
Pros
Powerful linear motor with up to 10,000 SPM
Fitted with a durable 440C Japanese taper blade
Blades can be zero gapped
Stellar battery performance with a 4-hour runtime
5-click taper lever
Super quiet
Easily cuts through any hair type
Durable and sturdy housing
Cordless nature allows for greater flexibility
Cons
Ergonomics and finishing could use some improvements
The taper lever system isn't that durable
My Final Verdict
Now:
Is this the best cordless clipper available?
In my opinion, it is among the best – I mean, what's not to love about it?
It comes fitted with a super quiet yet powerful motor, durable blades, and an exceptional battery.
Sure, the .50 Cal clipper does have some drawbacks like the design and finish.
However:
They won't interfere with your haircuts or experience at all.
Therefore, I'd recommend it to anyone looking for a reliable, flexible, and durable machine to meet their professional barbershop needs.
Well, that's all from me.
If you have any questions or thoughts, please let me know in the comments below.
Stay tuned & #StaySafe.
More from Mike Medders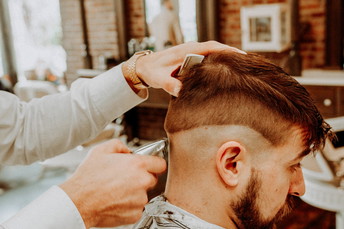 Trust me, I've been on both sides of the chair. I can't count the number of times a client has sat down and struggled…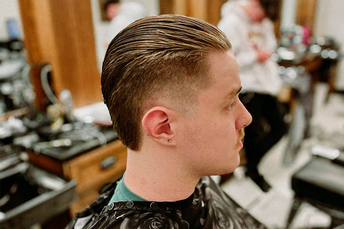 50 Different Ways to Rock the Slick Back Hairstyle for Men 1. Slick Back Fade @jules.thebarber Look: The slick-back…