Shopping Guide: The Best Hair Pomade Products for Men in 2023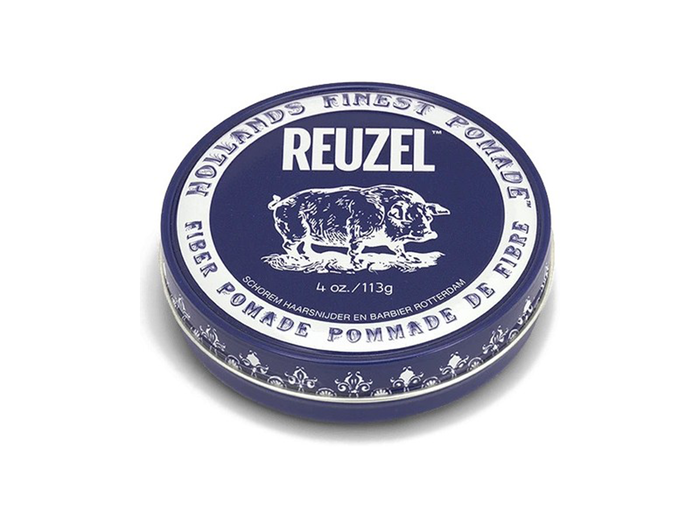 WiseBarber Top Pick
Reuzel Fiber Pomade
We can all agree on one thing:
Hair products play an important role in keeping our hair looking stylish, healthy, and clean.
And:
Hair Pomades are widely used these days; thanks to their ability to make hair darker, shinier, and slicker. However, with so many brands and products available today, you may find yourself wondering…
Where and how can I get a good quality pomade for my hair?
If so, you're in the right place.
In this post, I'll walk you through some of the best hair pomades for men in 2023.
Now:
The biggest questions I want to answer through this review are:
Which is the best hair pomade for men available?
Why is it the best?
And what do you need to look out for when shopping for a good quality pomade?
I know you are probably asking the same questions.
In this review, I'll walk you through everything there is to know about Pomades.
Sound good?
Anyway:
Let's get started…
Rating Summary
| Rank order | Product name | Features (max. 10) | Usability (max. 10) | Value (max. 10) | Overall Rating | |
| --- | --- | --- | --- | --- | --- | --- |
| 1. | Reuzel Fiber Pomade | 9.8 | 9.7 | 9.7 | 97.1 % | See details |
| 2. | Rocky Mountain Pomade | 10 | 9.3 | 9.4 | 95.8 % | See details |
| 3. | Suavecito Firme Hold Pomade | 9.8 | 9 | 9.7 | 94.8 % | See details |
| 4. | Layrite Superhold Pomade | 9.8 | 9 | 9.2 | 93.2 % | See details |
| 5. | Pacinos Pomade | 9.8 | 8.7 | 9 | 91.4 % | See details |
| 6. | Uppercut Deluxe Pomade | 9.8 | 9 | 8.6 | 91.2 % | See details |
| 7. | American Crew Pomade | 9.5 | 8.7 | 8.6 | 89.2 % | See details |
| 8. | Baxter of California Clay Pomade | 9.3 | 8.7 | 7.9 | 86.1 % | See details |
That said:
You might be wondering; what makes these pomades worth a spot on this list?
If so:
Here's a look at each one and why you'll love (or hate) them…
The 8 of the Best Hair Pomade for Men in 2023
Reuzel has designed a market-leading fiber pomade that maximizes control and delivers a high hold, low shine, texture, and definition. Here's why I think it's the best.
Affordable, Efficient, and Ideal for all Hair Types.
In a nutshell:
The Reuzel Fiber Pomade offers enough hold to ensure your hair stays in place throughout the day. It also works well with most hairstyles and types.
This product also offers a medium shine which will leave your hair looking natural but not greasy.
In addition, Reuzel's Fiber Pomade has a lovely natural fragrance of vanilla and mint overtones that will keep you feeling fresh and active all day.
Impressive, right?
Its pliability gives you more control; allowing you to spread the pomade throughout the hair and style it quickly and easily.
Note:
This product has a soft and smooth texture that ensures you can easily use it on all your favorite hairstyles without dealing with any uncomfortable stickiness or greasiness.
Moreover:
If you have thin or fine hair, this product will help to thicken it, giving your hair a fuller and healthier look.
And if that's not enough, the Reuzel Fiber Pomade is water-soluble and comprises of beeswax and lanolin wax. These ingredients ensure that the product won't harm your hair or skin, and you can easily wash it off.
Pros
Water-soluble
Nice, gentle scent
All-natural formulation
Affordable and good value for money
Quality, durable container
Final Verdict
Reuzel's pomade may not have revolutionized the water-based fiber pomade market, but it does have all the necessary characteristics of a fantastic hair care product.
And the fact that it offers great value for money makes it a wise purchase.
Aside from being an Amazon.com best-seller and the most popular pomade in Canada, the Rocky Mountain will leave your hair with a natural and healthy shine while keeping it in place all day long.
How does 20% more product sound?
Well, that's what you get from the Rocky Mountain Barber Company hair pomade.
Anyway:
Despite being a classic styling product, this pomade is designed to provide strong hold and a high and healthy, natural shine.
So, whether you are wearing a side part, slick back, a pompadour, or any modern hairstyle, this pomade will work magic to leave your hair looking great for long.
Furthermore, it is a water-based pomade that has an all-natural formulation that ensures it is easy to wash off and won't damage your skin or hair.
Basically:
You can quickly rinse it off without stripping your hair of its essential oils.
What's more?
This pomade has a light and natural scent that won't overpower your aftershave, cologne, or body wash.
Pros
Water-based pomade
All-natural formulation
Sweet and subtle scent
You can use it with most hairstyles and types
Best value for money
Cons
May clump up a bit
The scent may be underwhelming for some
Final Verdict
Without a doubt:
The Rocky Mountain Hair Pomade is a purchase you'll never regret.
This product is easy to apply and will keep your hair in place throughout the day. Furthermore, considering the product's price and quality, you'll get an excellent value for money by adding this product to your styling regime.
Suavecito Firme Hold Pomade
If you are styling a haircut that requires shine and strong hold, you should give this water-based pomade a lot of consideration. Here's everything you need to know about this awesome product.
Get this:
The Suavecito Firme Hold Pomade is, without a doubt, a stout contender for the title of "Best Hair Pomade for Men."
It's quite popular in North and Central America and a best-seller on most online retail sites.
So:
What makes it so great?
Well, for one, this pomade has a thick, cola-colored appearance (looks more like dark honey but not as sticky) with a sweet masculine smell (similar to old-fashioned colognes for men).
Also:
Being a water-based product, this pomade is easily applicable and won't give your hair that irritating sticky feel.
What's more, Suavecito's pomade is soluble, meaning it will easily wash off.
And what about strength?
Well, technically speaking, the level of strength offered by a product depends on the amount you apply. However, Suavecito's Firme Hold pomade will stay strong all day without any need for restyling.
Moreover, you can use it on most hairstyles and hair types.
Now:
Here comes the best part:
Affordability. Yes, this brand produces some of the most affordable pomades in the market. And that, in turn, offers users great value for their buck.
Pros
Water-based pomade
Easy to apply
Strong, durable hold
Very affordable
Easy to wash off
Cons
The scent may be irritating to some
Final Verdict
If what you are after is a structured and robust style, the Suavecito Firme hold pomade is a must-have.
Being a water-based pomade, it will quickly work into your hair without making it feel like dry straw. Moreover, you can easily wash it off at the end of the day.
Developed "for barbers by barbers", Layrite is a legendary and trendy pomade brand. It offers some of the best grooming products available on the market, including its Original and Super Hold pomades.
Now:
The main difference between the brand's signature and bestselling products – the Layrite Super Hold Pomade and the Layrite Deluxe Original Pomade – is the level of hold.
As you can guess, the Super Hold pomade offers a stronger hold than the latter.
However, both products have the same shine, consistency, smell, and texture.
More so:
Both of these products provide a medium shine. However, they are not matte products, but they won't leave your hair glistening with grease either.
So, here's the thing:
The scent is subjective but trust me when I say that you are more likely to love Layrite's fragrance.
The best way to describe its scent is that it's a soft and sweet floral, vanilla smell that isn't overpowering.
You'll find that this pomade is homogeneous and smooth in the realm of texture – much like hair gel but thicker and not sticky.
Anyway:
One of the biggest perks of using this pomade is its super-hold quality.
Generally, the Layrite Super Hold Pomade is more suited for unruly, coarse, wavy, or curly hair.
And, what about the ingredients?
Well, this pomade is formulated using all-natural ingredients with no harsh chemicals to damage your hair or scalp. So, if you're into healthy hair and skin, this is a definite plus.
Lastly:
This product is water-based, meaning it is easy to wash off.
Pros
Offer a reasonable amount of hold
All-natural ingredients
Water-based
Soft and sweet scent
Awesome, smooth texture
Easy to use
Good value for money
Cons
Some may find the scent a bit strong
Final Verdict
The Layrite Super-Hold Pomade is an impressive product that's suitable for most hair types.
It will give you a strong hold throughout the day with ease. No matter which product you choose, you can never go wrong with Layrite.
For smoothness, pliability, and definition, this is the product for you. Simply put, Pacinos Pomade is designed to work with almost any hairstyle; whether classic or modern. Read on to learn more.
Get this:
With a perfect balance between shiny and textured, this pomade will give your hair a soft, moisturized, and natural look.
And that makes it one of the best pomade products for men who rock medium-length hairstyles like Side Parts, Pomps, Ivy Leagues, Comb Overs, and more.
Now:
It also has a pleasantly sweet and delicate scent that won't overwhelm your body spray or cologne.
Moreover:
The Pacinos Pomade is formulated with all-natural ingredients designed to also condition and moisturize your hair.
Impressive, right?
What's more…
This product is water-based; meaning it will wash off easily without leaving any oils or excessive residue on your scalp or hair.
And the best part about this is that it is free of harmful chemicals that may cause damage to your hair or skin.
Lastly:
I'm sure you'll appreciate its texture.
This pomade's texture is smooth and thick but not sticky. Therefore, it is easy to work with and apply.
Pros
Water-based pomade
Conditions and moisturizes your hair
Sweet and delicate scent
Easy to wash off
User-friendly
Final Verdict
For those looking for a flexible, medium-hold pomade to style their short to medium-length hair, Pacinos pomade is an excellent choice.
It's not only easy to use but also offers great value for money and maintains your hairstyle easily all day long.
As a top-tier men's haircare brand, Uppercut lives up to its reputation by providing one of the best hair care products in the market; the Uppercut Deluxe pomade. Here's what you need to know.
Have you ever wondered?
Where can I get a High Hold pomade that won't stiffen my hair? If so, the Uppercut Deluxe Pomade might be what you're looking for.
Now:
This product offers a medium to firm hold making it perfect for most applications and hairstyles.
Of course, this will vary depending on the amount of pomade you use and whether you apply it to dry or wet hair.
So, after proper application of the pomade, expect it to get you through the day without needing to restyle your hair now and then.
What's more?
The Uppercut Deluxe pomade offers a high and healthy-looking shine, making it ideal for most modern hairstyles.
If you're searching for a quality, subtle finish to your hairstyle, this pomade is a perfect choice.
Moreover:
It has a smooth texture with no lumps or molds. However, some have claimed that the pomade starts to feel stringy after a long time in the jar.
But, if you are a daily user, you won't have to worry about this.
As for the scent, this pomade's smooth coconut fragrance is excellent. It creates a sweet, laid-back vibe that won't overpower your body cologne.
And if that's not enough:
The Uppercut Deluxe Pomade is water-soluble, meaning it washes off quite easily. This makes it very healthy for your scalp and hair.
Pros
It offers an excellent, reliable hold
Water-based pomade
Awesome smell
Easy to apply and wash off
Works well with most hair types
Stiffness-free
Cons
Sometimes it becomes stickier than expected
Final Verdict
Why should you buy it?
Well, the Uppercut Deluxe Pomade is a quality product packed with great benefits and ingredients. This hairstyling cream is also suitable for all hair lengths and not to mention easy to apply and wash off.
In a nutshell, the American crew pomade is easy to apply and wash off; it doesn't harden up – like most water-based products and offers a medium hold and a nice, high shine. Here's what you need to know.
Are you searching for a pomade that's not only elegant and classy but also efficient enough to get the job done easily and perfectly?
Well:
The American Crew Pomade fit's that description.
For starters, this pomade uses all-natural ingredients to ensure no harm comes to your hair or scalp.
It is also ideal for most hairstyles – short or long – meaning both men and women can use it. What's more, this pomade will provide you with a high, healthy shine and medium hold for awesome haircuts like G-Eazy's Slick Back.
Great, right?
Another fantastic feature about the American Crew Pomade is that it will keep your hair together all day without any stiffness.
So, what about the scent?
Well, you can expect a sweet and pleasant – but not overwhelming – masculine fragrance.
Moreover:
It is quite easy to wash off once you're done flaunting your fabulous hairdo.
Now:
One major downside is that this pomade won't work with every hair type, especially very curly, wavy, or thick hair. However, if you have such hair but prefer somewhat messy or loose styles, then go for it.
Pros
Water-based pomade
Easy to wash off
Long-lasting
All-natural ingredients
Amazing scent
Medium hold with high shine
Final Verdict
It's a fact – the American Crew Pomade does what it was designed to do; provide medium hold with a nice, healthy-looking, high shine.
And if you are after some structure and definition in your hairstyle, then this pomade was made for you.
Baxter of California Clay Pomade
As an all-natural and organic clay pomade, Baxter of California guarantees a reliable, pliable, and strong matte finish. But why does it have a low WiseBarber rating? Read on to find out.
Now:
Don't get me wrong – despite its rating, this pomade product is one of the best on this list.
The Baxter of California (Clay Pomade) would have scored a clean +95% WiseBarber Rating were it not for the fact that:
It is Oil-Based – Yes, its hold is much stronger than water-based pomades, but it's also not so easy to wash off.
It is Expensive – I know a $24 price-tag may not mean a lot for most buyers. However, spending that much on a 2 Fl Oz pomade is not so pocket-friendly, right?
Anyway:
Despite its setbacks, the Baxter of California Clay Pomade is still a great hairstyling product.
With a blended formula of beeswax and clay, this impressive pomade is a real game-changer for every man.
How?
For one, this product is thick with a creamy texture, is easy to work with, and goes through hair quite smoothly.
It also works great with short, medium, and long hairstyles, so whether you have a medium-length comb-over, a short crew cut, or a longer haircut, this pomade will work for you.
Its beeswax ingredient will leave your hair looking fuller and thicker, while the clay will give you a styled, tamed, and textured feel.
And, do you want to know the best part?
This matte pomade has a sweet citrus and sage scent. Therefore, expect to smell fresh and dapper all day.
Pros
Sweet sage and citrus scent
Strong grip
It offers the perfect level of texture
Great for most hairstyles
Cons
Oil-based pomade
Most expensive item on this list
Final Verdict
Now:
When I say this matte-finish clay pomade from Baxter is a game-changer, I'm not kidding.
With its organic, all-natural ingredients, this pomade can do what most other products can't; work with almost any hairstyle. So, if you want a high hold pomade to tame your unruly hair, this is the product for you.
But:
You will literally pay a hefty price for it and this pomade may require more shampoo and effort to wash it off.
Anyway:
This marks the end of our product reviews. But, before I wrap things up, here are a few shopping tips that you can use when shopping for your ideal pomade.
Top 5 Factors to Consider While Shopping for Hair Pomade
I'm going to level with you:
Choosing a pomade that works with your hair and style is no easy feat. This is true for both novices and veterans.
Things are made all the more complicated with the sheer amount of choices available. But don't fret; here are some tips to help you narrow the playing field:
1. The Type of Pomade
In today's market, you'll find two kinds of pomade – water-based and oil-based.
Now:
Water-based pomades are soluble, meaning that they usually have a stiffer finish, can be washed off easily, and are generally more versatile.
Moreover, being water-soluble makes them kinder to your scalp and hair in the long run.
Meanwhile:
Oil-based pomades are formulated using insoluble ingredients – like petroleum – making them greasy. This means that they are often shiny, slick, and can offer a much stronger hold.
However, it is wise to note that they can be a pain to wash off, resulting in product build-up on your scalp. This build-up is not good for your scalp and can easily cause acne if you have sensitive skin.
2. Fragrance or Scent
Another factor to consider while shopping for a pomade is the scent.
Now:
Choosing the right fragrance is more art than science.
Remember, the scent is subjective.
For example:
While a friend may like a light scent infused with black pepper, you may want something more potent and infused with something else. So, even if a particular scent is appealing to you, it may not resonate well with others.
As such, the key is finding something that's light and sweet. That way you won't end up confusing people with multiple, varying scents from your cologne and pomade.
3. Your Hair Type and Length
Having proper knowledge of your hair (e.g., hair texture, length, and type) is essential when picking out a styling product – such as a pomade.
Why?
Because different pomades are made with varying types of hair in mind.
The best pomade for thick, coarse, and tough hair may not be ideal for people with thin, soft, curly, wavy hair…
Luckily:
Most of these products often come with specifications on the best type of hair to use them on.
4. Your Hairstyle
So, what about your hairstyle?
Do you want the almighty pomp, a ducktail, or a nice but dramatic Quiff?
Generally, if your haircut requires a durable and stronger hold, then you will need a thicker formulation.
However, if you are after a softly polished appearance, then a lightweight pomade is sufficient.
What's more?
Make sure you consider the level of shine (sheen) you want.
For a softly-polished formal appearance, you'll want a low sheen; while a high sheen pomade gives a classier, more laid-back look.
5. Your Budget and Value for Money
When shopping, the rule is always simple:
Spend less for more - because that's how a product's value for money is determined.
Get this:
My idea of an ideal price would be somewhere below $7 per ounce of pomade. Anything above that is unnecessarily overpriced.
Always read through product reviews so that you can get a clearer picture of what you want to buy. Trust me – the last thing you want is to spend money on something that won't be of use to you.
And:
To make it easier, you can always ask your barber or stylist for recommendations.
In Conclusion…
And there you have it – everything you need to know about the best hair Pomade for men in 2023.
By now, you should have learned two important things:
Water-based pomades are often the best and most convenient to use.
You have to take into consideration your hair type, length, and the overall result you want to achieve when shopping for these products.
With all these in mind, finding a great pomade for you should be easy.
Do you have any questions? Or is there something I've missed? Well, be sure to let me know in the comments section below.
Frequently Asked Questions
The pomade that you should use depends on the hold and shine level you are looking for. These two are determined by the hairstyle you are going for and the type of hair. If it's a quiff, then you will need a high-hold pomade that will hold the hairstyle in place throughout the day. If it's thinning hair, you are best suited with a medium hold clay pomade that will hold the hairstyle in place, without weighing it down.
Apart from styling benefits, pomades with healthy ingredients are beneficial to the hair. Some of the healthy ingredients that you will find in hair pomades include coconut oil, castor oil, beeswax, bentonite clay, essential oils, etc.
The best type of pomade is the water-based type. A water-based pomade is easier to wash off and doesn't require the use of shampoo. These pomades also don't leave the hair looking greasy and can be applied when the hair is wet or dry.
The strongest pomades are the oil-based pomades. These traditional-based pomades provide one of the strongest holds you can get from a pomade, making them ideal for coarse hair. The only downside is that they are hard to wash off. Thanks to technological advancements, we now have water-based pomades that can match such hold levels.
More from Mike Medders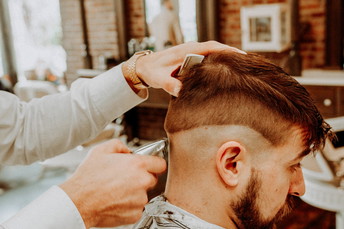 Trust me, I've been on both sides of the chair. I can't count the number of times a client has sat down and struggled…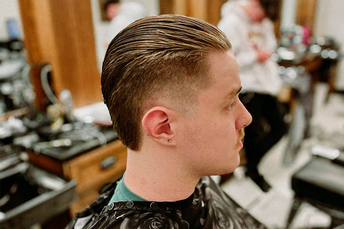 50 Different Ways to Rock the Slick Back Hairstyle for Men 1. Slick Back Fade @jules.thebarber Look: The slick-back…
Newest articles
Trust me, I've been on both sides of the chair. I can't count the number of times a client has sat down and struggled…
50 Different Ways to Rock the Slick Back Hairstyle for Men 1. Slick Back Fade @jules.thebarber Look: The slick-back…
Here is the thing: Manscaped's Peak Hygiene Plan subscription might be one of its sneakiest marketing tactics. Thanks…