WiseBarber Shopping Guide: The Best Beard Balm in 2023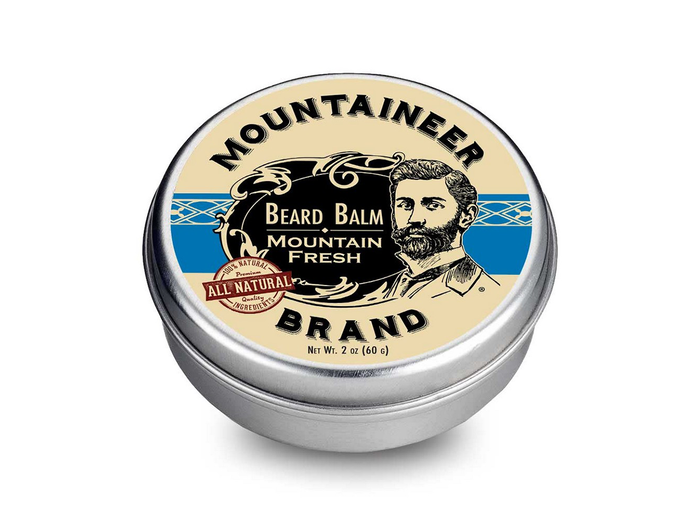 WiseBarber Top Pick
Mountaineer Magic Beard Balm
Now:
There has always been some confusion when it comes to beard care products and what they do.
Mainly, beard oil and beard balm.
So:
They both share the same goal - to moisturize the beard hair and the skin underneath. However, beard oils have a light consistency while beard balms are heavier/thicker.
And:
You can choose one or both; depending on your preference
Anyway:
Oils aside, what do beard balms do?
Well, facial hair balms contain wax and butter that assist in giving a beard some hold or firmness during or after styling.
Balms are most convenient for men with unruly beards.
To summarize, the benefits of using beard balms include:
Working as leave-in conditioners for beard hair.
Moisturizing the beard.
Relieving facial hair itch.
Keeping the beard neat and in shape after styling.
Providing nourishment for facial hair.
That said, below is a list of six awesome beard balms for you to choose from and why they made it to this list.
So:
With the intro out of the way, it's time to take a deep dive.
As in, what makes each of the products below worth buying? What are their pros and cons? And how are they beneficial to your beard?
Well:
After a lot of research and based on user reviews, I have compiled a list of some of the best beard balms available today.
Rating Summary
| Rank order | Product name | Ingredients (max. 10) | Scent (max. 10) | Value (max. 10) | Overall Rating | |
| --- | --- | --- | --- | --- | --- | --- |
| 1. | Mountaineer Magic Beard Balm | 10 | 9.7 | 9.8 | 98.1 % | See details |
| 2. | Every Man Jack Beard Balm | 10 | 9.3 | 9.8 | 96.9 % | See details |
| 3. | Viking Revolution Beard Balm | 9.5 | 9.7 | 9.8 | 96.4 % | See details |
| 4. | Smooth Viking Beard Balm | 10 | 9.3 | 9 | 94.4 % | See details |
| 5. | Rocky Mountain Beard Balm | 10 | 9.2 | 9 | 93.9 % | See details |
| 6. | Old Spice Beard Balm | 8 | 9.2 | 9.3 | 88.1 % | See details |
WiseBarber Shopping Guide: 6 of the Best Beard Balms in 2023
Mountaineer Magic Beard Balm
Described as an all-natural conditioning beard balm, the Mountaineer Magic Beard Balm is the best beard care and styling for proper nourishment and a generally healthy look. Read on to learn more.
Note:
The Mountaineer Brand has a good reputation when it comes to men's hair products. And the reasons why are evident in its Magic Beard Balm.
So, why is this product the best one on this list?
Well:
For starters, it has a pine needle, Cedarwood scent with a hint of eucalyptus; not too strong or uncomfortable to wear. 
What's more, this product is perfect for daily use; especially because of its moisturizing effect on beards.
Mountaineer's Magic Beard Bald offers a medium hold that styles your beard while leaving it feeling soft.
Also:
This product is 100% natural; with ingredients that nourish your beard and promote healthy growth.
That's not all.
It also has conditioning abilities that make it ideal for dry and damaged hair.
Anyway:
Some of the ingredients you'll find in this balm include; almond oil, grapeseed oil, shea butter, cocoa butter, coconut oil, Vitamin E, fir needle oil, lime oil, beeswax, and botanical butter.
Pros
Offers a decent amount of hold
It is not greasy
Contains healthy, natural ingredients
Acts as a conditioner and moisturizer
Great for men who want a fuller beard
Nourishes hair
Cost-effective
Available in different scents
Cons
Not ideal for all beard types
Final Verdict
I always believe that any product that's imbued with healthy, natural ingredients is worth trying. And that's just a part of what you get from the Mountaineer Magic Beard Balm. It's a great balm that's designed to nourish, strengthen, and style your beard with ease.
Every Man Jack Beard Balm
With Every Man Jack Sandalwood Beard Balm, you can easily achieve a rugged, yet good-looking, beard style. This product offers value for money and protection against flaking, beard itch, and dehydration.
Every Man Jack Sandalwood Beard Balm is not only a quality product but also very effective.
How?
Well, for starters, this product hydrates the beard exceptionally well; thanks to its Jojoba oil ingredient. Moreover, it has Vitamin E which strengthens the beard hair and makes it smooth.
Other natural ingredients found in this balm are Tea tree oil; which makes the beard look richer, and shea butter for proper skin hydration.
What's more?
It has a light, sandalwood fragrance that's acceptable by most people with sensitive noses; thus, making it even more appealing.
Now:
The uniqueness of this product is that it is cruelty-free, paraben-free and it does not contain any dyes. And it comes in a 2-OZ container that's beautifully designed, eco-friendly, and durable.
And even better:
Those with gluten allergies can trust the Every Man Jack Sandalwood Beard Balm. Why? Because it is not made from gluten or any wheat-derived ingredients.
Pros
Made using natural products
Paraben-free, cruelty-free, and gluten-free
It hydrates the skin beneath the beard
It's pocket-friendly
Attractive design
Contains beard growth ingredients
Cons
It does not have a strong hold
Requires heating or a lot of rubbing for it to attain the right consistency for application
Final Verdict
I believe that the Every Man Jack Sandalwood Beard Balm is the choice for taming long and short beards with flyaways. But, its hold is not so strong; so, it will not work well with thick, untamable beard hair. However, the pocket-friendly price makes this a product worth purchasing.
Viking Revolution Beard Balm
No facial hair balm takes care of frizzy, thick beards quite like the Viking Revolution Beard Balm. This product's formulation allows it to effectively soften and style thick beards with ease and convenience.
Fact:
If you have been blessed with a long beard, then you know sometimes it can be hard to style. But… most of the time, it's all about the styling products you use.
Luckily:
With the Viking Revolution Beard Balm, styling a thick beard becomes easy.
This beard styling product also doubles down as a conditioner and moisturizer. Therefore, it allows you to keep itchiness and dandruff at bay.
Now:
One of the best perks of using the Viking Revolution Beard balm is its formulation.
This balm comes imbued with natural, essential oils that not only promote healthy hair growth but also aid in damage repair.
So, your beard will look and feel healthy.
In a nutshell, this Viking Revolution product is an all-natural beard balm; containing ingredients like Jojoba Oil, Mango Butter, Argan Oil, Beeswax, Sandalwood Seed Oil, Beeswax, and Eucalyptus Extract.
Impressive?
Well, there's more.
This balm is available in five variable fragrances – citrus, bay rum, cedar & pine, clary sage, and sandalwood. Therefore, increasing the chances of finding a scent that sits well with you and those around you.
Here's a plus:
Viking Revolution is a customer-centric brand. It offers a 100% customer money-back guarantee in case a buyer is not satisfied with the product or its results.
Pros
Promotes hair growth and damage repair
Controls itchiness and dandruff
Made from natural ingredients
Five scent options
It is easy to carry
Does not leave a greasy residue
Cons
Isn't as effective on tough, unruly beards
Final Verdict
Viking revolution is a trusted brand that has been known to make quality men's hair products. Their beard balm product has not been left behind. And as much as it has a medium hold, it has a pocket-friendly price. In short, it is the best beard balm for long beards.
Organic, nutritious, and effective are the best words to use when describing the Smooth Viking Beard Balm. It offers a strong hold for long, thick hair and a ton of healthy ingredients for proper growth.
Now:
For men with thick, unruly facial hair, the Smooth Viking Beard Balm is one of the best styling products to use.
It comprises natural ingredients like Jojoba Oil, Argan Oil, Sweet Almond Oil, Shea Butter, Castor, Sweet Almond Oil, Pumpkin Seed, and Candelilla Wax; just to mention a few.
This balm helps to retain beard moisture and controls itchiness. 
Also:
Since it has a high wax content, Smooth Viking Beard balm offers a very strong hold. That makes it easy to style and keep your beard in place all day long.
That aside:
This balm also acts as a natural leave-in conditioner. This promotes beard growth and keeps it healthy, while also eliminating skin irritation and dryness.
Scent-wise:
This product has a light, masculine, Nordic Spice scent that's accepted by most men and women. Generally, it won't compete with your cologne or overwhelm you.
What's more?
It has a lightweight consistency that makes it easy to apply. However, it tends to leave a little grease and may be uncomfortable for some.
Pros
Promotes healthy beard growth
Has a strong hold
Softens and conditions beards
All-natural formulation
Affordable
Smells nice
Lightweight consistency
Cons
It can leave a greasy residue on the beard
Final Verdict
The Smooth Viking Beard Balm is ideal for taming thick, tough beards (keeping them neat and presentable). The product's high hold has made it a favorite among men. And according to numerous reviews, this is a balm that can take your beard to the next level.
Rocky Mountain Beard Balm
If you are looking for a beard balm that suits every type of beard and length, this is it. The Rocky Mountain Barber All-Natural Beard Balm comes with premium ingredients and many functionalities.
Get this:
With over 2600 purchases on Amazon.com alone, the Rocky Mountain Beard Balm is among the best facial care products out there.
It's formulated to be as strong as wax.
With this hold characteristic, it can straighten curly hair, lay down thick unruly hair, and tame long hair.
Moreover:
It boasts having an all-natural formulation. Plus, it contains eight oils that act as super conditioners that also strengthen your hair.
So:
What else does it have to offer?
Well, this balm works on any type or length of hair. It has a mild masculine fragrance that perfectly balances between being sweet and manly.
Ingredient-wise, this balm comprises Coconut Oil, Grape Seed Oil, Argan Oil, Jojoba Oil, Cedarwood, Lavender Oil, Rosemary Extract, and Tea Tree Oil.
And:
No matter how much product you use, this balm does not leave a greasy residue.
Pros
Has a strong hold
Does not leave a greasy residue
Moisturizes and conditions hair
Works on all types and lengths of hair
It is made from all-natural ingredients
Cons
Its cedar scent isn't as accurate as the real thing
Final Verdict
Rocky Mountain Beard Balm best suits men who have rigorous day-to-day activities but still want a tamed beard. It moisturizes, conditions, and gives your beard a thicker and fuller look. Plus, this balm does not weigh down your beard.
With the Old Spice Beard Balm, you get exactly what you are buying – the right amount of hold and a comfortable fragrance. And that's why it's among the best. However, does it have downsides?
Now:
When it comes to Old Spice Beard Balm, there are a lot of mixed feelings about it.
On one side, some love it for its nice scent and effectiveness. On the other, they feel like its formulation isn't beard-friendly.
Well:
Both sides are right?
The thing about this balm is that it's fancy, affordable, and offers a decent amount of hold. It's the kind of product you can rely on to keep your beard in place and neat all day long.
A small amount goes a long way.
And the scent is something that you and those around you will be comfortable with.
Moreover:
It's easy to apply. And absorbs into hair nicely.
Simply put, it's a balm that gives you control over your beard; regardless of the hair type, thickness, and length.
However:
Ingredient-wise, the Old Spice Beard Balm is far from being "All-Natural."
It contains alcohols and parabens among other ingredients. And while these ingredients don't pose a direct or immediate threat to the health of your beard hair, it's worth getting to know more about them.
My advice:
Take a moment to first learn about the effects of parabens and alcohols on your hair and beard. Once you have all the information, it will be easier to make a wise decision.
Pros
Great at taming flyaways
Gives you more control over your beard
Awesome, light scent nice scent
Affordable
Easy to use and apply
Cons
Contains parabens and alcohols
Final Verdict
Yes, the Old Spice Beard Balm isn't organic. In fact, it contains ingredients that most hair experts will advise you against. However, it's an affordable, well-scented, and very effective product. Therefore, if you are willing to compromise, I believe it would be a great balm to have.
And:
There you have it. A list of the six best beard balms in 2023.
Did you find something you like? If not, don't fret. Here are some tips to help you find the best beard balm for you:
5 Factors to Consider when Shopping for the Best Beard Balm
.
1. Your Beard Type
I always say:
Before choosing a beard balm, ensure you know your type of beard hair.
By that I mean:
The texture
Thickness
Strength
Length
Growth rate
Why?
Because there are beard balms for short beard hair and different ones for long strands. Also, if your beard is struggling with growth, there are balms that promote healthy growth. 
Simply put:
You should choose a product that suits your beard well to achieve optimal results.
2. Ingredients and Formulation
Now:
Natural ingredients are the best for your beard.
Why?
Because they are less likely to cause irritation or damage and can nourish your beard.
Products with chemical components like alcohol and paraben can damage your beard in the long run. So, ensure you check the ingredients list before purchasing a beard balm.
3. Strength of Hold
Here:
You need to understand that beard balms come with strong, medium, or light hold.
And this all circles back to your bear hair type.
If you have thick hair that is hard to tame, go for a beard balm offering high hold. If your hair is smooth and easy to tame, a medium or light hold balm will do.
4. Type and Strength of the Scent
Obviously:
When applying a beard care product, you want something that smells nice and doesn't bring you any discomfort.
But, you should note that it's not just about you.
The scent you choose shouldn't cause any discomfort or irritation to those around you. And that's why I recommend you get a lightly-scented beard balm.
And if you are shopping online, look at user reviews to see what they say or feel about the scent.
In Conclusion
When all is said and done:
You now have everything you need to get the best beard balm in 2023.
Just remember to be keen on the scent, formulation, and hold. If you get these three right, you'll have found the most ideal product for your facial hair.
And:
As always – talk to me.
In case of anything confusing, feel free to ask for clarification in the comments below. I'll be more than happy to help.
#StaySafe
Frequently Asked Questions
Our pick for the best beard balm is the Mountaineer Magic Beard Balm which is 100% natural. It's crafted with ingredients that are beneficial to the skin and facial hair. Its medium hold helps in holding the beard in style, while its conditioning properties are beneficial to damaged and dry hair.
Yes, just like beard oils, beard balms do work. While it's not guaranteed that you will grow more facial hair, they condition and moisturize the skin and hair. Since they are thicker, they also help in holding the facial hair in style.
Yes, beard balm is one of the beard care products that you can apply every day or multiple times a day. The best thing about balms is that they don't require washing off at the end of the day unless you had applied another product.
It all comes down to how much hold and control you want to style the beard. For instance, if you want to style your mustache into a handlebar, beard wax is the best option. Beard balm provides the most health benefits to the skin and facial hair.
More from Mike Medders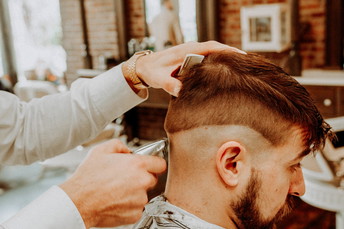 Trust me, I've been on both sides of the chair. I can't count the number of times a client has sat down and struggled…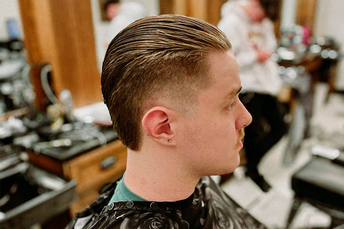 50 Different Ways to Rock the Slick Back Hairstyle for Men 1. Slick Back Fade @jules.thebarber Look: The slick-back…
Newest articles
Trust me, I've been on both sides of the chair. I can't count the number of times a client has sat down and struggled…
50 Different Ways to Rock the Slick Back Hairstyle for Men 1. Slick Back Fade @jules.thebarber Look: The slick-back…
Here is the thing: Manscaped's Peak Hygiene Plan subscription might be one of its sneakiest marketing tactics. Thanks…