Top 6 BaByliss Clippers Tried and Tested by Barbers and Consumers in 2023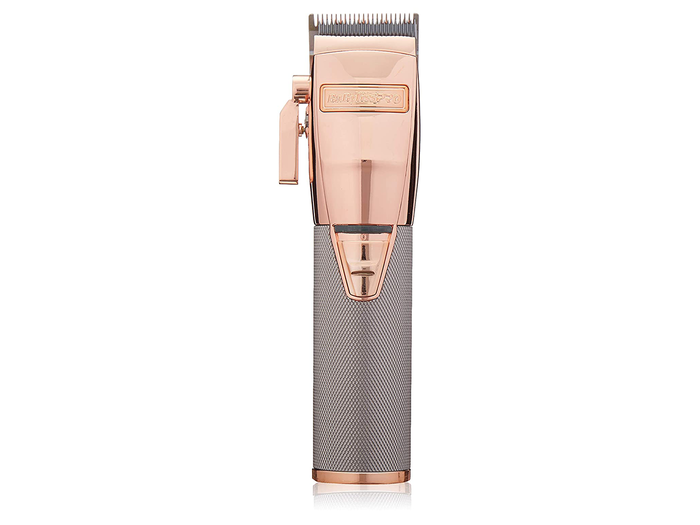 WiseBarber Top Pick
BaBylissPRO RoseFX Clipper
No doubt about it:
When searching for the best BaByliss clippers for your hair, you want to be confident you're choosing a top-notch option.
In this post, I've compiled a list of the finest BaBylissPRO clippers available.
How did I decide which BaByliss hair clippers made the cut? I focused on the most popular and highly-rated options out there.
Here's the deal:
I delved deep into customer reviews, ratings, and satisfaction levels for each product to determine if they deserved a spot on this list.
But that's not all:
To provide you with the most reliable information, I tested some of the clippers myself and consulted with Cesar Perez, an 18-year talented barber from Joliet, IL who uses all kinds of BaByliss clippers. Cesar shared his insights on the usability and overall experience of these clippers.
So, rest assured:
You'll have all the information you need about each clipper to make an informed decision when it's time to buy.
Now, let's dive in and explore the best BaByliss clippers!
Rating Summary
| Rank order | Product name | Features & Functionality (max. 10) | Usability & Handling (max. 10) | Accessories (max. 10) | Overall Rating | |
| --- | --- | --- | --- | --- | --- | --- |
| 1. | BaBylissPRO RoseFX Clipper | 9.5 | 9.6 | 9 | 93.6 % | See details |
| 2. | BaBylissPRO GoldFX Clipper | 9.2 | 9.4 | 9 | 92 % | See details |
| 3. | BabylissPRO SilverFX Clipper | 8.8 | 9.1 | 9 | 89.6 % | See details |
| 4. | BaBylissPRO FX810 | 8.6 | 8.9 | 9 | 88.3 % | See details |
| 5. | BaBylissPRO Volare X2 | 8.3 | 8.6 | 9 | 86.3 % | See details |
| 6. | BaBylissPRO LithiumFX | 7.9 | 8.2 | 9 | 83.6 % | See details |
That said, let's look at each clipper more closely…
Best BaByliss Clippers Review 2023 – Detailed Reviews
BaBylissPRO RoseFX Clipper
The ROSEFX is my top pick and has everything you need for a versatile and fun experience. It comes with necessary attachments, great speed, and accuracy you'll appreciate.
You might be curious:
What makes this clipper stand out?
Let me tell you:
First off, the clipper's stylish design is hard to ignore. The stunning Rose Gold hue, combined with its all-metallic housing, gives it a premium look and feel.
But there's more:
Cesar Perez, the talented barber from Joliet, IL, says, "The RoseFX's motor, designed with input from Ferrari engineers, provides enough torque and power to cut through all hair types."
Pair this high-power motor with its high-precision, carbon-steel blades, and you've got a smooth cutting experience with incredibly close, precise cuts.
And guess what?
The Lithium-Ion battery delivers up to 2 hours of continuous runtime, allowing you to serve three or four clients without a recharge. Now that's impressive!
Pros
Stainless-steel blades for improved durability
Barbell grip for better handling and usability
Strong, brushless, Ferrari-inspired motor
Powerful Lithium-ion battery with 2-hour runtime
Includes essential attachments
Comes with a hanging hook and a taper lever for added convenience
Has a 2-year warranty
Cons
Not very pocket-friendly
The design could be better
Final Verdict
The BaBylissPRO Barberology RoseFX clippers excel in versatility and durability. These top-notch machines are reliable, sturdy, and deliver outstanding performance. If it fits your budget, there's no reason not to invest in one.
BaBylissPRO GoldFX Clipper
The GoldFX clippers from BaBylissPRO are professional hair cutters that come with many amazing features, a neutral gold color, and a sleek new look. Read on to learn more.
If the RoseFX doesn't catch your eye, the GoldFX just might.
So, what sets the GoldFX apart?
First and foremost, it features a Ferrari-designed brushless motor, which means fewer moving parts, increased durability, and quieter operation.
But here's the thing:
The GoldFX and RoseFX share many similarities, as they both belong to the BaBylissPRO MetalFX Series.
For instance:
They have the same design, motor, taper lever, comb attachments, lithium-ion battery, and almost identical replacement blades.
However, there are some key differences:
Blades – The GoldFX comes with DLC Titanium Taper Blades (FX801G), while the RoseFX has High-Carbon, Stainless Steel Taper Blades (FX801R).
Color – This one's obvious, right?
Price – Surprisingly, the GoldFX is the most expensive of the three BaBylissPRO MetalFX series clippers, priced at $220.
What's more, the GoldFX's 2-year warranty ensures professional support from BaByliss if your clipper experiences issues within the first 2 years of use.
But remember:
Carefully review the warranty agreement before using the clipper, so you fully understand your options.
One consumer shared their experience, saying, "When COVID-19 hit, I started cutting my own hair and discovered the GoldFX through YouTube tutorials. The eye-catching design, variety of colors, and wireless feature convinced me to invest in them. At $229, they're worth it because I save money by cutting my own hair, and I've even started cutting others' hair, so the investment pays off."
Pros
Luxurious and elegant gold color
Durable metal housing
A 2-year warranty
Long-lasting and versatile blades
High-torque motor
Includes 8 attachment combs
Cons
One of the most expensive clippers available today
Like the RoseFX, it's not very ergonomic
Final Verdict
The GoldFX may not be perfect, given its higher price and less ergonomic design. However, it boasts a luxurious appearance, premium feel, and delivers top-notch performance when needed. As both Cesar Perez and satisfied users say, "That's what truly matters."
BabylissPRO SilverFX Clipper
The SilverFX Clipper is the most affordable among the BaBylissPRO MetalFX Series. It has almost all the same perks and features as the GoldFX and RoseFX versions. So, why is it cheaper? Read on to find out.
If gold isn't your style, consider silver.
Introducing the BaBylissPRO SilverFX, the last of the three MetalFX cordless hair clippers.
Like the GoldFX and RoseFX, it shares the same design, guard combs, accessories, and blade replacements.
Here's an interesting tidbit:
The MetalFX series features a 5-dented taper control lever.
What's the advantage?
The SilverFX clipper's taper lever clicks whenever it's adjusted, making it easy to track blade sizes and ensuring the lever remains in place during haircuts—until you choose to adjust it again.
Pretty neat, right?
However, the quality and aesthetics of the clipper have room for improvement.
For example:
Some users reported that the taper lever can become loose easily.
Additionally, the SilverFX lacks the luxurious and premium feel found in its MetalFX counterparts.
Pros
More affordable than most MetalFX Series clippers
Comes with enough accessories
Has metal housing for durability
2-year warranty
Ideal for professional use
Cons
Doesn't feel or look premium
Prone to taper lever issues
Final Verdict
Despite its modest silver color and aesthetic shortcomings, the SilverFX is no slouch. It's comparable in performance to the GoldFX and RoseFX clippers but at a more affordable price. 
As Cesar Perez says, "If you're looking for a BaBylissPRO MetalFX clipper and don't mind its color or appearance, the SilverFX is an excellent choice."
Correct me if I'm wrong, but the BaByliss PowerFX is probably the most affordable hair clipper they have in their line-up. And the best part is that it comes with a lot of the features you find in high-end hair cutters.
The PowerFX may not be well-known, but it's a hidden gem.
Why, you ask?
Let's dive in.
With its ergonomic design, the PowerFX is not only comfortable but also eye-catching, thanks to its black and gold color combination. But it's not just about aesthetics; its performance is equally impressive.
How?
Equipped with a powerful electromagnetic motor, the PowerFX outperforms many standard hair clippers in terms of longevity and strength.
Additionally, its high-carbon, stainless-steel blades make quick and easy fades or blends a breeze.
As for usability:
The PowerFX features a 10-foot-long power cord, offering ample room to maneuver while cutting and styling hair. Weighing just 1.03 lbs and boasting a textured housing for better grip, this clipper is a delight to use.
Plus, it includes the standard BaBylissPRO clipper accessories.
Pros
Stylish and ergonomic design
Powerful motor and impressive fading blades
10ft-long power cord for added flexibility and maneuverability
Has sufficient accessories
Lightweight and easy to use
Very affordable
Cons
Limited warranty
Occasional snagging and pulling hair
Final Verdict
Cesar Perez says, "The PowerFX is a winner in my book. It's rare to find such a high-quality BaBylissPRO clipper at an affordable price." 
While it may not be the best clipper on the market, it certainly rises to the challenge.
The Volare X2 Clippers Red option is a choice that will light your day in more than one way. These clippers give you close cuts with a lightweight and comfy feel.
If red isn't your color, don't worry!
The Volare X2 offers two color options: red and black.
Cesar Perez, the talented 18-year-old barber from Joliet, IL, comments, "The Volare X2's power is impressive."
With a brushless Ferrari-designed motor, the Volare X2 delivers enough power for a hassle-free haircut.
What else?
This clipper features DLC Titanium Micro-Serrated Blades. "They're not only durable but also provide a smooth, effortless cut," says one satisfied customer.
But wait, there's more:
The Volare X2 boasts up to 3 hours of battery runtime, allowing for multiple haircuts before needing a recharge.
In addition, its unique design enables quick blade adjustments (4 sizes) without using a taper lever or switching blades. Another consumer shares, "I love how easily I can adjust the blades on the Volare X2."
Sounds impressive, right?
Pros
Lightweight and comfy in your hands
Two-color options
Powerful, Ferrari-Designed rotary motor
High-quality blades with titanium coating
Fast blade size adjustment
Comes with enough accessories
Impressive 3-hour runtime and quick 15-minute recharge time
Cons
The blade adjuster is prone to breaking down
Not pocket-friendly
Final Verdict
Cesar Perez says, "The Volare X2 Clipper is one of the best products from BaBylissPRO." With a distinctive design, ample power, quality blades, and outstanding ergonomics, it's an easy and comfortable tool to handle. 
However, keep in mind that the clipper's blade adjusting mechanism may become problematic after several uses. A fellow barber warns, "The blade adjusting mechanism on my Volare X2 started acting up after some time, so be cautious."
Take your hairstyling skills to the next level with the BaBylissPRO LithiumFX cord/cordless hair clipper. It comes with an easy-grip design, 10 guide combs, and impressive fading capabilities. Read on to learn more.
Wrapping up our list is the LithiumFX, an impressive fading clipper from BaBylissPRO, boasting all the perks and conveniences of a cordless haircutter.
So, what does the LithiumFX bring to the table?
Cesar Perez, the skilled 18-year-old barber from Joliet, IL, highlights the design, saying, "The partly-rubberized housing makes this clipper easy to grip, even during long sessions."
This means you can use it for an extended time without hand cramps or fatigue.
Additionally:
The LithiumFX offers 75 minutes of uninterrupted runtime. While it's the shortest runtime on our list, it's still sufficient for two or three quick haircuts. And the best part? A 30-minute quick charge can provide nearly half an hour of runtime.
Pros
Lithium-ion battery
Japanese steel blades
75-minute runtime
Ideal for fades
Has a quick-charge option
Can be used as both corded and cordless
Cons
Shortest runtime on the list
Isn't ideal for long hair
Final Verdict
The LithiumFX may not have as much to offer as other cordless clippers on this list, but it's a top choice for barbers specializing in fade haircuts. One customer shares, "As a barber, I appreciate the LithiumFX for its performance in fading."
There you have it, a list of the top 6 BaBylissPRO hair clippers.
But before we wrap up this post, here are a few shopping tips for you...
5 Things to Consider When Shopping for the Best BaByliss
Now:
Before you go shopping for a BaBylissPRO hair clipper, there are a few things you need to consider.
Here are five of the most important ones:
1. Your Budget
First things first:
You should note that BaBylissPRO is a premium brand; by premium, I mean expensive.
Basically, most of their clippers are worth over $100. If you want anything cheaper than that, your best option would be the BaBylissPRO FX810 PowerFX.
2. Your Intended Use
You probably know this:
Clippers often come with features and functionalities tailored to meet the user's needs/demands – professionals and home users alike.
For example:
Professional barbers need cordless clippers that have longer runtimes (+2 hours) because they do a lot of haircuts during peak hours. On the other hand, a home user only needs around 50 minutes of runtime to do a complete haircut.
Also:
Professional users require stronger and efficient clippers to be able to easily accommodate requests from people with different kinds of hair.
You get the point, right?
3. The Clipper's Usability
Will the clipper be easy to use?
If not, it won't be ideal for you.
You want a clipper that you can comfortably use without any hassle
4. The Blades and Motor
Clipper blades and motors are, undoubtedly, the most important parts of a haircutter.
Why?
Well, the motor delivers the power and speed; while the blades do the actual cutting.
So, both are essential and need to be given a lot of consideration.
Preferably, you should:
Go for a clipper that has a strong and durable motor with less moving parts; the fewer the moving parts, the lower the noise pollution and the gentler the vibrations.
Go for a clipper with durable high-precision and sharp blades. When your clipper has good blades, it becomes easy to cut hair faster and better. Plus, you won't have to worry about pulling and snagging.
Moving on…
5. Know Your Power Options
Note:
BaBylissPRO hair clippers offer three types of power options; corded, cordless, and both.
Basically:
Corded clippers can support stronger motors and give you more power. But they are less flexible due to the limitations that come with the length of the power cord.
Cordless clippers, on the other hand, offer you more convenience and flexibility. However, since they depend on batteries, their motors are not often strong. Plus, you have to deal with the limitations of runtime and recharge periods.
Cord/Cordless clippers are the best. Why? Well, you can use them as a cordless clipper, and as soon as you run out of battery, plug in the power cord and continue clipping hair as it recharges. Awesome, right?
My recommendation would be the cord/cordless power option. It's more reliable and has fewer limitations.
And that's a wrap – everything you need to know about the best BaByliss clippers.
In my opinion:
The RoseFX is the best on this list mainly because it has a great design, comfy grip, more taper control, an impressive runtime, powerful motor, good-quality blades, and isn't as expensive as the GoldFX.
But:
As I've said above, the MetalFX series clippers (GoldFX, RoseFX, and SilverFX) are the same in almost all aspects.
The only major difference is in the pricing; so, your budget will determine which one you decide to go with.
Anyway:
I hope this post was useful.
If you have any questions or thoughts you'd like to share, please do so in the comments section below.
Frequently Asked Questions
Yes, Babyliss has some of the best clippers on the market. That's why you will find BaByliss clippers in almost every barbershop you visit. Thanks to the brand's 50 years of experience, the brand understands what professional barbers and men are looking for, and that's why users love them.
BaBylissPro has a clipper for everyone. If you are looking for the best Babyliss clipper, check out the BaBylissPRO Barberology RoseFX or the BabylissPRO GoldFX, which is our runner-up pick for the best professional clippers. If you are on a budget, our recommendation is the BaBylissPRO Barberology SilverFX.
Most BabyBliss clippers have a runtime of up to two hours. This includes models such as the RoseFX, GoldFX, and SilverFX. The Volare X2 has a runtime of up to 3 hours! This is enough charge to cut several haircuts before recharging.
The top clipper brands include Wahl, Oster, Andis, and BaBylissProbaby. You will likely find one of these brands in any barbershop you visit. It's no luck, these brands have been in the market for decades. For instance, Oster, Andis, and Wahl have been making beauty products for over 100 years. This gives them an upper hand in understanding the market. They are also continuously developing new hair-cutting technologies.
More from Mike Medders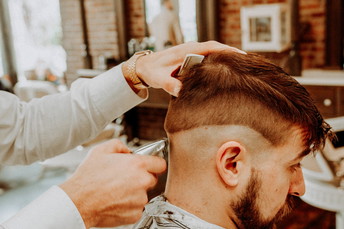 Trust me, I've been on both sides of the chair. I can't count the number of times a client has sat down and struggled…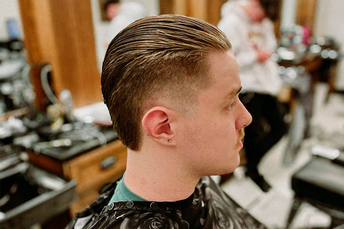 50 Different Ways to Rock the Slick Back Hairstyle for Men 1. Slick Back Fade @jules.thebarber Look: The slick-back…
Newest articles
Trust me, I've been on both sides of the chair. I can't count the number of times a client has sat down and struggled…
50 Different Ways to Rock the Slick Back Hairstyle for Men 1. Slick Back Fade @jules.thebarber Look: The slick-back…
Here is the thing: Manscaped's Peak Hygiene Plan subscription might be one of its sneakiest marketing tactics. Thanks…