Everything You Need to Know About the Best Clippers for Fades 2023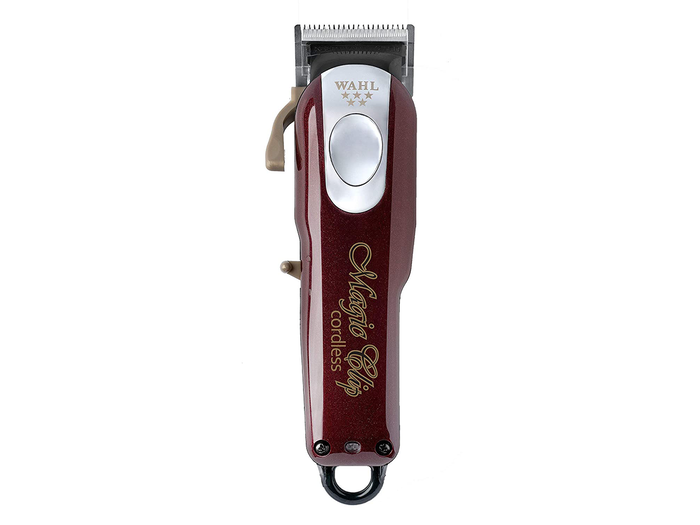 WiseBarber Top Pick
Wahl Magic Clip Cordless
Fades are a popular hairstyle that can be achieved by a professional barber or as a DIY project at home. The key to a successful fade lies in the clipper you use.
Choosing the right mens hair clipper not only simplifies the process but also enhances the overall outcome of the haircut.
If you've been on the hunt for the best clippers for fades in 2023, you've come to the right place!
In this guide:
I've compiled a list of the top fade clippers available today based on a consumer survey. I also reached out to JC, a professional barber from Texas, to get his honest opinion on the best clippers for fades.
But there's more. I'll also cover:
A summary of ratings
A comparison of each clipper's specifications
A brief review of each clipper, including features, usability, accessories, and advantages
Essential tips for selecting the perfect fade clipper
A step-by-step guide on achieving a professional fade haircut at home
Sounds exciting, right?
So, let's dive into the details and discover the best fade clippers out there!
Rating Summary
| Rank order | Product name | Features & Functionalities (max. 10) | Usability & Handling (max. 10) | Accessories (max. 10) | Overall Rating | |
| --- | --- | --- | --- | --- | --- | --- |
| 1. | Wahl Magic Clip Cordless | 9.3 | 9.8 | 9 | 93.6 % | See details |
| 2. | BaBylissPRO GoldFX Clipper | 9.5 | 9.7 | 8.7 | 92.8 % | See details |
| 3. | Andis Master Cordless | 9.8 | 9.7 | 7.7 | 90.3 % | See details |
| 4. | Andis Cordless Fade Combo | 8.5 | 9.5 | 9 | 90 % | See details |
| 5. | Wahl Elite Pro | 9.3 | 7.3 | 10 | 88.6 % | See details |
| 6. | Oster Fast Feed | 9.3 | 9.7 | 7.3 | 87.5 % | See details |
| 7. | Wahl 5-Star Senior Cordless | 8.3 | 9.2 | 8 | 84.7 % | See details |
| 8. | Wahl Super Taper 2 | 9.8 | 8.3 | 7.3 | 84.7 % | See details |
| 9. | Oster Classic 76 | 9.3 | 9.5 | 6.7 | 84.7 % | See details |
| 10. | Andis Fade Gold | 9.3 | 8.5 | 7.7 | 84.7 % | See details |
And that's just about everything you need to know about these clippers' specifications.
Now:
Let's get into each one to find out how they earned their spot on this list.
The Top 10 Best Clippers for Fades in 2023
When it comes to cutting awesome fades, the Wahl 5-Star Magic Clip is – hands down – one of the best clippers you can get. But, why? The secret is in its blades. Read on to find out.
If you're looking for an outstanding barber trimmer for fade haircuts, the Wahl 5-Star Magic Clip should be on your radar. Why? Because it's reliable, versatile, easy to use, and convenient.
But what makes it stand out?
Firstly, it's designed for professional use, from its shape to its weight, making it comfortable to hold and operate for extended periods.
Now:
JC, a barber at the Hands Of Gold Barber Studio in Texas, swears by the Magic Clip for its performance and ease of use. He says, "I've been using the Magic Clip for a while now, and it never lets me down. The cordless feature is a game-changer, allowing me to work on fades from any angle. The battery life is impressive, and the powerful motor makes my job so much easier."
Here's the deal:
Both the Wahl Magic Clip Cordless Black and Gold versions come with a powerful lithium-ion battery that offers up to 90 minutes of run time when fully charged.
JC also mentions, "When the battery runs low, I can just plug it in and keep going. It's incredibly convenient."
What's even better?
The cordless design gives you the freedom to fade hair from any angle without being restricted by a power cord. However, if the battery runs out, you can still plug it in and continue your work.
But the Wahl Magic Clip Cordless Limited Edition isn't just about flexibility and battery life. It also boasts a powerful motor and high-precision 2161 blades, making hair fading a breeze.
JC adds, "The high-precision blades are perfect for creating clean and sharp fades. They glide smoothly and make my work so much more enjoyable."
Of course, quality comes at a price. Expect to pay at least ∼$85 for this fade clipper. But is it worth the investment?
Absolutely!
When you buy the Magic Clip, you'll receive:
8 Attachment Combs (1/16" - 1")
Cleaning Brush And Oil
A Styling Comb
User Manual
A Blade Guard
Recharging Transformer
And the Cord/Cordless Clipper Itself
So, to sum it up:
As JC says, "The Wahl Magic Clip is hands down one of the best clippers I've ever used. It's a great investment for any barber or hairstylist who wants to create perfect fades."
Pros
It is one of the best Wahl clippers for fades
It has a powerful motor
Long-lasting battery
Corded and cordless options
Impressive design and light-weight
It comes fitted with a taper lever that makes fading and blending easy
Cons
It is a bit expensive
It can be a bit noisy
Dangerously sharp blades
Final Verdict
While it's not flawless, the Wahl Cord/Cordless Magic Clip has more positives than negatives, making it ideal for fades and blending.
Many customers, including JC, a barber at the Hands Of Gold Barber Studio in Texas, can attest to the quality of the Magic Clip. 
JC shares, "This clipper has made a significant difference in my work. It's worth every penny and has quickly become my go-to tool for professional use."
So:
Given its performance and the rave reviews from professionals like JC, it's safe to say that the Magic Clip is well worth the investment.
However, the final decision is up to you.
Moving on…
BaBylissPRO GoldFX Clipper
BaByliss is a definite market leader when it comes to hair clipper manufacturing. And as you can expect, their BaByliss GoldFX lives up to the brand's awesome reputation in style and performance.
Now, here's the thing:
If you walk into any barbershop nowadays, you will likely find a BaBylissPRO clipper or trimmer lying around. And there's a good reason for that.
I surveyed numerous consumers and reached out to JC, a professional barber from Texas working at Hands Of Gold Barber Studio, to understand why BaBylissPRO has become a preferred choice.
JC said, "BaBylissPRO provides reliable, powerful, and impeccably designed clippers that work long and hard to make sure you get the right cut every time."
And the BaBylissPRO GoldFX is no exception. As a premium clipper, it's among the best for fades.
So:
What exactly makes this clipper so great?
For starters, its motor; JC explains that "this clipper comes equipped with a brushless high-torque motor, robust enough to tackle most hair types with ease."
Another consumer mentioned that they love the GoldFX because they "don't have to do multiple passes to get an even cut."
Moreover:
The GoldFX features a DLC Titanium-Coated blade that complements the motor's power. DLC, or "Diamond-Like Coating," ensures that the blades are durable, corrosion-resistant, and have a low friction coefficient.
One user praised the blade design, stating, "you'll get to enjoy cutting efficiency without worrying about snagging, stalling, or pulling hair during a trim."
The GoldFX also has a 5-dent taper lever for making blade adjustments, giving you more control over your haircuts. Plus, the all-metal housing and elegant gold finish adds a touch of luxury to the clipper.
However, the GoldFX does have a few shortcomings:
A customer I surveyed mentioned the clipper housing's cylinder design feels "a bit lazy/cheap on the manufacturer's part," and the ergonomics could be better. Additionally, some users found the guards to be flimsy.
In terms of runtime, it comes with a Li-Ion battery and offers two hours of cordless use once fully charged. While not the longest runtime, it's still more than most cordless clippers on this list. Plus, you can use it as a corded clipper as well.
A Cordless Gold Hair Clipper
Oil
Blade Guard
Cleaning brush
Charger
8 attachment combs
Instructions Manual
Are these accessories too much or too little? Ultimately, it's your call. 
But one thing is clear: 
The BaBylissPRO GoldFX has won the hearts of many consumers and professionals alike.
Pros
Reliable lithium-ion battery
Lightweight
Powerful motor
Durable blade
Durable Housing
5-dent click lever
Elegant gold finish
Cons
Noisy
Premium clipper
Ergonomics could be better
Final Verdict
Based on JC's input, it's clear that the BaBylissPRO GoldFX clipper has many fans. As JC, the barber from Texas, puts it: "from its high-torque motor to its DLC blade and reliable battery, this clipper has a lot to offer."
One consumer we interviewed echoed this sentiment, saying, "Sure, it does have some faults, but they pale compared to everything else it has to offer."
As such, the BaBylissPRO GoldFX is highly recommended for professionals looking to meet tight schedules and even home users who want a reliable and efficient clipper for their personal grooming needs.
Let's face it. The only thing keeping the Cordless Master from topping this list is its lack of essential accessories. Otherwise, it also a formidable fading clipper that's very fun to use.
For fans of Andis products:
The Andis Cordless Master Adjustable Blade Hair Clipper is a must-have.
As JC, the barber from Texas, notes: "This clipper is indeed a 'Master' at what it does." Many consumers agree, praising its powerful motor (capable of delivering up to 7,200 strokes per minute) with precision and efficiency.
One user shared their experience: "I love how it's quiet, lightweight, impressively durable, and made with high-quality materials. Plus, the blade adjusting lever makes it perfect for all kinds of fades."
Indeed:
This cordless clipper provides great freedom when working and offers up to 90 minutes of uninterrupted runtime.
However:
It has a few drawbacks. It's quite expensive, and Andis Master clippers don't come with guards.
In the package, the Andis Cordless Master includes:
A Charging Stand
Blade Guard
Tube of Blade Oil
Instructions Manual
JC commented, "Not much in terms of accessories, but Andis focuses on quality over quantity."
Pros
Tough, durable exterior housing
Stylish design
Very powerful and efficient motor
Silent operation
Adjustable blades
Minimal heating issues
Lightweight
Offers more flexibility
90-minute runtime
Cons
It is pricey – pricier than the 5-Star Magic Clip
It does not come with guide combs (more expenses)
Final Verdict
Is it worth it? It depends on your preferences.
While the Andis Cordless Master has many great qualities, similar features can be found in more affordable fading clippers like the Oster Fast Feed and the 5-Star Magic Clip.
Consider your needs and budget before making a decision.
Andis Cordless Fade Combo
Getting a good fading clipper is one thing; getting a quality trimmer is another. But when you get both bundled into one kit, it becomes the ultimate deal. That's what the Andis Cordless Fade Combo is.
In any Andis fade clippers review, it's essential to mention the Andis Professional Cordless Fade Combo Envy Li Clipper Set.
JC, the barber from Texas, says, "This is the only cordless clipper that I can say gives the 5-Star Magic Clip a run for its money."
Many consumers share this sentiment, praising its lithium-ion battery, which takes only 90 minutes to charge and delivers an impressive 120 minutes of runtime.
One user noted, "I love how close it cuts with its adjustable surgical fade blades (00000 to 000). It's lightweight, and the design fits perfectly in your hands for a comfortable grip."
What sets this clipper apart is that it comes with 11 guide combs and other necessary accessories. Plus, you can use it as a corded clipper when the battery runs out.
However:
The Andis Cordless Fade Combo doesn't come cheap, at around $150 for the set, which also includes a robust cordless hair trimmer.
In the kit, you'll find:
An Andis Envy Li Clipper
An Andis Slimline Pro Li T-Blade Hair Trimmer
15 Guide Combs (for both the clipper and trimmer)
Two Blade Guards
Two Charging Adapters
Blade Oil
User Manual
Impressive, right?
Pros
It comes with a complementary cordless trimmer
Close-cutting blades ideal for those looking for bald fade clippers
Ergonomic design and lightweight
Up to 2 hours of runtime
Takes 90 minutes to fully charge
Can be used as a corded clipper
Comes with guide combs and accessories, unlike other Andis fade haircut clippers
Cons
It's expensive
Quality and durability are not guaranteed
Final Verdict
The Andis Professional Cordless Fade Combo Kit offers numerous advantages:
More freedom and flexibility than the Oster Fast Feed
30 more minutes of runtime than the Wahl 5-Star Magic Clipper
Guide combs included, unlike the Andis Master Adjustable Blades
However:
It's more expensive than most fading clippers. Ultimately, it's up to you to decide whether the investment is worth it.
Despite being a home clipper, the Wahl Elite Pro is also an impressive fading clipper for professional use. And that's because it has an impressive motor, awesome blades, and a wide array of guide combs.
Still searching for the perfect budget-friendly fading clipper? The Wahl Elite Pro might be your answer.
JC, a barber from Texas, says, "Despite its low price tag, the Elite Pro is a reliable and value-packed fading clipper, ideal for first-time barbers and DIY enthusiasts." Many consumers agree, praising its affordability and efficiency.
What makes the Elite Pro stand out?
For starters, it has robust, self-sharpening blades that are 40% faster than other clipping blades.
One user shared, "I always finish my fades quickly, even when they're complicated." 
Additionally:
Its heavy-duty motor offers 15% more power than standard clipper motors, enabling users to cut through even the toughest hair with ease.
The Wahl Elite Pro comes with an 8-foot long power cord and 10 high-quality guide combs, making it a versatile option for those new to hair fading or those who prefer clipping their own hair.
However:
The clipper's weight may be uncomfortable for some first-time users, and its plastic polymer housing could affect its durability in a busy professional setting.
When you purchase the Elite Pro hair clipper kit, it comes packed with accessories, including:
A Pair of Scissors
Styling Comb
Barber Cape
Blade Oil
Cleaning Brush
Hard, Handled Storage Case
A Drawstring Pouch
10 Premium Wahl Guard Combs
Cord Wrap
Blade Guard
The Corded Clipper Itself
Pros
It is very affordable
Comes with all the accessories you need to do professional fades
Has a robust, heavy-duty motor
Faster, self-sharpening blades
Doesn't heat up when used for long
Silent operation
Long power cord for added flexibility
Cons
It's heavy
The adjustment lever needs improvement
Poor quality housing for professional (everyday) use
Final Verdict
The Wahl Elite Pro offers excellent value for your money due to its affordability, functionality, ease of use, and features. 
If you're looking for a budget-friendly option without sacrificing quality, the Wahl Elite Pro might be the perfect choice.
Silent operation, efficient clipping, and user-friendliness – these are just some of the perks you should expect when you buy the Oster Fast Feed. So, what makes it great? Read on to find out.
Looking for an alternative to Wahl skin fade clippers? The Oster Fast Feed hair clipper may be just what you need.
JC, a barber from Texas, praises it as "one of the best Oster fade clippers available." Many consumers agree, citing its ergonomic design, powerful motor, durability, flexibility, and Cryogen-X blades for fast and easy hair fading.
One user shared, "The Fast Feed clipper is lightweight and doesn't heat up, making it ideal for long fades."
Additionally, its smooth taper lever allows for easy blade adjustments while clipping or fading hair. Its minimal noise and vibrations make it a popular choice for military haircuts as well.
However:
The Oster Fast Feed comes with limited accessories, which might require additional purchases for professional barbers. The package includes:
A Corded Clipper
3 Guide Combs
Lubricating Oil
Cleaning Brush
Blade Guard
User Manual
Pros
It's very quiet with very little vibrations
It comes with high-quality blades and a powerful motor
The Oster Fast Feed is well-known for its durability and reliability
It is lightweight and doesn't heat up when in use
Very compact and easy to hold for long periods
Cons
Plastic housing makes it look and feel cheap
You may have to buy third-party guide combs
Final Verdict
Despite these drawbacks, JC and many other consumers still believe that the Oster Fast Feed is worth it, offering excellent value for money in terms of service and durability.
If you're searching for a high-quality clipper for fades, the Oster Fast Feed could be a fantastic option.
Wahl 5-Star Senior Cordless
When it comes to professional fading, Wahl's 5-Star Cordless Senior is just one of the few hair clippers you can count on to be fast, efficient, reliable, affordable, and a quality performer.
In today's fast-paced world, it's essential to have versatile, flexible, and user-friendly clipping tools to keep up with ever-changing hair trends. JC, a barber from Texas, couldn't agree more: "You need top-class clippers to stay ahead in the industry."
The Wahl Cordless Senior is one such top-class clipper, offering:
Fast, clean cuts
User-friendly, smooth, and quiet operation
Ergonomic design and accessory-rich package
High-end performance and professional fade results
JC explains the Cordless Senior's success: "Its powerful rotary motor, durable build, high blade speeds, and adjustable Wahl Senior Fade blade make it a top choice for professionals."
Not only is this clipper cordless, but it also has a lightweight design and a handy taper lever. The lithium-ion battery offers 70 minutes of runtime, and the clipper can also be used with a cord.
However, some downsides exist. Users have noted its noisy operation, and battery performance may decline after a few months. Additionally, the clipper comes with a high price tag.
In the box, you'll find:
A cordless Senior hair clipper
3 premium cutting guides
Recharging transformer
Styling comb
Blade Oil
Cleaning brush
User manual
Red blade guard
Pros
Ideal for heavy-duty work
Cordless and can also be used with a cord
Packs a powerful battery
Features a powerful rotary motor
Boasts a compact, lightweight design
Highly maneuverable
Comes with sharp, high-precision blades
Cons
Pricey
Noisy
Has occasional heating problems
Final Verdict
Despite the drawbacks, JC and many consumers highly recommend the Wahl Cordless Senior: "This is a high-quality fade hair clipper with professional cutting standards." 
Investing in this clipper could help you stay ahead in the hairstyling game.
If you are looking for a clipper that's not only iconic but also a proven performer when it comes to fading and haircutting, the Wahl Super Taper II might just be it. Here's why.
9.8 / 10
Features & Functionality
8.3 / 10
Usability & Handling
When it comes to Wahl fade clippers, the Super Taper II often stands out. JC, a barber from Texas, agrees: "Its name alone speaks volumes about its capabilities."
Though the Professional 5-Star Magic Clippers lead the cordless category, the Super Taper II is a strong contender among corded clippers.
So, what sets it apart?
JC highlights the Super Taper's professional precision, with its #1006 commercial-grade blades and powerful V5000 motor. 
It cuts effortlessly through all hair types and comes with numerous accessories, such as eight color-coded guide combs, blade oil, cleaning brush, and a blade guard.
Furthermore, the Super Taper II is lightweight, comfortable to grip, and features a smooth taper lever. Its 8-foot-long power cord enhances flexibility during use, and it's easy to maintain.
However, there are drawbacks. "The plastic casing feels and looks cheap, and Wahl failed to include suppression measures for the vibrations from the powerful V5000 motor," JC notes.
In the box, you'll find:
A stylish Wahl Super Taper II corded clipper
Blade Oil
Blade Guard
8 Guide Combs
A Styling Comb
Cleaning Brush
A User Manual
Pros
It has sharp, high-precision blades that cut through thick hair with ease
Powered by a strong V5000 motor
Comfortable to use
Easy to maintain
Added flexibility due to its 8-feet long power cord
Memorable color-coded guide combs
Cons
The plastic body is not high-quality and does not match the clipper's price tag
Uncomfortable vibrations
Noisy
Final Verdict
So, is it worth your money?
JC believes so: "If you're looking for a commercial fading clipper that performs well and comes with color-coded Wahl fade guards, the Super Taper II is a solid choice."
When discussing high-quality, heavy-duty, multi-purpose, and durable hair clippers, the Classic 76 is always a must-have. And when it comes to fades, it's also an ace performer. Read on to learn more.
The Oster Classic 76 is a remarkable fading clipper that JC, a barber from Texas, describes as "durable, efficient, and expensive."
Often compared to the Bugatti Chiron of clippers, the Oster Classic 76 is built for durability and high performance. JC points out, "From the materials to the components, everything spells 'long lifespan.'"
Customization is also an option, with 10 different limited-edition colors and styles to choose from. Its detachable 000 size blade makes it one of the best skin fade clippers available today.
The Oster Classic 76 features a 9-foot long heavy-duty power cord, allowing for easier movement during fading. Although not as flexible as cordless clippers, it still offers an impressive range. JC adds, "Its rugged body makes it easy to grip and use for a long time."
However, there are drawbacks. The clipper is bulky, which may be challenging for those with small hands. It also lacks a taper lever and doesn't come with guard combs. But, JC believes the performance and service are worth it.
In the packaging, you'll receive:
A Corded Clipper
Cleaning Brush
Lubricating Oil Tube
Hair Clipper Grease
A Blade Guard
An Instructions Booklet
Pros
It has a longer power cord
Ragged exterior for a firm and comfortable grip
Very durable
Impressive blades and a powerful motor
Makes fading and blending hair easy
It's a professional-grade clipper
Cons
Limited and expensive accessories
A bit bulky
Also, heavier than other clippers
Final Verdict
Despite the absence of guide combs, JC concludes: "The Oster 76 is a Classic well worth its price. It gets the job done perfectly and effortlessly. The perks of this amazing fading clipper outweigh its cost and weight."
Lastly, you can get yourself the incredible, easy-to-use, and ergonomic Andis Fade Gold clipper. Unlike the Andis Master, this one comes with guide combs and is available for international buyers.
The Andis Fade Gold is a popular choice among fading clippers, and JC, a barber from Texas, explains why. He says, "It's strong, effective, specifically designed for fades, and has an elegant gold finish."
This clipper stands out for its ergonomic design, making long-term usage more comfortable. It features high-quality carbon steel blades that can be easily adjusted with its smooth taper lever, eliminating the need to pause while working.
JC highlights its convenience, stating, "Andis Fade clippers boast powerful single-speed, magnetic motors that cut through all kinds of hair with ease and precision." 
Additionally, it's lightweight, perfect for professionals and busy barbershops.
The Andis Fade Gold comes with two guide combs (1/16" and 1/8") and other accessories. 
However, there are some drawbacks. JC mentions the fragile taper lever and plastic housing, which makes it feel less durable.
In the packaging, you'll receive:
6 Guard Combs
A Blade Guard
Cleaning Brush
Blade Oil
A User Guide
Pros
Elegant, ergonomic, and comfortable design
Powered by a strong magnetic motor
Has adjustable blades
Cuts through all hair lengths and types
Has accessories
Designed for fade and taper cuts
Cons
Its taper lever is quite fragile
It is expensive
It is also quite noisy
Final Verdict
JC acknowledges that the Andis Fade Gold may not be as powerful as the Andis Cordless Master, but he believes its lower price tag, ergonomic design, powerful motor, and high-precision blades make it a strong contender among the best clippers for fades and tapers.
5 Things to Consider When Shopping for the Best Fading Clippers
1) Ease of Use
The clipper has to be user-friendly. Note that there are no clippers that automatically fade. Therefore, most of the work will be done by you. And that's why you need a clipper that will simplify your work.
2) Price
The price tag matters a lot. Ensure you go for clippers that offer you great value for your money. And remember that not all expensive clippers are of high-quality and vice-versa.
3) Motor Power
Strong motors provide the energy needed to cut through all kinds of hairs with ease.
4) Blades
Good, quality blades offer you precision and a lot of conveniences. For example, self-sharpening blades don't need a lot of maintenance.
5) Recharge and Run Times for Cordless Clippers
If you are more interested in buying a cordless clipper, then you need to make sure that you get as much run time as you can get with a very short recharging period; especially if you run a busy barbershop.
How to Fade Hair With Clippers
If you are new to the whole fade haircuts concept, here's how to do a fade haircut with clippers step by step:
Step 1: Wash and comb the hair to remove tangles.
Step 2: Trim the top-side of the head to the desired length. It will make it easier for you to know how and where to cut your fade.
Step 3: Fit a high-number guide comb on your clipper e.g. #4 and then start trimming your way downwards - to the sides and back - away from the top of the head. The lower you move the lower the guide comb number should be e.g. #3 then #2.
Step 4: Once you've created the fade, carefully blend away layer lines to end up with an even, smooth, and continuous transition between each layer.
Step 5: Use a trimmer or a razor to do the finishing touches on the neckline and around the ears.
And just like that:
You'll have learned how to do a fade haircut step by step. It's an easy guide on how to fade hair for beginners.
Once you master the process, fading hair will become even easier for you.
The same process applies when you want to learn how to do a fade haircut by yourself.
The only major difference is that you'll need to find a good fading hair clipper, combs, a handheld mirror, and a razor/pair of scissors.
Also, for maximum traction, always cut against the direction of your hair's growth.
And that's just about everything you need to know about the best clippers for fades 2023. Remember that your ideal fading clipper will be highly dependent on your budget and preferences.
Do you have any questions?
I'd love to hear your thoughts on this. Post them in the comments section below and I'll help you find answers.
Frequently Asked Questions
While there are specific clippers that are labeled for fading, almost every professional clipper can be used for fades provided it has the right blades and combs. The fades are done by you, the clipper is the tool.
There are different fade blades depending on the manufacturer. For instance, the Wahl Magic Clip, which is our top pick for the best clipper for fades comes with the #2161 Stagger-Tooth Crunch Blade, while the Andis Fade Gold comes with the adjustable #66255 US-1 fade blade.
You'll need one of the best clippers for fades, a foil shaver, #0.5, #1, #2, and #3 guards, a comb or brush, and a mirror.
The four most important guards for fading are #0.5, #1, #2, and #3. With a good clipper and these four guards, you can cut any type of fade including skin, low, medium, and high.
More from Mike Medders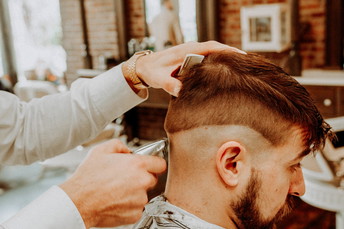 Trust me, I've been on both sides of the chair. I can't count the number of times a client has sat down and struggled…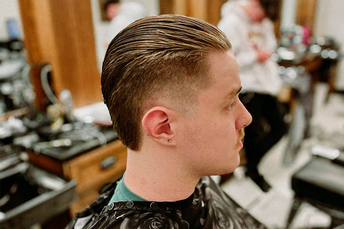 50 Different Ways to Rock the Slick Back Hairstyle for Men 1. Slick Back Fade @jules.thebarber Look: The slick-back…
Newest articles
Trust me, I've been on both sides of the chair. I can't count the number of times a client has sat down and struggled…
50 Different Ways to Rock the Slick Back Hairstyle for Men 1. Slick Back Fade @jules.thebarber Look: The slick-back…
Here is the thing: Manscaped's Peak Hygiene Plan subscription might be one of its sneakiest marketing tactics. Thanks…