Tired of Waiting in Line at The Barbershop? Use These Booking Apps in 2023
Let's face it:
Since the advent of smartphones, we've been enjoying a lot of perks and conveniences.
For instance:
The ability to book professional services and appointments at any time and from wherever.
Well:
The hair care industry hasn't been left behind.
Nowadays, booking a haircut appointment is as easy as 1, 2, 3 taps on a smartphone app.
And:
That's what I want to walk you through today.
In this post, you'll get to learn about:
Some of the best ones available today.
The benefits of using booking apps.
The differences between booking and queuing apps.
As a barber, what you can do with the free time you get between appointments.
Some of the features to look out for when searching for a booking app.
As well as a few FAQs about them.
But:
Before I get into the best barber booking apps in 2023, here's a quick summary.
WiseBarber Rating Summary
| Rank Order | App name | Features | Ease of Use | Customer Support | Value for Money | Overall Rating |
| --- | --- | --- | --- | --- | --- | --- |
| 1. | The Cut App | 9.6 | 10 | 10 | 10 | 99 % |
| 2. | Setmore | 10 | 10 | 9 | 10 | 98 % |
| 3. | Booksy | 9 | 10 | 9 | 10 | 95 % |
| 4. | Vagaro | 10 | 10 | 7 | 10 | 93 % |
| 5. | StyleSeat | 8 | 9 | 9 | 10 | 90 % |
| 6. | Square Appointments | 10 | 8 | 8 | 10 | 90 % |
| 7. | Schedulicity | 10 | 7 | 8 | 9 | 85 % |
So:
Which one should you use? Learn about that below…
2023's Best Haircut Appointment Booking Apps (WiseBarber's Top Picks)
1. TheCut App (Android, iOS)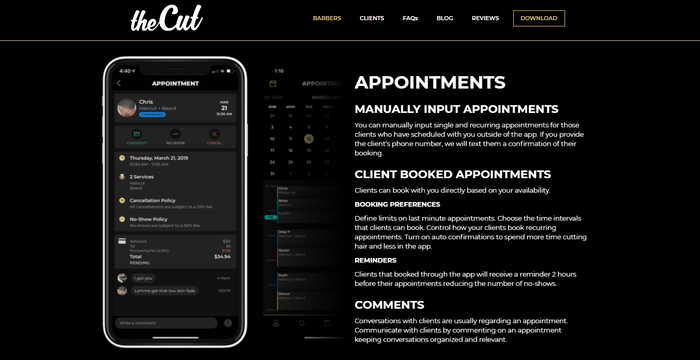 I know you are wondering:
What makes this appointment booking app the best one on this list?
Well:
Unlike most of the ones mentioned here, theCut app is specifically designed for barbers and their clients. 
Now:
This app was born out of necessity. It was the result of a bad haircut and the merging of two friends to find a suitable solution.
You'll love this app because of its numerous features, an abundance of experienced professionals, user-friendliness, and affordability; facts that are evident on its app store ratings and reviews.
Its user interface is quite simple.
Barbers can list their business profiles on theCut app and get bookings. And clients get to see barber ratings and reviews to find the best one closest to them.
Simple, yet convenient, right?
Pros
Very user-friendly
Appealing and engaging design
Good service
In-app payments
Available for both Android and IOS users
Reminders and notification functionalities
Offers client data management
Allows you to set up a full business profile
Offers reviews and ratings for user consideration
Free for users and pocket-friendly for barbers
Cons
You cannot book an appointment from their website (Apps only)
Costs
Well, with theCut app, you can opt for:
A FREE account.
Or a PRO account with more features and a $20 monthly subscription fee; plus, a 30-day trial period.
If you ask me, that's great value for money right there.
2. Setmore (Web, Android, iOS)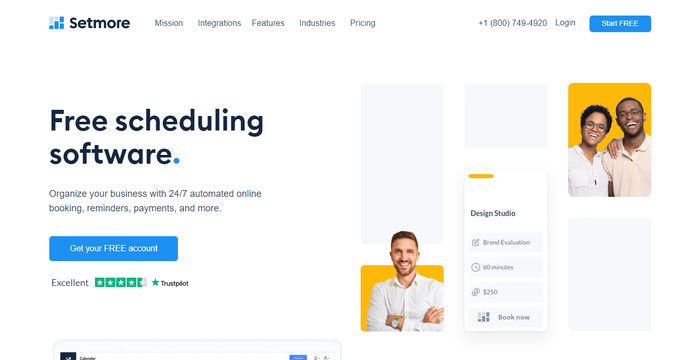 Get this:
When it comes to appointment booking features, Setmore is one of the best apps you'll find today.
It's tailored to serve professionals and users from all industries; not just barbering. Hence, it comes with more and better features than most apps.
In brief:
Setmore is a FREE appointment booking app; but this only applies to accounts with less than four staff members. Any team with more than four barbers will be billed to use it.
Also, users can subscribe to Premium and Pro features for optimal use of the platform; but at a cost.
And, unlike theCut app, you won't get a free trial.
But:
Still, its low-price subscriptions offer great value for money; given the features and functions you get for it.
And the best part:
Setmore is quite easy to integrate with other online platforms and social media sites for maximum convenience; for both the barber and their clients.
Plus:
Its impressive calendar merging system improves management and increases productivity through two-way synchronization. 
Pros
Offers 24/7 online support
User-friendly
Excellent customer service
Impressive calendar syncing system
Ample, useful features
Great value for money
Accessible via the web, Android, and IOS devices
Impressive integrations with other platforms
Cons
Not specifically designed for barber bookings
hence, some features might be missing or unnecessary
Costs
In terms of pricing, Setmore offers:
100% FREE access to their basic features (4 users max).
Premium $9/user/month Subscriptions for those looking for more, better features (2 users max).
And a $5/user/month Pro Subscription for larger teams.
Great offers, right?
3. Booksy (Web, Android, iOS)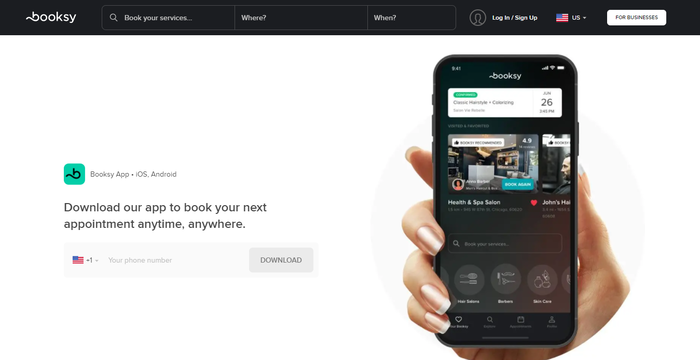 With a 4.9/5.0 rating after +100K reviews on both app stores, it's evident that:
Booksy is one of the most popular and most loved barber booking apps out there. And I can attest to this fact because I've been using it for years now.
Basically:
This app matches your needs and that of your clients to produce a smooth blend of service flow and experience. 
For users, using this booking platform is absolutely FREE. All you have to do is get the app, find a barber near you, book an appointment, and wait for your turn.
Simple, isn't it?
Barbers get to enjoy a myriad of perks including a comprehensive management tool for the business.
What's more?
This app's User Interface is quite easy to use; even on the first try.
And you don't need to have a smartphone to find a good barber or book an appointment; their website has this feature too.
With Booksy, barbers have all the tools and functions they need to:
Handle appointments
Receive and request payments
Market their business
Shield themselves from cancellations and no-shows
Keep track of their work schedule
Manage their team and so on
And the best part is that you get to enjoy all these perks at very affordable and reasonable monthly fees.
Does it get any better than that?
Pros
Offers 24/7 online service
Fast and unlimited booking and rebooking
It has incorporated mobile payment support
Fast response and customer care
Great value for money
Offers marketing tools
No-show and cancellation protection
Has a free trial period
Great for staff and client management
Huge user base
Trusted by many
User-friendly interface
Cons
Compared to the two above, it may seem a little expensive
No free subscription
Costs
Now, to use Booksy, you have a few options on the table:
Single users pay $29.99/month with $10 charges for each additional staff member.
The boost package (offers better exposure and more marketing tools) is commission-based and charged per new client.
Impressive and affordable, right?
4. Vagaro (Android, iOS, Web)
Much like Setmore, Vagaro is also a multi-business booking app.
But:
That doesn't mean that you won't get the best when searching for a barber to handle your next haircut appointment.
This app is designed to personalize the needs of each business and client; hence, making sure that everyone gets exactly what and who they are looking for.
Impressive?
Well, there's more.
For barbers, Vagaro offers a consolidated solution to all your management and appointment issues.
It has custom email marketing strategies and enables you to send email offers/reminders and text notifications to customers on time.
Now:
Unlike most apps on this list, Vagaro offers you unique, yet useful, features like a Website Builder for just $10/month.
What's more?
Barbers can use this app for report and payroll management, client tracking, and integration with other platforms; for improved service delivery and exposure.
Sounds great, right?
Pros
24/7 online support
Pocket-friendly pricing
Easy to use
Numerous features
Unique, additional functionalities
Free for users
Broad client-base
Cons
Poor customer service (especially, on the app stores)
Costs
Note that Vagaro's pricing starts at $25 per month for a single user and a free trial is offered.
The rest of the pricing are as follows; 2 users: $35 /month,  3 users: $45 /month,  4 users: $55 /month,  5 users: $65 /month,  6 users: $75 /month, and 7+  users: $85 /month .
Well worth the money, right?
5. StyleSeat (Web, Android, iOS)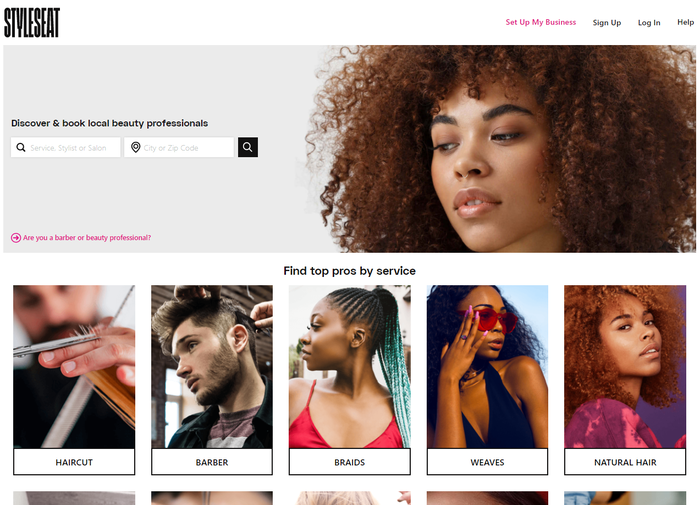 Get this:
Much like its name, StyleSeat is an app that's designed to help you find professional stylists; quickly and conveniently.
It might come across as simple, but there are a ton of features hidden behind what you see.
Now:
StyleSeat, as a barber scheduling app, offers awesome Customer Relationship Management functionalities; with easy bookings/appointments and daily performance reports for barbers. 
Moreover:
Thanks to its massive user base, this app allows barbers to grow their income and businesses with ease.
And it offers fail-safes to shield you from last-minute cancelations and no-show bookings.
The best part?
With StyleSeat, you can charge (earn) more during your busiest/high-traffic hours.
Pros
The app is very user-friendly
Great overall design
Informative menu
Awesome features
Broad exposure
Payment processing
Late cancelation and no-show fees
Adjustable rates depending on demand
Useful marketing tools
Free to use but expect to pay a commission for each client you receive through the site
Cons
Sometimes glitchy
mostly, for Android users
Costs
Now, StyleSeat is FREE to use; for both barbers and users. However, you should expect a few hidden fees in the form of commissions and transaction charges.
6. Square Appointments (Android, iOS)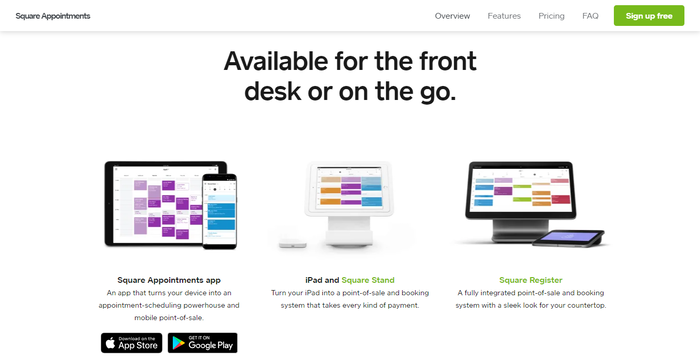 As a product of one of the biggest digital payment services in the U.S., Square Appointments is one of the best options on this list.
Generally:
It's a highly-rated, feature-packed barber booking app that delivers impressive appointment scheduling functionalities. 
With this app, you can:
Book a haircut appointment (clients).
Sync your appointments with your Google calendar.
Automate reminders and email/SMS notifications.
Manage multiple locations.
Handle contactless payments.
Offer discounts and deals to customers.
Maintain client profiles, history, and preferences.
Increase your shop's exposure via marketing.
Manage staff with individual employee accounts.
Combine service and product purchase costs during checkouts.
And so much more…
Evidently, Square Appointments has an assortment of features that prove useful to the smooth running and growth of a business.
What else could you possibly need?
Pros
Numerous features
User-friendly
Great value for money
Ideal for business growth
Awesome payment processing features
Can be integrated with other platforms for better service delivery
Cons
Their customer service and relations don't live up to this app's reputation
Costs
For single users, Square Appointments is 100% FREE.
However, for multiple users, prices start at $50/month (2 to 5 staff) going up to $90/month for 5 to 10 staff. And if you have 11 or more members of staff, you'll get custom pricing.
To me, these are fair rates considering the endless perks you'll enjoy.
7. Schedulicity (Web, Android, iOS)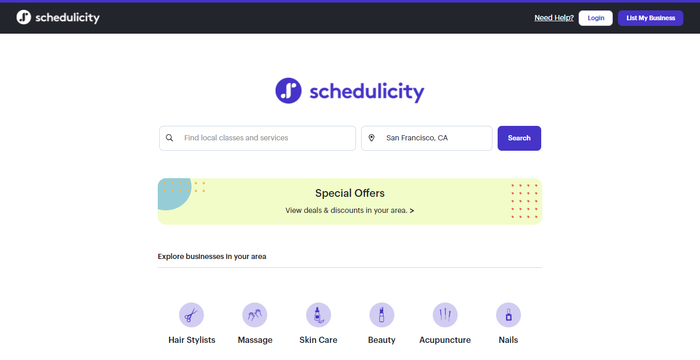 Look:
While it may not be the best app on this list, Schedulicity is still a great appointment booking tool.
Why?
Design-wise, you'll enjoy its simple, straightforward, and easy-to-navigate user interface.
And the best part is that it comes packed with useful features like:
Payment processing

Instant booking

Simplified marketing

Increased exposure and so on
Also:
Schedulicity's user-friendliness allows you to set up your profile and work schedule easily.
Plus, it's affordable and comes with several useful add-ons that can help to improve service delivery even further.
Not forgetting:
You can easily monitor and make changes to your schedule through their app while on the move.
I guess:
The biggest downside to using this app is that it gets glitchy on smartphones. And that can be quite an inconvenience to someone without immediate access to Schedulicity's website.
Pros
Exposes your business to millions of potential customers
Easy to navigate
Feature-packed
Affordable
Multi-platform support
Great marketing tools
In-app payments
And ideal for multiple appointment handling
Cons
Annoyingly glitchy on smartphones
Too basic, compared to the other items on this list
Costs
At first glance, Schedulicity's $20/month pricing may seem relatively cheaper than most apps. However, if you factor in all the extra expenses for necessary add-ons, the app's affordability becomes disputable.
But, it is still worth a try.
Now:
You might be wondering:
"Do I really need to use a barber booking app?"
Well:
To answer this, you need to understand the benefits that come with them. 
5 Cool Benefits of Using Barber Booking Apps
Now:
Without a doubt, booking apps are often beneficial for both barbers and clients.
Generally, the motive here is to add a little bit of reliability, convenience, timeliness, and good customer service.
And:
These are, basically, all the right ingredients for a fruitful relationship between a barber and their clients.
Right?
So, here are a few awesome benefits you should know about:
1. Saves Time
Time is money, right?
Well, barber booking apps allow users to manage time by simply logging in and choosing an available appointment slot.
If you are a barbers:
These apps help to allocate clients the most convenient dates and times as per your availability and work timetable; to avoid unnecessary conflicts and issues with appointments and haircut queues.
That way, you can invest more of your valuable time in handling other aspects of the business.
On the other hand:
Customers enjoy the convenience of having to book a haircut at the best, most ideal time; as per their barber's available slots.
It is not only less time-consuming but also can be done from anywhere and anytime; whether it's at home, work, or when traveling.
Awesome, right?
2. Grows Businesses
Now:
Obviously, a business grows by gaining new clients.
Right?
Well, for barbers, these apps are a great way to expose your business digitally; thus, increasing your online presence and reach.
Note:
Good reviews are quite important for the growth of your business. They usually help to build a new client's confidence in your skills and business.
And that's why:
Most of these booking apps urge customers to leave a review and a rating of the services received. Therefore, if you're good at haircutting, you'll get more positive reviews; and as a result, more new clients.
3. Cure Forgetfulness
It's a fact:
As human beings, we are prone to forgetfulness.
But, thanks to awesome features like reminders and notifications, barber booking apps ensure that both the hairstylist and their client remember the appointment.
Great, right?
4. Payment Management
Yes!
You can also make and manage payments through some of these apps.
Basically, booking apps that are integrated with a POS system allow clients to pay for barber services directly on the app.
Convenient, isn't it?
Well, there's more…
Some allow barbers to ask for prepayments; this reduces cancellations and rids you of unserious customers. 
5. Staff, Client, and Business Management
Arguably:
Streamlining management is also one of the biggest benefits you get from booking apps.
How?
Well, as an owner, you can use these tools to manage your staff and check their productivity. 
Moreover:
Some also allow you to save your clients' profiles, contacts, and haircut preferences.
This is usually quite helpful in maintaining a great business-client relationship; which is a no-brainer in business growth.
The best part:
Is that you can use these apps to announce offers, discounts, and deals.
Anyway:
The benefits you get from appointment booking apps as a client or barber are endless; especially in today's busy world.
That aside:
Here are a few interesting facts you should know…
Booking or Queuing Apps: What's The Difference?
It's simple.
Booking apps are based on the aspect of time.
So, if you made a booking at 8:00 AM, then you are expected to appear at exactly 8:00 AM. Also, booking apps are more organized and have fewer interferences.
On the other hand:
Queuing applications are based on succession.
This means that you follow the person ahead of you regardless of the time they consume. For instance, if make an appointment on a queuing app for 9:00 AM, don't be alarmed if you are called in before or after that time.
Moreover:
Queuing is time-consuming; however, it offers some advantages as well.
For example:
Queuing requires little to no planning and allows you to get new clientele from walk-ins.
What to Do With the Time After Each Client?
Now:
One of the best aspects of using barber booking apps to schedule your clients' appointments is that you can include breaks in between.
And that gives you an opportunity to do other important things.
Like?
Cleaning up your workspace.
It is imperative to maintain top-notch hygiene standards. This prevents cross-contamination; especially, during these uncertain times (i.e. the Covid-19 Era).
So, here are a few things you should do in between clients:
Disinfect your tools and other equipment.
Dispose of the used gloves appropriately.
Use soap and sanitizer on your hands.
Restack clean towels and dispose of used paper towels.
Wipe your work area with an antibacterial surface cleaner.
Vacuum hair clippings.
Then rest a bit; even if it's for five minutes. Haircutting involves a lot of standing, and that's why it's wise to sit down every chance you get.
Also:
You can use this time to check your schedule for the next appointment or create more.
Most Popular Booking App Features
1. Simplified Management Processes
This might be the most important feature to look for. 
Note:
Modern barber booking apps are tailored to ease or simplify most of your management duties. This means removing the stress and effort needed to manage:
Your time

Payments

Your business

Marketing strategies

Clients

Appointments

And your team
Therefore, you'll focus more of your time on growing your business instead of managing every aspect of it.
2. Mobile-Friendly Designs
It's a known fact:
That in today's world, many of us frequently use our smart devices. 
Therefore, most online haircut scheduling apps are designed to have a layout that is compatible with a variety of screen sizes and device technologies.
Hence:
Users can access the app or booking service with ease from their smartphones, tablets as well as computers.
3. User-Friendly Interfaces
Yes!
Another important feature to note is often how easy it is for a user to navigate through the application.
Get this:
An ideal app should have a clear design, an intuitive interface, and be easy to use.
Remember:
Not everyone is well-versed in techy stuff and apps; therefore, only go for the ones that are simple, less complicated, and well-organized.
4. Payment Consolidation
Any barber will agree with me when I say:
Handling payments can be a daunting task; especially, when all your clients want to use their most preferred payment methods.
Some pay in cash, others use credit cards, digital payment systems, mobile money, and so on.
However:
Apps allow you to consolidate different client payment methods into one.
How?
Well, clients use bank transfers, credit cards, PayPal, Apple Pay, Square, Venmo, Google Pay, and so on to pay on an app.
Right?
However, an efficient payment processing app should consolidate all of the payments, deduct commissions, and then send you the balance through your preferred payment method. 
So, isn't that a cool feature?
And, it also allows your clients to pay using their most convenient method.
Win-win, right?
5. Calendar Integrations
Lastly:
Calendar integration features allow you to sync/merge all your personal (iCal or Google calendars) and work schedules into one.
That way:
Your client will know that you won't be available at certain times of the week; thus, giving you the chance to go for your dentist appointment on Tuesday afternoon or cookout during the weekend.
Basically:
This removes the stress and inconvenience of having to explain to your clients why you won't be available for their appointment.
In Conclusion…
Well:
It's evident that barber booking apps have made things easy and getting a nice haircut even easier. And the best part is that most of them are usually free for users and very affordable for barbers.
Generally, these are tools that can help you to easily grow your business exponentially.
Tell me:
Who doesn't want that?
For clients:
These apps give you access to the best barbers nearby and allow you to book an appointment from wherever.
It doesn't get any better than that, right?
Anyway:
I hope this post was useful to you. And, as always, don't hesitate to leave a comment below if you have a question or feel like I've left something out.
Thank you and remember to #StaySafe.
Frequently Asked Questions
TheCut App, Setmore, Booksy, Vagaro, StyleSeat, Square Appointments, and Schedulicity are some of the top-rated barber apps. They are used for booking appointments and are available on either web, Android, or iOS.
Barbers use a variety of apps in the running of their business. They use barber booking apps for easy scheduling and social media apps for promotion and virtual accessibility.
TheCut booking app is free to download and use for barbers. It comes with a 30-day free PRO version trial, after which you can pay a $20 monthly subscription fee.
Squire has monthly charges and varying benefits depending on your subscription plan. They charge a $100 monthly subscription fee for the Pro plan, a $150 monthly subscription fee for the Executive plan, and a $250 subscription fee for the Titan plan.
More from Mike Medders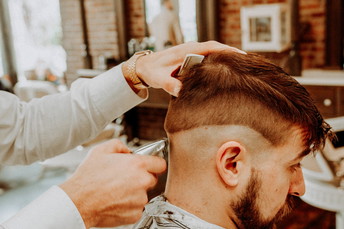 Trust me, I've been on both sides of the chair. I can't count the number of times a client has sat down and struggled…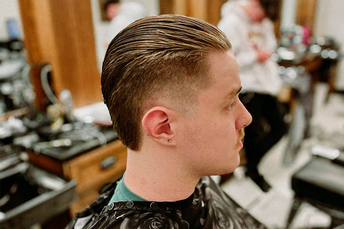 50 Different Ways to Rock the Slick Back Hairstyle for Men 1. Slick Back Fade @jules.thebarber Look: The slick-back…