2023's 5 Best Beard Products to Buy for a Healthy, Charming Beard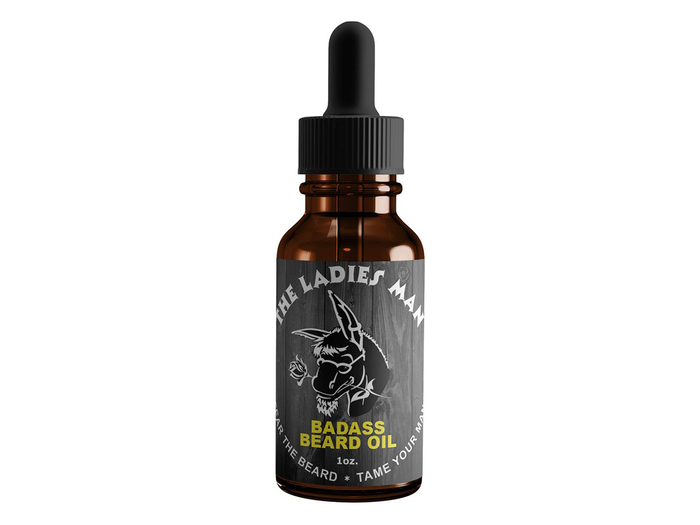 WiseBarber Top Pick
Badass Beard Care Oil
Head's up gents:
No-Shave-November is just 3 months away.
And that means you have to double down on your grooming efforts to have a good looking beard come month #11.
Now, if you have a beard, then you know that it can be a lot of work.
From dealing with ingrown hairs, itchiness, and dandruff to looking for the right products to keep it healthy and looking nice.
So, yes, it can be quite the hassle.
But, don't stress about it anymore – that's what this post is all about.
Today, I've handpicked the best of the best beard products to buy in 2023 based on ingredients, scent, and value.
That way you can take care of your glorious facial hair without worrying about any side effects or other growth issues.
So, let's get to it…
WiseBarber Rating Summary
| Rank order | Product name | Ingredients (max. 10) | Scent (max. 10) | Value (max. 10) | Overall Rating | |
| --- | --- | --- | --- | --- | --- | --- |
| 1. | Badass Beard Care Oil | 9.7 | 9.7 | 9.8 | 98.1 % | See details |
| 2. | Mountaineer Magic Beard Balm | 10 | 9.7 | 9.8 | 96.9 % | See details |
| 3. | Suavecito Beard Wash | 9.8 | 9.5 | 9.7 | 96.7 % | See details |
| 4. | Viking Revolution Beard Conditioner | 9.8 | 9.3 | 9.7 | 95.9 % | See details |
| 5. | Just for Men Mustache & Beard Coloring | 9.6 | 9.4 | 9.6 | 95.3 % | See details |
A Quick Look at the Best Beard Products to Use this Year
The fastest way to deal with beard itch, dandruff, and flakiness is to use beard oil. And the Badass Beard Care Oil (The Ladies Man Scent) is among the best in terms of value for money, formulation, and scent.
Now:
When shopping for the best beard oils it's always important to go for all-round products. In essence, a good facial hair oil not only cares for your beard strands but also the skin underneath.
That said:
The Badass Beard Care Oil is a great way to hydrate your beard. It's formulated with 100% natural ingredients to encourage healthy growth.
While at the same time keeping beards soft, hydrated, and smelling fresh. Thus, allowing you to style the beard in any way that works best for you.
Get this:
With beard products, oil helps keep your facial hair from getting too dry. Therefore, preventing the formation of split ends and breakage early on in life.
You don't want that, right?
More so, the Ladies Man Scent smells appealing. Its profile leaves beards with a sweet citrus fragrance that isn't too imposing.
Pros
Nice citrus scent
Natural formulation
Great for all beard types
Keeps beards soft and hydrated
Moisturizes the skin underneath
Final Verdict
If you're shopping for beard oil, the Badass Ladies Man Scent Oil is definitely worth trying. It's great for all beards, works like a charm, and smells very nice and comfortable.
Mountaineer Magic Beard Balm
The Mountaineer Magic Beard Balm best option for men looking to keep their facial hair moisturized and in place. It works almost the same as beard oil but with the added benefit of providing hold and texture.
The Mountaineer Magic Beard Balm is among the best beard balms in 2023.
Why?
It's made with all-natural ingredients, which means that it won't harm your skin or clog up your pores.
This helps to prevent itching and dandruff, condition the beard, soften and moisturize the skin underneath.
All these perks are important because they help to deter premature hair loss. The balm also prevents beardruff by slowing the buildup of dead skin cells on your face at night while you sleep.
Awesome, right?
Well, there's more…
Since it's a balm, you get to enjoy a little bit of hold, hence, making it easier to keep your beard style in place.
Plus, it comes in a convenient tin container that allows for portability without getting messy.
Note:
The Mountaineer Magic Beard Balm is available with different scent profiles. However, the WV Timber and the WV Citrus & Spice are the best-smelling options available.
Pros
Different scent profiles
Organic formulation
Great value for money
Multiple benefits
Provides hold
Non-greasy
Cons
Not ideal for all beard types
Final Verdict
If you are shopping for beard Balm, Mountaineer Magic Balm is probably your best bet. Much like beard oil, this product acts as a moisturizer for both your facial hair and skin. Thus, promoting healthy beard growth.
Washing your beard is an essential part of keeping it healthy. And the Suavecito Beard Wash is among the highest-rated shampoos for facial hair. It's an effective beard softener that smells great.
So:
When it comes to cleaning a beard, Suavecito's 8-fl-oz Beard Wash is a sure pick.
It lathers quickly and works fast to remove any form of build-up on your beard strands including oil, grease, dirt, dust, and grime.
Plus, it's true that you only need a small amount per wash.
And, even better:
This beard wash does all this while still retaining strand moisture. That way you end up with smooth, moist, and easy-to-style facial hair.
Moreover:
Thanks to its alluring peppermint scent, this beard wash leaves facial hair smelling and feeling cool/refreshed.
And the best part is that it offers great value for money.
Pros
Great value for money
Smells awesome
Softens and moisturizes the beard
A small amount goes a long way
Removes dirt, oil, grime, and grease with ease
Final Verdict
Overall, the Suavecito Beard Wash for Men is an impressive facial hair product. It works like a charm and leaves beards smelling fresh and cool. You should definitely try it.
Viking Revolution Beard Conditioner
If you've been searching for a beard oil substitute, get this facial hair conditioner. The Viking Revolution Beard Conditioner has a great formulation and offers almost the same benefits as typical facial hair oil.
Get this:
Beard conditioners are a great way to keep your beard healthy and hydrated. Nowadays, most contain natural oils that moisturize both the beard strands and the skin underneath.
Thus, preventing split ends while keeping hair soft and moisturized.
With the Viking Revolution Beard Conditioner, you get all the above, plus, protection from dandruff and beard itch.
Now:
Much like beard oil, conditioners are ideal for men dealing with dry, flaky skin underneath their beards.
This product helps to maintain optimal moisture levels; to ensure that, even the toughest of beards, stay soft and look healthy throughout the day.
Moreover, the Viking Revolution Beard Conditioner comes imbued with natural oils like Argan and Jojoba. It smells great with a minty, woody scent profile.
Pros
Best value for money
A little goes a long way
Softens and moisturizes beards
Contains natural oils
Easy to apply
Lathers easily
Prevents itching, dandruff, and slit end formation
Cons
Poor pump/dispenser design
Final Verdict
I know many men struggle with their beards because they don't know how much moisture is needed for optimal results. But, luckily, the Viking Revolution Beard Conditioner w/Argan & Jojoba Oils offers a practical solution. It's an awesome product that works well to soften, moisturize, and improve beard growth.
Just for Men Mustache & Beard Coloring
Whether you are trying to hide gray hair or you just want to spruce up the color on your beard, it's important to use a quality product. And that's exactly what the Just for Men Mustache & Beard Coloring (Dye) is.
At some point in time, you'll have to dye your beard.
And when that time comes, trust that Just for Men Mustache & Beard Coloring (Dye) will get the job done.
This product provides a great way for men to enjoy and show their style without the fear of gray hair spoiling the fun.
Impressively:
It's designed to give you a well-groomed facial hair look in under minutes. While at the same time delivering a natural-looking and completely color-matched beard.
What's more, the kit comes with everything you need to get started including a brush and gloves.
And, even better…
It's specially formulated with Aloe, Biotin, Coconut Oil, and Chamomile to ensure your facial hair gets essential nutrients in the process.
While you have the option to apply it as many times as you want, this dye will last until fresh gray hair grows out.
Awesome, right?
Well, there's a downside…
It can cause an allergic reaction or severe skin irritation. So, it's important that you do a skin allergy test at least 48 hours prior to using this product.
Pros
Great value for money
Very effective
Available in different shades
Lasts long
Easy to apply and use
Decent formulation
Works fast
Cons
Can cause allergic reactions
Final Verdict
The Just for Men Mustache & Beard Coloring provides a temporary fix to incessant gray hair. It works great and fast. Plus, this dye is available in many different shades, hence, making it easier to find your specific color. That's why it's WiseBarber's best beard dye pick.
So:
This concludes the WiseBarber list of the Best Beard Products to buy in 2023. However, before I wrap up, here are a few useful tips for people shopping for beard care products.
Newbie Guide: 4 Things to Consider When Shopping for Beard Care Products
1. Take a Moment to Re-Examine Your Needs and Availability
Note:
When you're shopping for beard care products in 2023, it's important to first determine what you need.
You have to ask yourself…
Are you looking for a product that will protect your beard from getting damaged, breaking off, or falling out? Or are you hoping to grow a full, thick mane? Or do you want to soften your facial hair?
There are plenty of questions to answer.
And perhaps the answer to these questions is somewhere in between those extremes.
Therefore…
First, consider what you need and then find a product that fits that description.
Next, think about how much time each day or each week (or month) will be spent maintaining this new look.
Well:
Do you want something quick-acting but temporary? Or do long-term benefits matter more than convenience?
Your availability will play a pivotal role in figuring out what to do in this regard.
2. Do Your Research
Well, that's why you are here, right?
Get this:
To get the best beard products, you need to have as much information as possible. That's the only way to make an informed decision.
So, the first thing to do is to look for those that are made with more natural ingredients.
For example:
If the product is paraben-free, sulfate-free, and/or alcohol-free, then it's probably good enough to use on your beard.
Plus, read the reviews. Getting insights from users who've already tried the product gives a better understanding of what to expect.
3. Always Check the Ingredients
Yes - Ingredients Matter!
The formulation is among the most important things to consider when shopping for a beard care product.
Obviously, this will vary from brand to brand. But to be on the safe side, always examine each ingredient before buying a beard product.
The goal should be to establish what the ingredient does for your beard and whether it comes with side effects.
It goes without saying…
Avoid products that feature ingredients that are bad for both your skin and beard. And don't forget to check for allergenic substances.
4. Don't Be Afraid to Experiment with Different Products
You can start by experimenting with different brands and products.
Understand that what works for someone else isn't guaranteed to give you the same experience and results.
That's why it's important to try out different products until you find one that is right for your beard and purpose.
Purpose?
Well, people buy beard products for different reasons. There are those who are looking for styling hold, some need a conditioner, while some want something to soften their thick beard.
Get it?
In Summary…
There you have it…
Five of the best beard products in 2023 for various applications.
Remember that when it comes to finding the right beard care products, it's mostly about what works for you. And that means considering your beard type and needs.
All in all:
You have every reason to be excited about your beard growth journey.
Just make sure you use the right products for each grooming activity/goal. Plus, have a little patience (the best things in life take time).
That said:
Do you have any questions?
If so, don't hesitate to share your thoughts with the WiseBarber community. Your input will be highly appreciated.
#StaySafe
Frequently Asked Questions
Beard Oil. That's because it is probably the most universal of all beard grooming products. Moreover, beard oil is multifunctional and works perfectly on all beard types and lengths.
Well, it depends on what you want. For example, if you want to hide gray hair or change your facial hair's color, skin-friendly beard dye will do. Beard balm does a great job of adding texture and hold for proper, all-day styling. Oils relieve beard itch and dryness while softening strands and locking in moisture. Beard wash is formulated to remove oil, grime, and dirt easily without damaging your hair.
Viking Revolution; closely followed by Honest Amish, Suavecito, Mountaineer Brand, and Jack Black.
Jack Black as explained in this Beard Growth Oil review comparison.
More from Mike Medders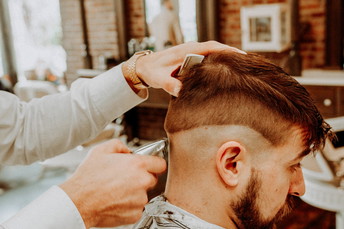 Trust me, I've been on both sides of the chair. I can't count the number of times a client has sat down and struggled…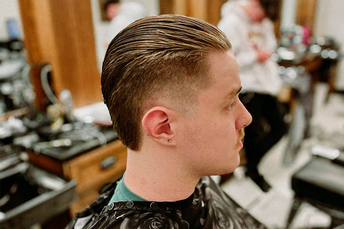 50 Different Ways to Rock the Slick Back Hairstyle for Men 1. Slick Back Fade @jules.thebarber Look: The slick-back…
Newest articles
Trust me, I've been on both sides of the chair. I can't count the number of times a client has sat down and struggled…
50 Different Ways to Rock the Slick Back Hairstyle for Men 1. Slick Back Fade @jules.thebarber Look: The slick-back…
Here is the thing: Manscaped's Peak Hygiene Plan subscription might be one of its sneakiest marketing tactics. Thanks…