Shopping Guide: 5 of the Best Clippers for Lineups in 2023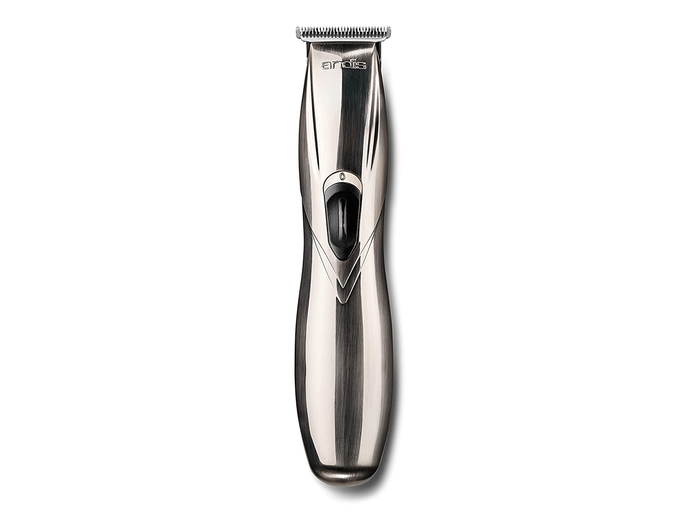 WiseBarber Top Pick
Andis Slimline Pro Li
Question:
What separates talented, professional barbers from mere amateurs?
Well:
There are numerous answers to this question. But the most important one is "the level of finishing on every haircut they perform."
Yes, you read that right.
Generally, the amount of time and detail you give to a haircut's finish can make a simple cut appear professional.
And get this:
Any pro will attest to this simple fact – lineups are always as good as the tools used. Therefore, don't go using poor-quality trimmers and expect to get the best results.
That's why, to get perfect lineups, you need precision. And by that, I mean well-contrasted, close-cut, razor-sharp precision.
How?
Well, for starters, ensure you have the right hair clipper/trimmer for the job.
And that's what this post is all about.
Ready?
If so, let's get to it.
Rating Summary
| Rank order | Product name | Features & Functionality (max. 10) | Usability & Handling (max. 10) | Accessories (max. 10) | Overall Rating | |
| --- | --- | --- | --- | --- | --- | --- |
| 1. | Andis Slimline Pro Li | 9.3 | 9.5 | 9.7 | 95 % | See details |
| 2. | BaBylissPRO GoldFX Trimmer | 10 | 9.2 | 8.7 | 92.8 % | See details |
| 3. | Wahl 5-Star Detailer | 9.3 | 9.5 | 9 | 92.8 % | See details |
| 4. | Wahl Peanut | 8.7 | 9.2 | 9.3 | 90.6 % | See details |
| 5. | Andis T-Outliner Trimmer | 9.7 | 8.8 | 8 | 88.3 % | See details |
That said:
Here's a quick preview of each product and why it's worth buying…
A Look at 2023's Best Hair Clippers for Lineups
With its seductive, elegant, ergonomic design and precise blades coupled with a powerful rotary motor, the Andis 32400 Slimline Pro is among the best hair trimmers; for professional lineups and detailing.
Get this:
There are a lot of things to love about the Andis 32400 Slimline Pro Li. And that's because it comes packed with features that make it an ace trimmer for lineups.
For instance:
You'll love this cordless trimmer for its ergonomic design. Moreover, it is lightweight with an elegant, easy-to-hold design that ensures it fits in your hand perfectly.
And that's not all…
The cordless clipper design allows you to easily maneuver this tool; even when styling hard-to-reach areas. Thus, making your lineups easier to achieve and more precise.
What's more, the Slimline Pro trimmer comes fitted with a lithium-ion battery that will deliver up to 120 minutes of runtime.
Impressive? Well, there's more.
This trimmer is equipped with a robust rotary motor that operates at an impressive 6,000 strokes per minute with enough torque to back it up.
Its strong motor coupled with T-shaped, sharp blades allow you to plow down any hair type and volume without breaking a sweat.
That said:
What makes this trimmer truly special is its blades – which bring a whole new meaning to the term 'close-cutting.'
Simply put, the blades are sharp and precise; but if you want to make them even more sensitive, consider zero-gapping.
Why?
Zero-gapping makes the blades sharper and close-cutting – perfect for lineups and more delicate detailing.
Pros
Lightweight
Sharp, precise blades
Long-lasting battery
Can be zero-gapped
Comes with guide combs
Can be an awesome home beard trimmer
Cons
Blades tend to get too sharp
especially, when zero-gapped
Final Verdict
With sharp, precise trimming, a long-lasting battery, and a seductive design, this trimmer has it all. Moreover, if you are a fan of sharp blade tools, the Andis 32400 Slimline Pro Li might be what you are looking for.
BaBylissPRO GoldFX Trimmer
BaByliss is a world-renowned clipper manufacturer with an impressive line of cordless trimmers on its product catalog. The MetalFX Outlining and Detail Trimmer has proven its worth in more ways than one.
For starters, this impressive trimmer comes fitted with an exposed, 360 degrees T-blade.
As you have probably guessed, the T-blade design makes adding detail and lineups to complicated hairstyles much easier.
What's more, the blades are sharp to ensure you get crispy, clear lines with every cut.
However, you'll need to zero-gap the blades – almost every time – to get the necessary precision and sharpness for fine detailing.
Nevertheless:
This BaByliss T-blade trimmer comes fitted with a high-torque, Ferrari-designed motor; that's ready to tackle any hair type imaginable.
And, as if that wasn't enough:
This trimmer can be used as both corded and cordless.
Awesome, right?
It is fitted with a Lithium-Ion battery that delivers two whole hours of runtime for cordless clipper convenience.
And the icing on the cake?
This lightweight outlining trimmer has a sleek, ergonomic design with a knurled barbell grip to ensure comfort while working.
Pros
Long-lasting battery
Powerful motor
Effective blades
Cord/cordless convenience
Nice, comfy grip
Lightweight
Cons
Blades almost always need to be zero-gapped
Pricey
Final Verdict
As one of the best edge-up clippers on the market today, this BaBylissPRO MetalFX Outlining trimmer is a professional tool that's perfect for lineups and other detailing work.
It's no secret that the Wahl Professional 5-Star Detailer is a favorite among barbers, the world over. This tool combines a powerful motor, stylish design, and effective blades to earn its place among the best.
Now:
What truly makes the Wahl Detailer a world-class lineup trimmer is its T-wide #2215 Stainless Steel blades.
They are about 1/4" wider than your typical T-blades.
Why is that important?
This unique blade design lets you trim larger areas than you usually would and easily reach complicated regions.
However, to get the most out of this T-blade, make sure you zero-gap it. This will increase the blade's precision and sharpness; therefore, ensuring you get crispy, clean edge ups.
More so:
The Detailer comes equipped with a powerful and reliable rotary motor to complement its sharp blades.
The motor delivers impressive speeds and ample torque to deal with almost any hair type – from whirly to thick; dry to wet hair.
The Detailer also has a lightweight and ergonomic design synonymous with the brand's 5-star series.
And:
This trimmer's housing is made of hard, durable plastic with a chrome finish that ensures you get a firm and comfortable grip.
Pros
Sharp and precise blades
Robust rotary motor
Lightweight
Stylish, ergonomic design
Comes with guide combs
Small enough to be a decent facial hair trimmer
Cons
The blades can get too sharp
Can irritate sensitive skin
Final Verdict
When it comes to the best hair clippers for lineups, the Wahl Professional 5-Star Detailer may not be as flexible as, say, the Slimline Pro, but it is still a worthwhile investment for both professional barbers and home users.
Despite its tiny size, the Wahl Professional Peanut Classic Corded Clipper caters to all detailing needs with elegance. It features a compact design, a powerful motor, comb attachments, and efficient blades.
Note:
One of the most impressive features of the Wahl Peanut is its size.
This clipper weighs about 4Oz with a length of around 4". Its compact size ensures the clipper fits in any palm perfectly and comfortably.
What's more, the size also ensures easier maneuverability; especially, in hard-to-reach areas.
Impressed? Well, it gets better.
This corded trimmer comes fitted with a powerful rotary motor that offers a decent amount of torque to make trimming a breeze.
However:
It is not advisable to use the Peanut for bulk hair cutting. Because it won't guarantee you the same, easy trimming experience as doing a lineup.
Anyway:
The Wahl Peanut is so versatile that it can be used both as a trimmer and a clipper. This versatility is made possible by the clipper's detachable, stainless steel blades.
This, combined with the clipper's compact design, makes lineups incredibly easy and fun.
However:
The blades tend to snag and pull on hair; especially, on thick hair types.
Pros
Lightweight and compact
Close-cutting blades
Reliable motor
Comes with guide combs
Dual functionality
Cons
Blades can pull/snag thicker, tougher hair types
Final Verdict
There's no doubt about it. The Wahl Professional Peanut Classic is a true liner clipper. It's a great option for those who prefer more extensive and intricate head hair designs and edge-ups.
The Andis Professional T-Outliner Trimmer has always been a barber-favorite. It's revered by professionals worldwide as an incredible trimming machine that always takes lineups to the next level.
So:
What makes the Andis Professional T-Outliner special?
Well, its T-blade design is among the main features that make this trimmer a perfect tool for lineups. It comes with strong, carbon-coated steel T-Blades designed for durability and efficiency.
Now:
The T-shape design is important because it ensures that your trimmer can efficiently work on hard-to-reach areas with ease.
Moreover, the blades are quite sharp making them perfect for lineups and other detailing work. And you can zero-gap them for better precision.
Pro tip:
Always clean the blades after every shave to keep them sharp and neat.
Anyway:
Blades aside, this detail shaver features a strong plastic polymer housing with contours that fit perfectly into a person's palms. This not only makes this tool easy to use but also comfortable to grip.
Awesome, right?
And to guarantee performance, the T-Outliner comes fitted with a robust magnetic motor that cuts at an impressive 7200 strokes per minute.
That's why…
This motor coupled with its sharp T-blades allow you to trim any hair type and volume effortlessly.
And:
Not forgetting its lightweight, ergonomic design that makes maneuverability a whole lot easier.
Pros
Extremely close-cutting
Gentle on sensitive skin
High-quality, adjustable blades
Light, ergonomic design
Easy to use
Can be zero-gapped
Very affordable
Final Verdict
For a trimmer that offers close-cuts, adjustable blades, an effective motor, and ergonomic design, the Andis Professional T-outliner is definitely worth every single penny. Its reputation and ability to deliver top-tier lineups/hair designs are the reasons why it's made it on this best edge-up clippers list. 
And that's a wrap.
But:
Before you go, here are a few important things you also need to note.
New Buyer's Guide: How to Choose the Best Shape Up Clippers for Lineups
Now:
If you couldn't find a suitable clipper for your edge ups, lining, and detailing work from the list above, don't fret.
Here are some tips to help you find the right one.
1. Blade Design and Quality
Now:
As you may have noticed, most hair trimmers, nowadays, come with T-shape blades.
So, why should you prioritize trimmers with these kinds of cutters?
Because the length extensions on each side of the blades make it easy for you (the barber) to trim and style hard-to-reach spots.
Moreover, having a wide blade means trimming larger chunks of hair with every pass. Thus, reducing the time and energy needed to execute a lineup.
Awesome, right?
Aside from the design, you also need to look out for quality.
A quality blade should be durable, corrosion-resistant, and able to retain its sharpness for long. And it gets even better if you find one that doesn't heat up easily.
Pro Tip:
For lineup trimmers, always opt for blades that can be zero-gapped.
2. Motor Power and Speed
Obviously:
The clipper's motor should be robust and reliable enough to compliment the blades.
A decent motor needs to supply enough torque and speed to move the blades fast. Doing so helps to avoid snagging and pulling.
What's more, a powerful motor will ensure that your lineups and details are crisp, clear, and executed on the first go.
3. Cordless or Corded?
Corded vs. cordless clippers, which is the best tool? Well, it's hard to say because both have benefits and limitations.
For instance:
While corded clippers tend to be heavy-duty – compared to cordless ones – their tradeoff is having to work while tethered to a power socket.
This can be annoying; especially, if you work in a busy shop.
And, what if there's a blackout??
On the other hand…
Cordless clippers are pretty convenient and offer flexibility. With these tools, you get so much freedom and maneuverability.
However, their performance and power don't match up to corded trimmers. Plus, you will need to recharge them frequently.
Get it?
Nevertheless, if you decide to go for cordless clippers, opt for those that use a lithium-ion battery; because they tend to hold a charge for longer.
In Summary
Note:
To get the best hair edgers, trimmers, or clippers for lineups, there are a lot of factors to consider.
And finding the best clipper for your needs can be quite a hassle – trust me. Because there's a lot to examine; from motor power to blades and even the design.
Luckily:
With the help of this guide and the shopping tips provided, it should be easy for you to find a suitable tool.
And, as always:
If you have any thoughts or questions on this, don't hesitate to ask in the comments below. I'd love to hear from you.
#StaySafe
Frequently Asked Questions
You can use any type of clipper or trimmer for lineups. However, for the best results, it's wise to use tools that are explicitly designed for lineups and detailing. In most cases, any T-blade trimmer will do.
Barbers often use clippers/trimmers to do lineups. However, they can combine multiple tools; like clippers, trimmers, scissors, razors, and beard shapers to ensure they get crisp, straight, clean lines.
Definitely. However, said clippers need to possess certain qualities. For starters, the clipper needs to have sharp blades – probably, one that can be zero-gapped. Also, the edger should have a powerful motor and ergonomic design.
More from Mike Medders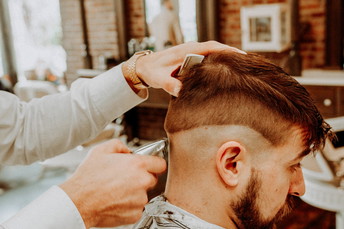 Trust me, I've been on both sides of the chair. I can't count the number of times a client has sat down and struggled…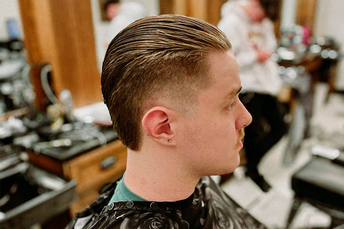 50 Different Ways to Rock the Slick Back Hairstyle for Men 1. Slick Back Fade @jules.thebarber Look: The slick-back…
Newest articles
Trust me, I've been on both sides of the chair. I can't count the number of times a client has sat down and struggled…
50 Different Ways to Rock the Slick Back Hairstyle for Men 1. Slick Back Fade @jules.thebarber Look: The slick-back…
Here is the thing: Manscaped's Peak Hygiene Plan subscription might be one of its sneakiest marketing tactics. Thanks…