Buyer's Guide: Best Suavecito Pomade Review in 2023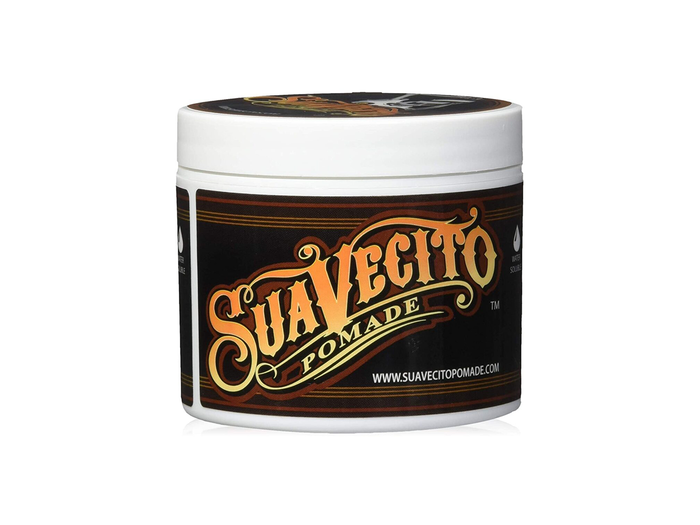 WiseBarber Top Pick
Suavecito Pomade Original Hold
Now:
When shopping for quality hair pomades for men, it's hard not to consider Suavecito products.
Why?
Because it's an awesome brand with numerous, high-quality products to offer. In fact, some of its pomades are best-sellers on retail sites like Amazon.com.
But:
Being popular isn't always "it."
You have to ask yourself why it's popular and whether these products are ideal for your hair. Right?
And that's where this Suavecito pomade review comes in.
In brief:
This post goes over four of the best products to buy today from this reputable brand.
And:
I've tested each of them to ensure I give you an honest, first-hand take on why they are worth buying; as well as a few setbacks to expect.
Are you ready?
If so, let's get to it then…
Rating Summary
| Rank order | Product name | Features (max. 10) | Usability (max. 10) | Value (max. 10) | Overall Rating | |
| --- | --- | --- | --- | --- | --- | --- |
| 1. | Suavecito Pomade Original Hold | 9.8 | 9.6 | 9.8 | 97.3 % | See details |
| 2. | Suavecito Firme Hold Pomade | 9.8 | 9.5 | 9.7 | 96.5 % | See details |
| 3. | Suavecito Matte Pomade | 9.5 | 9.3 | 9.4 | 93.7 % | See details |
| 4. | Suavecito Oil Based Pomade | 9.3 | 9.4 | 9 | 92.1 % | See details |
Got it?
Well, there's more to learn…
Top 4 Suavecito Pomades Review in 2023
Suavecito Pomade Original Hold
If you're looking for a quality, medium-hold, moderate-shine pomade, the Suavecito Original Hold Pomade fits that description. Besides, this pomade is classy, effective, cost-effective, and reliable.
Get this:
The Suavecito Original Hold Pomade is the best product made by its brand.
It is gel-like and offers medium-hold. And that makes this product ideal for styling average hair to achieve all kinds of hairstyles.
What's more?
Since it's soluble in water, the Suavecito Pomade Original Hold is not only easy to wash out but also flexible in terms of hold strength.
Moreover, it is lightly scented and offers a medium-shine finish; i.e. not matte and not too shiny.
Pros
Water-based pomade
Easy to apply and wash off
Great value for money
Impressive hold and a decent amount of shine
Cons
Inferior plastic packaging
Final Verdict
The Suavecito Original Hold Pomade is a great option for men looking for a moderate-hold, medium-shine pomade that's easy to wash off.
Suavecito Firme Hold Pomade
The Suavecito Firme Hold Pomade is designed to work on the thickest, toughest, and most untamable hair types. It's a great choice for men who want to style curly, wavy, or kinky hair and keep it in place.
Yes!
Styling and keeping thick hair in place all day can be quite the hassle.
But, with Suavecito's Firme Hold Pomade, doing so becomes a walk in the park.
Now:
With the Suavecito Firme pomade, you get moderate shine coupled with strong-hold. So, it's simply the same as the Original Hold Pomade; but with more hold strength and taming capabilities.
That aside:
It comes with Suavecito's original, pleasant, and light scent. And is water-soluble; thus, easy to wash off.
Pros
Water-based pomade
Strong hold
Easy to use
Offers all-day hold
Nicely scented
Doesn't contain harsh chemicals
Offers versatility when applied to damp hair
Cons
Again, poor quality container (easily breaks)
Final Verdict
If you are a fan of the Original Hold Pomade but could use a little more hold, the Suavecito Pomade Firme Hold is your best bet.
Fancy a pomade that offers medium-hold and a natural finish? Well, the Suavecito Matte Pomade is the product to buy. This shine-free pomade has a smooth, creamy texture and offers a lot of value.
Now:
For a product that boasts the same level of reliability and efficiency as the top two in this list, Suavecito's Matte (Shine-Free) Pomade is definitely worth consideration.
What's different about this matte pomade is the fact that it gives a natural, no-shine finish.
That means:
You won't have to worry about losing your hair's natural shine and appearance.
What's more, it's a water-based pomade with a creamy consistency. Therefore, easy to apply and wash off.
Pros
Natural finish
Decent amount of hold
Easy to use
Washes off effortlessly
Great value for money
Great scent
Cons
Tends to dry hair strands
Poor quality container
Final Verdict
If you are looking for a natural finish pomade that's easy to apply and wash off, try the Suavecito Matte Pomade. 
Suavecito Oil Based Pomade
If you are a fan of Pompadours and Slick Backs, the Suavecito Oil Based Pomade has all you need to style your hair. It's a high-shine product with a decent amount of hold and value for money.
So:
The Suavecito Oil Based Pomade is a high-shine, moderate-hold pomade.
It smells nice and comes packed in a stylish, metallic tin; thus, solving Suavecito's long-standing issue with inferior-quality, plastic containers.
That aside:
This pomade is ideal for men who wear shiny, glossy hairstyles like the Slick Back. Plus, you are likely to get the best results on a hot, sunny day.
But, being an oil-based pomade, this product isn't easy to wash off.
Pros
High shine for glossy hairstyles
Great value for money
Easy to use
Lasting hold and shine
Quality container
Great scent
Final Verdict
Despite being Oil Based, this is a great pomade option for men looking to wear a shiny hairstyle. Plus, you won't have to worry about your pomade arriving in a broken container.
In Summary
That's just about everything you need to know.
From this Suavecito pomade review, it's evident that this brand offers quality and value-packed products.
More so:
They have a pomade for every need that most modern, stylish men have. So, it should be easy for you to find the right product for your hair.
That said:
Feel free to ask questions or post your contributions to this topic in the comments sections below. I'd love to hear your thoughts on this.
#StaySafe
Frequently Asked Questions
Not all but some do. A good example is the Suavecito Matte (Shine-Free) Pomade; it tends to dry hair once it sets in. The rest will give you a nice and pliable hold.
Yes. Suavecito is one of the best and most affordable hair care brands today. And all their products are a true testament to their strong reputation and popularity.
Well, Suavecito's scent formula has always been a closely guarded secret; usually referred to as the "Original Scent." And it's nice, comfy, and very light. If I were to guess, I'd say it's a perfect balance of multiple fragrances. Because it gives off a lemony, musky, minty, rosy, yet masculine, scent.
Like all pomades, using Suavecito pomades is a quick and easy process. All you have to do is clean up; leaving slightly damp hair. Then, rub a pea-sized amount of the pomade between your palms and fingers. And apply the pomade to your hair by passing your fingers through the strands.
More from Mike Medders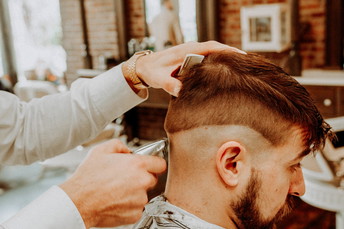 Trust me, I've been on both sides of the chair. I can't count the number of times a client has sat down and struggled…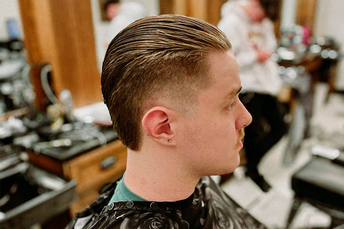 50 Different Ways to Rock the Slick Back Hairstyle for Men 1. Slick Back Fade @jules.thebarber Look: The slick-back…
Newest articles
Trust me, I've been on both sides of the chair. I can't count the number of times a client has sat down and struggled…
50 Different Ways to Rock the Slick Back Hairstyle for Men 1. Slick Back Fade @jules.thebarber Look: The slick-back…
Here is the thing: Manscaped's Peak Hygiene Plan subscription might be one of its sneakiest marketing tactics. Thanks…