A Quick Guide on How To Fade a Beard
Get this:
A Faded Beard is an all-time favorite way of styling facial hair. Gone are the times when men had to sport conventional beards to look good. 
I mean, let's be honest. 
A beard is the first thing anyone notices when they look at you, thus, styling has to be done perfectly. 
The smooth transition of hair of different lengths is precisely what you need to boost your style and confidence. 
So:
Here's how to fade a beard at home.
Step 1: Prepare to Fade Your Beard
Well:
It is a no-brainer that beards can get unruly fast. 
But don't fret! You just need to learn how to prepare before getting to beard fading. 
Here's how:
Wash And Dry Your Beard
First things first:
Make sure you wash your beard thoroughly. 
After that, pat it dry gently with a smooth towel. So, why is washing and pat drying important?
Well, aside from removing dirt and debris, it also smoothens beard hair allowing for easy and painless detangling. 
Even Out The Length
Now:
Before anything else, choose your ideal beard and mustache length. Then, start trimming to even the length of your beard. 
Now, here is a little secret: 
If you're looking for a dramatic, faded look, then keep the length longer and use your trimmer on its longest setting. 
But:
If a subtle look is your cup of tea, then keep the length short; i.e. put your trimmer on a shorter setting. 
Also, while using your trimmer, make sure you move against the grains to eliminate all the excesses and strays.
Clean Up Your Neckline
Here:
When preparing to fade your beard, comb through it the downward direction to remove extra hair. 
Next, place your index finger slightly above the adam's apple. Now, tilt your face upwards facing one side for a better view, and trim in a vertical direction below this line. 
Then, slowly work your way in the outward direction while using your jawline as the guiding line. 
Then, repeat the same process on the other side. 
Time To Clean
Now:
Once your beard neckline is defined, shave below that line in a neat way. Advisably, do not rush this step or you could ruin the line you have deftly created.
Tend To Cheek Line
Note:
If you are looking for an extra sharp faded beard, you must tend to your cheek line. 
Do this by drawing a straight or slightly curved line from the edge of your sideburn to the brim of your mustache. 
Note:
This step is totally optional.
Moustache Tweaks
Lastly:
Comb your mustache in the downward direction. 
Now, use the edge of the blades to trace the top lip line to clean the lip off any mustache hair. If you are looking for a slicker look, neatly trim the top line of your mustache.
Step 2: Time to Fade Your Beard
Once you are done with trimming and preparation, your beard is ready to get a fade. Now, there are two ways to learn how to fade a beard. 
a) The Standard Method
1. Determine the length of your beard and set your trimmer blades/comb to one size shorter than beard hair. Now, trim an inch above your jawline and keep moving towards your sideburns.
2. Shorten the blades by two sizes (use a smaller guard comb) and trim an inch more from the end of the first layer; towards the top of your sideburns.
3. Repeat the process by shortening the blades/guards and moving with an inch-increment towards the sideburn. 
Too complicated?
Well, here's how I do it…
b) WiseBarber's Simpler Method
To avoid confusion, here's how I do it professionally. 
Fade from the top (of your sideburns) to your jawline. If you're using guide combs, create layers using odd number sizes (i.e. start with #1, then #3, then #5, and so on). 
Then you can use even numbers (#2, then #4…) to smoothen out the transition. 
And:
The same case applies to blade sizes, always skip a size when shortening or increasing the cutting length. 
The size skipped should be used for smoothening the fade and removing layer borders. 
Anyway: 
Neat, faded beards require gentle care and attention. 
Therefore, wash your face daily, clean your beard, and regularly maintain the fade to enjoy the attention you will garner. 
Conclusion
So, this wraps it up, guys.
Fading a beard may sound like a complex procedure but it's not (if done the right way). With my easy guide, anyone can achieve a beard fade at home and look amazing too.
Anyway:
Do you have any question or thoughts about this topic? If so, be sure to post them in the comments section below. 
Frequently Asked Questions
It depends on your beard length. Once you figure out your desired length, it becomes easier to start. Remember, it's important to trim and prepare your beard before beginning the fading process.
Fading a short beard is not so different from fading a longer beard. However, for men with short beards, a skin fade is always the best. Why? Because it delivers the elegance and style a fade has to offer without necessarily needing a lot of beard volume and length.
More from Mike Medders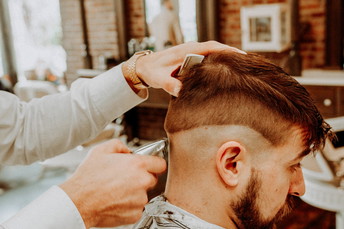 Trust me, I've been on both sides of the chair. I can't count the number of times a client has sat down and struggled…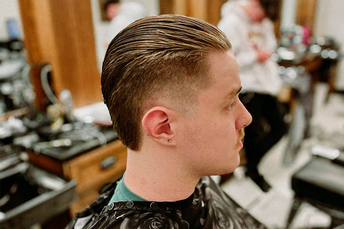 50 Different Ways to Rock the Slick Back Hairstyle for Men 1. Slick Back Fade @jules.thebarber Look: The slick-back…