How to Get Curly Hair for Men: Fast and Easy Guide
Have you been asking:
Is there an easy way to learn how to get curly hair for men?
If so, we've got you covered.
Now:
Having straight hair is not always so bad. In fact, there are men with curly hair who've been using blow driers to straighten their hair.
However, if your straight hairstyle no longer works for you, it might be time to make it curly.
And we'll show you exactly how to go about it.
In this post, you'll learn about:
How to make hair curly naturally.
The items you'll need to make that happen.
As well as a few tips on how to maintain your new hairstyle
So, without further ado, let's get down to it…
How to Get Curly Hair for Men
Going from straight to curly hair men isn't that hard.
And the fact that there are numerous ways of doing it mean that your chances of getting successful results fast are high.
Now:
There are a few proven ways of turning straight hair to curly today.
For example, you can:
Use hair styling products.
Use a heat curler.
Get a perm
Use a sea salt spray and train your hair to be curly through washing habits.
Lucky for you, we'll look at each of these methods individually; so that you can find the one that's most ideal for you.
Getting Curly Hair Using Hairstyling Products
For anyone who's been looking for the easiest procedure on how to get short curly hair black male, this might just be it.
Using hair products is always quite straightforward.
How?
Start by applying one of your curl-enhancing products on your hair when it's damp; regularly. This allows your hair to form layers of curls easily.
Use a comb or a pencil to carefully guide your developing curls into whatever look you have in mind.
Now:
If you're wondering; which hairstyling products are the best?
Here are my top 5 picks:
The OGX Moroccan Curling Perfection Cream
Shea Moisture Coconut Hibiscus Curling Cream
Any Hair Gel.
Argan Oil.
Or a natural hair texturizer.
Getting Curly Hair Using a Heat Curler
Another easy way on how to get curly hair black male is by using a heat curler.
Why?
Well, it's not only easy to use but also works even faster to get your desired results.
Heat curlers are often ideal for men with medium or long hair.
And:
For the best results, use a pre-heated heat curler wand to dry your hair after taking a bath.
Pro Tip:
Heat curlers can be destructive if not used in the right way.
And that's why, to be safe and to ensure your hair doesn't get messed up in the process, consider spritzing heat protection spray on your hair before using a heat curler.
Go for a Perm
Despite the common perception that perms are for women, men looking for curly hair can also benefit from this.
In fact, this option makes learning how to make hair curly men a walk in the park.
By definition, Perm comes from "permanent wave/curl."
Therefore, if you've been curious about how to make straight hair curly permanently, try getting a perm.
Note:
Perms are often chemical treatments that are quite easy to customize to suit your preferences.
This treatment is usually very effective because it often alters hair structures on a deeper level leaving you with natural, long-lasting curls.
Pro Tip:
If you opt for a perm, you'll have to give your hair at least a weak before you can wash it again.
This is the best procedure on how to make your hair curly forever.
Change Your Hair Washing Habits and Use Sea Salt Spray
Did you know:
The less you wash and dry your hair, the easier it is for it to start forming curls.
Yes, you can develop curls by simply washing your hair less and using Sea Salt Spray on your hair regularly.
Therefore, if you are still wondering; how can a black male get curly hair?
This might just be your answer!
How?
Washing your hair less allows its natural oils to keep it light and silky.
 Interesting.
Anyway, as we wrap up…
A Few Expert Tips on How to Get Wavy Hair Men
For decent curls, ensure that your hair is at least three inches long.
If you have dry hair, you can limit the number of times you wash it in a week to two. Only those with greasy hair can manage to maintain curls while washing their hair every day.
Avoid using standard hair shampoos. It not only dries your hair out but also weighs on it making it straight. You can use a curl-enhancing shampoo instead.
Let your hair dry out naturally for the best results.
And that's just about everything you need to know about how to get curly hair easily and fast.
With these methods and tips, you have everything you need to get natural curls without any hassle.
Anyway, I hope this post proves useful to you.
Do you have any questions?
If so, don't hesitate to ask in the comments section below. I'll be more than happy to help.
Frequently Asked Questions
Yes, it's possible to make your straight hair curly by using curling products and tools. This includes using curl-enhancing shampoo, spraying texturizing spray, getting a man perm, or using a heated curler.The choice of method depends on whether you want temporary or permanent curls. If you want permanent curls, you can use heat or get a perm. For temporary curls try brushing, setting curls, and applying gel and brushing
'There are several things you can do to naturally make your hair curly. While these methods don't produce permanent curls, the resulting temporary curls look great. These methods include, pin curling, scrunching, braiding the hair for those with long hair, using hair rollers, or curling enhancing products.
More from Mike Medders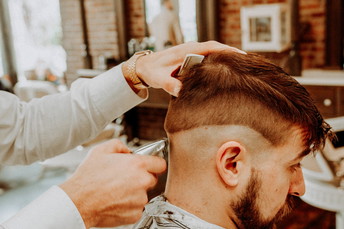 Trust me, I've been on both sides of the chair. I can't count the number of times a client has sat down and struggled…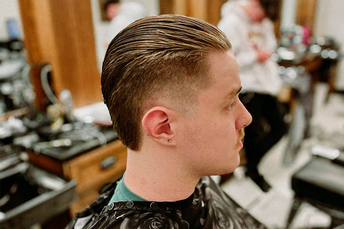 50 Different Ways to Rock the Slick Back Hairstyle for Men 1. Slick Back Fade @jules.thebarber Look: The slick-back…