Learning How To Tame A Frizzy Beard And Tackle The Root Cause Permanently?
So:
You are looking for tips on how to tame a frizzy beard, right?
Well, you're in the right place.
Get this:
Having to constantly deal with a frizzy beard can be cringy. But what if I told you there's a way around it? 
There are working solutions to taming frizzy beards; plus, powerful preventive measures to put in place so you never have to deal with it ever again.
In this post:
You'll discover simple, yet BOLD, steps to tame a frizzy beard like a professional.
Taming Stubborn Fuzzy, Dull, Crimped, And Wiry Beard To Perfection
Tools and Products Needed Make Your Beard Soft
Natural, deep-cleansing beard shampoo (recommendation; Nivea Men Deep Cleansing Beard Shampoo).
Flow brush (recommendation; Alberlite Pocket – Compact Beard Straightener For Men).
Beard care product (balm, oil, or butter. I recommend balm for shielding effects)
Towel
A trimmer or pair of scissors
Got 'em? 
The Process of Taming Wiry and Frizzy Beard Hairs
Let's do this, one step at a time:
Wash your beard with a deep-cleansing beard shampoo and rinse with cool clean water.
Get your towel to pat dry the wet beard immediately.
For a thick, wiry and frizzy beard, set up your flow brush temperature between 350-370°. For fine thin hair, any temperature between 150° and 250° is enough to avoid sunburn.
Brush the beard gently and vertically from one side to the other for 1-2 minutes.
Trim flyaways with a pair of scissors or a trimmer.
Apply beard oil or your preferred beard balm/product to make your beard soft and moisturized.
And, that's it:
Anyway, for a demo, watch Jack Milocco of BeardBrand tame his super-frizzy beard with this exact process below.
"But Mike, why do I have to spend on a flow brush when I already have a blowdryer?"
Well:
During beard grooming, most blow dryers produce hot air at a high speed that…
Dries out both the skin and the hair.
Causes beard brittleness, breakages, and split ends.
Strips the skin of its nature-given moisturizer, causing beard dandruff.
Decolorizes the beard.
Instigates beard itch.
But flow brushes are specifically designed to give you a perfectly tamed beard without any of these issues.
Now:
Unveiling And Ending The Root Causes Of Bushy Beard
Hot Humid Weather
Take the guy who inspired this post, for example. 
He lives in Rio Grande, Texas, and has been trying to grow his beard in full for a while. 
And although he's always managed to maintain it, his beard always becomes annoyingly frizzy during the hot and humid August weather.
Well:
That's what high temperatures do to your facial hair – dry it out to become a frizzy, wiry beard.
So, what's the best solution?
During hot, humid weather, consider applying beard oil, protective UV or sunscreen products before stepping out of your home.
Next up:
Air Conditioning All Day
How?
Well, having the air-conditioner blasting moisture and lubricants off your facial hair leaves it dry, rough, and frizzy.
But here's a simple way out:
Reduce the span of time you leave the AC active and wear loose and light clothes to combat body heat.
Finally:
Engaging In Activities That Cause Frizzy Facial Hair
Listen:
This is not about athletic activities alone. If you work in an assembly line or any other dry, dusty, and intense environment, you'll end up having a wiry beard.
Solution:
Always wear beard straps or beard slings over your facial hair before engaging in any of these activities for protection.
And now:
Conclusion
So:
Taming a frizzy beard is not anything close to gruesome at all. 
You just need to follow the steps I have shared on this page to see the best results.
Nevertheless:
In case you have further questions or want to share your thoughts about this topic, feel free to use the comments section below.
Till next time. #Staysafe.
Frequently Asked Questions
Wash it, comb it, trim flyaways, and apply beard balm or other shielding products regularly.
Wash it, apply oil, apply a pea-size styling product (preferably a balm), comb it, and style with a beard brush.
More from Mike Medders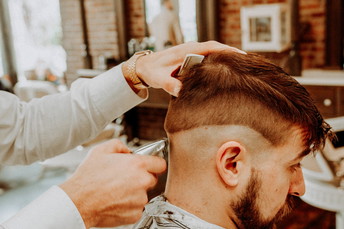 Trust me, I've been on both sides of the chair. I can't count the number of times a client has sat down and struggled…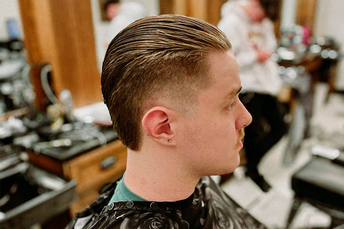 50 Different Ways to Rock the Slick Back Hairstyle for Men 1. Slick Back Fade @jules.thebarber Look: The slick-back…