A Step-by-Step Guide on How to Taper a Beard
It's a fact:
When you taper a beard, you trim it in a way that creates a progression in whichever direction you desire. 
The gradient-like effect created afterward is what makes a tapered beard so stylish.
But:
Are you clueless and seeking to learn how to taper your beard?
Well, here is a step-by-step guide to help you master this simple grooming process.
Get Your Tools Ready
Note:
Having the right tools is just as important as knowing how to taper a beard. Therefore, you need to make sure you have the following tools:
A beard comb/ brush 
A pair of scissors
Single bladder razor
Trimmers
Clippers (To taper long beard)
Beard oil
Carve Out the Cheek Line
Get this:
You should carve out the cheek line after washing and detangling your beard with a comb or brush. 
It serves as the first guideline and your starting point.
How is it done?
Using the edge of your trimmer, carefully carve out the cheek line from your sideburns to the edge of your mouth on both sides.
For a neat outline, use your single-blade razor to shave off any hair you missed above the cheek line.
Then, balance it out on both sides.
Tapering the Beard
So:
Regardless of the beard style you want, always run your clippers and trimmers in the direction of your beard growth to minimize the amount of hair you trim out. 
That said:
Men have different sizes of beards. And what works for a short beard might not be ideal for long ones. 
Therefore, here's how you can deal with both:
How to Taper a Short Beard
With a short beard, you're going to use your trimmers with its guide combs; to create the gradient effect since there isn't much hair to work with.
Here's how it's done:
Use the shortest guide comb to trim a little bit from the top of your sideburns; about an inch.
Then, use a bigger guide comb than the first to go in a little further and blur out the sharp line created by the first guide comb.
Keep increasing the guide comb sizes as you trim downward until you get close to your jawline.
How to Taper a Long Beard to Retain Length and Volume
For a long beard, you should do the following:
Each time you go in at the sides with your clipper, comb afterward to ensure that you don't have any knots or flyaway hair in your beard.
Taper your sideburns into your beards using the guide combs of your trimmers. The size of the guide combs depends on how much hair you are trying to retain around your cheeks.
With the hair around your chin, you only need to keep it leveled. And you can do this with a pair of scissors or your clippers. Note that you're not taking out a lot of hair, just the ones sticking out awkwardly.
After successfully tapering your beard, you should massage with a few drops of beard oil and brush through it for even distribution.
Conclusion
Well:
I hope this guide has been helpful so far. 
If you have more questions or suggestions, you can share them with me in the comment section below. I would appreciate that.Thanks & #StaySafe
Frequently Asked Questions
Holding two fingers above your Adam's apple, carve out a neckline. Try to mimic the shape of your jaw as you level the beard under your chin to meet the neckline.
It's easy. Similar to the process above, you choose a starting point but ensure that it fades into the skin at the starting point. That is what differentiates a fade from a taper.
More from Mike Medders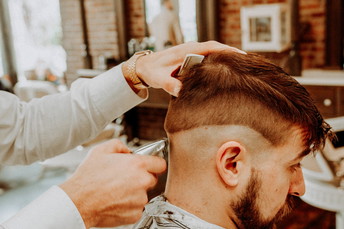 Trust me, I've been on both sides of the chair. I can't count the number of times a client has sat down and struggled…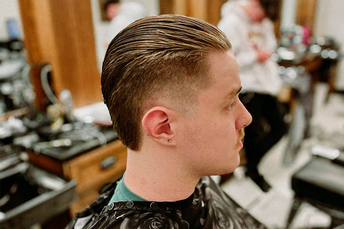 50 Different Ways to Rock the Slick Back Hairstyle for Men 1. Slick Back Fade @jules.thebarber Look: The slick-back…