WiseBarber's Tutorial: How to use Hair Clay to Style Your Hair
Look:
Finding the right styling products for your hair can be tricky. And it gets even trickier when you don't know how to use them. 
Do these simple facts apply to Hair Clays?
Yes!
Now:
A lot of men use pomades; because they come with different styling qualities (shine and hold) and are easy to wash off since most are water-based. 
However:
If you are looking for true, natural, matte-finish, hair styling products, then clays are your best bet. 
And:
While finding the best ones may be easy, the real hurdle is mastering the right way to use styling clay.
But, that's what you are here to find out… 
In this post, I'll talk about:
How to use hair clay
The Biggest Worries and Fixes when Styling Hair with Hair Clay
A few common questions and answers about proper usage
Ready?
Let's get started…
How to Use Hair Clay to Style Your Hair 
Don't know how to use hair clay?
Well:
Don't fret. These simple steps will make using it easy and smooth.
Start With Clean Hair
First:
Clean your hair; to remove oil, dirt, and any product residue like pomade or wax. Product residue interferes with clay and will not give you the desired results.
Prep the hair
Then:
Start with damp hair by using a pre-styling product like a tonic or sea salt spray to give the hair some boost. 
Use a blow dryer to dry the hair and to direct it in the direction you want. This step is important if your hair does not grow in the direction you want to style your hair.
Scoop a pea-sized amount of hair clay
Note:
Less is more when it comes to hair clay. 
You just need a pea-sized amount when starting. You can add more later if you feel it's not enough. It's much better than trying to wash off excess clay later. 
Warm the clay
Now:
Take the clay between your palms and work it until it's smooth. It takes around ten seconds for the product to warm properly, soften, and spread throughout your hands.
Ensure there are no clumps in your hands.
Get down to Application
Here:
Work the product through the hair. 
Depending on the hairstyle, start from the back to the front or sides to the top, working from the roots to the top.
Note:
If you are going for a slicked-back hairstyle, it's best to start from the top hair at its roots to the tips. At this point, you want to ensure the product is evenly distributed in the hair.
Work the product until you've achieved the desired volume and definition before moving on to the next step.
Do Finishing Touches and Styling
Lastly:
This is where you manipulate the hair into the style you want. 
Use your fingers to shape the hair upwards or backward. You can also use a hairbrush or comb for this step.
And, apply a little clay if you need to sweep and pick up any stray hairs.
Pro Tip:
A hairdryer will make it easy to manipulate the hair to go in the direction you need it to.
Also, you can skip hairspray products when using hair clay. And the best part is that you can restyle your hair with your fingers throughout the day to keep it looking perfect. 
A Look At The Biggest Worries and Fixes when Styling Hair with Hair Clay
Now:
Here are a few things you may encounter when using hair clay…
Hair Stiffness
Note:
Your hair may feel stiff for the first 10-15 minutes after applying hair clay. 
But that's it. 
Most of these products usually set in within a few minutes. Your hair then relaxes and becomes easy to style.
The Density of Clay When Retouching
Unfortunately:
You will feel the density of clay because of the medium to strong hold it has on the hair. However, you can use a comb if you don't like the feel of clay on your fingers when you are restyling.
Product Removal
Cleaning hair clay is a common concern among guys. 
But:
Sometimes all it takes is some shampoo; this ensures it comes off fast and easy. 
You can also use conditioner alone; since hair clay retains oil and dirt. Plus, this can be left for a couple of days without damaging the hair.
Conclusion
And that's a wrap.
Now:
It may not be the most popular in the styling products scene, but hair clay is one of the most reliable and versatile products you'll find today. 
From creating volume to absorbing oil and grease, there are lots of benefits to choosing hair clay. 
Basically:
It's your go-to hair styling product if you are looking for a natural-looking, well-styled hairdo; without the shine that comes with pomades or the stickiness of wax. 
So?
Do you have any questions or contributions to this topic? 
I'd love to hear your thoughts; therefore, don't hesitate to say something in the comments below.
Frequently Asked Questions
If you use hair clay every other day, you are going to have product buildup after a few weeks. When you start seeing dull and dry strands, product buildup is the culprit. Now: The easiest way to combat clay buildup and any other product buildup is by using a clarifying shampoo; it is specially formulated to remove residues. So, use clarifying shampoo once a month or even weekly if you use lots of styling products. Alternatively: You can use an apple, cider, vinegar, and water combo in a spray bottle. Spray the hair after shampooing and let sit for two minutes before rinsing.
It's not advisable to use clay every day since washing your daily will dry it out. I also suggest giving your hair a break from hair products to let it regenerate.
Depending on how often you use it, a typical 1-ounce tin lasts about two months. If you are referring to the hold period, a good product should be able to last a day; regardless of the weather and your activities.
Some, not all. Always be on the lookout for harsh chemicals and parabens that are used in some hair clays. Such ingredients rob hair of essential moisture and can irritate the scalp. However: If a hair clay uses gentle ingredients like beeswax, shea butter, argan oil, etc., it's good for your hair and is sustainable over long-term use.
More from Mike Medders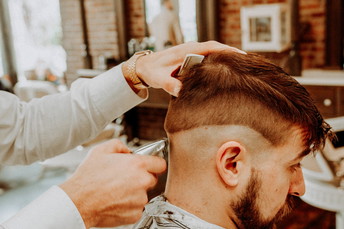 Trust me, I've been on both sides of the chair. I can't count the number of times a client has sat down and struggled…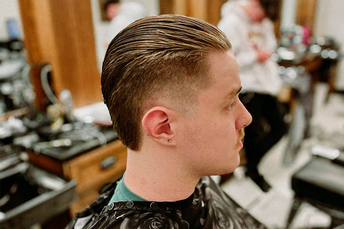 50 Different Ways to Rock the Slick Back Hairstyle for Men 1. Slick Back Fade @jules.thebarber Look: The slick-back…