Your Guide on How to Use Styling Gel on Natural Hair
Question:
Do you know how to use hair gel correctly?
That's a question that you'll be asked rarely, however, it's quite an important one.
Now:
Before I get into the intricacies of how to gel your hair, you may be wondering; why is it so important to apply gel the right way?
Well?
For one, proper application of hair gel ensures that your intended hairstyle comes out exactly the way you envisioned it.
Also, it ensures that you use just enough gel for any kind of styling; that way there is minimal wastage and longevity.
So:
With that in mind, you should note that gel application isn't exactly rocket science.
On the contrary, it's quite easy.
5 steps How to Apply Hair Gel
The following 5 steps will show you how to apply hair gel like a pro:
Decide on a Hairstyle
Let's face it…
You can't start a journey without a destination, right? In the same way, you can't do this without a hairstyle in mind.
Why is this important?
Well, not all hairstyles require the same amount and type of gel.
So, what will it be? A messy, informal look; a side part; a pompadour; a slick-back (one of the best gel hairstyles for long hair); or spiked hair?
Whichever you choose, it's always wise to know in advance.
Choose a Hair Gel
Before you learn how to use hair gel, you also need to get the best one for you.
Nowadays, there are tens of thousands of styling gels on the market today.
So:
Which one is ideal for you and your hair type?
To answer this, you need to know about the different types of hair gel out there.
Note:
Gel is grouped in terms of thickness and hold.
From these two qualities, we get:
Light, Foamy Gels – Work great for those looking for a messy, playful look.
Medium-Hold Gels – Ideal for anyone looking for a hairstyle that features shiny spikes of hair. It's fairly rigid than light gels.
Thick Gels – Great for Side Part and Slick-Back hairstyles. These gels often hold your hair firmly for hours and sometimes days. With thick gels, it won't be easy for you to run your fingers through your hair once the hold kicks in.
The best part is that most gels often come labeled indicating what type they are. So, it won't be that hard for you to find the right one for your hair.
Wash Your Hair
If you are wondering; why should I use hair gel only after washing my hair?
Well, there are numerous answers to this…
For one, damp hair makes it easy for you to apply the gel; basically, it's harder to apply gel on dry hair.
It's neat, healthy, and hygienic.
Gel can be less effective and attractive when applied to dirty, greasy hair.
With that in mind, let's move on to step 4.
Apply the Gel on Your Hair
In this step, on this "how to use styling gel" tutorial, you get to finally apply some gel on your hair.
How?
Start by putting a small amount of gel onto your fingertips.
Thereafter, rub it in your hands and then apply into your hair the same way you do with shampoo.
Note:
The amount of gel you use will be dependent on your hair type for an even spread. You don't want to use too much gel because then you'd have to rewash your hair and start again.
Now:
Experts recommend that you use:
A dime-sized amount if you have short hair (for those trying to learn how to gel short hair for guys).
For those with medium-length hair, a quarter-sized amount will do.
And lastly, anyone with long or thick hair should use two or more quarter-sized amounts.
Get it?
In terms of the actual application of the gel, here is how you should proceed:
Start by applying the gel just above your hairline.
Then, use your fingers to apply the gel deeper into your hair's roots,
Once you've done a few passes, the gel should be well spread within your hair; you can use a comb to spread the gel deeper.
Thereafter, you can brush or shape your hair as per your intended hairstyle.
Finish Up
Now:
It's time you complete your look.
That means making all final styling touches before the gel holds
Note:
Most gel products contain alcohol; hence, dry up faster.
However, some take time.
Check the tutorial video How to Use Hair Gel bellow:
As you wait for the gel to hold and become stiff/firm, don't touch your hair. Doing so might have a negative effect on your hair's glow and shine.
If you haven't finished styling your hair, use a comb and not your hands.
Wrapping up:
Applying gel on straight, dry hair is just the same as how to use hair gel for curly hair; the process is similar.
And with that, you now know how to put gel in hair.
It's easy, right?
Do you have any questions?
Feel free to share your thoughts in the comments section below; I'd love to hear from you.
Frequently Asked Questions
Gel is best applied on wet hair just after showering. Damp hair makes application easier as the moisture breaks down the gel. This also helps in preventing the hair from looking dry and frizzy.
Hair gel is used to hold the hairstyle in place. It's also a great way of adding texture and shine to the hair. Hair gel is also the ideal product when looking for a styling product that offers glossy shine and high hold for those shiny sleek backs.
Yes, you can use hair gel on your hair every day. However, give your hair a break whenever you can. To prevent everyday washing try leaving the hair gel on the hair for 2 days before washing.
Yes, you should rinse out the gel at the end of the day with lukewarm water. For a deep wash use shampoo after a few days to remove any build-up.
More from Mike Medders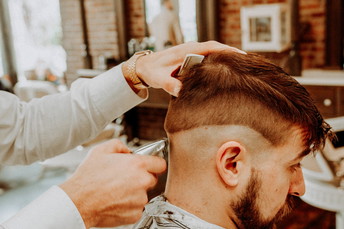 Trust me, I've been on both sides of the chair. I can't count the number of times a client has sat down and struggled…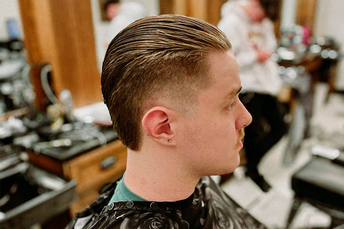 50 Different Ways to Rock the Slick Back Hairstyle for Men 1. Slick Back Fade @jules.thebarber Look: The slick-back…