Quick Guide: How Professional Barbers Style Hair With Wax
Get this: "A natural-looking hairstyle. With the volume that lasts all day long and enhanced structure. Plus, super easy to restyle; anytime, anyhow."
Well:
At least, that's what most men want whenever they apply hair wax. 
Now:
In most cases, it's easier to achieve this when a professional barber wax-styles your hair. 
So, what happens when you have to do it yourself (i.e. don't have access to a hairdresser)? How can you do it right?
Well, that's what you are here to find out. 
The basic principle here is not to over-complicate things. 
Yes, simplicity is key. 
And, by that, I mean:
Choosing the best hair styling wax for your hair type and texture; not forgetting, the hold strength and the shine level you want.
Preparing your hair for wax. It's different from the way you would with hair gel or pomade.
And finally, follow the six easy steps below on how to use hair wax like a true professional.
You can never go wrong with these tips. 
So, without further ado, let's get started…
WiseBarber's 6-Step Procedure on How To Use Hair Wax for First-Time Users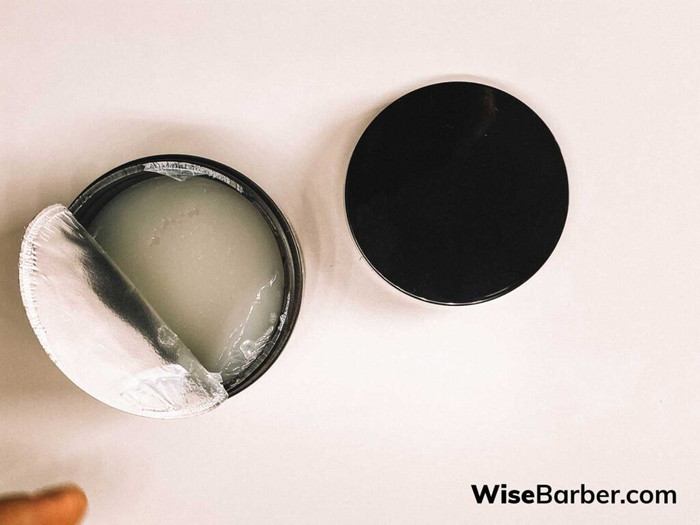 Now:
Before we start, here are all the tools you need:
Blowdryer
Styling comb
Shampoo (optional)
Hair wax
Got it?
If so, here's a quick, step-by-step guide on how to use hair wax:
Wash and rinse the hair, with or without shampoo, to remove dirt, buildup, and hair product residues.
Dry completely until you have clean, dry strands of hair, for optimum results. I recommend doing this step with a blow dryer after applying a pre-styler or sea-salt spray. This helps to create more volume.
Start with a small, pea-sized amount of product and rub evenly between your palms to form a thin layer of the product spread onto your hands and fingers.
Now, for those with 3-4 inches of hair, use your fingers to apply the wax directly to the roots to ensure you get a strong base hold from beneath.
However, if you've got longer hair, apply an activated finger-tip amount of wax to the top first and another to the root. This makes sure all areas are covered with equal amounts of wax.
Finally, style and shape your hair INSTANTLY to suit the look you want; using a comb and your hands.
And you're done. Yes, it's that easy. 
Need something more practical?
Here's a quick demo by Ben Arthur on how to use hair wax for styling.
Moving on…
Biggest Worries And Fixes To Using Hair Wax For Long, Short, Wavy, Or Curly Hair
Now:
It's only natural to be wary of hair styling products. After all, not all of them work as expected.
So, to avoid bad experiences, you need to learn about common hair waxing mistakes and how to steer clear of them.
Ready?
Here we go:
Hair Looking/Getting Too Greasy
Well, there are two possible causes for this:
The first reason is that you're applying too much wax. 
And the only solution is to use the appropriate amount of wax – a fingertip size (as illustrated in the image below).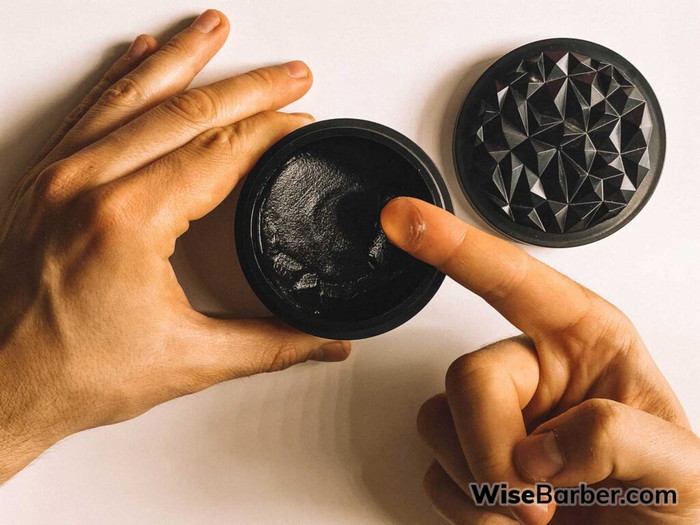 Secondly:
Some high-shine hair waxes are known to clump hair together with an unnatural melted candle SHINE. Stay away from these and go for mid to low-shine products if you don't want to look greasy.
Hair Damage After Some Days Of Applying Wax
Here's the thing:
Your hair gets damaged not because all hair waxes are generally bad.  But rather because you're styling with hair products containing bad ingredients.  
Best example – Parabens.
Read that again:
Parabens are hair product preservatives that are scientifically proven to contain weak carcinogenic agents. 
These agents absorb into the scalp to cause irritation, hair loss, dryness, and color fading.
And the bad news?
Most manufacturers don't label their product "Parabenic." 
Luckily, listed below are the types of paraben you can easily spot on the ingredient list of a "parabenic" product. So, avoid waxes containing:
Propylparaben
Butylparaben
Isobutylparaben
Methylparaben
Ethylparaben
Styling Wax That's Difficult To Remove
Well:
This is expected from a product that holds your hair longer than pastes and pomades combined. 
Much like oil-based pomade, washing out a wax product can be quite a hassle. 
But:
There are two ways you can remove styling wax from hair faster:
a) Dry-wash with shampoo – Yes, working a concentrated shampoo through dry hair allows the wax to break off easier than on wet hair. In other words, damp hair prevents the shampoo from getting all the wax out. So, make sure your wax-styled hair is dry before shampoo-washing.
b) Clean with hot water – Now, I know cold or warm water is most recommended to avoid scalp irritation or hair damage. But, here, simply "warm" won't be sufficient. Because you need heat or hot water melts wax faster and better.
And that begs the question:
How do you wash off hair wax with hot water safely?
Well: 
Put a towel in a bowl of hot water.
Remove and wrap it around your hair for 2-5 minutes for the wax to melt.
After that, wash with cold or lukewarm water, and you'll be good to go.
Anyway:
Here's a quick YouTube demonstration of how to remove styling wax from your hair:
Questions? 
Let's tackle that next…
Conclusion
Again:
Applying styling wax, whether on curly, straight, short, or long hair, is a keep-it-simple process. At least, this holds true if you want the best results.
So:
With this WiseBarber's pro styling tips and the possible roadblocks, I've offered you everything you need; for proper hair wax usage.  
Nevertheless:
Learning how to use hair wax should be fun; just remember to start with a small amount of wax to style your hair as desired. 
If you have more questions about this product or want to make a contribution, use the comment box below and I will get in touch shortly.
Cheers.
Frequently Asked Questions
Dry hair. This is because hair styling wax blends easily with dry strands of hair and allows for control and better styling to the desired look.
No, you shouldn't. It's important to give your hair intermediate breaks from hair products so it doesn't lose its natural texture.
Yes. Doing that won't cause any sort of damage as long as the styling wax is not used excessively and is paraben-free.
If you want a relatively matte appearance, a smooth finish, plus tamed frizzy hair, wax is the best. Also, hairstyles with wax can be restyled anytime unlike gel-styled hair. On the other hand: A gel will give you the strongest hold, making your hairstyle rock-solid throughout the day. Another good thing about it is that gel is easier to wash out from the hair than hair wax.
More from Mike Medders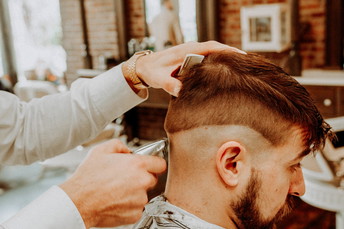 Trust me, I've been on both sides of the chair. I can't count the number of times a client has sat down and struggled…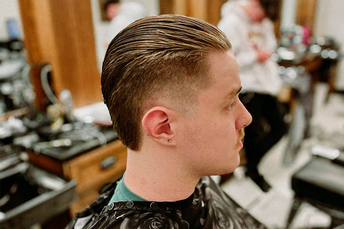 50 Different Ways to Rock the Slick Back Hairstyle for Men 1. Slick Back Fade @jules.thebarber Look: The slick-back…