From NBA Stars to Hip-Hop Legends: An Exclusive Interview with Barber Kendrick 'Choochcutz' Mora
In the bustling realm of barbering, Kendrick Mora has carved out a unique space for himself. 
Hailing from Detroit and leading the renowned Elevated Barber Studio, Kendrick's story is a testament to dedication, passion, and vision. 
In our conversation, we delve deeper into his journey from humble beginnings to global acclaim.
"When I began my barbering journey in 2018, I wasn't the best," Kendrick candidly shares. 
"But I embraced the power of social media to showcase my growth. It's all about consistency and discipline. Before I knew it, my work was being shared across multiple platforms and cities."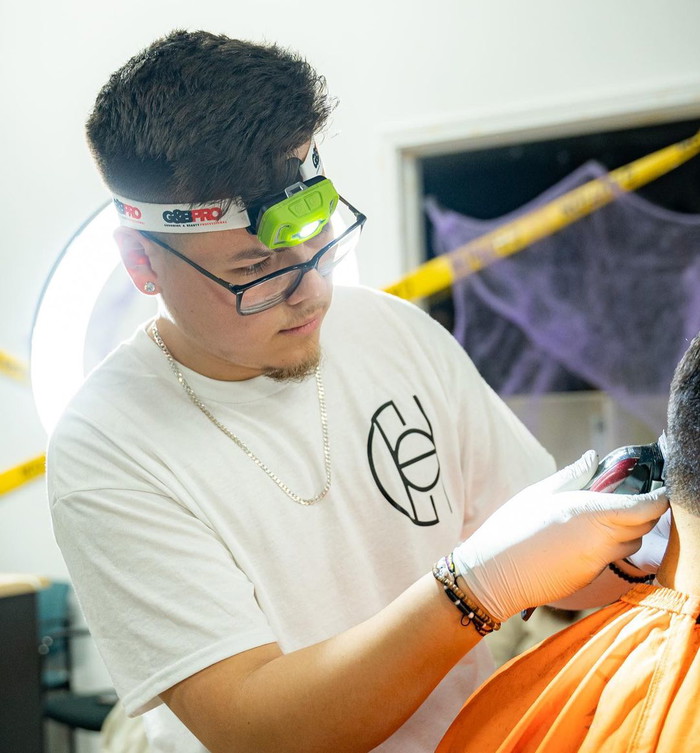 Elevated Barber Studio is More than a Barber Shop
The vision of having his own barbershop was always close to Kendrick's heart. "There's nothing like having something that's truly your own," he reflects. 
But, Elevated Barber Studio is not just any barbershop. 
It's an embodiment of Kendrick's vision and dedication. With its modern ambiance, meticulously chosen furniture, and top-of-the-line equipment, the studio stands out as an oasis of luxury and precision in Metro Detroit.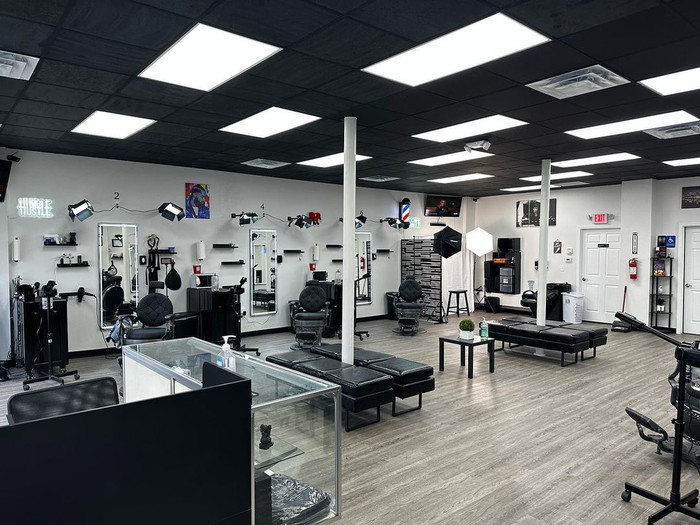 Kendrick highlighted the distinction: 
"We try to keep the environment modern and unique by having top-of-the-line equipment and services that other local barbershops don't offer." 
But more than the physical attributes, it's the soul of the shop that sets it apart. 
The team, handpicked and trained by Kendrick, shares his relentless drive for perfection. Each member is not just a barber but an artist, committed to elevating their craft every single day.
Kendrick's journey underscores collaboration as a cornerstone. And that's something that reflects the symbiotic relationships shaping Elevated Barber Studio's legacy. 
According to Kendrick, his partner David Gonsalez plays a pivotal role; not just his career and personal growth but also in their studio's success.
And that's something he's thankful for.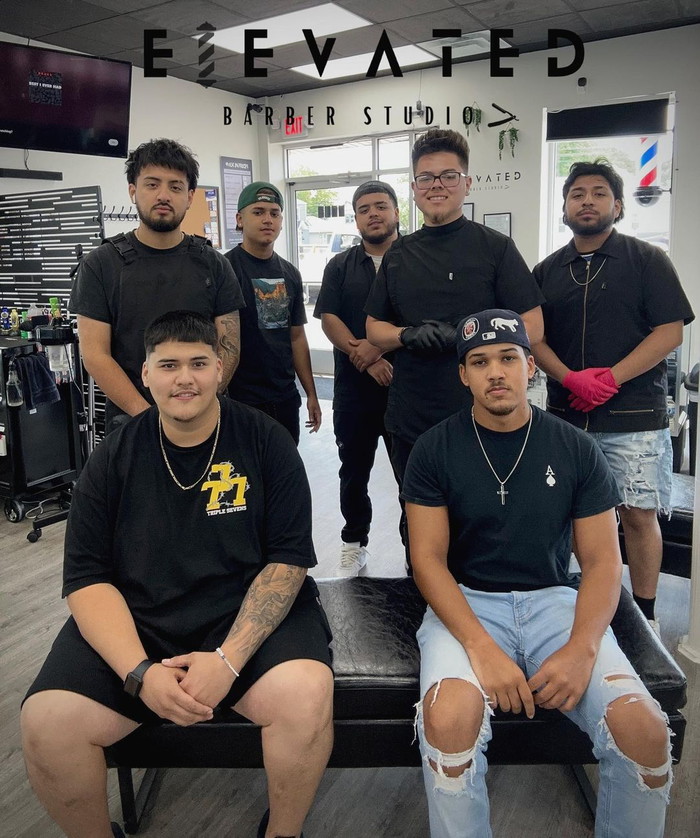 Recalling a piece of wisdom that has stayed with him, Kendrick shared, "The owner of G&B PRO once told me, 'You can always go fast alone, but you can go further together.'"
Since then, this has been the guiding principle for Elevated Barber Studio.
Exclusive Services: Beyond the Studio
In the dynamic landscape of barbering, Kendrick Mora has innovatively bridged the gap between luxury and convenience. 
Reflecting on his bespoke services, Kendrick shares, "High-profile clientele prefer to remain discreet and also are short on time. Offering mobile services has helped me not lose opportunities to cater to clients who rather not come to the barbershop."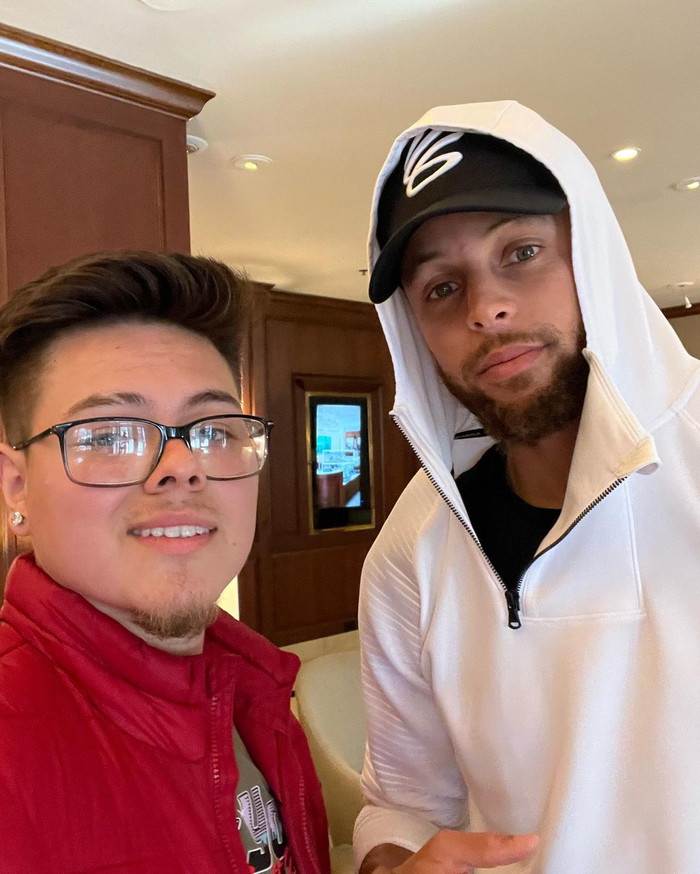 And no, this isn't merely about taking his craft outside the studio walls. 
It's also about encapsulating and bringing the entire Elevated Barber Studio experience to the client; ensuring they feel the luxury and precision they would within the studio, irrespective of their location.
And the impact of this tailored approach extends beyond the immediate service. 
Kendrick reveals the ripple effect of such exclusivity, noting, "Sometimes there are multiple people on site and I can gain numerous clients from that one-time travel service." 
By venturing beyond the traditional confines of a barbershop and offering these specialized services, he not only meets the immediate needs of his clients but also paves the way for future engagements. 
And that solidifies his reputation as a barber who truly understands and values his clientele's unique needs.
Kendrick's Star Clientele Includes Names Like Lil Baby and the Detroit Pistons
The worlds of entertainment and sports are replete with A-list names and icons whose every move is watched and emulated by millions. 
And when these superstars trust someone with their appearance, it speaks volumes about that person's credibility. 
Kendrick's unparalleled skills and exceptional service delivery have earned him that trust.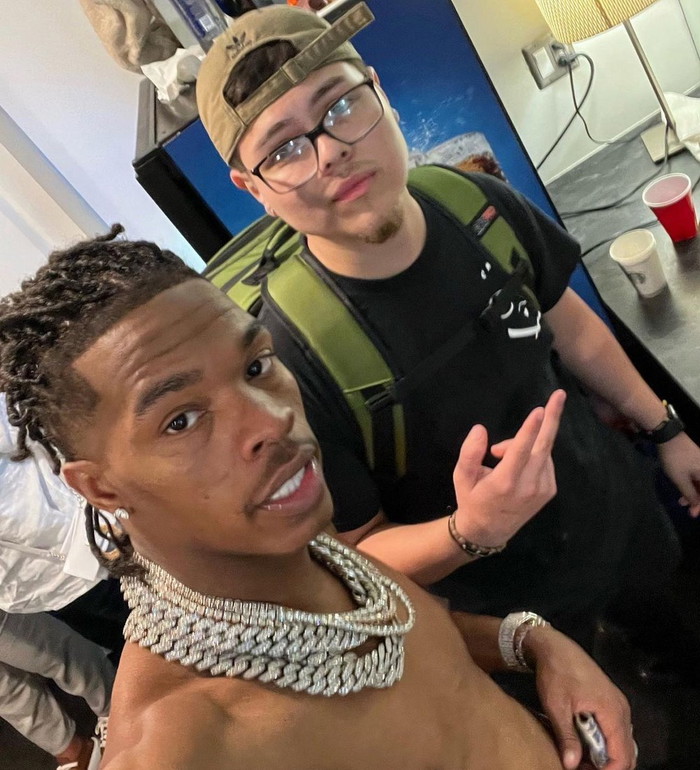 From rap sensation Lil Baby, and basketball superstar Stephen 'Steph' Curry, to luminaries from the Detroit Pistons, his clientele is something most barbers only dream of. 
"Having the opportunity to service such renowned figures is indeed a blessing," Kendrick reflects, his voice tinged with a mix of pride and humility. 
But, I know you must be wondering, how did a barber from Detroit become the go-to stylist for these icons? 
Well, Kendrick attributes much of it to the digital age. 
"It's the power of social media," he emphasizes. "Networking, persistence, and showcasing my work on platforms like Instagram made me visible to them. It was my canvas, my stage, and they noticed."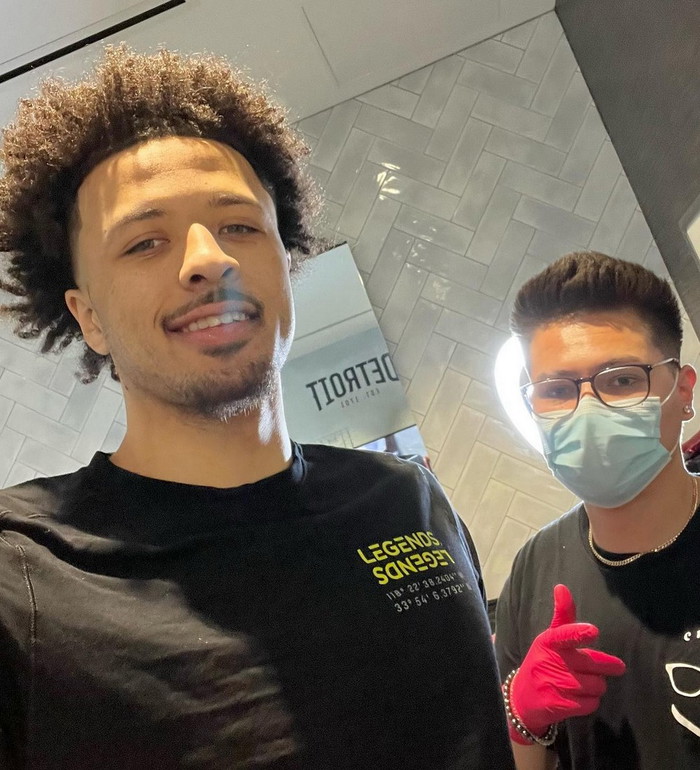 Yet, amidst the bright lights of fame, Kendrick's humility stands out. 
Quoting lyrics from Lil Baby's song 'Emotionally Scarred,' he shares, "I never call myself the goat, I leave that love to the people." 
Delving deeper into this ethos, Kendrick adds, "It's a lesson ingrained in me since childhood. To always remain humble, to remember my roots. Fame is transient, but humility? It's eternal."
One particular collaboration holds a special place in Kendrick's heart - his association with the Detroit Pistons. 
It's not just any team, but his city's pride. 
That's why working closely with players like Cade Cunningham and Kelly Olynyk has been nothing short of exhilarating for Kendrick. 
"Being mobile to them, servicing them at the Pistons Practice Facility, it's not just a job. It's an experience," he says. The respect he receives, the camaraderie he shares with the players, and the networking opportunities that arise - all of it has added rich layers to his professional journey.
Kendrick's Final Words of Wisdom
As we concluded our enlightening discussion with Kendrick Mora, his advice for those starting out in the barbering world was clear and profound. 
"Commitment is your starting point," Kendrick emphasized, "You need to dive deep into your passion, dedicate your time, mind, and resources, and truly believe in your journey to success."
Facing challenges and setbacks is an inevitable part of the journey, but Kendrick views them as growth opportunities. 
He advises, "Embrace the challenges, learn from them, and let them guide your path forward. Remember, every setback is a stepping stone to greater success."
To Wrap Up
Kendrick's meteoric rise from the streets of Detroit to styling global icons serves as a testament to his words. 
For every budding barber, his journey is a beacon, illuminating the path of dedication, passion, and unwavering commitment to the craft.
The Wise Barber community salutes you, Kendrick. 
Now, tell us:
Did you find Kendrick Mora's journey and insights as fascinating as we did? 
If this peek into the world of an iconic barber resonated with you or inspired your own barbering dreams, don't keep it to yourself! 
Share it with friends, colleagues, and fellow enthusiasts. Let's spread the wisdom and passion of Kendrick's barbering artistry far and wide!