How To Shave Face Without Shaving Cream
Question:
What do you do when you want to shave only to discover that you don't have shaving cream?
Tricky situation, right?
In most cases, this dilemma can be quite confusing; especially if you are fond of using face cream.
And:
What happens when you shave without shaving cream?
For one, you may end up cutting and nicking your skin in the process. Also, you may develop ugly and painful shaving bumps all over your face due to skin irritation.
You don't want that, do you?
Therefore, if you find yourself in this situation, can you shave without cream?
YES!
I know a lot of guys will tell you that shaving without shaving cream can be messy; not to mention the uncertain outcome.
But:
When you really don't have access to shaving cream, here is what you can do:
Three Sure Steps on Shaving Without Shaving Cream
Whether it is your first time shaving mustache or you are just looking for steps on shaving without cream out of necessity, you have options.
In fact, do you really need shaving cream?
NO. You don't.
Because there are several shaving cream alternative products you can use to get that nice, sharp, beardless look.
So, without further ado…
Here are three sure steps to follow when shaving your face without shaving cream:
Find a Suitable Alternative
You'll be surprised at how many cream alternatives you can use to shave your face that are easily accessible and probably lying around your house.
So, which are these alternatives?
Soap
Soap is one of the most common items you'll find in any household, hotel room, office bathroom. And if you ever run out of – or forget – to bring shaving cream, you can use soap as an alternative.
But:
You'll have to be very cautious with this.
Despite the fact that soap is cheap, readily available, and lathers easily, it's also quite easy to get cuts and nicks on your face when used as a shaving cream.
Hair Conditioners
The right hair conditioner is not only great for your hair's health but can also function as an emergency shaving cream.
In fact:
It's your best alternative because it will not only soften your facial hair but also keeps it moist and smooth during the shave.
That's why you can comfortably use hair conditioner as shaving cream.
And if you don't have a good hair conditioner, don't worry; there are other alternatives.
Peanut Butter
Yes. Don't be surprised.
Your kitchen can also offer you a number of shaving cream alternatives.
Peanut butter works great as a shaving cream and is guaranteed to give you a smooth, irritant-free shave any day.
It contains tons of healthy oils and fats that make shaving easy and cut-free.
Other Alternatives
Baby Oils
Aloe Vera Gel
Olive Oil
Honey
Pro Tip:
If you're wondering; can you shave with just water?
Yes, however, it's not advisable for people with sensitive skin because it won't prevent nicks and cuts.
Prepare Your Face
Once you've found a suitable alternative to shaving cream, the next step would be to prepare your face.
How?
Well, experts always recommend shaving your face when your skin is moist and wet.
That's because damp skin loosens hairs making it easy to shave without pulling hair or getting cut or nicked.
Therefore, make sure your face is clean and well-hydrated before proceeding to the next step.
Shave Your Face
If you've been looking for a tutorial on how to shave your face for the first time, this part is for you.
It's a simple step-by-step process as explained below:
Apply Your Face Cream Alternative – Whether it's soap, hair conditioner or peanut butter, ensure that you apply even and sufficient amounts of it all over your facial hair (the area you plan on shaving).
Slowly Shave Your Hair – The reason why you need to take it slow is that your facial skin isn't used to this alternative way of shaving without cream. It's not what you are used to, so, you can't shave as usual.
Change the Alternative If You Have To – Incase, the cream alternative you're using doesn't seem to work for you, change it. If you're not comfy using soap, switch to peanut butter. Basically, work with an alternative that agrees with your face and skin type.
Frequently Clean Your Razor/Clipper – You don't have to do this after every stroke. However, it's easier to shave when your razor/clipper blades aren't covered in "cream."
Clean Your Face After the Shave – Cleaning helps you to see if you've missed a spot. Plus, it helps to open up your skin pores to avoid infections and skin irritation.
Apply Some Aftershave Cream – After any facial hair shave (even without using shaving cream), it's always wise to apply aftershave. It keeps your skin moist and looking healthy.
And there you have it.
By now, you know two main things:
How to shave without shaving cream.
And what to use instead of shaving cream.
You don't need actual shaving cream to shave; just a suitable alternative, a little caution, and you'll be good to go.
Was this post helpful? Or would you like to add something to the topic?
Feel free to say it in the comments section below. I'd love to hear your thoughts.
Frequently Asked Questions
Yes, you can shave your facial hairs without shaving cream. Since it's risky to shave bare skin, you should consider using a shaving cream alternative. For facial skin, the best alternatives for shaving cream are aloe vera, soap, face lotion, baby oil, coconut oil, and olive oil.
If you are not using shaving cream, here is how to do it. Start by taking a shower or washing your face to soften your facial skin and hair. Apply the shaving cream alternative you are using. If you are using soap, make sure to get a good lather. If it's oil, apply sparingly, while for lotion apply a generous amount to cover the skin. If it's possible, use a brand new razor to avoid spreading bacteria.
More from Mike Medders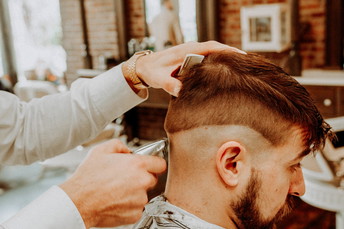 Trust me, I've been on both sides of the chair. I can't count the number of times a client has sat down and struggled…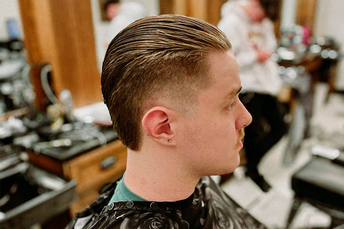 50 Different Ways to Rock the Slick Back Hairstyle for Men 1. Slick Back Fade @jules.thebarber Look: The slick-back…