Trimmer Vs. Hair Clipper – What's the Difference?
Question:
What's the difference between a trimmer and clipper?
I often come across people who use these two words and tools interchangeably. 
They will say a trimmer when they mean a clipper, or a clipper instead of a trimmer. 
And:
That's what this post is about; the nitty gritties. 
Because until you know what differentiates the two, when and how to use each of them, you will most probably not get your desired results. 
In this post, I'll talk about:
What a trimmer and clipper is
The difference between trimmers and clippers
When to use a trimmer and clipper
What to look for when buying a trimmer and a clipper
How to pick a kid's trimmer
Let's get into it. 
What Is The Difference Between a Clipper and a Trimmer
Note:
The major difference between clippers and trimmers are their blade width, shape, and size. 
So:
Hair clippers are designed for bulk cutting and heavy-duty work. 
On the other hand, trimmers are best for styling, finishing touches, outlining, edging, and trimming hard to reach areas; like around the ears and back of the neck. 
Also Note:
Hair clippers have more accessories and functions than hair trimmers. The former comes with lots of different attachments to adjust the length of hair when cutting. 
To make it easier, here are the main differences between the two.
Quality/Functionality
Trimmer
Clipper
Uses 
Outlining and edging. Best for beards, neck, around the ears and back of the headBest for shorter hair. Ideal for close shave. Used for finishing touch up on a haircut
Best for bulk hair cutting. Best for long hair. Used to prepare hair for a smooth finish. Allows you to cut accurate hair lengths with ease. Best for tapering, blending, and fading. 
Blades
Most feature T-shape blades.
Has wider blades.
Common Accessories 
Oil. Guard combs. Cleaning brush.
 
Guide Combs. Blade oil. Cleaning brush. Combs. Spare blade sizes.
Size and Weight
Usually lighter and smaller. 
Clippers are heavier and can sometimes be bulky depending on the type and power source. 
Power and Torque
Since trimmer are meant for light work, they are relatively weaker and offer less torque.
Offer strong performance and high torque.
When to Choose a Hair Clipper
So:
When should you buy a clipper? 
If you are a barber, a hair clipper is a must-have. 
Why?
It's a basic barbering tool; i.e. what you use to cut bulk hair to prepare it for detailing.  
Because of their quality blades and power, clippers are ideal for a full head shave; especially when cutting thick hair. 
Tip:
If you are an aspiring barber, a clipper should be among your first investments. It's also what you should learn how to use first. 
Moreover:
If you want to start cutting your hair at home, a clipper should be at the top of your shopping list The best thing about having this tool is that it lets you experiment with different haircuts. 
And:
Once you are good at cutting hair into different lengths and styles, you can then proceed to detailing and edging. 
Special Features of Hair Clippers
Question:
Are all hair clippers the same?
The answer is NO!
Obviously:
Some clippers are more advanced than others; especially the latest models. And that's because every brand is trying to outdo their competitor. 
Anyway:
Here are special features you will find in some clippers… 
a) Self-Sharpening Blades
Now:
It's given that after several uses, a clipper's blades will get dull. 
But:
Sharpening these tools isn't an easy task; especially if you are a beginner. And that's why, to make it easier for you, some clippers come with self-sharpening blades. 
However:
You still need to keep the blades lubricated to prevent rust and keep them working well. 
b) Powerful Motor 
Here is the thing:
We all have different hair types. Some have coarse while others have softer hair.
And:
To make sure clippers can handle any type of hair, most of them come with impressively strong motors nowadays. 
That said:
Which is the most powerful motor?
A rotary motor; because it can deliver enough power and torque for bulk haircutting and heavy-duty use. 
It also allows you to cut a wide range of hair types with precision, power and speed. 
c) Adjustable Taper Lever 
Now:
Making quick blade adjustments or trying to maintain precise lengths during a haircut can prove daunting unless you have a clipper with a taper lever. 
Taper levers allow you to easily change from one blade size to another effortlessly. It is particularly useful for blending and fading where you need precision.
What to Look for in a Hair Clipper
1. The Motor
Now:
A hair clipper should be strong enough even for the toughest coarse hair. And this depends greatly on the motor.
You see:
The motor is the powerhouse of a hair clipper. Clippers have different types of motors namely pivot, magnetic, to rotary.
What's the difference?
Well:
Pivot motors are best for thick hair because they provide a good balance of power, torque, and speed.
On the other hand:
Magnetic motors are very affordable and fast. But they are not the most powerful. They also vibrate a lot;  meaning they are not the most comfortable to work with for long hours.
Lastly:
Rotary motors are considered the best of the best. , 
Why?
While they are expensive, rotary motors make up for the cost in smooth glides and fast speed. Their high torque allows them to deal with all types of hair with ease.  
This is why most professionals prefer them. 
2. Blade Material
Next:
Apart from a powerful motor, you need the best blades for the best performance. 
Note:
Blades are made of different materials including:
Steel
Ceramic
Titanium
Carbon Steel
So:
Which material is the best?
Well:
I think that depends on your preferences. 
For example:
Steel blades are cheap but tend to rust easily and get blunt quickly. 
Ceramic blades run cooler than all other blades on this list and stay sharper for longer. But, they are also very weak and can break if dropped. 
Titanium  blades are known for their durability, corrosion resistance, and ability to retain their sharpness. However, they are also quite expensive. 
Lastly:
Carbon steel blades are made of a tough, slightly-affordable, and self-sharpening alloy that offers a better alternative to steel blades. 
3. Guard Combs and Blade Adjustability
Note:
Most clippers come with up to twelve blade guards in sizes 1.5mm to 37.5mm or 1/16 to 1.5 inches. Blade guards make it easy to achieve the hair length you desire. 
How?
Guards sizes are measured in millimeters or inches.  However, they are labelled in numbers, which does not mean measurement. The measurement determines how long the hair will remain after cutting. 
For Instance:
Guard number 1 is 3 inches or ⅛ inches
Guard number 2 is 6 inches or ¼ inches
Guard number 3 is 8 inches or ⅜ inches
These numbers go up to number 12, which is 1.5 Inches.
Note:
This is not always the case, different brands may have different sizes. 
4. Corded vs. Cordless
This should be simple.
The major difference between corded and cordless clippers comes down to convenience and flexibility.
Why?
A corded hair clipper only works when it's plugged in while a cordless clipper has a rechargeable battery. 
So?
With a cordless clipper you can shave anywhere. However, for a corded model it is not as flexible because it is tethered to an outlet.
For corded models, you will need long cord length to maneuver comfortably.
However:
Being corded allows the clipper to give you more power than a clipper running on batteries. 
With cordless clippers, you have to constantly recharge the battery. Plus, there's the constant fear of running out of power in the middle of a haircut. 
Pro Tip:
When looking at cordless models, it's always wise to go for clippers that offer cord/cordless convenience; i.e. you can still use the clipper while it's charging. . You also need to look at the run times; the longer the better. 
Lastly;
Check the type of battery and the time it takes to recharge.
5. Price
In most cases:
Price isn't always a huge factor. 
After all, you should be ready and willing to pay more for a clipper that meets your needs and requirements. 
Right? 
But, you should always take a minute to research how much it's going to cost you to maintain the clipper in question. 
For example:
How expensive are its blades?
How much will it cost you to replace any damaged parts?
Not forgetting the availability and affordability of its accessories.
Get it?
How to Choose a Hair Clipper and Trimmer for Kids
Look:
When looking for a hair clipper for kids and babies, safety and comfortability are of absolute importance. 
Why?
Your kid's skin is much more sensitive than an adult's skin. So, you cannot cut their hair with any hair clipper. 
Plus, if your child isn't comfy during the haircut, it will be hard to keep them still. 
Here's what to look for in a kid's hair clipper before buying:
a) Ergonomics 
First:
You need a hair clipper that is easy to handle. 
This is why:
Kids don't always sit still and are easily distracted. 
Result:
They will turn, bend, look up or even sleep. An ergonomic clipper makes operation easier.
b) Noiseless Operation
You know it:
Kids are easily scared, especially if they are not used to something. 
So?
Choose a clipper that is quiet with gentle vibrations. The last thing you want is to scare your baby because of the noise. 
This is also crucial to keep the baby calm letting you trim their hair safely.
c) Ceramic Blades
See:
A baby's skin is sensitive hence you will need a clipper that will not irritate the sensitive skin. 
Solution?
Go for one that has a ceramic blade since it's skin-friendly; plus, it doesn't heat up..
d) Cordless Design
Let's face it:
Cutting a kid's hair can be stressful; especially, when dealing with a fussy child. You need all the flexibility you can get from a hair clipper.
That's why:
With a cordless clipper you get more freedom and can easily shift positions to distract the baby. 
e) Other Unique Features 
Lastly:
Look for features that facilitate fast and easy shaving. 
I am talking of things like a taper lever on a clipper; it allows you to change the blade length as you cut.
Others features to look out for include:
Blade Size Settings
Self Sharpening Blades
Battery Level Display (if cordless)
Charger Type
When to Choose a Hair Trimmer
Here:
Let's see who and when you should buy a trimmer.
Ready?
Styling Hair
See:
Trimmers cut very precise. Most come with T-shaped blades that make it ideal for detailing and edging hair.
And:
Thanks to this special blade design, a trimmer allows you to cut neck hairs and around the ears easily and without nipping your skin. 
So:
If you are looking for the best way to trim hair in hard to reach areas and sensitive skin areas, a trimmer is the best option.
Facial Hair
Arguably:
Well-trimmed facial hair can turn you into an instant celeb. And a trimmer does a great job of this. 
From shaping sideburns to working on the mustache, you can only depend on this tool to get a clean, close shave.
Skin Rashes and Irritation
Perhaps:
The best thing about most hair trimmers is the use of hypoallergenic blades. 
Men with sensitive skin don't have to worry about rashes and skin irritation when using a hair trimmer especially for a close shave. 
Groin Area and Underarm
Mostly:
If you are shaving the underarm you want to remove all the hair. The same applies when shaving your pubes.
Obviously:
You cannot achieve a bald shave with a clipper but a trimmer will do a great job. 
Why?
Because it cuts as close to the skin as possible, you don't have to shave every other day. The best thing is that most are portable and rechargeable; therefore, you can carry them on trips.
A Look at A Few Special Features of Trimmers
Here is the thing:
There are hundreds – if not thousands – of trimmers on the market today.
But:
Some are more advanced than others. 
So, here are some special features you will find in trimmers. 
Titanium Coated Blades
Remember:
Titanium blades are some of the best blades available.
well:
They are common on Philips and Braun hair trimmers. These blades are popular because they glide on the skin without irritating it. 
What else?
Titanium blades are harder than stainless-steel alloys; meaning they last longer and stay sharp for an extended period.
Variable Guard Lengths
See:
Hair trimmers come with various guard lengths; usually, from Guard 1 to Guard 5. 
Generally:
The shortest length hair is achieved on Guard 1; while long hair length can be done with Guard 5. 
But why are guard combs necessary for trimmers?
Well:
Just like in clippers, a trimmer guard allows you to maintain uniform length when cutting hair. That's why they are super important.
Digital Battery Display
Here is the thing:
If you are not keen, your trimmer's battery can die in the middle of shaving. And that can be quite a bummer; especially, if you are in a rush.
Solution?
A useful feature to have on a hair trimmer is a digital battery display. You'll know when the battery is about to die so you can recharge it in time.
Plus:
 It's particularly handy during travel.
Lightweight Small Design
Mostly:
Trimmers are lightweight and smaller in size. 
Why?
When you are trimming hair in hard to reach areas like the neck, underarms, and around the ears you want something light that can easily maneuver these areas. 
This is also important when you are detailing hair or doing hair tattoos. 
Cordless
See:
Not all trimmers are cordless; there are many corded models.
But there is something unique about cordless trimmers
What?
In addition to being lightweight and small, a cordless trimmer has better maneuverability and flexibility when trimming.
On top of that:
Cordless trimmers are travel friendly especially if you are always on the go and you love a clean hair cut. 
What to Look for in a Trimmer
Blade Quality
First:
The best trimmers feature carbon steel, chromium, or titanium blades. 
What's the big deal?
As seen, these blades are not only durable but are also very effective at cutting hair. 
Also consider the housing, motor, and its ergonomics. 
Battery Life
See:
Whether you'll be using your trimmer while traveling, at home or at your barbershop, battery life is an important feature to consider. 
Here, consider how long a single charge will last. 
You will find trimmers offering from 40 minutes to 5 hours of runtime.
Remember,
You also need to consider how long the trimmer takes to recharge. 
Cutting Length
Obviously:
It's not every time you'll want a bald shave.
That's why trimmers have different cutting length ranges and adjustment mechanisms. So, look at the upper length limit of the trimmer. 
Why?
This way, you can shave your hair as close as possible; to the shortest length when looking for a clean shave. 
Waterproofing
Question:
How do you clean your trimmer after use?
Get this:
A waterproof hair trimmer allows you to shave in the shower and clean it under running water without the risk of damage. 
Awesome, right?
Plus:
It also lets you shave dry or wet using a shaving gel. 
Accessories
Basically:
You'll want practical attachments to go with your trimmer. 
Some of these tools include nose hair and detail trimmers so you can handle different shaving jobs.
Conclusion
That's just about everything you need to know about these two amazing barber tools. 
Now:
I hope you now understand the differences between a hair trimmer and a clipper. 
So, next time you order a hair clipper or trimmer, you;ll be sure that you are getting the right tool as per your needs.  
Truth is:
You can use both interchangeably. However, the quality of the haircut won't be as good as what you'd have gotten if you used the right tool for the job.  
Get it?
Anyway:
I'd love to hear your thoughts; therefore, don't hesitate to say something in the comments below if you have a question or feel like I've left out something important. 
Thanks & #StaySafe
Frequently Asked Questions
To some extent, yes; but it's not ideal. If you are talking about cutting hair, yes. But for edging. outlining, hairline designs, and hair tattoos, a clipper won't cut it.
Clippers are excellent for cutting a beard to the desired length. However, they can only prepare facial hair for edging and detailing; which is difficult to achieve with only a clipper.
Yes, you can use a trimmer for pubic hair. But, you'll need a good-quality tool to prevent nicks and cuts though. Ensure you have a trimmer that can easily navigate body folds and bends.
More from Mike Medders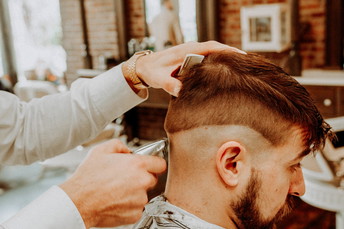 Trust me, I've been on both sides of the chair. I can't count the number of times a client has sat down and struggled…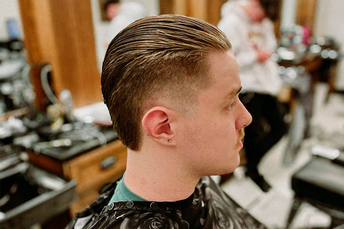 50 Different Ways to Rock the Slick Back Hairstyle for Men 1. Slick Back Fade @jules.thebarber Look: The slick-back…