An A to Z Guide on Everything You Need to Know About the Wahl 8500 Senior Clipper
Powerful v9000 motor
Smooth and precise cuts
Reliable and quite easy to use
There's no doubt:
The Wahl 8500 Professional Senior Clipper has effortlessly earned its reputation as a professional, strong, and durable haircutter.
And that's probably why it's one of the best selling and most common hair clippers in barbershops today.
Now:
Aside from having an extremely powerful motor, this clipper also boasts of a very comfy design coupled with an easily accessible taper lever and power button.
That means that you can switch through blade sizes without having to lift the clipper.
Awesome, right?
Well, there is so much more to know about this amazing hair clipper.
And by the end of this Wahl Professional Senior Clipper Review, you'll be able to make an informed decision on whether or not it is worth buying.
Read on to learn more…
Wahl 5-Star Senior Cordless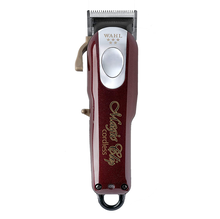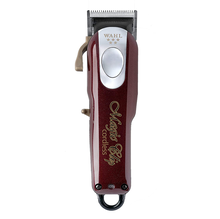 Wahl Professional Senior Clipper Review: Features
I always say this:
A hair clipper's features and functions always determine its value to the user.
Basically, better features mean more value.
A wise man once told me:
"Mike, before you buy a professional hair clipper, there are five questions you need to ask yourself.
Is the clippers' motor strong and reliable and are the blades going to perform as expected?
Will you be able to use it for long hours without getting tired or uncomfortable due to heating issues?
How much access do you have to its features?
Is its cost directly proportional to its performance and durability?
What are people saying about the clipper on reviews and ratings"
Thanks to those tips, I've never had a regrettable clipper purchase since.
And you won't too.
So, how does the Wahl 5-Star Senior fair when it comes to features?
Here are some of its biggest strengths:
Powered by a Strong Wahl Senior V9000 Motor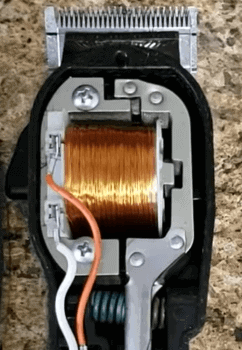 Motor power is arguably one of the Senior's best-selling points.
Why?
Well, this clipper comes fitted with a powerful v9000 rotary motor – the strongest motor ever built by Wahl.
That means that you get more than enough power to cut through a lot of hair within a short time.
And the best part is that the motor delivers both speed and torque in sufficient quantities making it ideal for cutting all kinds of hair.
Basically, in terms of motor power, this is the best you can get from a Wahl hair clipper.
It's Fitted with High-Precision Blades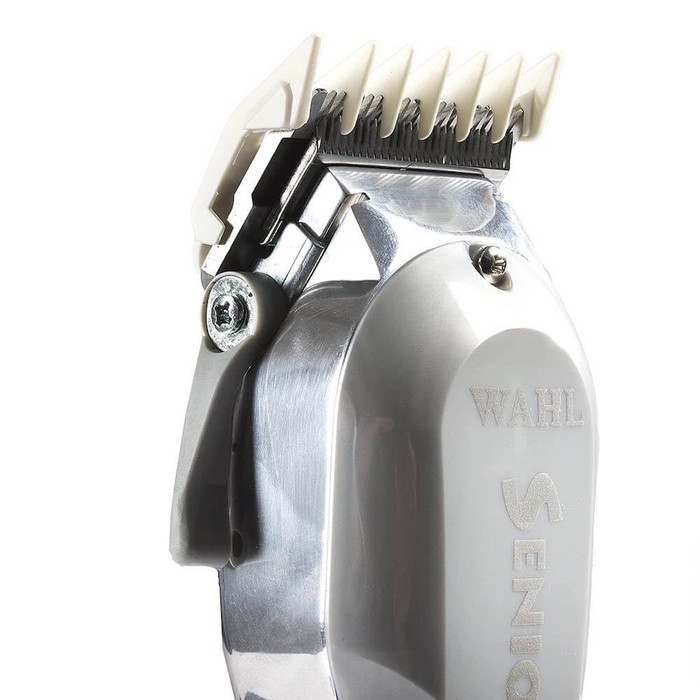 Unlike most Wahl clippers, the 8500 Senior doesn't come with self-sharpening blades.
In fact:
There's nothing special or out of the ordinary about this clipper's #1005 blades.
However, they do deliver high-precision haircuts with ease.
This Wahl Senior clipper features the kinds of blades needed to cut close, precise, and smooth haircuts effortlessly.
Also:
This clipper doesn't pull hair, snag, or deteriorate in performance when used for long periods.
Therefore, you'll be able to make long haircuts without any discomfort for you or your client.
Moreover:
Combining the Senior clipper's sharp blades with its strong v9000 motor results in fast and more precise haircuts.
And we all know how much haircutting speed affects income.
Plus:
In terms of maintenance, it's quite easy to release, clean, maintain, and replace this clipper's blades.
Has an Ergonomic Design

When it comes to the overall design, the 8500 Senior boasts several unique qualities.
For example:
Its slightly-bulky but ergonomic shape is not only easy to hold but also very comfortable to use over extended periods.
What's more?
It can easily fit into any hand size making it ideal for just about any barber.
And even better…
The Senior hair clipper's body is grey and made from the best materials, thus, making it strong and durable.
Generally, this is the clipper you buy when you know your clumsy and might drop it from time to time.
Features an Easily Accessible Taper Lever
Yes!
Fading, tapering, and blending hair is always a walk in the part for the Wahl Senior thanks to its smooth and accessible taper lever.
With it, you can easily switch through blade sizes without breaking a sweat
And that comes in handy for barbers who operate busy shops and are required to work fast.
Other Cool Features
It comes with an assortment of accessories.
It also has a chemical-resistant, 8-foot long power cord.
Now:
The funny thing about this clipper is that most of its features are standard (except for its powerful v9000 motor).
However, it always manages to outperform other premium clippers like the Wahl 5 Star Senior Cordless in one way or another.
Which brings us to the next question…
Comparison with other clippers
Basically, we are answering the question:
What makes this clipper special or worse than other clippers in its class?
And since the Wahl Senior series comes in different variations, we'll focus on two of the most popular Senior clippers – the 5-Star Senior and the Senior Reflections.
Here are a few common comparisons you should know about:
Usability and Handling
As we wrap up, you are probably asking:
How does this clipper handle? Is it user-friendly?
Well, for one, its design is quite ergonomic and the fact that it has a v9000 motor is all the guarantee you need that this clipper won't disappoint you during your busy days.
Also:
It's built to endure take accidental drops and frequent usage like a boss. The materials used to make this clipper are not only strong but also durable; hence, guaranteeing you great value for your money.
Note:
Like most clipper, the Senior is not perfect.
Unfortunately, its housing is also one of its biggest setbacks. A lot of users have been complaining of heating issues; mainly on the bottom metal part of the clipper.
What's Inside the Kit?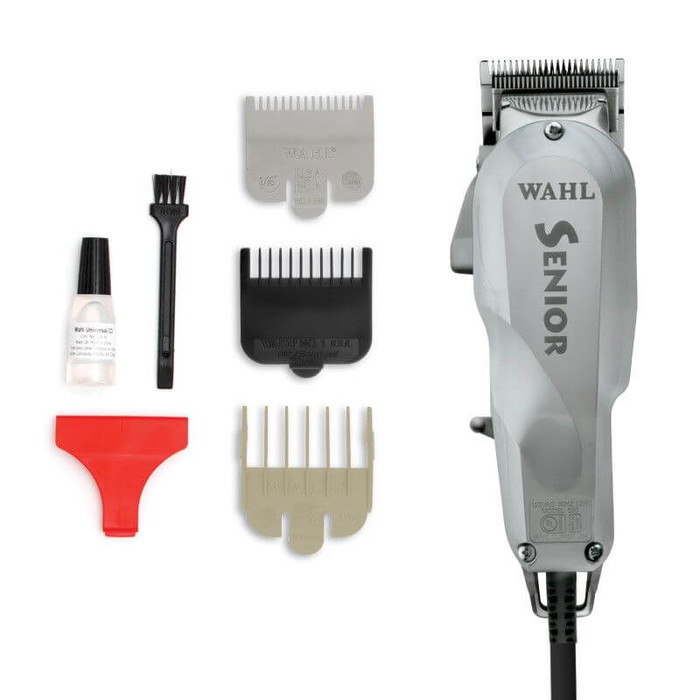 What do you get inside the kit when you but the Wahl Professional Senior Clipper?
Well, it the kit, you'll find:
A Wahl Senior hair clipper.
Cleaning oil and brush.
A red blade guard.
Three attachment combs – 1/16" (#1/2), 1/8" (#1), and 3/16" (#1 & 1/2).
A User/Instructions manual.
Not so impressive, right?
Considering this clipper costs around $130.
Summary of Merits
To summarize everything, let's look at a few pros and cons of the Wahl 8500 Seniors clipper…
Pros
Has a powerful v9000 motor
Great for heavy-duty work
No hair pulling or snags
Impressively fast haircuts
Very close, smooth, and precise cuts
Strong, durable housing
It is reliable and quite easy to use
Cons
Limited accessories
A bit pricey compared to its features
Prone to heating issues
Now:
The last question to ask is…
My Final Verdict
Should you buy it?
Well, in all honestly, I think the Wahl Senior is unnecessarily overpriced.
Why?
Well, there are other cheaper clippers out there that come cheap and with better features and more accessories.
However, not many clippers can offer you the level of performance and durability you get from an 8500 Senior.
Therefore, if you are looking for a heavy-duty hair clipper that can cut through all kinds of hair all day and fall without breaking into pieces, this clipper is the best you can get.
And that conclude my Wahl Professional Senior Clipper Review.
So:
What do you think? Is it worth it?
Let me know in the comments section below.
Frequently Asked Questions
The major difference between the Wahl 5-Star Senior and Wahl 8500 Senior Clipper is the blade. The Star Senior comes with the #2191 adjustable blade, which makes this clipper great for fades and tapering. On the other hand, the 8500 Senior Clipper comes with the #1005 blade. Unlike #2191 blade, the #1005 blade is a standard blade for cutting and blending.
Both Wahl 8500 Senior and Wahl 5 Star Senior Clipper cost under $100 at the time of writing this review. They are powered by the same v9000 motor but have different blades explaining the different uses.
The Wahl 8500 Senior comes with the #1005 blade. The #1005 is a standard blade for cutting and blending. This is the same blade you will find on Designer, Cordless Designer, and Pilot Wahl clippers.
More from Mike Medders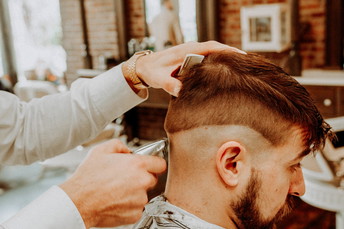 Trust me, I've been on both sides of the chair. I can't count the number of times a client has sat down and struggled…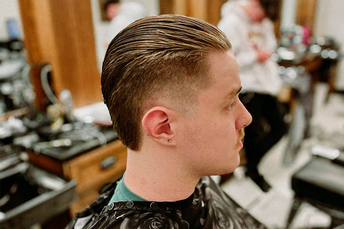 50 Different Ways to Rock the Slick Back Hairstyle for Men 1. Slick Back Fade @jules.thebarber Look: The slick-back…