Which is the Best Smelling Beard Oil in 2023? Here Are WiseBarber's Top Picks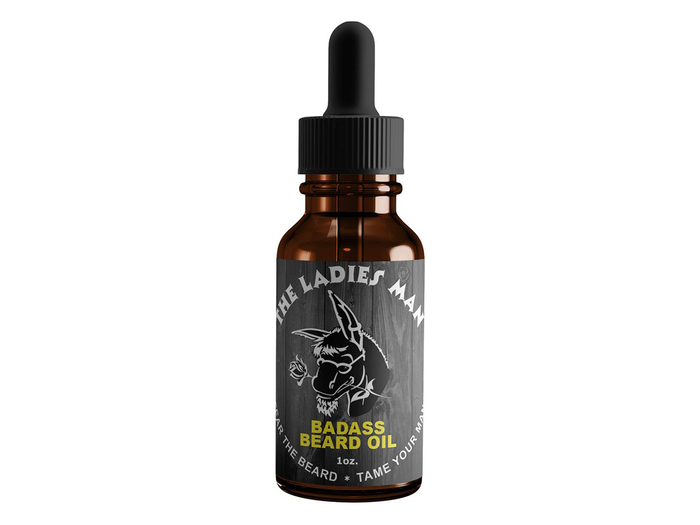 WiseBarber Top Pick
Badass Beard Care Oil
Now:
Scented beard oils are nothing to shy away from in 2023.
Why?
Because, nowadays, beard grooming is more than just keeping facial hair looking fresh, healthy, and well taken care of.
Right?
It has to smell nice too.
Traditionally:
Beard oil was used to rejuvenate, moisturize, and soften beards.
However, these days, beard oil products also come with sweet, pleasing scents. Therefore, you get to keep your facial hair healthy and smelling awesome all the time.
Anyway:
Sometimes, it's easier said than done.
Because not all scented beard oils are pleasant. Hence, the need to do your research before going shopping.
But:
If you are reading this, you're in the right place. Here, I'll walk you through six of the best smelling beard oils in 2023.
Now:
As usual, every product in this list has been carefully vetted in terms of health benefits, value for money, and scent.
Therefore:
I'm positive that, with the following beard oil suggestions, you will surely find one that works best for you.
So:
Are you ready?
If so, let's get right into it…
Rating Summary
| Rank order | Product name | Ingredients (max. 10) | Scent (max. 10) | Value (max. 10) | Overall Rating | |
| --- | --- | --- | --- | --- | --- | --- |
| 1. | Badass Beard Care Oil | 9.7 | 9.7 | 9.5 | 96.1 % | See details |
| 2. | Cremo Revitalizing Beard Oil | 10 | 8.7 | 10 | 95.6 % | See details |
| 3. | Honest Amish Classic Beard Oil | 9.3 | 9 | 10 | 94.4 % | See details |
| 4. | Grave Before Shave Beard Oil | 9.7 | 9 | 9.5 | 93.9 % | See details |
| 5. | Wisdom Beard Oil | 9.3 | 9.3 | 9 | 92.2 % | See details |
| 6. | Beardoholic Beard Oil | 9.7 | 9.3 | 8.5 | 91.7 % | See details |
That said:
Let's take a quick look at each of these products; to determine why they are among the best beard oils for men in 2023
The 6 Best Smelling Facial Hair Oils In 2023
Made in the USA. This is the ideal beard oil for all skin types. It is crafted by beard veterans to satisfy every man's facial hair needs and give a splendid experience. Here's what you need to know.
Now:
The Badass Beard Care brand is generally known for producing a range of the best smelling beard products.
And:
Their oil, in particular, is all-natural; which means it is made from organic and nutritious ingredients.
For example:
The Ladies Man beard oil contains natural, healthy oils like Apricot Oil, Argan Oil, and Pure Vitamin E Oil. With each ingredient serving a specific purpose.
Like what exactly?
Well:
Apricot oil has oleic acid; which is responsible for making the hair softer.
Vitamin E oil and Argan oil, on the other hand, promote healthy hair growth.
Struggling to keep dandruff away?
This beard oil is specially formulated to treat dandruff and keep your facial hair itch-free.
What about the scent?
Well:
This Badass Beard Care Oil (Ladies Man option) comes with a gentle, masculine, and charming citrus-vanilla scent.
The fragrance isn't so strong, thus, guarantees you a comfortable beard day.
Moreover:
The best thing about this beard oil is that it is not greasy; hence, it absorbs into the hair quickly.
Pros
Made using natural, organic ingredients
Ideal for all skin types
Promotes healthy beard growth
Absorbs quickly into the hair
Combats itchiness and dandruff
Hydrates and softens beards
Cons
It is a bit expensive
Available in only one size
Final Verdict
For those looking for a beard oil that's is not only ideal for healthy growth but also smells awesome, the Badass Ladies Man Beard Care Oil is a great choice. Yes, it's a bit pricey. But, in my opinion, its benefits outweigh the downsides.
Cremo Revitalizing Beard Oil
In simple terms, the Cremo Forest Blend Beard Oil is a high-quality product with premium ingredients; and comes at a pocket-friendly price. This is one special beard oil because of its unique benefits.
Get this:
For a product that's designed for "Beard Boldly Gents," the Cremo Forest Blend Beard Oil always leaves a lasting impression.
Why?
Well, for starters, it's a natural facial hair oil that promotes healthy beard growth and restores moisture. 
Moreover, this sweet-smelling beard oil performs different functions for different lengths of facial hair.
For example:
On short beards, it controls ingrown hairs and the irritation they cause.
For long beards, it replaces lost moisture; which in turn repairs damaged hair and hydrates the skin underneath.
That aside, how does it smell?
Well:
This beard oil has a woodsy forest scent that leaves your face smelling clean and fresh. For most men, the scent is neither too strong nor too mild.
It is just the right amount.
What about its formulation?
When it comes to ingredients, the Cremo Forest Blend Beard Oil contains natural Argan and Jojoba oils.
Other curated ingredients include sunflower oil, avocado oil, coconut oil, cedarwood oil, spruce oil, rosemary extract, Vitamin E, and eucalyptus oil.
Simply put:
These ingredients are top quality and 100% organic.
Pros
Its price is pocket-friendly
It works well for all beard lengths
Hydrates/softens hair
Is great in combating beard itch and dandruff
Contains all-natural ingredients
Has an awesome scent
Lightweight and non-greasy
Cons
It is a bit expensive
Available in only one size
Final Verdict
The Cremo Forest Blend Beard Oil is nothing short of excellent. It smells nice, works perfectly, and offers great value for money. It is suitable for beginners and novice beard growers.
Honest Amish Classic Beard Oil
Classic, organic, and well-scented – this is an accurate description of the Honest Amish Classic Beard Oil. This American-Made facial hair oil is well-constituted and ideal for beard growth and nourishment.
Get this:
With over 20,000 user reviews and ratings on Amazon.com, the Honest Amish Classic Beard Oil is definitely a favorite among bearded men.
It's a simple, yet effective, beard oil.
If you've been looking for ways to soften your beard, this oil offers a less complicated option.
How?
It contains high-quality and nourishing ingredients including Argan, Jojoba, Avocado, and Almond oils – just to mention a few.
And the best part?
This beard oil also acts as a conditioner to keep the underlying skin healthy, moisturized, and dandruff-free.
That means you'll also have an itch-free beard.
What about scent?
This beard oil has a scent described as woodsy or peppery. Hence, more manly and subtle.
However:
Many men have termed the scent as strong (i.e. very similar to a black licorice scent). Therefore, the scent isn't so appealing to customers with sensitive noses.
Pros
Lasts throughout the day
Relieves irritation and keeps dandruff at bay
Promotes healthy beard growth
Has natural organic ingredients
Offers better value for money
Convenient and easy to use
Cons
The scent is too strong for some people
Final Verdict
Apart from the perks above, Honest Amish beard oil is considered one of the most trusted facial hair products in the world. It has many impressive reviews that affirm its qualities and benefits. Moreover, the fact that it contains organic ingredients makes it kinder and safer to use.
Grave Before Shave Beard Oil
For cigar fans, the Grave Before Shave Cigar Blend Beard Oil is an ideal option. Why? Because you get to keep your beard looking nice and moisturized. And enjoy the splendid scents of premium cigars all day.
Cigars, right?
Well, it's an odd choice of scent but still a great one for cigar lovers.
And while the name Grave Before Shave Cigar Blend Beard Oil might throw you off guard, it is still an awesome product.
So, what makes this beard oil special?
Well, for one, it comes with a cigar-themed scent with hints of sweet vanilla. It's not overwhelming but strong enough to attract attention. 
Perfect, right?
Wait… There's more!
This beard oil also soothes the skin and prevents irritation. That means having an itch-free, dandruff-free beard.
Now:
One special quality of this facial hair oil is that it contains a very rare ingredient in beard oils - Aloe Vera. Simply put, Aloe Vera is known to be a good moisturizer and it performs this function well on beards. 
Other ingredients include:
Tea tree oil
Pure apricot oil
Sweet almond oil
Jojoba Oil
Apricot Kernel oil
Grapeseed Oil
And Argan Oil among other essential oils
Pros
Promotes hair growth
Made from natural oils
It controls itchiness and dandruff
It absorbs into the hair quickly
Contains aloe vera
Available in different sizes
Sweet, balanced scent
Value for money
Cons
The scent may not be an accurate cigar fragrance (Cuts close, but doesn't quite hit the mark)
Final Verdict
I'd recommend the Grave Before Shave Cigar Blend Beard Oil because it comes with numerous health and maintenance benefits. Plus, the aloe vera is exceptionally good at moisturizing without clogging pores, unlike other moisturizers.
If you are looking for something more first-rate, the Wisdom Wood Scent Premium Beard Oil should top your list. This American-Made oil comes packed with a ton of essential beard growth ingredients.
So:
From the word go, the Wisdom Wood Scent Premium Beard Oil often makes a good impression.
It comes in a hard, paper cylinder casing that's not only aesthetically appealing but also offers safe storage for your beard oil.
Generally:
This design feature sets it apart from the rest of the items in this list; while giving this facial hair oil a posh and premium profile.
Moreover:
This beard oil has a fresh, woodsy, pine, and lemon scent similar to what you get when standing next to freshly felled trees.
And the best part is that the fragrance is balanced – not too strong nor weak.
What's more:
This beard oil is specially designed to combat beard dryness and itchiness.
Anyway, one special perk that makes this product worth buying is the fact that they offer full refunds in case the product or scent you get is not what you were expecting. 
Ingredients?
The Wisdom Wood Scent Premium Beard Oil has been infused with an impressive list of carrier oils; like olive oil, grape seed oil, Rice bran oil, Jojoba oil, Vitamin E, and Meadowfoam seed oil.
Pros
Contains quality ingredients
Quality packaging (perfect for gifting)
Awesome scent
Premium look and feel
Combats dryness and itchiness
Balanced scent
Final Verdict
As seen, everything about the Wisdom Wood Scent Premium Beard Oil is premium; from quality, price, to the packaging. It works well in hydrating dry beards and repairing damaged hair. Plus, its smell is very fresh and pleasant; even for those with sensitive noses which qualifies it to be among the best smelling beard oils in 2023.
If you have had a major problem with beard dandruff and itching, then you know how stressful it can get. Well, with the BEARDOHOLIC Premium Quality Beard Oil, you won't have to worry about that.
Lastly:
You can go for the BEARDOHOLIC Premium Quality Beard Oil.
Despite its pricey cost, this beard oil is a great choice for anyone who needs a well-scented, easy-to-use, and nutritiously formulated product.
It comes in a neat, durable, glass bottle that's presentable and attractive.
And get this:
The bottle is not just for beauty - it extends the oil's shelf life by offering protection against oxidation and UV RAYS.
Scent-wise, the BEARDOHOLIC Premium Quality Beard Oil has a nice, natural, masculine pine fragrance. Simply put, it's not too imposing but strong enough to be noted.
In the ingredients, this beard oil packs several hair growth-enhancing constituents including:
Almond oil
Argan oil
Castor oil
Jojoba oil
Grapeseed oil
Wheat germ oil
Pine fragrance oil
And other essential oils
Generally:
Each of these ingredients performs its specific healing and correcting functions on both the beard hair and the skin underneath.
Pros
Durable and safe container
Contains natural and high-quality ingredients
Nice masculine scent
It does not leave the beard feeling greasy
Final Verdict
For those who don't stress much about price tags, the BEARDOHOLIC Premium Quality Beard Oil is a great option. It comes imbued with essential and growth-enhancing ingredients. That's why it's among the best smelling beard oils on the market today. Plus, if your beard is sensitive or irritated, this oil will work best for you. 
And that's that.
But before I wrap up this post, here are a few awesome tips on how to find a quality, well-scented beard oil.
Quick Shopping Guide: 3 Things to Consider When Choosing a Beard Oil That Smells Good.
Obviously:
When you are trying to pick the best quality beard oil based on scent, there are a couple of factors you need to consider. 
For example:
a) The Type and Strength of the Scent
Note:
It's always wise to choose a scent that you and those around you will be comfortable with. 
One mistake that most men do is choosing a fragrance they like without taking into consideration how it's going to affect the person they sit next to.
And:
As we have seen in every product above, each beard oil has a different scent. So, you need to get a scent that's subtle, universally acceptable, and pleasant.
b) Be Mindful of the Ingredients
Are ingredients that important?
YES.
Because the constituents of your beard oil not only affect the scent but also determine how kind this product is going to be on your facial hair.
Always go for organic and natural ingredients because they are not harsh to the skin or the beard hair.
In fact:
Most organic/natural ingredients help to improve beard growth, reduce dandruff, and alleviate itchiness.
c) Your Skin type
Lastly:
Don't forget to consider your skin type; especially, if it's sensitive.
Note that some beard oils might not react well with your skin. Therefore, always look out for the ingredients to ensure they'll be gentle and nourishing to your skin.
In Conclusion
We can all agree:
Having a healthy, moisturized, and well-scented beard is a bearded man's wet dream.
However, it's very important that you choose the right facial hair care products in terms of scent, ingredients, usability, skin type, and value for money.
Remember:
Beards need special care because they are coarser. And that is where beard oils come in, among other things, to soften facial hair.
And:
Part of the care involves ensuring your beard hair also smells good.
Questions? What are your thoughts on the best smelling beard oil in 2023? Well, if any, be sure to leave them in the comments section below.
#StaySafe
Frequently Asked Questions
The best-smelling beard oil is the Badass Beard Care Oil. It's made from natural ingredients and works with all skin types. This oil not only leaves your beard smelling great but also keeps them nourished and healthy.
The easiest way to keep your facial hairs smelling great is to apply scented beard oil, scented balm, or essential oils. Remember to keep the beard clean, since the major causes of a smelly beard are sweat, dirt, and accumulated sebum.
Beard Struggle has a wide range of scents since people have different preferences. My favorite scents are Viking Honor and Hoenir's Poem. They are not strong and are very masculine.
Yes, most beard oils are scented, but there are some that are not. Some have a fleeting scent that only lasts for a few hours, while others have a long-lasting scent that will linger for up to 24 hours.
More from Mike Medders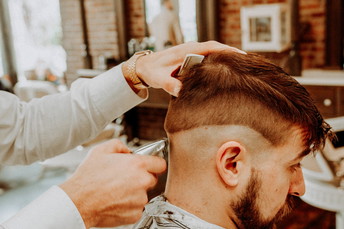 Trust me, I've been on both sides of the chair. I can't count the number of times a client has sat down and struggled…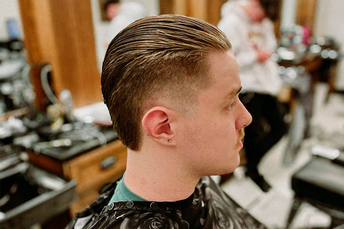 50 Different Ways to Rock the Slick Back Hairstyle for Men 1. Slick Back Fade @jules.thebarber Look: The slick-back…
Newest articles
Ever wondered how often you should be visiting the barber? Well, you're not alone. It's a question that's crossed the…
In the challenging world of barbering, it's not just about mastering the latest trends and techniques. The real game…
Ever wondered how to walk into your barber shop and confidently ask for the perfect fade haircut? Well, you're in the…