Which is the Best Stubble Trimmer in 2023? Here Are Today's Top 5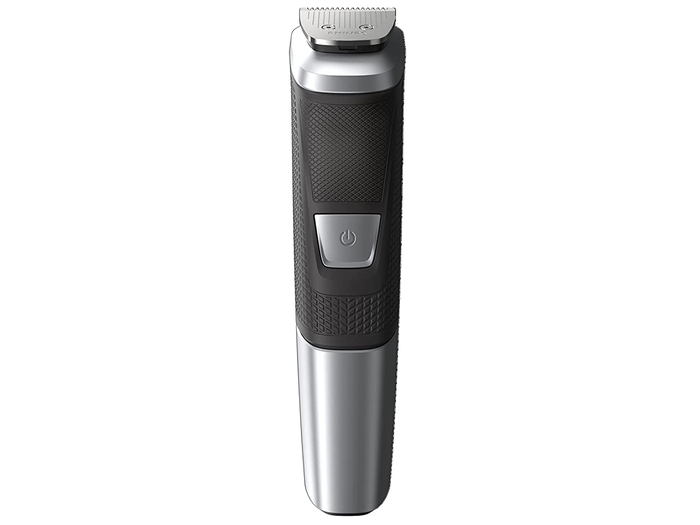 WiseBarber Top Pick
Philips Norelco Multigroomer 5000 Series
Question:
Have you ever wondered: Which is the most attractive beard style for men?
Goatee…? Balbo…? Garibaldi…? Duck Tail…? Or maybe it's the Van Dyke…? Well, for most women and men, none of these beard styles cut it despite being stylish and trendy.
Puzzling, right?
Statistically, the Stubble is the most attractive of all beard styles. And, funnily enough, it's also the easiest to style.
Now:
It's important to note that there are different types of Stubble beards – some short, others long. And you need the right set of tools for each.
So, if you're looking for the perfect beard trimmer to cut/maintain a decent-looking Stubble, this post is for you.
That said:
Below, I'll walk you through my expert and unbiased review of each of these tools (which I've personally tested); to help you make an informed purchase.
Ready?
Then, here's everything you need to know…
WiseBarber Rating Summary
| Rank order | Product name | Features & Functionality (max. 10) | Usability & Handling (max. 10) | Accessories (max. 10) | Overall Rating | |
| --- | --- | --- | --- | --- | --- | --- |
| 1. | Philips Norelco Multigroomer 5000 Series | 9.7 | 9.5 | 9.3 | 95.5 % | See details |
| 2. | Conair Super Stubble Cordless | 9.8 | 9.5 | 9 | 95.3 % | See details |
| 3. | Wahl Stainless Steel Lithium Ion 2.0 | 9.3 | 9.3 | 10 | 94.7 % | See details |
| 4. | Remington MB4700 Smart | 9.8 | 9.5 | 8.3 | 93.9 % | See details |
| 5. | Wahl Edge Pro | 10 | 8.8 | 8.7 | 93.8 % | See details |
A Look at Today's Top 5, Best Stubble Beard Trimmers
Philips Norelco Multigroomer 5000 Series
The Philips Norelco Multigroomer All-in-One Trimmer Series 7000 is a value kit with a lot to offer. Aside from being multifunctional, it's among the best hair trimmers for men looking to maintain a Stubble beard.
Get this:
My first impression after using this tool was that it is lightweight, comfortable to hold, and it cuts through hair smoothly.
It's got a commendable overall design and partially rubberized housing; that allows for a firm grip.
Anyway:
What exactly makes the Philips Norelco Multigroomer All-in-One Trimmer Series 7000 an ideal Stubble haircutter?
For starters, it comes with numerous guide combs that allow the user to trim facial hair between 1mm and 16mm long.
Thus, offering multiple Stubble length options.
Moreover, this trimmer features sharp, DualCut, Self-Sharpening Blades. It runs on a relatively powerful motor with its Lithium-Ion battery offering up to 5 hours of runtime.
Plus, it's washable; meaning you can rinse it under a faucet after every trim.
Pros
Accessory-rich kit
Multifunctional Tool
Sharp, self-sharpening blades
Ideal for Stubble trimming and maintenance
Great value for money
Waterproof (washable)
5-hour runtime
Affordable
Cons
Design flaws on the placement of the power button
Final Verdict
Well, it's pretty hard to find reasons not to buy the Philips Norelco Multigroomer All-in-One Trimmer Series 7000. It comes with numerous accessories that not only handle Stubble beard trimming effortlessly but also other essential grooming activities for men.
Conair Super Stubble Cordless
When it comes to unconventional yet effective designs, the Conair Super Stubble Cordless Ultimate Flexhead Beard Trimmer is a sure winner. It's not only easy to use but also offers unique trimming features.
Now:
If you love uniqueness, then go for the Conair Super Stubble Cordless Ultimate Flexhead Beard Trimmer for Men.
And when I say "Unique," I'm referring to its design.
This trimmer doesn't follow the typical beard trimmer scheme because it comes with a flexible head aka a Flexhead.
This design improvement not only simplifies beard trimming but also ensures your Stubble gets an even-length trim.
How?
Well, the Flexhead is designed to adjust the blades to the curves on your face thus improving trimming flexibility and uniformity.
And while the Super Stubble trimmer may seem complex, it's very easy to use; even for a first-timer.
What's more?
This trimmer comes with a flip-back guard comb, 24 easy-switch length settings, a strong motor, and impressively sharp blades.
It is usable for about an hour before you have to recharge its Lithium-Ion battery.
Pros
Innovative design
Strong motor
Sharp blades with a flexible trimming head
100% waterproof
24 length settings
Comes with a guide comb
Ideal for all hair types
Wet/Dry operation
Final Verdict
If you're a novice to beard grooming, try the Conair Super Stubble Cordless Ultimate Flexhead Beard Trimmer for Men. It feels great in hand, offers added flexibility, is super-easy to use, and is very ergonomic. Simply put, it's a beard trimmer you'll enjoy using. 
Wahl Stainless Steel Lithium Ion 2.0
Whether it's a one-day or ten-day Stubble, the Wahl Stainless Steel Lithium Ion 2.0+ Beard Trimmer for Men can get it done; with ease. It's lightweight, ergonomic, packed with accessories, and ideal for beards.
Much like the Philips Norelco Multigroom Series 7000, this multifunctional trimmer comes packed with accessories.
It has a very commendable build quality with a nice brushed silver finish.
Now:
When it comes to cutting and maintaining a Stubble, the Stainless Steel 2.0+ can cut between 1.5mm and 13mm. Thus, giving a wide range of length options to choose from.
And if you don't relish using individual guard combs, you can use its 10-position adjustable attachment comb.
Impressed?
Overall, this is a great beard trimmer that comes with different cutting heads; including a nose/ear trimmer, foil shaver, and precision detailing head.
And with 6-hours of runtime, it's a tool you can rely on to get the job done even when you're traveling.
Pros
Ergonomic design
Lightweight and easy to handle
6-hour runtime
Sharp blades
Strong motor
Accessory-rich
Multifunctional tool
Affordable
5-Year warranty
Worldwide voltage
Cons
Blade durability is an issue
Final Verdict
Well, if you are a person who loves products that offer value for money, the Wahl Stainless Steel Lithium Ion 2.0+ Beard Trimmer for Men is one of them. It's an impressive tool that serves multiple grooming functions with ease. Plus, it comes with a pocket-friendly price tag given what it has to offer.
You've seen unique designs, right? However, the Remington MB4700 Smart Beard Trimmer offers something better – unique features. From adjustable trimming speeds to 175 length settings at 0.1mm increments.
Get this:
If you thought the Conair Super Stubble Flexhead was cool, this smart trimmer will knock your socks off.
Why?
The Remington MB4700 Smart Beard Trimmer comes with tons of contemporary features that make it worth buying.
For example:
It has a digital touchscreen for fast and easy length adjustments on its motorized guard comb. This means you can switch through tens of length settings in under seconds.
This trimmer also comes with memory settings that store your length preferences for the next time you use it.
Is that all?
Well, no. The Remington MB4700 is fitted with a smart auto turbo motor system that adjusts cutting speed based on beard type and thickness.
Therefore, users are guaranteed a smooth trimming experience regardless of their beard type.
Even better:
Unlike the Conair Flexhead, you can use this trimmer while it's recharging (cord/cordless convenience).
Runtime?
50 minutes, give or take.
You'll also appreciate its digital battery indicator, washability (under running water), and ergonomic design. With it, you can cut your Stubble beard between 0.4mm and 18mm in length.
Pros
Feature-packed
Impressive design
User-friendly
Ergonomic and lightweight
Sharp, impressive blades
175 length settings
Washable under running water
Memory setting feature
Self-adjusting motor speed
5-year warranty
Final Verdict
Without a doubt, the Remington MB4700 Smart Beard Trimmer is worth consideration. It's designed to be as easy to use as possible; with tons of features that simplify beard trimming and Stubble maintenance.
Despite being the most-affordable tool on this list, the Wahl Edge Pro Bump Free Corded Beard Trimmer is an impressive performer. It's great for neat lines and trimming down coarse beards with ease.
Don't have a chunk of cash to spend on a beard trimmer?
Well, don't fret. The Wahl Edge Pro Bump Free Corded Beard Trimmer is a very affordable and impressive tool.
It comes with a decent motor coupled with sharp Zero-Overlap T-shape blades. Its blade design and sharpness allow for fast, neat, and crisp lineups.
Anyway:
For Stubble maintenance, this trimmer comes with eight comb attachments that trim between 1.5mm and 13mm in length.
Design-wise, the Wahl Edge Pro Bump Free Corded Beard Trimmer is a decently-sized, lightweight tool that features textured housing.
This gives a nice grip and makes the trimmer comfortable to use for long periods.
And:
Since it's corded, you won't have runtime anxiety. Moreover, it comes with ample accessories.
Pros
Very affordable
Sharp zero-overlap blades
Ample accessories
No runtime anxiety
Close cutting for high contrast lineups
Nice design
Lightweight and easy to use
Cons
The motor is a little weak
Final Verdict
The biggest selling point for the Wahl Edge Pro Bump Free Corded Beard Trimmer is that it's quite affordable. And that makes it accessible to all men including first-timers in the #BeardGang community. Generally, it's an impressive tool and a decent Stubble trimmer. 
Did you get what you're looking for?
If not, here are a few tips to use when shopping for a good Stubble beard trimmer…
Rookie Guide: 4 things to Consider When Shopping for Stubble Hair Trimmers
1. Available Length Settings
How long should a Stubble be?
Well, Stubble lengths differ depending on how long it's been since the last clean shave. Typically, the length ranges between 0.5mm and 5mm.
However, men with thin hair can get away with an 8mm-long Stubble.
Case and point?
When shopping for a Stubble beard trimmer, always make sure that it comes with adjustable length settings.
Note:
These settings are ideal for men who want to maintain a specific length instead of clean shaving and waiting for the Stubble to grow. 
2. Cleaning and Maintenance
Since beard hair tends to grow quickly, sustaining a Stubble may require frequent trims. And that means more cleaning and maintenance for your trimming tool(s).
That's why:
Finding a trimmer that's easy to clean is imperative. A good recommendation would be a washable (waterproof) beard trimmer.
3. Blade Sharpness and Quality
When it comes to Stubble beard maintenance, there will be a lot of trimming close to the skin.
Therefore, buying a trimmer with poor-quality blades not only damages your beard strands but also can cause skin irritation.
That's why it's important to ensure the blades are sharp enough and preferably hypoallergenic.
4. Value for Money and Functionalities
Now, this may not be a huge deciding factor.
However, to get more value for your money, it's wise to go for trimmers that offer more in terms of service, accessories, and durability.
Think about it:
Why buy a trimmer that serves one purpose when you can get a multifunctional one?
I'll let you be the judge of that.
Summing Up…
Now:
As I said earlier, a Stubble is the easiest beard style to have. Even better, it doesn't require skills to maintain.
All you need is the best Stubble trimmer in 2023 - with the right length settings. And that's what this post has been about.
But, if you haven't found a tool that suits you, the shopping guide above will help you find the right one from a broader search.
That said:
Do you have any questions or thoughts to add? Well, don't hesitate to leave a comment below.
Your feedback is always much appreciated.
#StaySafe
Frequently Asked Questions
Yes, as long as it has different length settings and can cut between 0.5mm and 8mm.
The Conair Super Stubble Cordless Ultimate Flexhead Beard Trimmer for Men. That's because this trimmer's flexible head adjusts to the curves and grooves on the face. Thus, guaranteeing an evenly-sized trim/Stubble.
The best Stubbles often start with a clean shave. Why? Because clean shaves pave way for fresh hair growth while also giving the skin underneath some time to breathe and heal. Remember that healthy skin leads to a healthy-looking beard.
More from Mike Medders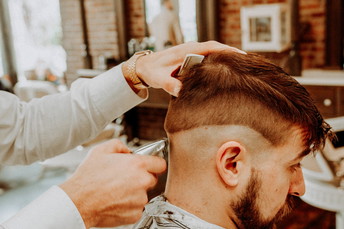 Trust me, I've been on both sides of the chair. I can't count the number of times a client has sat down and struggled…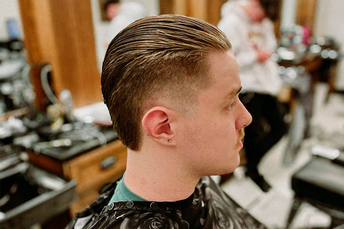 50 Different Ways to Rock the Slick Back Hairstyle for Men 1. Slick Back Fade @jules.thebarber Look: The slick-back…
Newest articles
Ever wondered how often you should be visiting the barber? Well, you're not alone. It's a question that's crossed the…
In the challenging world of barbering, it's not just about mastering the latest trends and techniques. The real game…
Ever wondered how to walk into your barber shop and confidently ask for the perfect fade haircut? Well, you're in the…