Try Out Some of 5 Chris Hemsworth Stunning Hairstyles!
Chris Hemsworth's iconic hairstyles have us looking at him in awe when he's on our screens. He sure knows how to introduce attitude and style into his haircuts while flaunting his widow's peak.
Hemsworth's haircuts are great options for you to try if you have a widow's peak. Even if you don't, you can still rock them with ease. Enjoy!
5 Chris Hemsworth Hairstyles
1. Taper Fade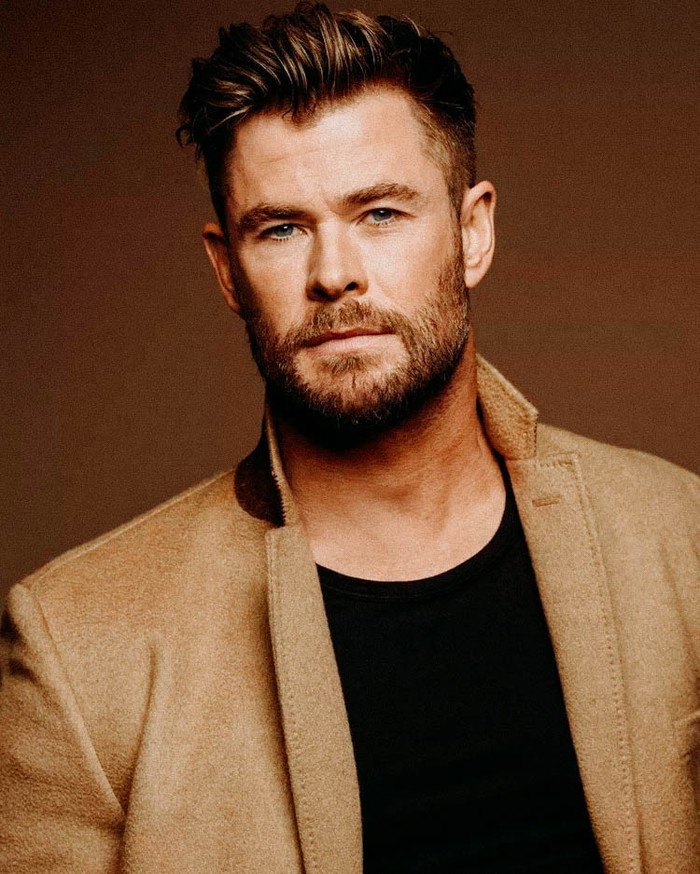 Get this:
A taper fade can be achieved with any hair length and style. All you need to do is fade the sides of your hair about 1-2 inches away from your ears, depending on how low or high you want the taper.
Ideal Face Shapes:
Heart, round, oval, oblong, angular and square
Styling Tips:
This style requires frequent trips to your barber to maintain the tapered sides.
Extend taper fade to back hair if you wish.
2. Chris Hemsworth's Extraction Haircut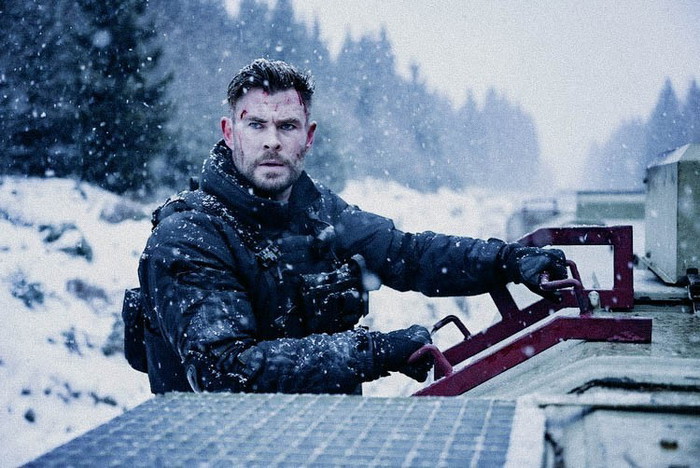 Listen:
Chris Hemsworth's hair in the "Extraction" film is high and tight. The short military-inspired cut features a fade on the sides, fringes getting shorter towards the crown and styled towards the left side.
Ideal Face Shapes:
Diamond, oval, triangular, and square
Ideal Hair Types:
Straight and Thick
Styling Tips:
You'll need extra length on top hair for the side fringes.
Apply sea salt spray to top hair for more texture.
Apply pomade for a matte finish and polished look.
3. Chris Hemsworth's Short Thor Haircut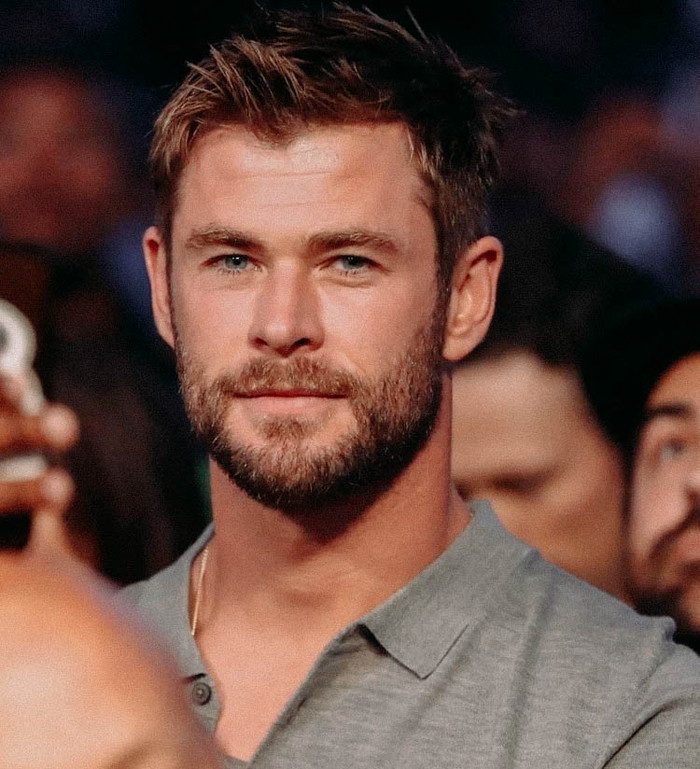 So:
This is a textured crop featuring a messy top and faded sides which help to add a nice, edgy touch to the haircut. Also, this hairstyle is versatile, lending itself well to various hair types and colors.
Ideal Face Shapes:
Diamond, oval, triangular, and square
Ideal Hair Types:
Straight, fine, and wavy
Styling Tips:
Use a sea salt spray and matte clay to keep top hair neat and texturized.
Use a size 3 guard when trimming sides and back hair.
Apply lowlights and highlights to your hair for a defined look.
4. Chris Hemsworth's Long Thor Haircut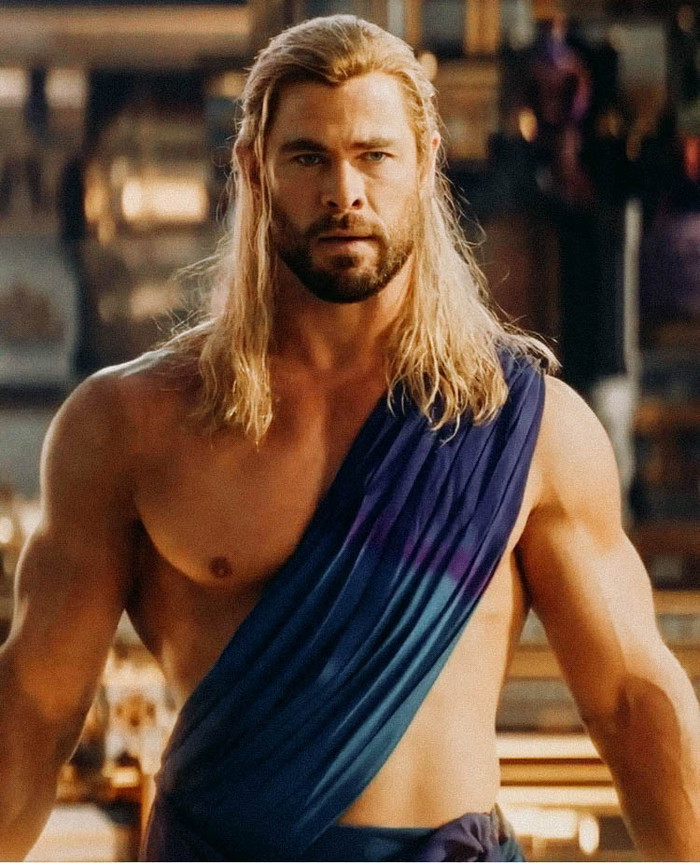 Look:
Hemsworth's long golden curls in "Thor" is another notable hairstyle. For this style, you'd need long hair, and you can take things further by packing your strands into a man bun or ponytail if you wish.
Styling Tips:
Pair your long curls with a soft center part to recreate the '90s vibe.
Keep your curls hydrated

with anti-frizz creams or curl-enhancing products.

You can also add tones to your curls for a flattering look.
5. Textured Buzz Cut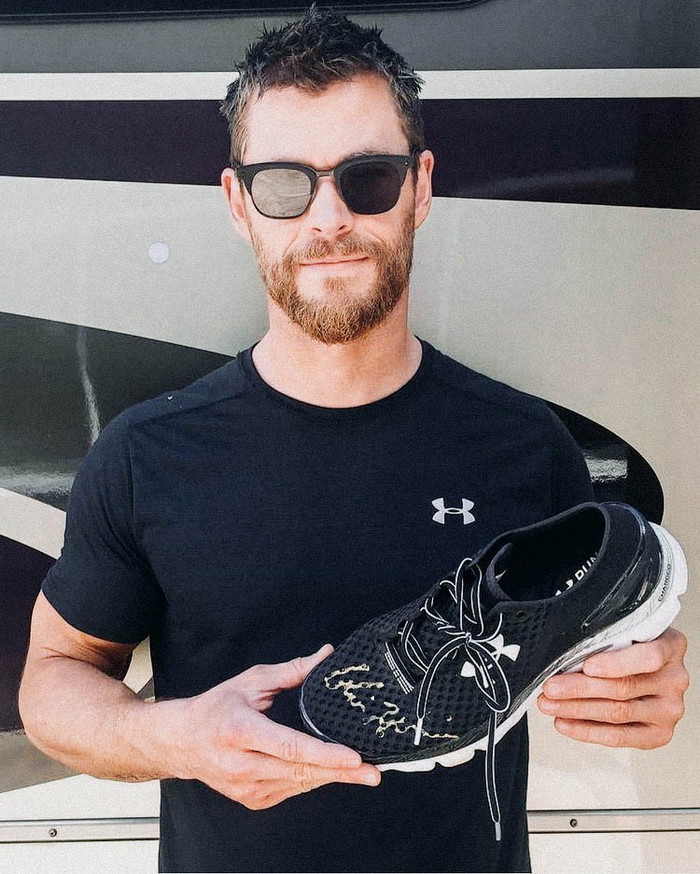 Now:
To recreate this Chris Hemsworth look, cut your hair evenly on all parts of your head. You can also lengthen the hair at the crown and pair it with a taper fade on the sides.
Ideal Face Shapes:
Oval, diamond, and square
Styling Tips:
Texturize top hair and keep hair edges neat and sharp.
Pair with a mustache and beards for a complete look.
Visit your barber for regular trims.
How to Ask for a Chris Hemsworth Haircut
Get this:
The Chris Hemsworth hairstyle you're trying to create determines the type of haircut you'd ask your barber for.
However, most of his hairstyles involve cutting your hair to a medium length and adding a taper fade at the sides. In any case,  you can show your barber some sample pictures and get started!
Note:
The complete Chris Hemsworth look requires a widow's peak and fringes styled to the front or sides.
Conclusion
All in all:
Most of Chris Hemsworth's hairstyles are suave and quite easy to pull off.
These hairstyles are a plus for those trying to style their widow's peak or combine it with a variety of hairstyles.
Remember to keep your hair hydrated and textured.
Trim edges regularly and neatly.
Also:
Did you find your favorite haircut? Did we miss out on any classics? Let us know your thoughts in the comment section below!
Frequently Asked Questions
Ask your barber to trim your hair short on the sides and back of your head but keep hair at the top slightly longer than other parts of the head. You can style your top hair into fringes or short quiffs.
Chris Hemsworth's hairstyles have a great way of highlighting or accentuating his widow's peak or blending right into it. He's rocked several hairstyles, from crew cuts and buzz cuts to several classic short haircuts.
Yes, you can. A widow's peak hairstyle projects a V-shape when viewed from the front. The top hair is usually kept long and full, while the sides and back of the hair are trimmed short. Short hairstyles paired with fringes blend right into your widow's peak and subtly conceal a receding hairline. Opt for a high skin fade, undercut, or taper fade at the sides to further mask or conceal hair loss. In addition, you can pair your widow's peak with line-ups to create a faux hairline.
More from Mike Medders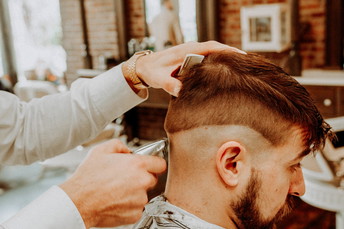 Trust me, I've been on both sides of the chair. I can't count the number of times a client has sat down and struggled…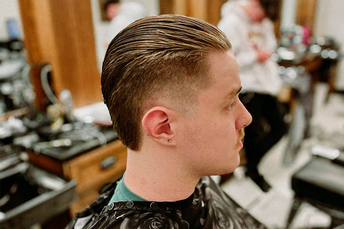 50 Different Ways to Rock the Slick Back Hairstyle for Men 1. Slick Back Fade @jules.thebarber Look: The slick-back…