A Few Interesting Facts You Should Know About Hair Clay for Men
Truth be told:
A lot of us use hair clay just because it's a styling product that offers a natural matte finish and decently high hold.
But:
If you're asked about the best ingredients in styling clay for men and how they benefit you, would you have an answer?
No…?
Well, you're not alone.
Note:
It's very important that you know how these products affect your hair/scalp's health; just as much as learning how to use hair clay correctly.
In this guide, you'll get an expert's take on everything there is to know about hair clay for men; including:
What is Clay?
The benefits of using matte clay
Properties to look out for in the best hair clay
Best men's hair types and styles to use Clay on
How to choose the right one
As well as how clay compares to pomades, hair wax, gel, and cream
So, what are you waiting for?
Let's dive in…
What is Hair Clay?
Now:
While hair clay has been in use for years now, it's less popular than pomade, gel, and wax.
What is it made of?
As the name suggests, hair clay contains clay.
The most common being Bentonite. This type of clay has been in use for decades to remove toxins and impurities from the skin.
When used in hair clay, Bentonite can help repair the hair follicle and heal the scalp. 
This type of clay also gives your hair structure and volume because it expands when in contact with water.
Generally, most hair clays have a matte finish and medium to high hold.
That's why you can use hair clay (a small amount) for hairstyles that require volume and texture; without weighing your hair down or altering its natural appearance.
What are The Common Ingredients in Hair Clay?
Clay
Note:
While Bentonite is the most popular type of clay used in hair clays, you'll also find products made of Kaolin and Brazilian clay.
What's the difference?
Well:
Bentonite is preferred because it packs sodium, calcium, and potassium. It is lightweight but offers a firm hold on most hair types.
Kaolin offers the same experience as Bentonite but the former does not have as many minerals as the latter. It exfoliates the skin and helps to clean hair while preserving its natural oils and moisture. And just like Bentonite, Kaolin absorbs toxins from the scalp.
Lastly, Brazilian clay offers similar benefits like removing impurities and toxins, but it is heavier than the other two types of clays.
Note:
Brazilian hair clay products usually come in colors like red and green; this can leave streaks on light hair.
Beeswax
Now:
This ingredient moisturizes hair and also smoothens/straightens strands. It's used in hair clays to control unruly hair. 
Beeswax also soothes the scalp and promotes hair growth.
Essential Oils
Get this:
Apart from providing scent, essential oils have antifungal and antibacterial properties.
Pro tip:
You should avoid hair clays that have listed parabens and alcohol as their ingredients. Why? Parabens irritate the scalp while alcohol dries up hair.
Benefits of Using Hair Clay to Style Your Hair
1. Adds Volume and Fullness to Hair
Perhaps:
The best thing about hair clay is the volume it adds to individual strands. 
Basically, styling clay allows for a plump hairstyle where hair doesn't fall flat. This is why it's mostly recommended to those with thin hair. 
2. Makes It Easy to Style Hair
Get this:
Most hair clays have a medium to firm hold. This quality allows you to play with different hairstyles without reapplying the product during the day.
Note:
Hair clay is thicker than wax, gel, or hair spray. It's the best match for hair that is difficult to control. Whether you are walking in the rain or it's windy, you won't need to touch up or restyle those strands.
3. Is Ideal for Oily Hair
Now: 
Hair clay is a product whose benefits are beyond styling. 
For example:
It draws out dirt, excess oil, and impurities stuck in hair. It also allows hair strands to recover their natural oils without drying them out.
4. Improves the Quality of Hair
Styling Clay nourishes your scalp and hair. 
Most of them come with natural healing properties that stimulate healthy scalp and hair shaft growth. 
And this is why it's your best bet if you want your hair to grow in a certain way. I'm talking about contouring your hair such that it doesn't grow awkwardly.  
5. Conditions and Moisturizes Hair
Lastly:
The nutrients and natural minerals in hair clay help to condition and moisturize hair. This makes it easy to control frizz in long and curly hair.
Anyway:
Now that you know all about the benefits of hairstyling clay, the next thing you want to know is whether the product will work for you. 
How?
Read on to find out…
Properties of a Good Hair Clay
a) Hold Strength
Note that:
The hair clay you choose should have sufficient hold to last throughout the day. 
And:
Depending on the type of hairstyle, you will find clays that range in terms of hold; from medium to very strong.
Medium-hold hair clay is ideal for fine hair types. It adds volume without making it look wet, sleek, or oily.
But! You should go with a strong hold clay when going for a run or activities that make your head sweat. This is because most high-hold clays don't lose their hold even when wet.
b) The Finish
So:
When it comes to the finish, clays are mostly low shine; i.e. matte finish. 
The biggest perk about this type of finish is that it adds texture, color definition and leaves your hair looking natural, healthy, and neat.  
Moving on…
Which Hairstyles Can You Wear with Hair Clay?
It's a fact:
Hair clay is generally used for adding texture and volume and is ideal for short and medium-length hair.
Moreover:
These products work better with fine and thin hair types than with thick and textured hair. 
Simply put:
Hairstyling clay is ideal for trendy hairstyles like:
Undercut Ivy League
Pompadour Fade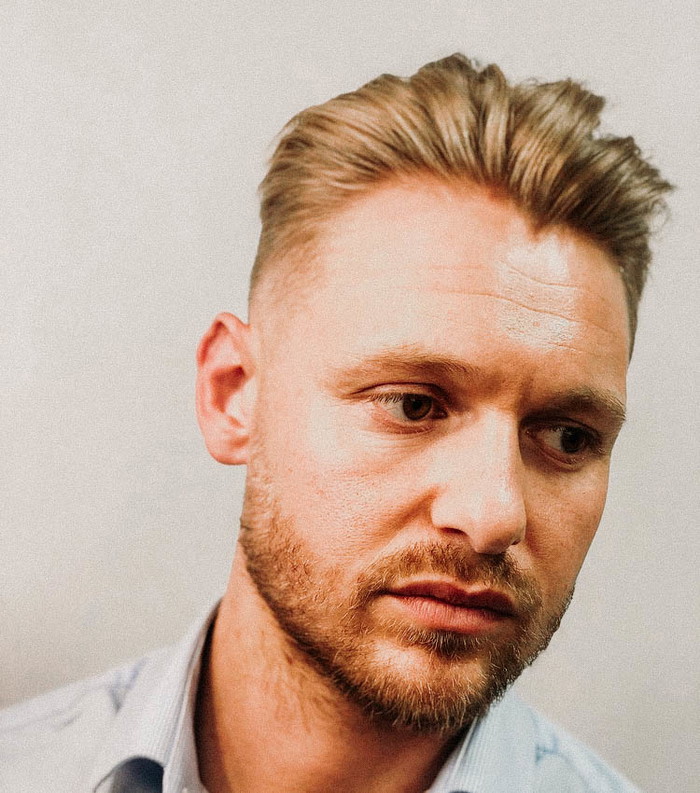 Undercut Quiff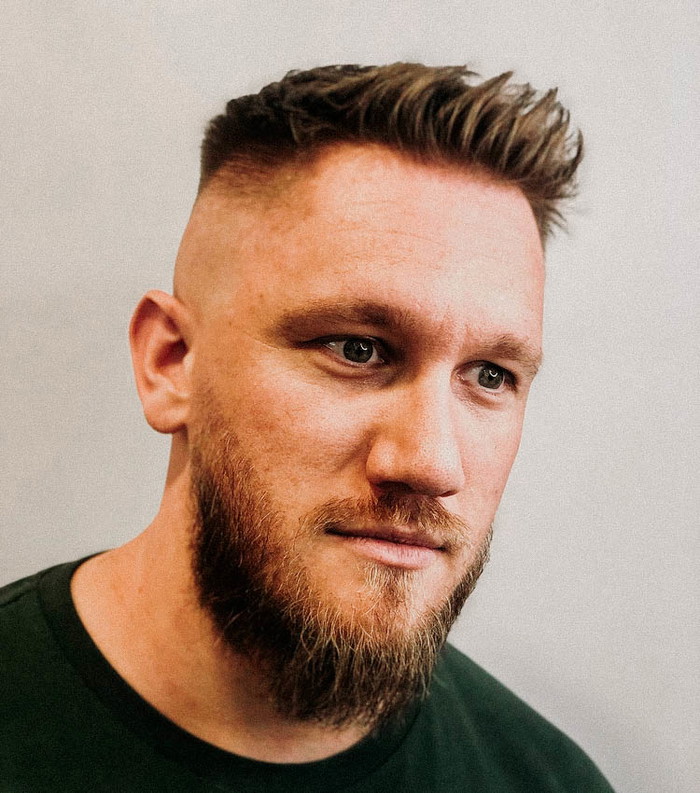 Comb Overs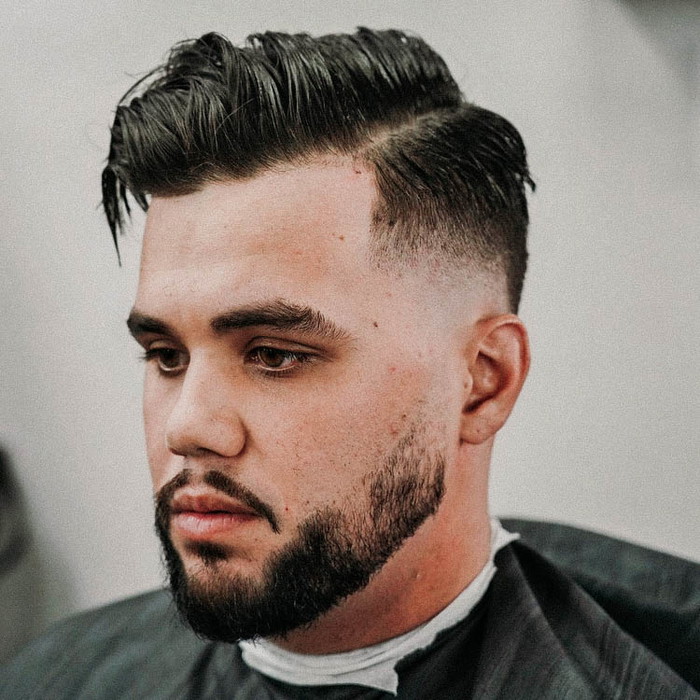 As well as Textured, Curly, or Messy hairstyles
And that's all thanks to styling clay's ability to give hair at the top structure; so that it won't fall flat.  
Note:
For long hair, the shoulder length is as far as you can go when you want to use hair clay. 
You can apply these products to define the ends of your strands or to add some contrast to your top hair. 
Ps:
You can use a blow dryer to style the hair before using clay.
How to Pick the Right Hair Clay for Your Hair 
a) Consider Your Hair Type
Get this:
The biggest factor to consider before buying hair clay is your hair type.
Note that if you have thick and curly hair, clay may not be the best option for your hair. 
Again, hair clay works well with fine and thin hair as it provides the support needed to give it more volume and definition. 
Instead, opt for a hair wax that will support rather than weigh your hair down.
b) The intended Hairstyle
Yes!
Light and medium hold clays work with short hairstyles; while strong hold hair clays are good for medium-length hairstyles. 
You are looking at loose, messy hairstyles, including Quiffs, Spikes, Pomps, and Undercuts.
Take note:
Styling Clay is not ideal for longer hair; anything that goes past the shoulders.
c) Shiny or matte finish?
Truth is:
Most hair clays have a matte finish. 
And that's good because this type of finish gives hair a warm, natural appearance that does not stray from your natural colors.
On the other hand:
Shiny hair clays are mostly oil-based and waxy; allowing them to give your hair a sleek and glossy look. 
Note:
Expert stylists recommend using pomades if you want a reflective effect on your hair.
Comparisons to Similar Hair Styling Products for Men
Hair Clay vs. Pomade
Now:
To understand the differences between these two, you must first learn about pomades.
And so…
What is Pomade?
In short:
Hair pomades are styling products that allow you to hold any hairstyle in place while also giving you options in terms of shine/finish. 
Basically, pomades come as low, medium, or high hold and shine. Therefore, it's easy to find the best ones for any hair type, style, and length. 
Note:
There are two types of pomades; i.e.
Oil-Based Pomades (Traditional)
Originally:
Pomades were made of water-insoluble, oily, and waxy ingredients to create a greased, glossy shine that lasts for days. 
Unfortunately, being water-insoluble means that they are difficult to wash out with just water. Therefore, you have to use shampoo to wash off oil-based pomade; and that can strip your hair of its natural oils.
Moreover:
Oil-based pomades can also cause breakouts around the forehead, especially if you have acne-prone skin.
Water-Based Pomades (Modern)
Get this:
Water-based pomades have become so popular nowadays. 
Why?
It's because these pomades give you the look and feel of an oil-based pomade with the added benefit of water solubility. 
Water-based pomades are easy to wash off and don't usually require soap or shampoos to come off. 
So:
For men looking to cut on hair shampoo use, water-based pomade is the best option for a glossy look.  
Note:
The biggest downside to using these kinds of pomades is the fact that they tend to lose their shine and hold during humid weather.  
And this means that you may have to retouch your hair at some point during the day.
Is Pomade Similar to Hair Paste – What Are the differences?
Well:
Unlike pomade, hair paste has a matte finish and is creamier and thicker than traditional pomade. 
Paste can style all hair types; especially if you have long and curly hair. It gives hair a soft, natural finish with a medium to very firm hold.
Hair Clay vs. Wax
Hair wax is probably the most popular among hair products. 
Like clay, these products contain ingredients like beeswax or paraffin wax. 
Plus, the wax is combined with oil or fat to make it more malleable. However, you can't get a completely matte finish with such products. 
Note:
Wax weighs hair down without hardening it. 
And depending on the type, it can have a light to very firm hold with a slightly matte to shiny finish. 
In short:
Wax feels like hair clay in terms of tackiness and thickness.
It does not make the hair crispy so you can restyle it during the day.
And it can be used on thin and thick hair as well as long hair.
The difference?
Hair clay is ideal for natural styles, while waxes are best for comb styles (much like pomades). Styling waxes can also be used on curly hair to control frizz and maintain bounce on loose curls.
Hair Clay vs. Hair Gel
So:
Hair gel is used to achieve maximum hold and shine. 
It locks in every strand to give a crunchy feel to hair. As such, styling gel cannot give hair a natural finish. 
And that's probably why its appeal has faded over time.
Anyway:
If you want a vintage hairstyle like a fancy slick back, gel helps to give your hair high gloss and a strong hold to last the whole day. 
Note:
Modern hairstyles rely on pomade, hair clay, and waxes because of the natural finish they provide.
Hair Clay vs. Creams/Pastes
Lastly:
Most hair creams are very mild, unlike other styling products.  
They have a lotion-like consistency and offer minimal hold; so, they can be used with all hair types and lengths.
Note:
You can't use hair cream on its own to style Pompadours, Spikes, and Mohawks.
As such, you'll need to combine it with wax, clay, or pomade to keep these hairstyles in place all day long.
In Summary…
Without a doubt:
It's imperative to know as much as possible about the hair products you use. Because that's the only way you are going to find the best product for your hair type, style, and length.
Obviously, the last thing you want is to buy a product that won't work or has negative effects on your hair.
Right?
Anyway:
That's everything you need to know about Hair Styling Clay for men.
Do you have any questions? Or is there something you feel I should have covered here? If any, don't hesitate to post them in the comments below.
More from Mike Medders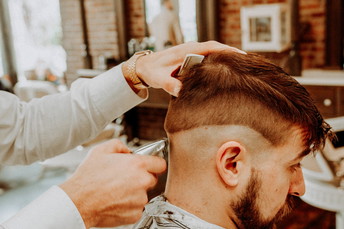 Trust me, I've been on both sides of the chair. I can't count the number of times a client has sat down and struggled…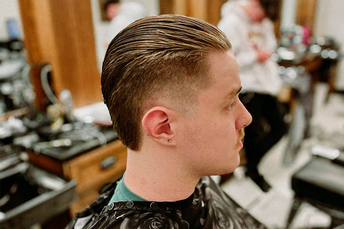 50 Different Ways to Rock the Slick Back Hairstyle for Men 1. Slick Back Fade @jules.thebarber Look: The slick-back…