Pomade, Paste, Gel, Clay, Hair Wax – A Man's Guide To Understanding Hairstyling Products
Here is the thing:
A man's hairdo says more about him than any other styling feature or accessory. 
However, there is a problem.
"To achieve any hairstyle, you have to sift through an overwhelming number of hair products before finding what's best for your hair." 
Right? 
The best thing is:
If you can identify the right styling product for your hair and a suitable hairstyle for your face, you'll be off to a good start.
But:
I know it can be a challenge. 
And that's what this post is all about. 
A simple-to-follow guide on the different hairstyling products for men; Pomade, Paste, Gel, Clay, Hair Wax.
So:
Here is what I shall cover in this article:
Pomade, Paste, Gel, Clay, and Hair Wax – What is It, Used for, and Made of
How they compare.
How to choose the right product for your hair.
I will also answer the most popular questions about usage and styling for each product.
After this, you will know enough to pick the right hair styling product and use it for the style you desire.
Ready? 
Quick Summary Table
| | | | | | |
| --- | --- | --- | --- | --- | --- |
| Quality | Pomade | Wax | Clay | Gel | Paste |
| Hold | Loose To Super-strong Hold | Medium To Strong Hold | Medium To Strong Hold | Light To Strong Hold | Medium To Strong Hold |
| Shine | Low To High Shine | Medium To Matte Finish | Matte Finish | Medium To High Shine | Matte To Medium Shine |
| Hair Type | All Hair Types | Thick, Curly Hair | Thin And Fine Hair | All Hair Types Except Thinning Hair | All Hair Types |
| Hair Length | Short To Long Hair | Short To Long Hair | Short To Medium-Length Hair | Ideal for Short Hair | Short To Long Hair |
Pomade – What is It, Used for, & Made of 
What is Pomade?
Fun Fact:
The word pomade refers to smashed apples; which was the main ingredient used to make pomade during the 19th century. 
What's more?
Pomade has been in use for centuries but got on the market in the late 19th century.
But:
What is hair pomade?
Hair pomade is a creamy, gel-like hair product that delivers different hold and shine qualities during hair styling; unlike hair gel, this product does not make the hair hard and flaky.
Note:
Hair pomade comes in different formulas. It can have a strong hold and high shine or a matte finish with a loose hold.
And that makes it quite easy for anyone to find one that's designed to give him what he's looking for.
Anyway:
What is Pomade Best For?
See:
Pomade is perhaps the only product that works for all types of hair and lengths. 
From thick to fine hair, you can get one that styles your hair the way you want. But, it is best styled on towel-dry rather than dry or wet hair.
Why?
Because most pomades are activated by water; hence, the reason why hair should be damp. 
Note:
If the hair is too wet, the excess water will dilute the product; thus, altering its hold and shine. 
Now:
Pomades come with a light, medium, or strong hold. As such, you need to know the hold strength you need for your hair style, type, and length.
Light Hold
Light-hold pomade is ideal for fine and thin hair. 
Why?
Because it gives hair texture and definition without weighing it down. 
Medium Hold
Medium-hold pomade is best for slick, textured, comb-over, and spiky styles. 
Generally:
It gives you extra control and can work with thick, curly, and wavy hair. Plus, a medium-hold pomade is ideal for short to medium-length hairstyles.
High Hold
Lastly:
Strong hold pomades work best with thick, short to medium-length hair. 
The result?
It gives you control all day long, so you don't have to restyle your hair. 
Men with curly and thick hair will appreciate a strong pomade for pompadours, slick back undercut, comb over fades, and lots of other trendy hairstyles.
Types of Pomades – Oil-Based vs. Water Based
Oil-Based Pomades
First:
You should note that most old-school pomades are (were) oil-based. They've been around for the longest time, thanks to their unique hold and formula. 
Now:
Oil-based pomades have more grease or wax in them. They provide a shine and hold that lasts all day. 
Moreover:
These pomades can have a light to high hold. 
However:
Most people don't like the fact that oil-based pomades don't wash out in a single wash. If there's any build-up, you may have to use a clarifying shampoo to wash it off.
But:
How can you tell that you've got product buildup on your hair?
Well:
The first culprit when you have a buildup is finding residue on your pillow. And since these pomades don't dry up fully, your hands will get oily when you run them through your hair. 
Water-Based Pomades
Now:
These are modern versions of classic pomades.
Why modern? 
It's because they are water-soluble; i.e. can be rinsed off easily on the first wash. 
Note:
Water-based pomades have different shines, holds, and scents. Also, they are lighter and don't require heat or prepping before use. 
How to Buy the Right Pomade For Your Hair
Choose Your Finish
Now: 
When you want to use a  pomade, you'll want to choose a finish that suits your hairstyle. 
Here:
You need to decide on the most ideal amount of shine and hold for you. 
But:
Remember, the hold you chose must be right for your preferred style as well as your hair type and length.  
For instance:
If you are going for a slick hairstyle, a glossy finish from a high shine pomade will give you the look you desire. 
What's Your Hair Type?
Next:
Your hair type will also determine the type of pomade you can use. 
For instance:
If you have curly, or wavy hair, a light-hold, water-based pomade will not cut it. 
Instead:
Go for a pomade that contains wax or grease. This way, you can have a medium to strong hold that allows restyling.
What About Lifted Updos?
It's a Fact:
That, hair strands do not stand on their own. And that's where a strong-hold pomade comes in. 
Generally:
This styling product adds volume and definition so that you don't have to restyle hair during the day. 
However:
For strong-hold pomades, you may want to consider a low shine so that your hair looks as natural as possible.
Be On The Lookout For Harmful Ingredients
Note:
If you are not careful with the ingredients used in the pomade you chose, you may end up regretting it.
Why?
Some brands use ingredients that do more harm than good; to your hair and scalp.
For instance:
Watch out for formaldehyde. 
This ingredient is often used for smoothening hair. But it is currently under investigation as a cause for rashes and irritation on the scalp and skin.
Also:
Look out for:
Anyway:
Other red-list ingredients to watch out for include: 
Sulfates – Because they are known to strip off the natural oils from the scalp and hair
Alcohol – also known to make hair dry, causing hair breakage and split ends.
Parabens – They are linked to reproductive issues, skin irritation, and neurotoxicity.
Lastly:
Avoid pomades with Dimethicone which is a form of silicone that is tough to wash out resulting in a build-up. Ceteth-20 is also unsafe on irritated or damaged skin, and Disodium EDTA is carcinogenic. 
The Best ingredients in Pomades Include
Beeswax – This is natural and washes out easily. Beeswax gives you control and protects hair from the elements.
Coconut Oil – This softens beeswax and moisturizes the scalp. It also helps to fight dandruff and can promote hair growth.
Bentonite Clay – Adds volume and texture to the hair. This ingredient also has antibacterial and anti-inflammatory properties that benefit the scalp.
Argan Oil –  This one has essential fatty acids and is high in antioxidants that help to protect hair from everyday damage. Thus, it helps to reduce split ends and hair breakage.
Moving on…
Hair Wax – What is It, Used for, & Made of 
What is Hair Wax?
Look:     
There is a reason hair wax stands out amongst men's hairstyling products. 
But first, what is it?
Hair wax is a styling product loved for holding hairstyles in shape for long. 
The difference between wax and pomade is that wax has a stronger hold than pomade owing to its high beeswax composition.
Also:
Like pomade, wax does not make the hair stiff like gel or mousse.
It's best for hairstyles that require an extreme hold like the quiff, sharp fade, and other modern, polished looks.
What is Wax Best For?
Here is the thing:
Hair wax does not harden and can work with different hair lengths and styles. It is pliable, making it easy to apply and restyle.
What is it best for?
Well:
I recommend waxes for combed hairstyles, thick, curly hair, and tame tough cowlicks. 
Why?
It is better than pomade because it ensures that your curls don't clump up.
However:
You should note that hair wax does not work well on wet hair. Your hair has to be towel-dry/damp so that you can shape it to create the hairstyle you want.
What is Unique about Hair Wax?
Here is the thing:
Wax can be a bit confusing because manufacturers don't always label the product as wax.
For instance:
Products like Old Spice Hair Styling Fiber and American Crew Fiber are hair waxes but do not have the word wax in the product name. 
So how do you know it's wax?
Looking at the ingredients list, you will find beeswax and lanolin wax as the main ingredients. This tells you that you are dealing with wax and not pomade.
Moreover:
Wax has a matte to low shine and does not flake or dry out. Also, because they're mostly natural, wax-based styling products often smell nice.
Is Hair Wax the Same as Putty, Glue, Paste, or Molding Crème?
Most often:
People use wax interchangeably with glue, putty, and paste.  
But:
There are slight differences between these products. 
For example:
Unlike wax, hair paste can give hair a shiny finish. However, Putty is softer than hair paste, while molding crème has a flexible hold and a semi-matte finish.
Lastly:
Hair glue is a bonding agent. Generally, it bonds men's hair weaves and extensions to the scalp.
What to Consider When Buying Hair Wax
Now:
Not every hair wax will work for you. And to ensure you get something that will work, you have to be very choosy. 
Here are a few things to consider when shopping for hair clay. 
Hold Strength
First:
Hair waxes can have low, medium, and high hold.
So?
Consider the wax strength depending on the desired outcome and your hair type. 
For instance:
Strong hold waxes are good for men with thick hair. That's because these products help to manage your mane and keep it in check throughout the day.
On the other hand:
Low-hold waxes are best for long and medium-length hair.
Shine/Finish
Here:
It all depends on the look you are trying to pull off. 
However:
For the most natural look, opt for a matte finish wax or a low-shine product.
Hair Type
Finally, consider your hair type.
Why?
Well, for example, you'll find that waxes work well on curly hair than with straight hair. 
How to Make Hair Wax at Home
Did you know that:
You can make hair wax at home. It's super easy. 
Here's what you'll need:
2tbs shea butter
1tbs beeswax
1 teaspoon cocoa butter
2tbs jojoba oil
1tbs coconut oil
10 drops of essential oil like rosemary, lime, or lavender.
Method:
Place the beeswax in a double boiler over low heat. A double boiler can be a glass jar in a saucepan.
Next, add the shea butter, cocoa butter, coconut oil, and jojoba oil. Mix and wait for them to melt.
Add in the essential oil and stir.
Pour the mixture into a container and let it cool for a while; until it solidifies completely.
There you have it. 
A DIY hair wax that you can use every day.
Awesome, right?
Moving on…
Hair Clay- What is It, Used for, & Made of
What is Hair Clay?
Get this:
Unlike hair wax, which can be hard to identify, hair clay is easy to spot provided it has clay in the list of ingredients. 
So:
If clay is not on the ingredients list, that's not a hair clay product. However, if you see bentonite and kaolin used, it means that the product has clay in it.
Note:
Clay has a stiff consistency. You have to break it down with your fingertips and hands to create a manageable consistency for the hair.
What is Clay Best for?
Now:
There is something unique about this hairstyling product. 
That is:
Unlike pomade, clay expands when it comes into contact with water. 
And:
This is why clay is great for anyone looking to add volume, texture, or definition to their hair. 
It's best to apply it on slightly damp hair. But you can also use it on dry hair. 
Anyway:
Unlike oil-based pomades which are difficult to wash off, most hair clays are easy to wash out; since they are largely water-based.
Moreover:
Hair clay also offers a medium to high hold. You can leave it on your hair for two days and perform touch-ups because of its unique hold on hair.
And if you are wondering:
What's The Best Hair Type For Hair Clay?
I'd say:
It will work great on fine, thin, and short to medium-length hair rather than thick, long hair. 
Lastly:
Since clay does not dry up fully, it allows you to restyle hair later in the day. It's also great for oily hair because clay absorbs excess oils from hair. 
That means:
It may not be ideal for those with dry hair. 
Factors to Consider when Buying Hair Clay
Your Hair Type  
Understand this:
Clays are much heavier than most styling products; as such, they are often ideal for thin and fine hair.
Why?
Well, these products help to add volume to hair by weighing it down and ensuring it remains compact all day long. 
Now:
This simple fact doesn't disqualify anyone with thick hair. 
The truth is that you can still use hair clay on thick hair to achieve a natural, textured look; thanks to these products' matte finish. 
However:
The quality of the resulting hairstyle might not be as good as what you'd get from using a low-shine, medium/high hold wax, or pomade. 
Get it?
Hold Strength
Look:
Like most other hair clay qualities, hold strength also depends on the hairstyle you are aiming for. 
If you are looking for a pliable, flexible haircut, then a low or medium-hold clay will do. 
But:
For those looking for an all-day hairstyle that doesn't need touch-ups after styling, a high-hold clay is the best bet.  
Also:
Don't forget that your hair type and length will also directly determine your choice of hold strength. 
Price
You see:
Hair clays are some of the most expensive hair products on the market. 
The good thing is that you only require a pea-sized amount to style hair. Plus, you don't need to use it every day; therefore, a small jar can last for months.
The main price determinant is the type of clay used. 
For instance:
Brands with Moroccan lava clay will be a bit expensive. This type of clay is mineral-rich and great for sensitive and dehydrated skin. It also has healing properties. 
Moving on…
Hair Gel – What is It, Used for, & Made of 
What is Hair Gel?
By and large:
Hair gel is the best-known hair styling product. 
It was at peak popularity during the 80s and 90s thanks to hairstyles like the Caesar haircut, Spikes, and Frosted Tips influenced by Hollywood actors and hip-hop artists.
Anyway:
Although it's not as popular among modern men, hair gel is still used to mold all kinds of hair into the desired style.
What is Gel Best for?
First:
Gels are a great way to add texture and shine to hair. 
They range in strength from flexible to stiff; meaning you can choose a roughed-up hairstyle with a medium-hold gel or spikes with a high hold gel.
However:
There are different types of gels designed to achieve different results. 
For example:
Some gels can hold moisture to prevent drying out of hair; while other gels can lengthen the strands. Gels can help to control frizz, define and enhance curls, and keep hair in place.
Note:
These hair styling products can weigh down hair. That's why gel is not recommended for thinning hair.
What is In Hair Gel?
First off:
Hair gel is a formulation of solid particles (mostly polymers) that form a network to make a jelly-like mass. 
The consistency remains thick but is quite easy to apply. 
So:
When you apply hair gel, the water in the liquid mass evaporates, and the polymers dry, forming clear films.
The clear films give hair high hold and a shiny finish. You can apply hair gel on dry or wet hair because it is mostly water-based. 
Note: 
Good gel products should not contain ethanol
And they should not be flammable.
Types of Hair Gel
There are different hair gels available; based on what they do and the ingredients used.
Gels based on what they do include:
Sculpting and shaping gels
Curl activator gels
Extreme hold gels
Firm control gels
Gels based on hair type include:
Dry hair
Oily hair
Straight hair
Normal hair
Fine hair
Textured hair
Wavy/curly hair
Chemically treated hair
Gels based on the Ingredients include:
Natural
Sulphate-free
Paraben-free
Alcohol-free
Oil-free
Cruelty-free
Fragrance-free
Factors to Consider when Buying Hair Gel
Hold Strength
It's true that:
You can find gels that promise a light hold. These are mostly used on fine hair; but are a rare find. 
On the other hand:
Medium and strong hold gels are for hairstyles that require molding, sculpting, and scrunching.
Hair Type
Note:
Except for thinning hair, you can use hair gel on all hair lengths and types.
Ingredients
Here:
Look for gels that have aloe vera; which is a great moisturizing ingredient for the hair. This is especially recommended for men with dry scalps. 
Also:
If you have a dry scalp, you will benefit from a gel with sorbitol, a compound used to minimize moisture loss from your hair. 
Another ingredient you will find in most hair gels is witch hazel. This compound helps reduce inflammation and also soothes the scalp. 
Finally:
Be careful with gels that have ethanol and propanol. These short-chain alcohols are known to cause excessive dryness.
Instead:
Look for gels with lauryl alcohol, cetyl, or stearyl alcohol. The best thing with these long-chain alcohol types is their moisturizing properties keeping your hair and scalp healthy and moisturized. 
Disadvantages of Hair Gel
1. It can cause hair discoloration and damage. Gels are a chemical formulation. Some of its long-term effects are hair discoloration, split ends, and thinning of hair. 
2. Dehydrates Hair. Hair gel is known to strip off moisture from the hair. As a result, sebum production is reduced resulting in dry and breakage-prone hair. That's why, it is best to wash it out properly to avoid buildup; which can cause a dry scalp, dandruff, and irritations.
3. Flakiness. If you try to restyle gel after it has dried, it will flake. The only way out is to wash the product off and reapplying if you want to change the hairstyle.
4. Hair Loss. Hair gel has been associated with hair loss because it dries out and weighs down hair. It can lead to clogged hair follicles and breakage; which will eventually lead to hair loss. However, this issue is mostly a result of bad ingredients and improper use of hair gel. 
Hair Paste – What is It, Used for, & Made of 
What is Hair Paste?
Now:
Hair paste is what I recommend if you have no idea where to start with hair styling products. 
Why?
You can use paste for almost any hairstyle. It is thicker than pomade, but with a matte to medium shine. It also has a medium to high hold on hair.
What is Hair Paste Best for?
Most people prefer hair paste for messy hairstyles. 
Basically:
You can use it to achieve styles that are pliable and easy to restyle. Moreover, hair paste is better on short and medium-length hair. 
Key Properties of Hair Paste
Note that:
Most hair pastes are water-based. 
So yes:
They are easy to rinse out; you can restyle hair several times by washing it out until you achieve the style you want. 
The best thing:
Paste gives hair definition and control without weighing it down. It is a gentle product that you can use every day.
Get this:
Hair paste creates a touchable finish that is soft and easy to brush out. You can even pair it with other hair products like creams.
For example:
If your hair is fine or thin, hair paste is best used as a prep product to add definition and texture before using something like hair clay. 
Now:
I do not recommend using hair paste and pomade together. 
Why?
Because the only difference between pomade and paste is that paste is thicker, and most pomades have a high-shine finish.  
Things to Consider when Buying Hair Paste
Ingredients
A word of caution:
Be careful with the ingredients used in a hair paste. If you are not sure about any component, look it up to see whether it has any side effects.
For instance:
Things like alcohol, salts, sulfates, and other harsh chemicals dehydrate hair, causing damage. A high-quality hair paste usually lists water or aqua as the first ingredient on its list. 
It also includes natural and plant-based ingredients like aloe vera, avocado oil, sunflower seed oil, honey, beeswax, bentonite clay, shea butter, and many others.
Hold
Mostly:
Hair paste will have a medium to high hold. 
That's why:
If you are looking for a product with a very light hold, pomade is better than paste for your needs.
Shine
Note:
Paste does not provide a high shine. But, it still looks good on combed-back hairstyles and tight curls.
Fragrance
Finally:
Pay attention to the smell.  The last thing you want is to buy a styling product that has an overpowering scent or smells off.
In Summary…
And that's a wrap!
I hope I've set you on the right path to picking the right products for your hair. 
Remember:
Hair paste can go with almost any hairstyle. You can start there if you want to experiment with different styles.
Anyway, happy styling!
And as always, leave a comment below if you have any questions or would like to add something to this topic. 
I'd love to hear your thoughts.
#StaySafe
Frequently Asked Questions
Yes. However, take a break from using hair products regularly when you can to let your hair regenerate and reset itself. The break also lets you observe if there are reactions.
Well: The product's ingredient list will tell you whether a particular pomade is good for your hair or not. Lookup any ingredient you don't understand so that you know exactly what's going in your hair and scalp.
Most people prefer pomade for modern hairstyles because it gives hair a natural look. At the end of the day, both products have their pros and cons. So, your ideal choice depends on your needs and preferences.
Not all; but some do. Pomade will help in hair growth if it has ingredients like coconut oil, argan oil, and almond oil; these components are usually beneficial for hair growth and strength.
Note: Frequent use of oil-based pomades can result in the drying out of the skin; because it causes the body to reduce natural, essential oil production. In other cases, it may cause breakouts and acne as a result of product buildup on the scalp and hair.
It depends on the type of gel and if you are using it on dry or wet hair. Note: The length of your hair also plays a part in the time it takes for the gel to set. Generally, it should not take longer than 20 minutes. If it's taking too long for the gel to harden, use a blow dryer to make it dry faster.
Yes, you can. Toothpaste contains water-soluble polymers just like hair gel. Add a tiny squeeze of toothpaste to 60ml of water and stir until the toothpaste dissolves completely. Then, use the mixture as you would have done with hair gel. But: Note that toothpaste can bleach and lighten your hair.
Alternatives to gel include gelatin; which is a healthy choice. Flaxseed oil and almond have also been found to be effective in hairstyling. All in all: You can use any of the hairstyling products we have discussed here as an alternative to gel.
More from Mike Medders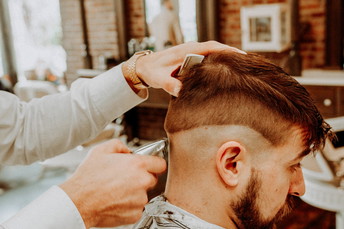 Trust me, I've been on both sides of the chair. I can't count the number of times a client has sat down and struggled…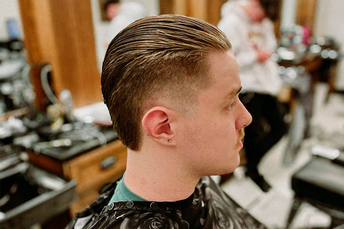 50 Different Ways to Rock the Slick Back Hairstyle for Men 1. Slick Back Fade @jules.thebarber Look: The slick-back…