Grooming Tips: How To Clean A Beard Properly
Here's the thing:
An itching beard is discomforting, dandruff is embarrassing, and dryness makes the face look boring.
As a man who wants to sustain his macho look, what do you do if you have (or are trying to avoid) one of these problems?
In today's post:
I'll be letting you in on exactly what you should do to keep things neat and well-groomed. There's also a bonus tips section, so keep an eye out.
How to Groom Dirty, Thick, and Curly Facial Hair to Perfection in 6 Easy Steps
Prerequisites
For this procedure, you'll need:
Warm water
Beard wash
Beard softener/conditioner
Beard oil/utility balm
Microfiber towel
Hairdryer (optional)
Got them?
Next:
Follow these six easy steps for a perfectly balanced beard cleaning:
Best Procedure on How To Clean a Beard
Wash your beard with lukewarm water. This opens the pores and enhances blood circulation, allowing for a more effective wash.
Build up a lather with one drop of a beard wash.
Massage lather into beard. For about 30 to 60 seconds, use your fingertips to dig deep into all directions of the beard. This action cleans skin better, leaving the face hydrated and beard follicles stimulated for improved hair growth.
Rinse lather out with warm water by running your fingers through the beard at a steady pace. Consider rinsing twice to completely remove soap residue.
Pat down your beard with a microfiber towel. This kind of towel absorbs faster, cutting down on drying time. Also, it's gentler (minimizes damage to wet hair as it doesn't pull at the root).
Pour a tiny drop or two of your preferred softener on your palm; rub it against the other; apply it to your beard in a gentle motion; then, allow it to sit in for some minutes. After five minutes, wash off the conditioner and towel dry. While the beard is still damp, apply one or two drops of beard oil while using your hand to shape/style.
Video Tutorial
Conclusion
To recap:
To properly wash your beard, simply:
Apply beard shampoo.
Massage/work the shampoo onto the skin and beard.
Wash thoroughly.
Towel dry. This is assuming you have a beard of standard thickness and length.
For a thicker, wiry beard, you'll need to follow up with a conditioner. Moreover, beard oil or balm adds a nice finishing touch in both cases.
#StaySafe
Have any more questions or is there something you'd like to call my attention to? If any, don't hesitate to use the comment box below.
Frequently Asked Questions
You can use regular shampoo on your beard (it foams really well, after all). Understand, however, that regular shampoos – especially those containing alcohol, parabens, and sulfates (avoid them!) – can irritate your sensitive skin or cause dryness, itching, and/or dandruff.
To deep clean your beard, first off, wet it in the shower. Then, apply a wash (product or your regular soap) to form lather. Run your fingers through in a scrubbing motion and continuously for about a minute or two. Use a brush for about 30 seconds to get deep in the dead skin. Now, rinse clean and pat dry with a towel, and allow to dry. Once dry, brush (gets rid of skin flakes and dirt residue) and apply beard oil or balm.
To clean facial skin, wash and brush it two to three times weekly. For practical demonstrations, see Collin from West Cork Beard Company use this exact technique in his YouTube video. (Video)
Some studies show that a clean shave isn't always cleaner – or any better at keeping germs away – than a beard. Sometimes, the opposite is the case. How? Well, the mane of a bearded man acts as a filter from particles, bacteria, and harsh climatic conditions. On the other hand, with a clean shave, dust, bacteria, and germs can settle directly on the skin. Thus, you get shaving bumps and irritation from the nicks a razor may have left behind.
More from Mike Medders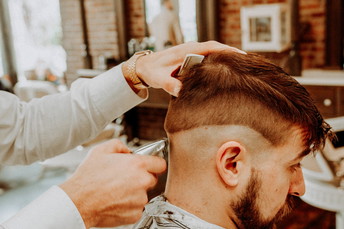 Trust me, I've been on both sides of the chair. I can't count the number of times a client has sat down and struggled…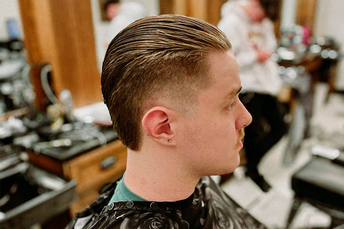 50 Different Ways to Rock the Slick Back Hairstyle for Men 1. Slick Back Fade @jules.thebarber Look: The slick-back…