Grooming Tools Maintenance 101: How To Clean Beard Brush
The other day, someone requested that I do a complete step-by-step guide on how to clean beard brushes.
So, here it is:
How I Clean And Maintain Beard Brushes In My Saloon For Longevity And Better Customer's Experience
Now:
Over time, as you style, restyle, and tame a mane, your beard brush accumulates hair strands, dust, beard oils, and dirt. 
That said:
To do proper washing, you need to consider two things – frequency and cleaning method.
a. Frequency
Note:
Without regular cleaning, you expose your beard/facial skin or that of your clients to infections.
"But Mike, how often should I clean my beard brush?"
Well, that depends on…
The kind of brush you use (soft or hard bristle?).
The number of times you use this grooming tool.
The number of people using the beard brush (personal or saloon?).
See the infographics below:
| | | | | |
| --- | --- | --- | --- | --- |
|   | A soft brush used by 1 person 2-3 times a day | A hard brush used by 1 person 2-3 times a day | A soft brush used by 3-6 people every day | A hard brush used by 3-6 people every day |
| How often should you wash it? | 2 times in a month. | Every weekend. | Every 2 days. | Every day. |
Next:
Let's take a look at how it's done.
b. Beard Brush Cleaning Method
So, here's how to clean a boar bristle beard brush to look brand new and smelling fresh:
Place the brush under a faucet of warm water to loosen sticky grime and cloggy hair.
Stop the water and add 3 drops of liquid soap to the brush bristles.
Scrub between the bristles for 1-2 minutes to pull out stubborn hair strands.
Allow warm water from the faucet to splash through the bristles for 1 minute until you start seeing grime washing out.
Now, give it a quick rinse in cold water.
Hold the brush with the bristles facing downward and splash off whatever residue may still be hanging there.
Wrap the bristle beard brush in a dry towel to get rid of excess moisture.
Apply 2-3 drops of scented beard oil to soak into the bristles to prevent bad smells.
Air-dry the brush for 3-5 minutes before using it again.
And that's all you need to do for a sparkling clean, nice-smelling, and hygienic beard brush.
Need a demonstration?
Check out Collin from West Cork Beard Company using this exact technique in his YouTube video.
Conclusion
Now, here's a recap:
To clean a Cremo beard brush or a general boar bristle brush, loosen up the grime and hair in it with warm water. After that, wash and scrub between the bristles with liquid soap and your fingers.
Finally:
Rinse with warm water, and then with cold water. Thereafter, air-dry it for 3-5 minutes before using it again.
Anyway:
If you have any more questions or there's something you'd like to call my attention to, use the comment box below.
Always looking out for your hair. Barber Mike.
#Staysafe.
Frequently Asked Questions
It's the easiest and one of the most effective ways to promote a hygienic, healthy beard.
Loosen the dirt within the beard brush with warm water, wash with liquid soap, rinse, and then dry it. See the complete guide above.
Yes. It inevitably gets wet during the process of washing it. Nevertheless, remember to air-dry to prevent bad odor and dust build-up. And that's all about it.
More from Mike Medders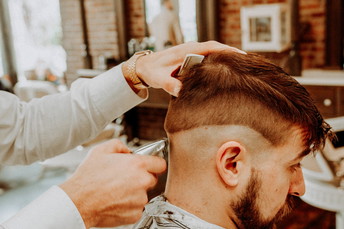 Trust me, I've been on both sides of the chair. I can't count the number of times a client has sat down and struggled…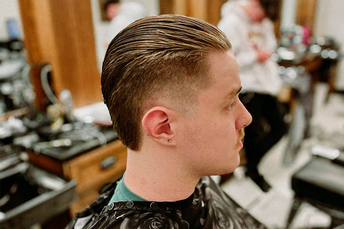 50 Different Ways to Rock the Slick Back Hairstyle for Men 1. Slick Back Fade @jules.thebarber Look: The slick-back…