How to Get a Barber License: Everything You Need to Know
As an experienced barber, I can confidently tell you that barbering is more than just cutting and grooming facial hair.
However:
This experience did not come to me overnight. It was built over years of constant practice, making mistakes and learning from them, and all the processes leading up until I obtained my barber's license.
Over years of continued practice:
I've realized that many upcoming barbers face numerous challenges while obtaining their barbing license.
To this end:
I have prepared this comprehensive guide to help you obtain your barber's license. I've also solicited the expert opinion of Sunny Kambo, a licensed barber and instructor with over 14 years of experience from Vancouver.
Let's dive right in!
Why Do Barbers Need a License?
Since barbering falls under the health and beauty industry and is directly related to public health, barbers must obtain a license before practicing. They are also expected to be knowledgeable on hygiene, cosmetology, basic chemistry, health, and safety topics in order to prevent the spread of hair diseases.
A Reddit user, also explains, "Barbers and hairstylists need to be licensed to detect various hair and skin diseases."
Additionally:
Barbers need to understand the chemicals in hair products and how to avoid injuries during hair care procedures.
In this post, I've included all you need to know about getting a barber's license and establishing your career in the barbering industry. Sounds good? Keep reading.
5 Steps to Getting Your Barber License
If you put your mind to it, you can easily get your barber license. Well..maybe not easily—anything worthwhile requires some work.
Luckily for you:
I've outlined 5 key steps to make your journey easier.
1. Get a High School Diploma
The first educational requirement for a barbering license is a high school diploma. Your high school diploma is important because it is a prerequisite for further educational training in barbing.
The good news is:
There are no specific high school course requirements to qualify as a barber. Sunny adds, "Depending on state requirements, you must complete your high school education and be at least 16 years old to obtain a barbing license."
But from my experience:
States like California operate a bit differently, as they require a minimum age of 17 before applying for a barbers license.
2. Continue Your Educational Path as a Barber Trainee
Now:
There are 3 possible ways to gain proper knowledge of the barbering industry. Let's explore them.
Enrolling in a Barbering Program
| Barbering Colleges | Program Length (Hours) | Duration of Program | Tuition |
| --- | --- | --- | --- |
| Paul Mitchell Schools | 1,500 | 11 months | $16,500 |
| Buckner Barber School | 1,000 | 8 months | $15,000 |
| Moler Barber College | 1,500 | 7 months | $9,000 |
| Dayton Barber College | 1,000 | 7 months | $7,200 |
| American Barber Institute | 500 | 4 months | $5,600 (without supplies) |
| Atlas Barber College | N/A | 4 months | $2,500 |
The first way to fulfill educational requirements is to enroll at a barber school. However, be sure to only enroll in colleges accredited by the National Accrediting Commission of Career Arts and Sciences (NACASS).
Do keep in mind:
The table above only details tuition fees for these colleges. You would also need to consider additional costs such as housing, registration, getting books and barbing supplies, and other related fees.
Depending on the barbing school or institution you enroll at, the program could last 8-10 months for full-time students.
This boils down to 1500 - 1800 hours of classwork and hands-on training.
Alternatively:
If you choose to be a part-time barber student, your barber training program could last up to 2 years.
This is to meet the smallest duration of hours specified by the state licensing board. The required number of hours could vary depending on your state.
For example:
The Pennsylvania Department of State requires a minimum of 1,250 hours of training within nine months.
Meanwhile:
The Texas Department of Licensing and Regulation requires that barber trainees complete a 1500-hour training program.
Barber schools treat fundamental topics such as:
Introduction to barbering
Safety and sanitation
Hair cutting and hair styling
Hair and scalp care
Shaving and facial hair design
Colors and chemicals
Client consultation and customer service
State laws and regulations
Enrolling for a Barber Apprenticeship
According to Sunny:
"Rather than enrolling in a barber training school, you can also obtain your license by registering as an apprentice under a licensed barber near you."
From my experience, there's one catch with this approach.
The average apprenticeship program lasts two or more years. During this time, you must exhibit competency and prove that you have learned the necessary skills in barbering.
Typically:
The duration of the barbering apprenticeship largely depends on how quickly a trainee can assimilate the knowledge being imparted.
Most importantly:
Barbering apprenticeships are far cheaper than enrolling in barbering schools. However, you must ensure that all the necessary paperwork is in order.
Some of the necessary paperwork include:
Proof of education
Proof of apprenticeship
Identification documents such as driver's license or a passport
Health certification forms
Obtaining a Degree in Cosmetology
In recent times:
Many barbing salons—especially barber shops in London, have included manicures, pedicures, skincare, and facial treatments in their service offerings. This has expanded the client base of many organizations.
However:
To offer these services, you would need a cosmetology license or degree.
From Sunny's view:
"In addition to pursuing your dreams in the barbering industry, you should consider a cosmetology degree. This will help broaden your horizon and expand your service offerings to generate more income."
This gives you an edge over other barbers as you can now offer more services when you get your barbing license.
If this sounds like you, here are some schools I'd recommend:
| Cosmetology Schools | Program Length (Hours) | Duration of Program | Tuition |
| --- | --- | --- | --- |
| Tricoci University of Beauty and Culture | 1,500 | 13 months | $21,100 |
| Pivot Point Academy, Illinois | 1,500 | 11 months | $18,405 |
| Academy of Cosmetology, Meritt Island, Florida. | 1,200 | 12 months | $16,400 |
| Aveda Institutes | 1,500 | 10 months | $15,600 |
| Kaizen Beauty Academy | 1,200 | 12 months | $14,700 |
| Empire Beauty School, Manhattan | 1,000 | 7 months | $14,250 |
Now:
While barber and cosmetology schools might seem expensive, there are financial aids and grants available for intending barber students.
3. Take the State Licensure Exam
Now:
Each state has different requirements for the licensure exam, so be sure to find out the barber licensure requirements in your state.
Texas, for example, requires a minimum of 70% to pass the licensure exam.
In any case:
Once you pass the licensure exam, you're on your way to becoming a licensed barber!
4. Apply for a Barber's License
After passing the licensure exam, you must apply for a license within a year. You can apply for a barber's license online via your state's licensing and regulatory board.
In most cases, you would need to provide proof of completed hours of training and other personal documents for verification.
What's more?
You must also pay licensing fees while submitting your application.
5. Renew Your License
Now:
You've completed the above processes and have finally obtained your license.
However:
It doesn't end there. You are still required by law to renew your barber's license every one or two years—depending on the state.
You see:
While states like Texas require a license renewal every two years, others like North Carolina require yearly renewal of existing licenses.
How To Pass the Licensing Exam
Now:
According to the National Interstate Council of State Boards of Cosmetology (NIC), the licensing exam is administered by various state regulatory agencies. It consists of two major parts—the written and practical exams.
The written examination consists of 50 MCQ questions to be completed in 90 minutes. These questions cover the entire content of what was taught in barbing school.
Typically:
40% of the written exam questions stem from hair care, 17% from facial hair services, 16% from skin and facial care services, and 27% from scientific concepts.
In addition:
The practical examination usually lasts two to four hours with a 15-minute break interval, depending on your state. In this exam, you will be tested in the following areas:
How to set up your supplies and work area for clients
Haircutting
Hairstyling
Use of chemical products and relaxers
Proper disinfection of work areas
Client protection
Tips on Preparing for the Exam
1. Study Your State's Licensing Requirements
Now:
You'll need to know what documents are required and how to get them to apply for the state's licensing exam. The licensing board in your state should be able to provide you with this information.
However:
Some basic requirements are:
Having a high school diploma
Being at least 16 years
Satisfying the educational requirements
Completing a medical examination.
Lastly:
Make sure you understand all the requirements before applying for a license!
2. Register the Necessary Paperwork
This may seem obvious, but many people forget this simple step. Ensure you complete your application form and double-check for errors before submitting it.
You must also submit proof of completed training/apprenticeship and a government-issued photo ID.
3. Practice!
Ideally:
Your barber school would provide all the necessary resources to ace your exam. All you have to do is study these resources and practice with them. Make it a habit to practice what you learned in class again by yourself every day.
Sunny adds:
"You will be tested on everything you've been taught, so there's no harm in asking questions where you're confused."
Also:
Get acquainted with the mode and pattern of the written exam by taking mock tests and studying the practice questions.
You can also use YouTube videos to learn more about the practical and written sections of the exam.
Written exam: How to Pass the Barber Exam: What is on the Written Exam?
Practical exam: Barbering Practical Examination | State Board Review
4. Get Adequate Rest
There's no point trying to cram everything the night before your exam if it's going to be detrimental to your performance on the exam.
A good night's rest energizes and strengthens you for the long exam.
5. Be Punctual!
Ensure you arrive at your exam venue at least 15 minutes before the scheduled time. This helps you calm your nerves and organize your thoughts before the exam.
Completing the Application Process
Depending on the state you're in, there are several ways to apply for a barber's license.
If you're in New York City, for example, here's a quick rundown of the application process:
Step 1: Visit New York's official website for licenses: https://aca.licensecenter.ny.gov.
Step 2: When you visit the site, the image below should appear:
Step 3: Select the option that applies to you, then proceed to the next stage.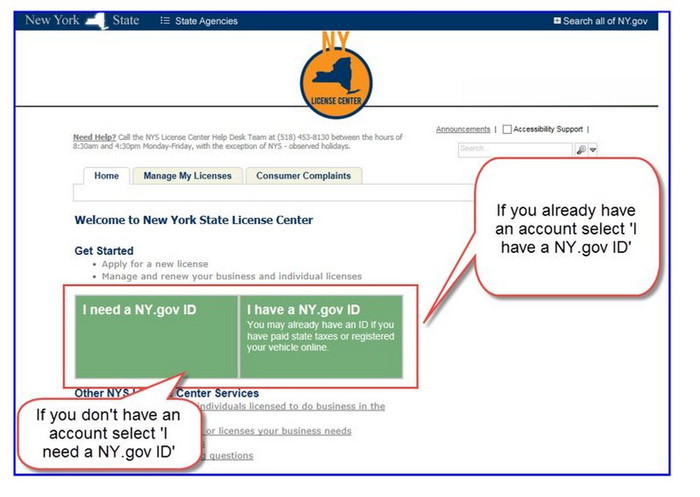 Step 4: After creating or signing into your account, as the case may be, locate the button that says "Apply now for a new license or permit."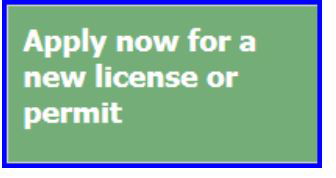 Step 5: Click on the button above.
Step 6: Follow the instructions online to complete your application
Step 7: After completing the online application, you will receive an email confirmation from the Division of Licensing Services.
Step 8: If your application satisfies the necessary criteria, you will be issued a temporary license.
Career Opportunities for Licensed Barbers
A licensed barber has various career paths to tow in the barbing industry. These paths have salaries ranging from $40,000 - $114,000 annually. Impressive right?
Let's take a quick look at the different career paths and their various annual salaries:
A licensed barber has various career paths to tow in the barbing industry. This includes:
1. Self-Employed Barber
As a self-employed barber, you can work in your own barbershop or leased spaces like malls, hotels, and salons.
According to the Bureau of Labour Statistics, self-employed barbers earn an average of $40,000 annually. With a widespread clientele, you can even earn far more than this annually.
Self-employed barbers typically determine how much they earn and manage their taxes themselves. What's more?
Being a self-employed barber gives room for flexibility if you have other engagements.
Additionally:
You can make extra income as a barber shop owner by leasing spaces or chairs to experienced barbers.
Sunny finds it noteworthy to add that "When leasing spaces in your barbershop, you must ensure compliance of all barbers within your space in renewing their licenses or risk getting fined."
2. Personal Care Services
Barbers in this industry are often employed by the government and work in places like hospitals, prisons, military bases, care homes, and retirement communities. Personal care barbers earn around $52,000 annually under the government's employment.
In addition:
Celebrities, brands, resorts, and even private institutions hire personal care barbers. 
3. Freelancing and Event Hires
If you don't want to pursue barbing full-time, you can still earn from the profession by becoming a freelance barber.
Glassdoor estimates that barbers in this category earn within the range of $48,426 - $51,758 yearly.
As a freelance barber, you can offer barbering services for birthdays, weddings, film and TV shoots, and theatre productions.
4. Barbing Instructor
Just as you enrolled in a barbing school before getting certified, intending barbers would also need to enroll in barbing school to gain knowledge on barbing.
To guide the next generation of barbers:
You can become an educator at a barber school or open your shop for apprentices to learn under you. However, you must enroll in an instructor training program first.
As a barbing instructor, your earnings significantly increase to around $114,000 per annum.
5. Barbing Product Developer
On your journey to becoming a professional barber, you will work closely with several hair products and chemicals.
With your knowledge of hair products and the ingredients used in making them, you can help brands improve their products or suggest new products.
If you decide to take things a step further, you can start your own product line.
Conclusion
As you can see, barbering is a very lucrative profession. However, it does require some work. In order to obtain your barber's license, you would need to:
Obtain a high school diploma or GED
Go to a certified barber school
Take the State Licensure exam
Apply for a barber's license
Renew your license.
Although some might downplay the need for a license, in the long run, you'd be glad you had it. Why? Because practicing without one attracts heavy sanctions and stunts your career growth.
In Sunny's opinion:
"A license makes it easier for clients to trust you with their hair."
Finally:
Remember to renew your license every one or two years to avoid civil penalties and hefty fines.
Did you discover new tips from our post? Did we miss anything? Let us know your thoughts in the comment section.
Frequently Asked Questions
Yes, you do. As a barber shop owner, you must register your business with the state and obtain a business license.
Yes! In most states, if the ownership or location of the barbershop changes, then you would need to apply for a new license to reflect these changes.
The cost and renewal of barber licenses vary for each state. For example, a Massachusetts barbers license can be renewed online, costing only $40.
Barbering is a hands-on profession that requires practical training. Although many online courses are available, you cannot become a professional barber with online courses alone. You need to complete some form of hands-on training.
More from Mike Medders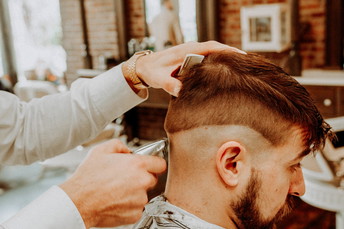 Trust me, I've been on both sides of the chair. I can't count the number of times a client has sat down and struggled…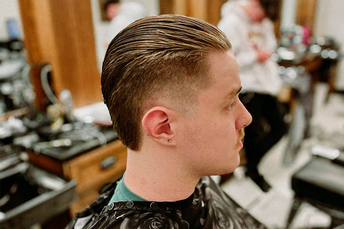 50 Different Ways to Rock the Slick Back Hairstyle for Men 1. Slick Back Fade @jules.thebarber Look: The slick-back…