How To Use Hair Pomade Properly And Get Your Desired Results
Someone asked:
"Mike, how does one properly pomade hair?"
Being a thick-haired guy, he'd been having trouble achieving a proper balance; i.e his hairstyle would end up too greasy or he'd suffer hair loss days after pomading.
Can you relate?
Well, using pomade isn't always so complicated. However, if not done right, this styling product can have a few negative results. 
But, here's the thing:
There's no general "proper hair pomading technique". 
Basically, how you go about it depends on the results you are gunning for.
For instance:
Pomading curly hair differs from how you do it on thick, dry strands.
You get my point, right?
Great. 
So, in this post, I'll guide you through a few styling tips for pomades including;
How to properly use pomade for waves
How to style afro dark hair using pomade
And how to style curly hair with pomade just to mention a few…
So:
Let's cut to the chase. Here's everything you need to know about how to use hair pomade:
The Step By Step Guide To Apply Pomade For Deep 720 Or 360 Waves
Now listen:
You should always make sure you're using the right styling product. You can get some inspiration and help on this post where I reviewed the 7 best pomades for waves. 
However:
The brand you choose is entirely up to you; depending on the look you're aiming for.
So, here's how to use pomade for waves:
Wash your hands to be germ/dirt-free. Then, getin the shower to finger-scrub and wash your hair. 
Comb it to get rid of excess water. 
Cover hair with a towel and pat dry with hands to avoid a complete dry. 
Now, leave a rag in hot water for 10-15 minutes, but make sure the rag is not too hot to avoid burning your scalp.
Pat the warm-rag on your hair for easy and even wax absorption.
Take a pearl-size amount of the pomade and rub it between your palms to form an even layer.
Tap the layer around your hair gently.
Take another pea size, but this time, tap it in a circle around your crown.
With a 360° or 720° wave brush, brush from your crown outward.
Lastly, Smoothen out your hair with a plastic bag to lay down the waves
And, boom! You're done.
Want something more practical?
Well:
Check out how this guy got super-clean waves using this exact guide.
Side Note: 
Wipe the pomade off your forehead with wet tissues to avoid bumps or skin irritation. 
Also, wear a stocking cap for 30-35 minutes (or for the rest of the day). Doing so allows you to achieve well-formed and lasting waves.
Moving on…
How To Style Your Curly Hair With Pomade; Step By Step
Here's the thing:
Getting your preferred style accurately is determined by the pomade you use, hair texture, and the curling technique.
Take for instance:
A while ago, a can of Murray's Superior Pomade was found backstage, during Alex Turner's performance. See the picture below.
And guess what?
It turns out that's the secret to the lead singer's curly wet pompadour; with its high sheen and descent hold. 
Thus, providing a breakthrough moment for his fans who had failed to recreate the style.
But:
You should note that the best pomade for curly hair is ideally an oil-based one. Because water-based products don't usually curl nicely or hold for long.
Anyway:
You and Turner may not share the same hair type. 
Right? 
Therefore, you may need to find a product that's right for your specific hair type. 
Luckily, there are a ton of Pomades for curly hair available today. You just need to know where and how to find them.
Otherwise, here's a quick guide on how to pomade curly hair. 
What do you need?
1 regular comb
1 flat hairbrush
2 towels
A hairdryer
And a pomade that suits your style, hair type, and length
Ready?
Here's how you should go about it:
Wash hair thoroughly with water ONLY (don't shampoo).
Then, towel-dry hair immediately.
For thoroughly dried strands, brush with a flat hairbrush as you blow-dry.
Take a reasonable scoop of the pomade and rub it between your palms.
Now, use that to rub and push the sides of the hair backward to slick them down.
Take another scoop of pomade and run it through the middle top part.
Make sure the pomade reaches the hair root for a better hold and to tame flyaways.
Finally, style as desired using comb and fingers.
Important Note: 
If you have a sensitive scalp/skin, rub just 3/4 of your hair length from the top and not down to the root. You also need a comb – after styling – to reset hair back in position, now and then.
Next up…
How To Style Afro Dark Hair Using Pomade; Step By Step
Basically:
There are numerous afro styles you can rock with proper pomading; as illustrated in the picture below.
But first, grab these items:
A blowdryer
Leave-in conditioner or hair primer
Natural hair pomade
3 hair bands
A towel
A tail comb
Ready?
Let's get to it:
Wash your Afro with water then towel-dry.
Use a blowdryer for deeper drying; while still leaving little moisture behind.
Apply leave-in conditioner or primer for easy pomade absorption and controlled styling.
Take a dime size of pomade and start applying evenly from back to the front.
Allow the pomade to sit in for 15-20 minutes.
Guided by the top of one ear, section the front of the hair horizontally from one side to the other using the comb.
Secure that section with a rubber band.
Divide the remaining part of the hair in two the same way with your tail comb.
Secure the middle with a band and the back with another.
Now you have a horizontal line of 3 bunches from front to back.
Play with and fluff each bunch to blend and give that faux frohawk finish in the picture above.
Take a small pomade and apply it to tame fly-aways and frizzy hair.
Note:
Remember to remove the bands and fade the two sides to your preference with a clipper.
How To Style Short Hair With Pomade
As always:
One thing to make sure of is that you have well-defined hair goals. 
For instance:
Pomading short hair for MAXIMUM hold demands a different product compared to pomading for multiple restyling. 
That's why pomades are made for varying purposes and results.
Another thing to note:
Your hair texture matters a lot. What works for a guy with fine hair won't give the same result on thick hair.
Anyway:
There are multiple pomade hairstyles for short hair. 
So, know your desired style first. Below, is a basic guide for short hair styling with pomade.
Here's what you need to do:
Wash hair with cool water (no shampoo).
Towel-dry and blow-dry, leaving little moisture behind.
Scoop out a fingernail-size amount of pomade.
Rub evenly until it's evenly distributed between your palms.
Start applying from the back or from wherever you have the most hair.
If you need to apply more, do so in bit by bit quantity.
Style as desired.
Need a more practical approach?
Well?
Check out TONI&GUY's demonstration in this video on how to style short hair with pomade or wax.
So what's next?
Biggest Worries And Fixes When Styling Hair With Pomade
Now:
Like using any other hair product, styling with pomade can be worrisome. 
That's why:
In this section, I'll explain some of the problems and their fixes.
Sounds great?
Well:
Let's start with…
Hair Becoming Too Greasy
Let's face it:
Overly shiny, greasy hair can be a huge mess after pomading. 
But:
What causes this?
a) Using strong oil-based pomade
Note:
Oil-based pomade with high petroleum content adds too much shine, gloss, or sheen. But, still, some hairstyles demand that you use them.
So, what can you do?
Solution:
In this case, apply a smaller quantity of strong oil-based pomade. Otherwise, switch to water-based or hybrid pomade brands.
b) Over-Shampooing
Generally, shampoos strip the hair of natural oil. 
And this forces the scalp/skin to compensate for that by producing more. 
Solution:
Avoid or shampoo less often. You can also use dry shampoo to get rid of grease. (Notice that I discouraged the use of shampoo earlier?).
c) Washing with very hot water
Now:
Just like shampoos, hot water removes natural oil. And that triggers the excessive production of natural oil by the scalp. 
Plus:
This is something you'll also experience using blow dryers.
Solution:
Use warm water for styles that require washing with hot water. Also, make sure your blow dryer doesn't heat up too much when in use.
Next…
Hair Falling Out
Like a cat shedding…?
Okay, I made that one up. 
But look:
If you have fine, thin, or weak hair, you should never use high hold pomades, to avoid hair loss. 
Moreover, products with STRONG chemical agents further weaken hair strands; causing them to get pulled off easily when combing or brushing. 
And by strong agents:
I mean chemicals like Sodium Chloride, Parabens, Diethanolamine, Sodium Lauryl Sulfate, and Propylene Glycol.
So, it's always in your best interest to check the chemical content of your product first.
Solution:
Always apply pomade in small size and add little by little to get a decent sheen and hold. Also, avoid pomades with strong hair-weakening chemical agents altogether.
Moving on to…
Difficulty In Washing the Product Off
So, yeah:
Washing off oil and wax-based pomades is not always easy once applied; whether it's removing the stains from your hands or washing the product off your hair. 
Note:
For better and stress-free washability, you should go for water-based or washable oil-based pomades. These products loosen readily when washed with water. 
And the best part is that they rarely leave residue behind or cause buildup. 
Anyway, in such a scenario, what can you do?
Solution:
Well, there are various ways of removing unwanted gloops from stubborn, oil-based pomades. 
For example:
Apply olive oil and wash – olive oil has the natural properties that loosen petroleum. Apply it in small amounts, leave for 15 minutes, and wash with water. Done deal.
Pomade shampoos – Yes. There are special shampoos designed to remove heavy stubborn pomades with ease.
But:
For sensitive scalp, always spray some vinegar after washing with a pomade shampoo. 
Why?
Vinegar has anti-inflammatory, anti-fungal, and anti-bacterial properties and will help to reduce itching caused by some shampoos. 
Here's a short video by Regal Gentleman demonstrating how to remove a tough oil-based pomade from hair.
Before I forget:
Always wear protective gloves when handling pomade to avoid it getting stuck to your hands. Otherwise, you'll have to wash with a lot of dish soap and warm/hot water to get it off your hands.
Conclusion
So, here's the thing:
Pomading your hair has a lot of advantages. For one, it gives you flexible, supple hair that doesn't dry out too easily. 
Also, with some products, you can style and restyle the way you want, anytime.
Nevertheless:
Doing it the right way, avoiding the possible roadblocks, and getting the best result is entirely up to you. Luckily, this page has given you all you need to know and do.
Well?
Do you have any questions? Or would you like to contribute to the topic? 
If so, don't hesitate to post your thoughts in the comments below.
Frequently Asked Questions
No, you shouldn't because it's the easiest way to get pomade-related acne. A condition where the product blocks your scalp pores. Why should this concern you? Well: You'll end up losing close to 100-200 strands of hair every day. As if that's not enough, you may also develop dandruff and scalp irritation.
Not really. Unless you don't mind washing the stains and greasy spots off your duvets and pillowcases every morning. It's always best to wash pomade off or wear a stocking cap before going to bed.
There's no general wear-time. It depends on the strength of your pomade. I suggest reading your product's description for this. Otherwise: Most water-based pomades last 6-12hours once applied. While most oil-based ones stay on for close to 24hours or more.
More from Mike Medders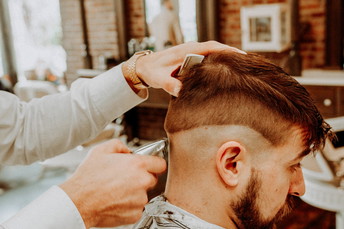 Trust me, I've been on both sides of the chair. I can't count the number of times a client has sat down and struggled…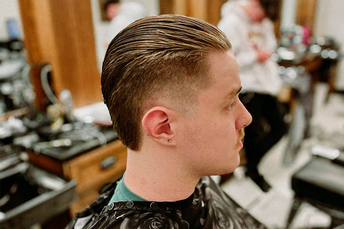 50 Different Ways to Rock the Slick Back Hairstyle for Men 1. Slick Back Fade @jules.thebarber Look: The slick-back…