Combing Through Today's 10 Best Barber Trimmers 2023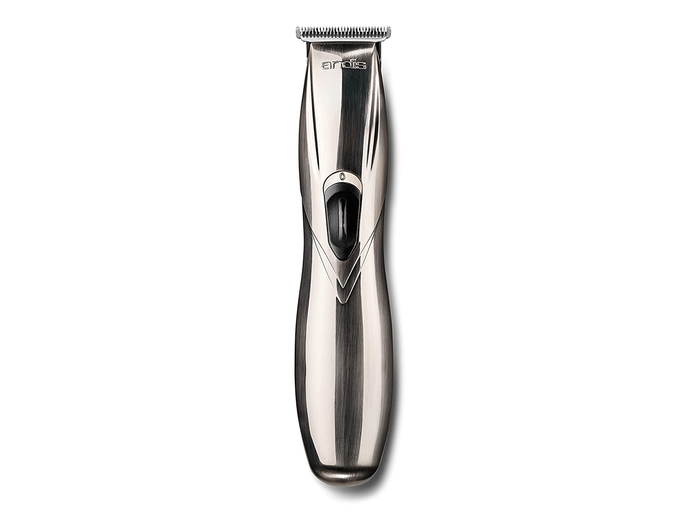 WiseBarber Top Pick
Andis Slimline Pro Li
A lot of people have been asking me:
What are the best barber trimmers today and why are they so popular?
And that got me thinking…
Why do I love using specific hair trimmers in my barbershop? What trimmer qualities best appeal to professional barbers?
Now:
If you are wondering the same thing, this post might get you answers to these burning questions.
In the past, I've tried out several quality hair trimmers. However, I realized that only a few pass as professional beard trimmers for barbers.
And that's why:
In this post, I'll discuss each of them trying to explain why I think they fit the description….
So, let's get down to it.
My goal has always been to provide you with unbiased, firsthand, and accurate information about each of these clippers.
And what makes this post worth reading is the fact that it's comprehensive; i.e. contains all the details you need to know for an informed purchase.
Ready?
Here's what you need to know.
Rating Summary
| Rank order | Product name | Features & Functionality (max. 10) | Usability & Handling (max. 10) | Accessories (max. 10) | Overall Rating | |
| --- | --- | --- | --- | --- | --- | --- |
| 1. | Andis Slimline Pro Li | 9.7 | 9.8 | 9.7 | 97.2 % | See details |
| 2. | Wahl 5-Star Detailer | 9.3 | 9.5 | 9.3 | 93.9 % | See details |
| 3. | BaBylissPRO GoldFX Trimmer | 10 | 9.3 | 8.7 | 93.3 % | See details |
| 4. | Wahl 5-Star Hero | 10 | 9.2 | 8.7 | 92.8 % | See details |
| 5. | BaBylissPRO RoseFX Trimmer | 10 | 8.8 | 9 | 92.8 % | See details |
| 6. | Wahl Edge Pro | 10 | 8.8 | 8.7 | 91.7 % | See details |
| 7. | Wahl Peanut | 8.7 | 9.2 | 9.3 | 90.6 % | See details |
| 8. | Philips Norelco Multigroomer 5000 Series | 8.7 | 9.2 | 9 | 89.4 % | See details |
| 9. | Andis T-Outliner Trimmer | 9.7 | 9 | 8 | 88.9 % | See details |
| 10. | Hatteker Men's Hair Clipper & Beard Trimmer | 8.3 | 8.8 | 9 | 87.2 % | See details |
Now:
From the Andis Slimline Pro to the Hatteker Men's Hair Clipper & Beard Trimmer kit, here's a look at some of the best barber trimmers in 2023:
WiseBarber's Top 10 Best Barber Trimmers 2023
Looking for a flexible and barber-friendly Andis hair trimmer? Well, the Slimline Pro Lithium Ion T-blade Trimmer is probably your best option. It has a sleek design, a powerful motor, and a strong battery.
We can all agree that:
A haircut finish is always the most delicate part of the whole process.
That's why you need a trimmer that's not only flexible and precise but also powerful and easy to use.
And:
With the Andis Slimline Pro Lithium Ion T-blade Trimmer, that's exactly what you get.
For starters, this trimmer looks awesome; it's small, lightweight, and designed in a way that allows for maximum comfort during long-term usage.
Also:
Flexibility and comfort aside, you get to enjoy motor power and impressive T-blade precision for up to two hours per charge.
Impressive?
Well, all these features make the Slimline Pro a must-have barber trimmer.
Pros
It's an impressive performer
Lightweight and very flexible
Easy handling and usage
2-hour long runtime
Elegant design
Great value for money
Cons
The blades can be dangerously sharp
Final Verdict
Hands down, the Andis 32400 Slimline Pro Lithium Ion T-blade Trimmer is the best cordless trimmer in terms of design, performance, and usability. You should definitely consider buying it.
To give 5-Star haircut finishes, you need a 5-Star performer to get the job done. And that's exactly what the Wahl 5-Star Series Detailer #8081 is. It's lightweight, ergonomic, and a true performer.
So:
You've probably heard about the perks and praises of the Wahl 5-Star Detailer #8081.
If not, here's what I can say…
It's compact, lightweight, powerful, and very efficient when it comes to cutting and trimming hair.
Get this:
Unlike other products on the market, this commercial-grade trimmer is well-known to be a 5-star performer when it comes to crafting artistic haircuts and crisp, straight lines.
Thus, it's the best trimmer to buy when you are looking for a compact tool without compromising performance and comfortability.
Awesome, right?
Even better, the Detailer is available as a cordless trimmer too; for barbers who value their freedom and flexibility.
But:
The only major downside to buying the Detailer is that despite its high price tag, it still features cheap, flimsy, plastic parts.
Pros
Lighter than most hair trimmers
Comes with a powerful rotary motor
Compact and very comfy in terms of handling
Highly precise and easy to use
T-shaped blades for better detailing and line designs
Has a decent number of accessories
Available as a cordless trimmer
Cons
Flimsy, plastic switch
Limited number of guide combs
Final Verdict
My relationship with the Wahl 5-Star Series Detailer #8081 goes back years. And to date, I still consider it the best professional barber clippers 2023 for very close and precise trims.
BaBylissPRO GoldFX Trimmer
If you want to step out of the norm to snag a premium and sturdy hair trimming clipper, then I suggest you get yourself a BaBylissPRO GoldFX Outlining Trimmer today. It's expensive but worth every penny.
Talk about "love at first sight."
The GoldFX Outlining Trimmer is probably one of the best and most visually appealing barber trimmers on the market today.
It's beautifully crafted to offer the kind of aesthetic appeal you'd expect from a high-end trimmer.
And, yes…
It's not just about the looks with this one…
You also get to enjoy comfortable handling, a decently long runtime, a smooth grip, and most importantly, a high-quality trimming experience.
Now:
Unlike other cordless trimmers on this list, the GoldFX Outlining Trimmer goes all-in when it comes to power and precision cuts.
And that's all thanks to its sharp, ultra-thin titanium blades and powerful 7200SPM motor. Plus, it works great on any hair type.
It's definitely worth its value.
Pros
Beautiful design and color
Comes with a T-blade designed to offer a 360-degree view
It has a metal casing which makes it hard to break due to impact
Offers up to two hours of runtime
Great grip and handling
Makes very crisp and straight lines with ease
Delivers sharp performance
Comes with a powerful, 7200 SPM motor
Cons
Very expensive i.e. the most expensive item on this list
Final Verdict
If you are looking for something premium, sturdy, designed for professional trimming, and powerful, the BaBylissPRO GoldFX Outlining Trimmer is your best bet.
Much like the prominent Peanut trimmer, the Wahl 5-Star Series Hero Corded T-Blade Trimmer is one of the world's tiniest, professional, high-performance hair trimmers. Here's what you need to know.
Time and time again, it has been said:
"Looks can be deceiving."
And that's often the case with an all-time-favorite - the Wahl 5-Star Hero trimmer.
Speaking from experience:
Despite its compact size, this trimmer is powerful, silent, and most importantly, comfortable to use.
Yes, it's corded, but the Hero trimmer's 8-foot long heavy-duty cord offers you all the flexibility you need to make easy, fast, and high-quality trims and finishes.
Now:
Part of its merits is the fact that this clipper is very compact; that means that it will comfortably fit into your hands.
Hence, lessening the chances of it slipping off your hands or falling.
Get this:
If you combine its compactness and lightweight qualities, you get better handling and usability over extended periods.
Cool, right?
Pros
Compact size for better grip and handling
Comes with a zero-gap tool
Doesn't heat up when used for long
Very lightweight, weighs about 6.4 Oz
Offers ultra-close cuts and high-precision trims
Awesome for skin fades
Cons
Gets noisy when used with guide combs
Final Verdict
Much like the Detailer, the Wahl's 5-Star Hero Corded T-Blade Trimmer is among the best barber tools for fast and easy finishes. Plus, it's a great choice for hair artwork and tattoos. 
BaBylissPRO RoseFX Trimmer
The ROSEFX Gold Trimmer is yet another high-performance grooming device from the BaBylissPRO Barberology brand. It's a little bit cheaper than the Outlining Trimmer, but still an impressive performer.
Now:
Compared to Andis, Wahl, and Oster, BaBylissPRO is still not that common.
However, this brand has quite a number of impressive clippers and trimmers on its product line – and the Barberology Rose Gold FX trimmer is one of them.
How?
Well, for starters, this professional barber trimmer is a great outliner; its T-shape blades are not only precise but also make it so easy to trim crisp and straight lines.
The fact that it's lightweight with textured housing means that you get to enjoy a better grip and can work with this trimmer for longer hours without getting tired.
Also:
It comes with several accessories including 4 guide combs for fading and blending; plus, its all-metal housing means more durability and impact resistance.
Impressive, right?
Pros
It's relatively lightweight
Visually appealing
Little noise inconvenience
Amazing for fades, blending, and hairline design
It features stainless steel blades (zero-gap)
Textured exterior for a firmer and comfier grip
Ultra durable all-metal housing
Impressive battery life
Cons
Overall performance is affected by the battery level
Final Verdict
If you are looking for the best cordless trimmers for barbers in terms of runtime (3 hours), the BaBylissPRO ROSEFX Metal Collection Hair Trimmer is your ideal choice.
The Wahl Edge Pro Bump Free Trimmer is the perfect edger for artistic barbers. It's well-known for its ability to cut clear, crisp, high-definition lines with ease and precision. Here's what you need to know.
Now:
If you are prone to doing highly-detailed and artistic finishes, then you need an efficient edger like the Wahl Edge Pro Bump Free Corded Beard Trimmer.
Why?
Well, this is one of the best professional hair clippers 2023 because of the fact that it provides decently-close cuts, highly-defined lines, and allows for unrestricted maneuverability and flexibility.
The Edge Pro is also a suitable choice for men with sensitive skin.
More so:
It features a strong rotary motor with wide, T-blades to make trimming and hair design an effortless process.
That allows the user to cut crisp, even shapes and lines with ease and as desired by the client.
Pros
It's an excellent and bump-free dry trimmer
Perfect for detailing and high-quality finishes
Powerful motor and impressively precise T-blades
Accessory rich
Very affordable
Easy and comfy handling
Cons
Durability isn't guaranteed
Final Verdict
If affordability is an important consideration for you, the Wahl Edge Pro Bump Free Corded Beard Trimmer is a great choice. It's one of the most affordable professional hair trimmers on this list and a true performer when it comes to artful finishes.
Compact, Versatile, Lightweight, Powerful, and Easy to use. These are just a few of the best features that make the Wahl Professional Peanut Classic (Hair Clipper & Beard Trimmer) a must-have barbershop tool.
Now:
The Wahl #8685 Professional Peanut Classic Trimmer is the best option for barbers looking for less bulky, yet effective, hair clippers.
Plus:
Its small size makes this trimmer easy to move around; allowing for sharp, distinctive, and perfect finishes and hairlines.
Also:
Despite being tiny, the Peanut packs quite a lot of power under its casing; and, you can comfortably use it for long hours without getting fatigued.
Impressive, right?
Pros
Very compact and versatile
Easy to use and handle
fits into any hand with ease
Known for making close and precise cuts
plus, impressive hairlines
Has a powerful motor
It's arguably one of the best barbering trimmers for kids and beard trimming
Easy to carry around
Cons
Doesn't guarantee seamless haircutting
prone to pulling and snagging
Not the best blades on this list for bulk hair removal
Final Verdict
The Wahl Professional Peanut Classic (Hair Clipper & Beard Trimmer) #8685 might not be the ideal choice for a professional, busy barber. But, it does come with a great deal of perks; one of them being that it's the best corded barber trimmer for Kids.
Philips Norelco Multigroomer 5000 Series
The Philips Norelco Series 5000 Multigroom is undoubtedly an all-in-one trimmer. It has four trimming and grooming blades/tools, an abundance of accessories, and an impressively long runtime.
Get this:
If you are a novice barber on a budget, but looking for a decent performer, the Philips Norelco Multigroom Series 5000Trimmer might just be what you need.
Why?
It's a multi-use trimmer that you can use to trim facial, head, and body hair with ease and convenience.
And:
Although a lot of people use it a home, it can also be used in a professional setting owing to its 3-hour cordless runtime, easy handling, toughness, and versatility.
Its biggest selling points include having self-sharpening blades, numerous accessories, and affordability. 
Pros
Ideal for anyone on a budget
very affordable
Very flexible and easy to handle
Impressive 3-hour battery life
ideal for busy barbershops
More value since you can use it as a clipper, trimmer, and nose trimmer
Rich in accessories
Rubber-coated housing for a nice comfy grip
Cons
It doesn't deliver as much power as you'd get in some of the trimmers above
Final Verdict
If you're shopping for the best, All-in-One Cordless hair trimmer kit, the Phillips Norelco Series 5000 Multigroom is an ideal choice. It offers great value for money and is a reliable option for new barbers.
The Andis T-Outliner is probably the best corded barber trimmer on this list because of its numerous performance and design perks. It's reliable, powerful, and efficient. Here's what you need to know.
Get this:
Arguably one of the best Andis trimmers, the Professional Andis T-Outliner is the true definition of a high-performance barber trimmer.
Almost everything about this clipper works toward giving you and your clients the best experience ever.
How?
For starters, it features a powerful motor that delivers enough power to mow through all kinds of hair with ease.
Yes, that includes thick and curly hair.
The Andis T-Outliner also makes fading, blending, and hairline design an effortless endeavor; plus, the contours provide for a firmer grip and comfortable usage.
So:
Why is it not at the top of this list?
Well, much like the Andis Master, this trimmer loses points when it comes to accessories and overheating.
Pros
Fitted with a powerful 7200 SPM motor
Strong, high-quality T-shaped blades for the best finishes
Contoured casing for better grip and handling
It cuts sharp and precise outlines and hairlines
Works great with fades
Cons
Notoriously prone to heating up
You'll have to consider buying guide combs separately since it doesn't come with them
Final Verdict
All things considered, the Andis 04710 Professional T-Outliner Beard/Hair Trimmer is the best corded trimmer in terms of performance. And just like the Andis Master, despite its heating issues and lack of accessories, this trimmer is a must-have for a professional barber shop.
Hatteker Men's Hair Clipper & Beard Trimmer
With the Hatteker Men's Hair Clipper Beard Trimmer, you get to "kill many birds with one stone" thanks to its multi-groom quality and abundance of valuable accessories. Plus, it's a budget-friendly option.
So:
Things get a little more exciting with the Hatteker Men's Hair Clipper Beard Trimmer kit.
It's well designed, aesthetically appealing, a star-performer, and ideal for barbers that go beyond head hair trimming services.
Also:
It comes with numerous accessories and attachments that allow you to do so much more using the same trimmer.
With it, you can:
Trim nose and body hair
Make hairstyle design trims
Cut precise and crisp hairlines
Trim beard hair too
See? More value packed in one trimmer, right?
Plus:
It's relatively lightweight, very portable, and offers versatile charging.
Impressive…?
Pros
It's a multi-use hair clipper
Comes with self-sharpening, stainless steel blades
It is fully washable
It features an LCD display with a battery level indicator
Can be charged using a PC and a USB cable
Highly precise cuts and lines
Accessory rich
17-piece kit including a styling comb
Cuts wet hair
Cons
It takes 90 minutes to fully charge it and you only get 60 minutes of runtime, it won't be of much help during busy hours
Poor quality
Final Verdict
I'd say this is the best cordless hair trimmer for barbers who suffer from runtime anxiety. That's because it allows you to monitor battery capacity as you work to avoid unnecessary cut-outs.
That said:
Let's look at a few critical shopping tips you can use to get the best hair trimmer for barbering today…
5 Important Things to Consider When Shopping for Professional Barber Clippers & Trimmers
Question:
What makes these hair trimmers the best professional tools? Or what do you need to look for in a trimmer for the perfect finish?
Well, here are 5 qualities that make a hair cutter the best:
1. High-Quality Blades
I don't know if you've noticed, but a lot of trimmers come with T-shaped blades.
Why?
It's because, unlike standard square-shape clipper blades, a T-shape blade can easily make more detailed lines and cuts.
Plus, it makes it easy for the blades to cut proper lines around the ears and neckline that are often hard to achieve using a normal hair clipper.
In this case:
Quality also applies to the type of material used to make the blades; you want a trimmer that has strong, durable, and effective blades.
2. Enough Flexibility
Yes!
You want a hair trimmer that offers you sufficient flexibility and freedom of movement; allowing you to make the best trims and lines even in hard-to-reach parts of your client's head.
This is one of the most important qualities in the best barber trimmer. Because more flexibility equals better usability and perfect finishes.
Right?
3. High-Precision Cutting
Obviously, the finishing period of a haircut requires precision to bring out the sharp hairline designs and blends.
Thus, you need professional barber clippers that can make high-precision finishing cuts with ease.
4. Usability, Handling, and Runtime
Take it from me, the best edgers for barbers are usually very easy to use, handle, and can run for longer than a standard clipper.
Why?
Because when it comes to making high-quality haircuts, a lot of time and effort is spent on the finishing and actual styling.
Therefore, if you are using a cordless trimmer, it should have a longer runtime; to enable you to cater to all your clients during peak hours.
5. Strength and Durability
Lastly, a good hair trimmer should be built using strong materials that don't break easily.
You want a trimmer that will be able to withstand long-term usage and frequent (or once-in-a-while) falls. That way, you'll get more value for your money.
Awesome tips, right?
Well, that's just about everything you need to know when shopping for professional hair trimmers.
In Summary…
And that's everything you need to know about these hair cutting tools.
This best trimmers for barbers list and the shopping tips above should be enough for an informed purchase.  It'll help you find the right hair clippers with ease.
Now:
I hope this post was helpful.
And as always, feel free to post any questions you might have in the comments section below.
Frequently Asked Questions
Our pick for the best barber trimmer is the Andis Slimline Pro Li. This trimmer delivers up to 7200 cutting strokes per minute and a 100-minute run time when fully charged. Andis says this is their most powerful cordless trimmer. With this trimmer, no design or outline is too hard to achieve.
Professional barbers are always looking for the most powerful, ergonomic, and long-lasting trimmers. Mostly these are premium trimmers from BaBylissPRO, Wahl, Andis, and Philips. The specific trimmer a barber uses depends on their clients and specialization. For instance, the Andis Slimline Pro L is popular among barbers who specialize in designs.
Depends on what you are looking for. If you are after the highest run time, check out the BaBylissPRO RoseFX, which has a runtime of up to 3 hours. The Wahl Edge Pro is a great budget-friendly option, while the Wahl Peanut is the best trimmer for home use.
Both Andis and Wahl brands have some of the best clippers and trimmers. That is why professional barbers love these brands. Our top pick for the best Andis trimmer is the Andis Slimline Pro Li, while our top Wahl trimmer is the Wahl 5-Star Detailer.
More from Mike Medders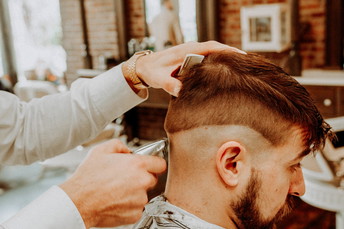 Trust me, I've been on both sides of the chair. I can't count the number of times a client has sat down and struggled…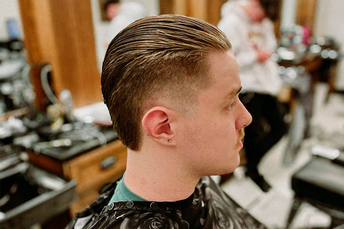 50 Different Ways to Rock the Slick Back Hairstyle for Men 1. Slick Back Fade @jules.thebarber Look: The slick-back…
Newest articles
Ever wondered how often you should be visiting the barber? Well, you're not alone. It's a question that's crossed the…
In the challenging world of barbering, it's not just about mastering the latest trends and techniques. The real game…
Ever wondered how to walk into your barber shop and confidently ask for the perfect fade haircut? Well, you're in the…