Andis T-Outliner Review (2023 Update)
Very precise trimmer
Lightweight and easy to handle
Strong motor
When talking about the best hair trimmers, the Andis T-Outliner is always a part of the conversation. That's because it is a strong, high-precision, and reliable hair trimmer.
Andis T-Outliner Review: The Lining Master!
Let's face it:
It's awfully hard to come by a trimmer that does a great job with facial hair as well as making perfect dry shaves.
The question is…
Does it exist? And if it doesn't, which trimmer comes close to fulfilling these qualities?
Well:
The T-blade Andis T-Outliner comes with a seamlessly unrivaled reputation.
Not only is it great for dry shaves but also it offers users the ease and precision needed to come up with perfectly shaped hairlines.
What's more?
The Andis Outliner may just be the most convenient and effortless trimmer for edge-ups.
That said, the following Andis T-Outliner Review comes with everything you need to know about this amazing trimmer - the good, the bad, and its features.
Ready?
Let's get to it…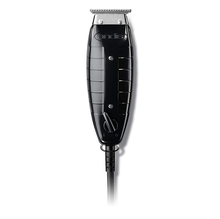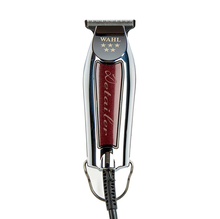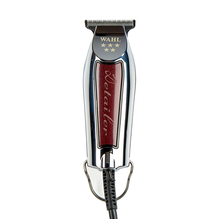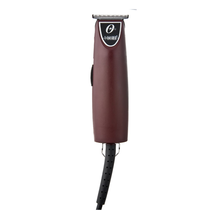 Andis T-Outliner Features and Functionalities
Well:
It is a fact that this trimmer packs a couple of cool features like a powerful magnetic motor, awesomely sharp T-shaped blades, a contoured casing design, and an 8ft long heavy-duty cord.
Here's what you need to know:
Sturdy Magnetic Motor
In case you are wondering:
Why did I use the word "sturdy" to describe the Andis T-Outliner's motor?
Well, it's quite simple!
For a trimmer that boasts of having an electromagnetic motor, being able to cut hair at 7200spm (Strokes per Minute) is definitely quite impressive.
The tool is an ace performer that guarantees speedy and less tiring trims. 
Also:
Its high-performance motor is known to be quieter than other trimmers in its class and price range.
Unparalleled T-Shape Blades
This is where strength meets precision!
How?
Well, the Andis brand is always committed to providing strong blades for their hair trimmers and clippers.
This involves toughening these steel blades with Carbon to ensure that users benefit from the strong blades' efficiency and also durability.
Some say that the Andis T Outliner is too sharp!
Agree?
Well, it's a fact that the blades are unusually sharp which makes them even better for close and precise cuts.
But:
Due to its sharp nature, using this trimmer requires a great deal of caution.
Therefore, when shaving with the Andis T Outliner, you need to ensure you don't get too close to the skin to avoid cuts or injuries.
That being said:
It is still one of the best trimmers for lineups and also arguably among the best trimmers for barbers.
Other Cool Features Include:
An 8ft Long Power Cord - the perfect length for professional or even domestic use.
An intricately designed housing - The Contoured housing makes it easy to firmly grip the trimmer.
Weight and Size - The trimmer weighs just about 0.7lbs and is 5.5' long making it sizeable enough to provide comfort and convenience to its users.
An important point to note:
This Andis trimmer does not come with guide combs! What a bummer?
But, if you need them for beard shaving and trimming purposes, you may have to buy the Snap-On Blade Attachment Combs 4-Comb Set.
Andis T-Outliner Usability and Handling
Now:
From the features discussed above, it's safe to say the trimmer is undoubtedly a first-class performer; with wide T-shaped blades and a 7200SPM motor.
It's easy to use.
Plus, owing to its contoured housing design, this trimmer offers the user a firm and comfortable grip.
Moreover, its simplicity in handling allows anyone, including newbies, to learn how to shave with Andis T Outliner. 
Cool, right?
Also:
It's basically the best choice for people with sensitive skins.
Anyway:
If you are wondering: how close does the Andis T-Outliner cut?
Well, this trimmer has been designed to shave as close as possible while mitigating the chances of accidental cuts.
More so, the Andis T Outliner blade is ideal for edge-ups, beard trimming and shaping, lining, and also neckline trims.
Unfortunately, the trimmer has its own share of flaws…
For one, it heats up quickly. Other users have reported feeling uncomfortable with the contours after prolonged use. Also, it does not come with guide combs that may be essential for some trims.
So, the question here is – are you willing to overlook these flaws.
Andis T-Outliner Comparison: How Different Is It From Other Trimmers?
Get this:
For a better sense of the merits and demerits of the T-Blade Outliner, a few comparisons must be made.
For example:
Note:
A lot of people often ask - what's the difference between Andis T-Outliner and Outliner 2?
Well:
Aside from being identical in terms of motor power, weight and size, these two clippers do have one peculiar disparity!
Which is?
The T-Outliner's blades assume a broad T-shape making them ideal for finishes. Also, its broadness increases the surface area covered by the blade making it a fast trimmer.
On the other hand…
The Outliner II has a square-shaped blade with bigger teeth than the T-blade Outliner. It's ideal for dry/bald shaving.
Moving on…
What's in the Box?
Now:
This is where things start to get disappointing.
Why?
Well, unlike most trimmer and haircutting tools these days, the Andis T-Outliner doesn't come with accessories.
You'll only get:
Blade oil
Blade guard (if you're lucky)
So, it doesn't really offer value for money; considering the fact that you may be forced to buy essential accessories at an extra expense.
Agree?
Summary of Merits
Pros
Ideal for precision cuts
Durable shape and design
Great choice for people with sensitive skin
An Awesome dry shaver
Strong and Adjustable blades
Great performer (cuts at 7200SPM)
Cons
Has Heating problems
Lacks essential attachments
My Final Verdict
So:
From the review above, there's actually not much to add about the Andis T-Outliner. We've covered its good side as well as its bad comprehensively.
But:
To recap what we've discussed above, it's evident that the Outliner is a powerful high-performance trimmer.
Plus, it's well known for its smoothness and ease while trimming.
Now:
Weighing that with the fact that it overheats sometimes and that it does not come with guide combs, you'll be able to come to a conclusion on whether or not it's worth buying.
Anyway:
I hope this review has been helpful. If you have any questions or thoughts you want to add, feel free to leave a comment below.
#StaySafe
Frequently Asked Questions
Well, the Andis T-Outliner is primarily used for hair trimming, lineups, hairline design, and haircut finishing. However, its strong motor and sharp blades make it ideal for dry and bald shaving too.
Yes. In fact, these trimmers are among the best in the market. Why? Aside from its thoughtful design, the T-Outliner offers fast and impressive performance. Plus, they are very precise and easy to use.
I'd probably go with the GTX. But, it depends on how you look at it. On one side, the T-Outliner is an iconic, reliable, fast, and powerful hair trimmer. On the other, the GTX comes with deep-tooth blades. This means smoother, one-pass trims; even on coarse hair types. Plus, the GTX comes with guide combs.
Yes. The Andis T-Outliner comes fitted with sharp, close-cutting blades that deliver razor-like results. Thus, it's also ideal for men who want a clean shave or bald haircut.
More from Mike Medders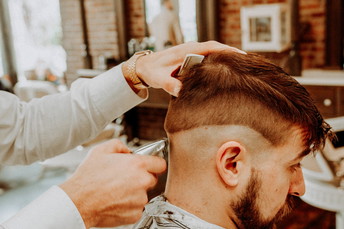 Trust me, I've been on both sides of the chair. I can't count the number of times a client has sat down and struggled…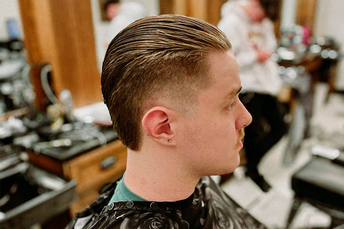 50 Different Ways to Rock the Slick Back Hairstyle for Men 1. Slick Back Fade @jules.thebarber Look: The slick-back…