Shopping Guide: A Look at the Best Clippers for Black Hair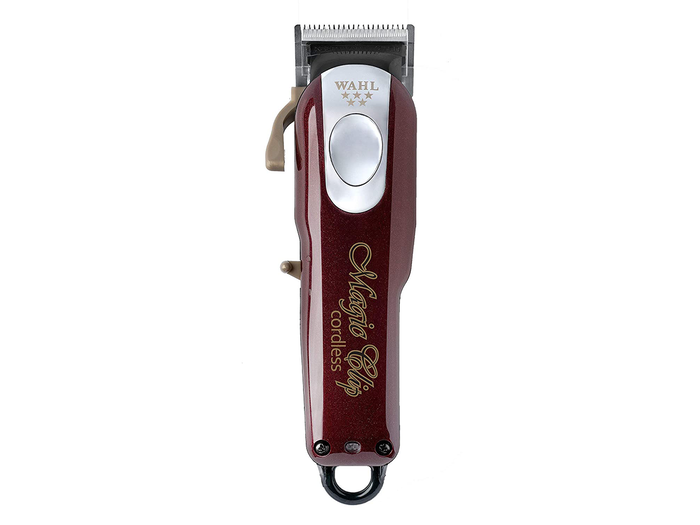 WiseBarber Top Pick
Wahl Magic Clip Cordless
Did you know that:
Hair growth and type differ between people of different ethnicities despite having the same biological and structural composition.
Well, that's a fact.
And if you're used to servicing a diverse clientele at your barbershop, this is something you may have noticed over time.
Now:
Black hair is unique in its own ways.
But some of the most apparent qualities of Afro-American hair is that they are usually very curly, kinky, and often grows from a flat-shaped hair follicle.
Which is why it's sometimes difficult to style black hair unless you have the right tools.
So:
If you've been searching for the best clippers for black hair, this post is for you.
Here, I'll walk you through everything you need to know about the most ideal hair clippers for your Afro-American clients.
Note:
My goal has always been to give readers an unbiased, reliable, and trustworthy POV on the best barber products to buy.
That's why:
This review comparison comes from personal experience, first-hand user feedback, as well as comments from various expert barbers.
Ready?
Well, without any further ado, let's dive in…
Rating Summary
| Rank order | Product name | Features & Functionality (max. 10) | Usability & Handling (max. 10) | Accessories (max. 10) | Overall Rating | |
| --- | --- | --- | --- | --- | --- | --- |
| 1. | Wahl Magic Clip Cordless | 9.3 | 9.8 | 9 | 93.6 % | See details |
| 2. | Andis Master | 9.8 | 9 | 9 | 92.5 % | See details |
| 3. | Oster Fast Feed | 9.3 | 9.7 | 8.7 | 91.9 % | See details |
| 4. | Andis T-Outliner Trimmer | 9.7 | 9 | 8 | 88.9 % | See details |
| 5. | Remington HC4250 ShortCut Pro | 7.8 | 9.3 | 9 | 86.9 % | See details |
All good?
Now, let's get into the nitty-gritty. Here's a quick look at each clipper and what it has to offer…
Today's Top 5 Best Clippers for Black Hair
Arguably, the Wahl Professional Five-Star Cordless Magic Clip #8451 is among the best hair clippers ever made. It has a great design, impressive blades, strong motor, and guarantees a worthwhile experience.
Now:
You might be wondering…
Why is the Wahl Professional 5-StarMagic Clip the best?
In short, this clipper is precise, flexible, ergonomic, and a gem when it comes to cutting African-American black hair.
It features an awesome stagger-tooth blade design coupled with a strong motor.
Plus:
Its intuitive design, cordless, and lightweight nature ensure usability and freedom.
Overall, the Magic Clip by Wahl is an all-round clipper with the ability to cut, fade, and blend any hair type with ease.
And:
That's why it's ranked as the best hair clipper for fades.
So, if you've been wondering:
What clippers do black barbers use? This tool is definitely one of them.
Pros
60 minutes of runtime on a single charge
Tons of flexibility and convenience
Style and aesthetics boost
Easy to cut black hair
Handling is a breeze
Best blades on the market today
Accessory-rich packaging
It's lightweight
Cons
A bit flimsy
Extremely sharp blades
Final Verdict
So, if you are looking for a truly professional hair clipper that offers value for money, I'd really recommend getting this. The Wahl 5-Star Cordless Magic Clip #8451 is not only a performer but also quite impressive at handling black hair.
When talking about the most iconic hair clippers ever built, it's hard not to mention the Andis Master. This heavy-duty clipper has been an all-time favorite owing to its power, precision, and performance.
Arguably one of the best balding clippers for black hair, the Andis Professional Master Adjustable Blade Hair Clipper is well worth its price tag.
Why?
It's not only strong and efficient but also designed to cut through any kind of hair with ease and precision.
The Andis Master is a heavy-duty hair cutter with highly-precise blades and a 14-000SPM motor. Thus, it always guarantees quick and clean cuts with minimal effort from the user.
Let's face it…
Only a handful of clippers can match up to the Master's prowess when it comes to precision, power, hair styling, and performance.
Plus, it's a clipper worth having for barbers who do a lot of fades.
Pros
Easily adjustable and sharp blades
Very user-friendly
Easy to zero gap
Lightweight and durable
Fast cutting motor – 14,000 SPM
Ideal for professional use
Great fading clipper
Cons
Heating can be a problem
Limited accessories
Final Verdict
If you are big on fades and high-performance cutting, I'd recommend getting the Andis Master Adjustable Blade Hair Clipper. It's a true barber clipper with so much to offer. But that is if you're willing to overlook its lack of accessories and heating issues.
The Oster Fast Feed Hair Clipper's popularity stems from the fact that it's a good quality clipper; with no noise or heating inconveniences. Works great as a barbershop haircutting tool. Plus, it's easy to use.
So, you don't like noisy hair clippers?
Well, have you tried the whisper-quiet, powerful, and efficient OSTER Fast Feed?
Get this:
It is not only one of the best clippers for black hair but also a natural, 5-Star performer.
Basically, the Fast Feed can cut through just about any type of hair without any snags, pulls, or grumbling.
Generally:
It's powered by a strong yet silent motor that ensures you cut through hair without being overwhelmed by the clipper's buzzing.
Other things to love about the Fast Feed are its sharp blades, semi-compactness, and comfortability during use.
Pros
Whisper quiet, yet powerful motor
Strong and sharp precision blades
Durable casing that's easy to grip
8-foot power cord for added flexibility
Comes with four guide combs
Textured exterior for added comfort
No heating issues
Cons
Flimsy attachment combs
Limited accessories
Final Verdict
For me, the Oster Fast Feed Hair Clipper is a strong BUY. Why? Because this haircutter is reliable, easy to use, and quite the performer. Yes, it does have shortcomings – but then again, there's no such thing as a 100% perfect tool. Right?
If you are looking for a tool that serves as both a clipper and trimmer, get the Andis Professional T-Outliner Trimmer. It's fitted with a strong motor and sharp blades for easy haircutting and finishes.
Well:
The Andis Professional T-Outliner is quite popular as a haircutting tool.  
And that has many wondering:
Why is it one of the best clippers or trimmers for fading black hair?
Well, for starters, its reputation as a high-quality professional cutter and groomer always precedes it. Moreover, the T-Outliner features a T-Shaped blade that makes trimming, fading, and blending child's play.
And:
Don't even get me started on its powerful 7200SPM motor.
This hair trimmer features a comfy design and contoured housing for a nice grip and better hair cutting experience.
Plus, it works on all dry hair types.
Pros
It's great when it comes to precision cutting
Very durable
Ergonomic design
It cuts through all kinds of dry hair like a hot knife slicing through butter
Features strong, high-quality, adjustable blades
Ideal for people with sensitive skin
Lightweight for easy and comfortable handling
Cons
Tends to heat up when used for long
Limited accessories
Final Verdict
Despite its heating issues and lack of accessories, the Andis T-Outliner offers the best of both worlds. You can use it for hair clipping as well as finishing and styling. And that makes it an invaluable tool for professional barbers.
Remington HC4250 ShortCut Pro
Now, if you're looking for something compact, easy to use, and great for home haircutting, get the Remington Shortcut Pro Self-Cut Kit. Despite its size, this clipper's blades work great on most hair types.
Yes!
If you are more interested in the best clippers for black hair at home, the Remington HC4250 Shortcut Pro Self-Haircut Kit might just be it.
Basically:
It's small, easy to use, cordless (for added flexibility), and features great shape and body designs that make cutting black hair at home a walk in the park.
And what's more:
It comes with a full set of guide combs to ensure you have an easy time with your home haircut.
Pros
Curved, wide and sharp blades for easy and fast self-cuts
40 minutes of runtime (more than enough for a home Buzzcut)
Lightweight and easy to handle
100% washable
Easy maintenance
Best for personal hair and beard grooming
Cons
It takes 4 hours to charge and 40 minutes to run out of juice. So, not ideal for professional use
Weak motor
Final Verdict
If you're shopping for a professional barber hair clipper, the Remington Shortcut Pro Self-Cut Kit won't be as ideal for you as it is for home barbers. But it does offer value, freedom, flexibility, and simplicity to men/women who want to cut their hair from home.
And that concludes my list of the five best hair clippers for Afro-American hair.
But:
Before I wrap this up; what are the qualities you need to look for when shopping for a good clipper for black hair?
Well, read on to find out…
5 of the Best Shopping Tips for Black Hair Clippers
Now:
Before you whip out your credit card (or wallet) to pay for a black hair clipper, you need to know why it is the right one for the job.
And to do so, you have to look at some of the features and qualities you get from the clipper.
For example:
1. The Motor
Motor power is essential because it determines how strong your clipper will be and its ability to cut through all kinds of hair.
But:
Note that motor power comes at a cost (in the form of noise and sometimes heat) in most clippers.
2. The Blades
Power alone can't guarantee you smooth cuts, you also need high-quality blades.
Basically:
Enough power plus quality blades are the perfect combo when it comes to hair clippers.
3. Flexibility: Corded or Cordless?
This is one of the most common questions in the industry today.
Truth is; any can do!
Yes, cordless clippers are the most flexible.
But:
You can have a corded clipper with a power cord that's long enough to offer you the same amount of flexibility you'd get from a cordless one…
… Without having to worry about the battery running out.
Anyway, this decision will greatly depend on your preferences.
4. Ergonomics and Usability
Ask yourself:
Does the overall design and shape of the clipper offer you comfort and ease? Can you use the clipper for long periods?
If not, swipe left… I mean, move on to the next one. :D
5. Accessories
Lastly, you want to look at the accessories you get with the clipper.
Are they enough? Also, will they help to simplify your work in the long run?
Now:
When I say accessories, I'm talking about guide combs, barber combs, shears, travel packs, cleaning tools, and lubricating oil.
In Summary…
There isn't much to say here.
By now, you already know which are the best clippers for black hair.
And:
If you don't like any of the ones on this list, I've given you a few shopping tips you can use to check whether your favorite clipper meets your needs.
Either way, you are all set to make that purchase.
So:
Do you have a question? Would you like to add some wisdom to the topic?
Please do so in the comments section below - your thoughts are always welcome.
Frequently Asked Questions
Wahl. It's one of the biggest and most reliable hair clipper brands globally. This brand's lineup includes notable haircutting tools like the Wahl Senior, Wahl Magic Clip, Wahl Legend, and the Wahl Balding Clippers. Other popular brands include Andis, Oster, Remington, and BaBylissPRO.
An Afro might seem like the easiest hairstyle to rock, however, trimming and maintaining its shape takes skill. When cutting an Afro, it's important to use a hair clipper that's lightweight, easy to maneuver, and feels comfy in hand. Moreover, to avoid accidentally digging into the Afro, it's always wise to use a gliding motion with your clipper. That means passing the haircutter gently over the hair to trim out any uneven areas. Obviously, this level of precaution will warrant multiple passes. But, the end result will be worth it.
Based on my interaction with industry professionals, it's been evident that black barbers often prefer heavy-duty and fade hair clippers. This includes the Wahl Magic Clip & Senior, Andis Master, BaBylissPRO GoldFX Series, as well as the Oster Classic 76 & Fast Feed.
More from Mike Medders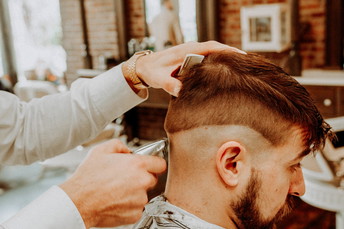 Trust me, I've been on both sides of the chair. I can't count the number of times a client has sat down and struggled…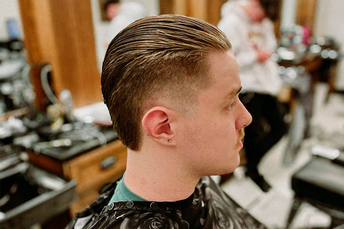 50 Different Ways to Rock the Slick Back Hairstyle for Men 1. Slick Back Fade @jules.thebarber Look: The slick-back…
Newest articles
Trust me, I've been on both sides of the chair. I can't count the number of times a client has sat down and struggled…
50 Different Ways to Rock the Slick Back Hairstyle for Men 1. Slick Back Fade @jules.thebarber Look: The slick-back…
Here is the thing: Manscaped's Peak Hygiene Plan subscription might be one of its sneakiest marketing tactics. Thanks…