WiseBarber's Best Pomade For Curly Hair Men In 2023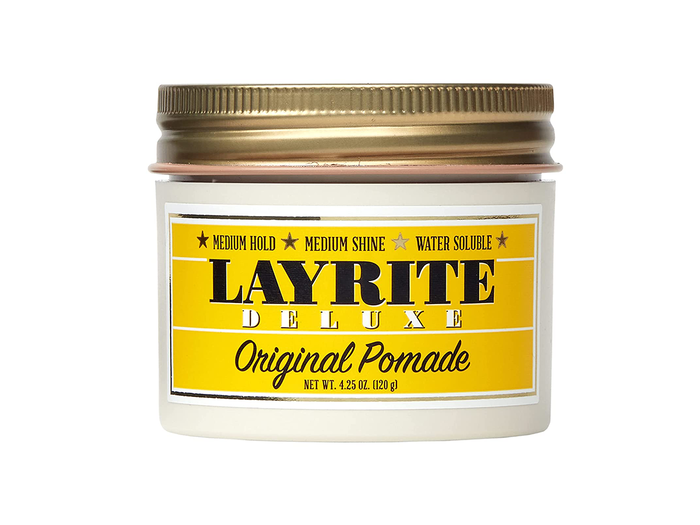 WiseBarber Top Pick
Layrite Original Pomade
Pomades are particularly helpful for taming flyaways, defining curls, and adding bounce to your hair.
So:
I have compiled a short list of best pomades for curly hair for men in 2023.
Here, I have researched each product to help you make a fast and easy decision . Every pomade on this list is based on merit, functionality, price, and effectiveness.
Now:
I am going to walk you through a list of the best pomades for wavy and curly hair. In brief, this post will cover:
A quick summary of products ratings.
How products compare to one another in terms of specifications.
Short reviews detailing the pros and cons of each pomade.
Things to consider when buying pomade for wavy and curly hair.
And a few answers to Frequently Asked Questions.
Sounds good, yeah?
Well, let's get right into the rating summary.
Rating Summary
| Rank order | Product name | Features (max. 10) | Usability (max. 10) | Value (max. 10) | Overall Rating | |
| --- | --- | --- | --- | --- | --- | --- |
| 1. | Layrite Original Pomade | 9.8 | 10 | 9.8 | 98.7 % | See details |
| 2. | Suavecito Pomade Original Hold | 9.5 | 9.4 | 9.6 | 95 % | See details |
| 3. | Imperial Classic Pomade | 9.4 | 9 | 9.6 | 93.3 % | See details |
| 4. | Reuzel Pink Pomade Grease | 8.7 | 9 | 9 | 89.1 % | See details |
Probably:
You might be wondering; why did these products make the cut?
Well:
You'll get your answer as I review each pomade below.
Top 4 Best Pomades for Curly Hair Men in 2023
This is one of the best hair pomades on the market. It is very popular and is widely recommended for men looking for a suitable styling pomade for their curly hair.
When applied to curly hair, Layrite holds the hair just enough to keep it looking good all day.
Guess what:
Despite having such a strong hold, it does not make your hair rock hard and flaky.
Moreover, Layrite Deluxe boasts of being scientifically formulated to hold like wax and wash out like gel. It is no bluff.
As for its scent:
It has a sugary sweet scent with a dash of vanilla and marshmallow.
More so, this pomade's texture is consistent with that of solidified hair gel; i.e. a tad thick and sticky.
Pro tip:
You can apply this pomade to your natural hair while it's dry, damp, or wet.
Additionally, you do not necessarily have to follow the jar's suggestions that say to apply pomade to wet hair and then blow-dry.
This pomade will give your hair a higher hold and lower shine, irrespective. It works best on wavy or curly hair. However, you can also use it on thick hair.
Pros
It offers your thick hair a great hold
It is water-based and easy to wash off
Contains good and healthy ingredients
Makes your hair shine nicely
Nice smell
Easy to use for styling curly hair
Cons
Might not hold well for very tight curls
Final Verdict
As I stated earlier, Layrite Deluxe pomade is arguably the best pomade for thick, curly hair for men. That's why it is worth buying.
Suavecito Pomade Original Hold
Suavecito is one of the most discussed pomades on the market. Altogether, It is a great product which offers amazing value.
In use, this pomade has a creamy consistency. Its hold is one of its biggest perks. Also, it has a great strength-to-weight ratio.
Note:
This product consists of a water-based formula that allows for easy application and removal. Without any special shampoo or soap, it washes out thoroughly.
Suavecito reassures customers that the pomade is not formulated with any harsh chemicals that could damage hair.
Plus:
It may hold like gel, but it does not flake on you.
Pro tip:
If you are going for more shine, you should apply this pomade to your hair when it is wet and vice versa.
Pros
It has great hold
Ideal for thick and wavy hair
Nice subtle smell
Dries faster than most other products
Cons
Can dry out your hair/scalp
Final Verdict
Despite varied opinions, Suavecito Strong Hold Pomade receives my seal of approval.  It is an awesome product for men with curly or wavy hair. This pomade gets the job done and does it better than most products.
Besides its impressive holding strength, the Imperial Barber is known for other great qualities; making it one of America's best styling pomades.
Get this:
The Imperial Barber for curly/wavy hair has impressive pomade qualities coupled with the ease of a gel.
This styling product claims to provide a firm hold and no flaking.
However, the strength of the hold is determined by the amount of the product and water used during application.
What about its scent?
Well:
Imperial Barber Pomade has a classic imperial scent; like a sweet and fresh aloe vera product.
Pros
Medium to strong hold
No melting or flaking
Rinses clean and easy
Infused with hydrating vitamin B5
Dries quickly
Cons
Achieves better result when your hair is damp
Does not possess the maximum hold limit
Pricey
Final Verdict
Although it is not perfect, the Imperial Barber pomade is better than you might expect it to be. This product is strong but does not offer the kind of hold like other alternative water-based products.
Reuzel Pink Pomade Grease
Formulated with beeswax, the Reuzel Grease Heavy Hold boasts an excellent hold on the thickest and curliest hair.
Get this:
The Reuzel Grease Heavy Hold pomade comes in a pink and rustic aluminum twist top jar.
It features a lovely apple scent. Plus, this pomade has a milky white appearance and a creamy texture.
Its Beeswax content isn't just there to ensure a strong hold. It also guarantees moisture retention in your curly or wavy hair strands.
Also:
Reuzel Grease Heavy Hold is an oil-based pomade that offers medium shine and a firm hold.
Despite its slightly thick consistency, applying this product to your hair is quite easy and fast. Unfortunately, the real struggle is getting it out of your hair; mainly due to the fact that it's oil-based.
Pros
Firm hold
Perfect for curly and wavy hair
Tames cowlicks and growth patterns on tought thick hair
Smells great
Cons
Greasy
Difficult to wash out
Final Verdict
If you have very curly and thick hair, then you should go for this pomade. Unless you absolutely cannot stand the sight and feel of grease.
4 Things to Consider When Shopping for Wavy and Curly Hair Pomades for Men
1. Fragrance
First:
You should note that getting the right scent isn't always about getting something you like.
It's imperative to consider how comfortable you and those around you will be. If you buy a badly or strongly-scented hair pomade, it may end up causing unintended discomfort to others.
2. Hair Type
Obviously:
You do not want to get something that is too heavy or too light for your hair type.
If you have fine hair, opt for a light-hold, less greasy, and lightweight pomade. But, for thick-haired men, a strong and heavy pomade will help you to tame and style your hair.
3. Shine or Finish
This depends on your preferences.
For men who prefer a natural-looking hairstyle finish, a matte or low shine pomade will do. But, if you'd prefer a slick, greasy, and shiny hairdo, go for high shine styling pomades.
4. Strength/Hold
Note:
The amount of hold you get in a pomade determines whether or not your hairstyle will stay in place.
And, as mentioned earlier, fine hair types will do just fine with low to medium hold pomade.
But, for guys with tough, thick, untamable hair, it's important to buy a strong, high-hold styling product.
Also, note that most medium-hold pomades are great for those looking to style hair with a bit of pliability. 
Conclusion
No doubt:
Choosing a suitable pomade for your curly hair calls for careful consideration of different products and factors.
But ultimately, only you can decide what works for you.
However, I hope my short list has simplified your decision-making process. If you have suggestions or questions, I'd appreciate you dropping them in the comment section below.
#StaySafe
Frequently Asked Questions
Pomades are excellent for sculpting, slicking, and styling curly hair in place. They help you to experiment with daring, new styles.
With curly hair, pomade is always the better choice. That is because most pomades do not leach away the moisture that curly hair thrives on.
Yes. Pomades help to catch and tame flyaways.
Get to know your hair type - do you have thick or fine hair? Also, you should get pomades based on the results you want to achieve.
More from Mike Medders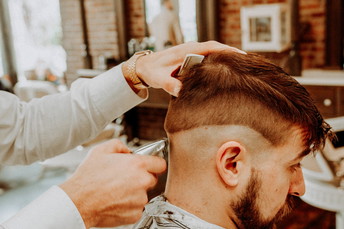 Trust me, I've been on both sides of the chair. I can't count the number of times a client has sat down and struggled…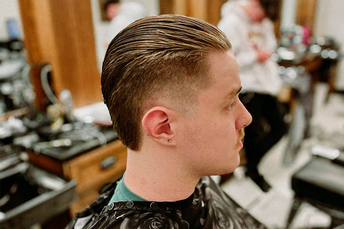 50 Different Ways to Rock the Slick Back Hairstyle for Men 1. Slick Back Fade @jules.thebarber Look: The slick-back…
Newest articles
Trust me, I've been on both sides of the chair. I can't count the number of times a client has sat down and struggled…
50 Different Ways to Rock the Slick Back Hairstyle for Men 1. Slick Back Fade @jules.thebarber Look: The slick-back…
Here is the thing: Manscaped's Peak Hygiene Plan subscription might be one of its sneakiest marketing tactics. Thanks…