WiseBarber's Best Pomade for Slicked Back Hair in 2023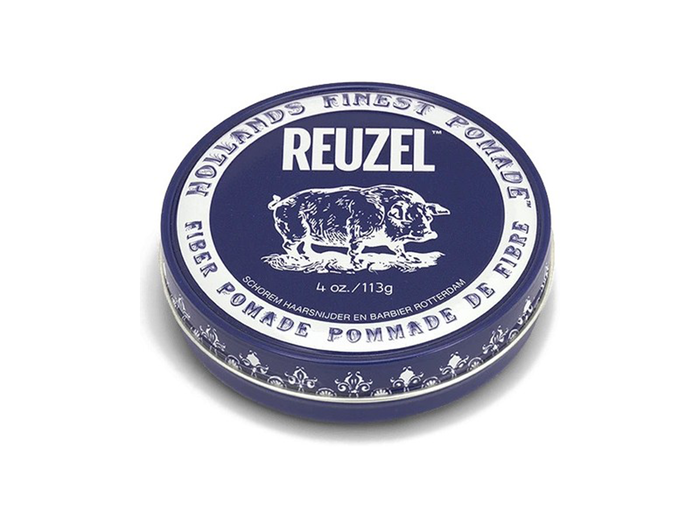 WiseBarber Top Pick
Reuzel Fiber Pomade
Get this:
It's practically impossible to slick back your hair without any product at all.
Among all the available options, most people prefer pomades. And it's not difficult to understand why.
Pomades have proven - time and again - that they are the best hair styling products for men looking for a sleek, well-styled, and firm hairdo.
What's more?
They also moisturize and give hair a healthy dose of shine when it's all dry and dull.
So:
Based on my personal experience as well as client feedback at the barbershop, I've compiled this list of the best pomades for slicked-back hairstyles; to help you make a quick and seamless purchase decision.
Generally:
All pomades in this list have been considered based on merit, functionality, value, and effectiveness.
Now:
Let's have a look at the rating summary for a general feel of each product.
Rating Summary
| Rank order | Product name | Features (max. 10) | Usability (max. 10) | Value (max. 10) | Overall Rating | |
| --- | --- | --- | --- | --- | --- | --- |
| 1. | Reuzel Fiber Pomade | 9.8 | 10 | 9.7 | 98.6 % | See details |
| 2. | Fiber Grease Pomade | 9.5 | 9.4 | 9.5 | 95 % | See details |
| 3. | Suavecito Firme Hold Pomade | 9.3 | 9 | 9.5 | 93.5 % | See details |
| 4. | Baxter of California Hard Water Pomade | 8.7 | 8.9 | 9 | 88.5 % | See details |
By now:
You're probably wondering how I arrived at these four products and classified them as the best to slick back men's hair.
Well:
Stay with me - you'll see.
4 Pomades That'll Effectively Slick Back Your Hair
The Reuzel Fiber Pomade is one of the best pomades for doing any slicked-back hairstyle. It has an excellent hold on thick and curly hair types.
Alongside its lovely apple scent, the Reuzel Fiber Pomade has a milky white appearance and creamy texture. It also contains coconut oil.
In addition:
It is formulated with Beeswax that ensures a strong hold for thick hair and guarantees moisture retention when you use it to slick back hair.
Also:
Applying Reuzel Pomade to your hair is relatively easy due to its smooth texture.
Pros
Firm hold to tame unruly hair
Nice and gentle scent
Lasts longer in the hair
Final Verdict
To achieve the best slicked-back style for your hair, you should go for the Reuzel Fiber Pomade. It's an awesome and value-packed hairstyling product.
Formulated in Japan, the Fiber Grease Pomade is a water-based hair styling product with a lot to offer. It gives great value for money, is affordable, and has very good reviews from users.
So:
Coming up second on my list is this water-based pomade rapper G-Eazy swore by at some point.
Although its name is "Fiber Grease," it is grease-free and washes out easily.
Since this is a Japanese product, it is no surprise that it holds pretty well for pin-straight hair. Also, aside from keeping hair in place for long, it adds texture.
What's more?
This pomade has a fruity smell that many have likened to apple, synthetic pineapple, and even puke.
However, I can assure you that it is not that bad.
Fortunately, the smell is not strong enough to be overwhelming, and it fades away after application.
Pros
Gives hair a firm hold
It's water-based and easily washes off
Offers long-lasting shine
Sweet scent and smell
Easy to apply and use for styling
Cons
It might not hold well for tight curls
Final Verdict
The Fiber Grease pomade is water-based and might not offer the kind of hold wax-based pomades do. However, it still works well for men with curly and wavy hair.
Suavecito Firme Hold Pomade
Suavecito Pomade is also one of the top picks for men looking to achieve slicked-back hair. Altogether this pomade offers considerable value, impressive hold, and decent styling.
Get this:
Suavecito prides itself on producing pomades that are free of harsh chemicals; that could be detrimental to your hair's health.
That said:
The Suavecito Firme (Strong) Hold Pomade has a water-based formula, thus, is easy to apply and wash off the hair.
More so:
It boasts a very strong hold with minimal shine.
But:
If you're going for that extra sleek and extra shiny finish, then you should apply this pomade to your hair when it's slightly damp.
What's more?
This pomade has a creamy consistency; making it easy to apply and style with. Moreover, you can conveniently and effortlessly rinse it out when the hairdo has served its purpose.
Pros
Great hold and firmness is assured
Best applied on thick and wavy hair
Works well on wet or dry hair
Great value for money
Cons
May cause the dryness of the scalp
Final Verdict
Although some may argue that the Suavecito Firme Hold Pomade is not so great. Personally, I beg to differ. Its perks outweigh its negatives. So, if you ask me, it is worth a shot.
Baxter of California Hard Water Pomade
Baxter's hard water Pomade is an excellent product with amazing value. It gives hair a shiny look and soft texture. In a nutshell, this is your best pick if you're looking for an all-day hold.
The Baxter of California Hard Water Pomade is best suited for straight and wavy hair types. It molds and texturizes hair into place with ease.
Also:
This pomade gives a firm hold when applied to hair. Hence, you can count on it to keep your hair in place for a reasonably long time.
Get this:
The Baxter of California gives most slicked back hairstyles a shiny look and soft texture; and controls hard-to-manage hair with its elastic fiber.
Moreover, this styling product has a water-based styling formula that contains glycerin and Mica.
Hence, it effortlessly blends into the hair and is easy to wash off as well.
Pros
Suitable for all hair types
Gives a shiny look
Hold lasts for longer periods
Easy to apply and wash off
Final Verdict
Baxter's Hard Water Pomade contains elastic fiber that helps control and texturize tough hair types. All in all, I highly recommend it.
How to Choose the Best Pomade for a Slicked Back Style
1. Hair Type
You should ensure that whatever pomade you decide to go for is suitable for your hair type.
Generally:
If you have fine hair, it is advisable to go for a less greasy and light texture pomade. However, if you have thick hair, ensure you go for a thick and heavy texture pomade; for the best results.
2. Fragrance
Irrespective of your hair type, do not go for pomades with bad or heavy scents that will cause discomfort to you and others.
3. Shining or Matte Look
If you prefer a shiny look for your slicked-back hair, a slick, oily, and greasy pomade will get the job done. For those who prefer a natural look, a matte or low-shine pomade will do.
4. Longevity
Now:
For those who do not have the luxury of time to apply pomade more than once a day, hold longevity should be a factor to consider.
5. Strength/Hold
You should always use Low or Medium hold pomade on fine and straight hair types. But for guys with tough, thick, and dry hair, buy a solid and high-hold styling pomade.
Conclusion
Evidently:
Choosing the best pomade slicked back requires thorough consideration and proper review of the chemical components.
Because the last thing you want is to damage your hair with bad ingredients and some poor features of the hair product.
So:
Always ensure you pick what works best for you and is suitable for your hair type.
Do you have any questions? Would you like to share your thoughts on this? If so, don't hesitate to leave a comment in the comments section below.
#StaySafe
Frequently Asked Questions
Yes, Pomade is one of the best hair products for a proper slicked-back hairstyle.
I'd recommend pomade. Why? Because pomade gives the nice hold a gel typically offers. But, unlike gel, you won't have to worry about flaking and weighing down your strands.
You can slick back all hair types. However, the easiest type to slick back is straight hair.
More from Mike Medders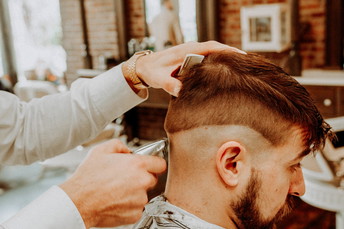 Trust me, I've been on both sides of the chair. I can't count the number of times a client has sat down and struggled…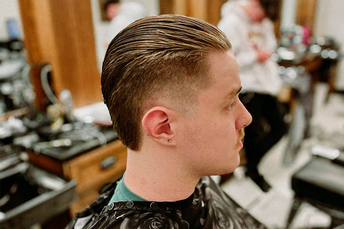 50 Different Ways to Rock the Slick Back Hairstyle for Men 1. Slick Back Fade @jules.thebarber Look: The slick-back…
Newest articles
Ever wondered how often you should be visiting the barber? Well, you're not alone. It's a question that's crossed the…
In the challenging world of barbering, it's not just about mastering the latest trends and techniques. The real game…
Ever wondered how to walk into your barber shop and confidently ask for the perfect fade haircut? Well, you're in the…