MANSCAPED Lawn Mower 4.0 Review After 6-Month of Use
Impressive, skin-safe, ceramic blade
90-minute battery runtime
Very ergonomic
Availability issues
i.e. often sold out
Let's be honest:
Tackling the nitty-gritty of grooming below the belt is never a walk in the park. In most cases, you may encounter awkward shaving mishaps or irritation after a shave.
And that's definitely not what you signed up for.
Well:
If you ask any expert (like me), they'll tell you that having the right grooming tools can make a huge difference in the outcome of pubic grooming.
That said:
Six months ago, I gave in to the hype and bought the Manscaped Lawn Mower 4.0. Word on the street was that it's the best tool for body hair trimming.
And:
After rigorous testing and several interesting ball-shaving sessions, the million-dollar questions are…
Does it live up to the hype?
Or better yet, what makes this ball shaver the "real deal"?
In this in-depth review, I'll go over everything you need to know. From its impressive blade technology to the LED light that gives you spotlight accuracy.
So, let's get started.
MANSCAPED Lawn Mower 4.0 Features
Now:
One thing I love about the MANSCAPED Lawn Mower 4.0 is that it comes packed with a ton of modern features. Which is why it's easy to use and a game-changer with regard to body grooming.
So, here's a breakdown of all the cool tech that makes this trimmer worth it, especially, where it counts:
Ceramic, Detachable Blade with SkinSafe Technology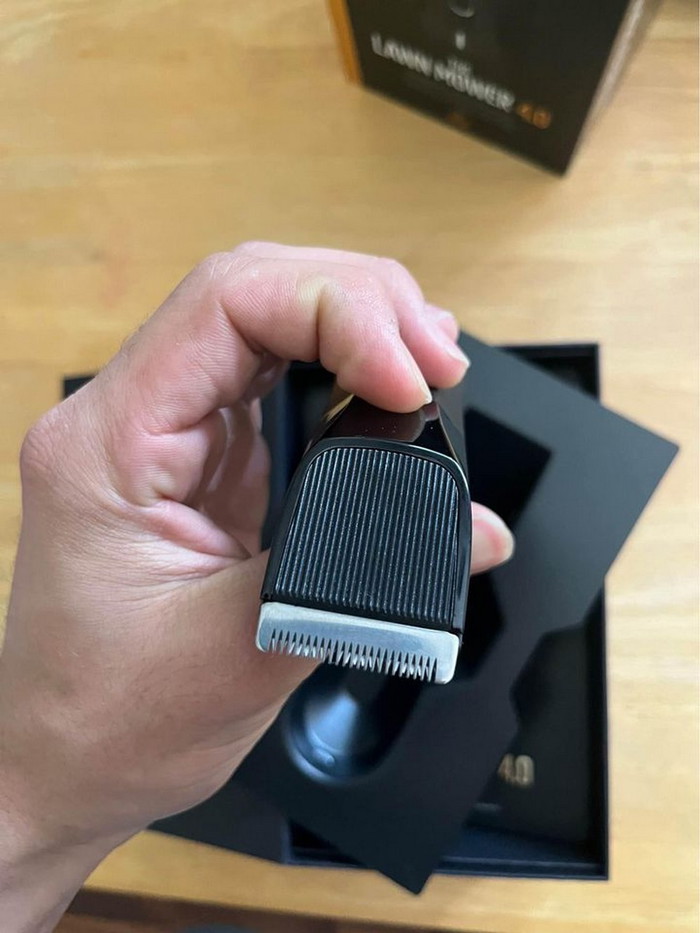 Now, let's face it:
It's rare to find a trimmer that's designed to be gentle on sensitive areas. And this is one of the Lawn Mower 4.0's biggest selling points.
One Amazon.com buyer, Adam Nelson, had this to say…
". I can groom with ease, knowing that its skin-safe design protects me from cuts or nicks. It (the blade) slides gently over the skin, providing a pleasant trimming experience without any discomfort or irritation.…"
Now:
From a barber's perspective, ceramic blades are among the best in the market. They are light, skin-friendly, quieter, and heat-resistant.
And that makes them ideal for people with sensitive skin and ball area grooming.
As such:
The Manscaped Lawn Mower 4.0's SkinSafe™ technology is all about protecting your skin. And compared to other similar trimmers, it does a better job of preventing unwanted nicks and irritation.
BUT…
I did notice a few shortcomings with this specific blade.
For instance, if you move fast and against the grain, you're more likely to encounter snags or pull hair.
Moreover, when cutting along the grain or using a blade guard, it's hard to achieve a uniform trim. Some hair strands will be longer than others and that may lead to uneven growth.
Lastly:
Despite being touted as 'SkinSafe and not so likely to cause cuts/nicks,' MANSCAPED explicitly states that this isn't a guarantee.
LED Light for Spotlight Accuracy
For body hair grooming, ample visibility is always imperative.
Why?
You need to clearly see what you're doing to avoid nicking your skin accidentally or leaving a spot unattended.
That said:
This trimmer has an inbuilt LED light strategically placed above the blade to improve visibility and overall grooming safety.
So, whether you're dealing with the underbelly or navigating the nooks and crannies, this light ensures you can see what you're doing clearly.
So, no more feeling around and guesswork, just effortless, visible trims.
BUT:
You'll still need your mirror.
Powerful, 7000 RPM, QuietStroke® Rotary Motor
Take it from me:
Even the best blades don't mean much if the motor doesn't pack a punch. Thus, you also need motor power and speed to execute quick and easy haircutting.
And that's exactly what you get from the relatively small Lawn Mower 4.0.
Basically:
It features a strong and fast, 7000RPM rotary motor.
Plus, with its QuietStroke® technology, you don't have to worry about waking everyone up whenever you want to groom your balls.
Wireless Charging for Ultimate Convenience
Hold up, no cords to tangle with?
Yes.
This trimmer comes with a wireless charging dock. Just place your Lawn Mower 4.0 on it, and voila, it's charging up for the next grooming adventure.
It's like having a charging butler for your trimmer.
That said:
It's not everyday that you'll come across a trimmer that recharges via electromagnetic induction. And that makes the MANSCAPED 4.0 unique.
However:
I feel like it's a major design flaw. 
Why?
If you lose or damage the wireless charging dock, the no other way to charge the trimmer directly. Therefore, you'll have to order a new, $24 docking station.
Even worse, MANSCAPED doesn't provide this spare.
90-Minute Runtime with Battery Life Protection
Many agree that:
The biggest worry about using a cordless trimmer is that the battery can run out of juice, or worse, die prematurely.
And that can be frustrating, right?
Consider this, the Lawn Mower 4.0 is fitted with a 600 mAh Lithium Ion battery that offers up to 90 minutes of runtime.
I managed to get about 7 to 10 shaves per charge; which is impressive for such a small trimmer.
And:
The best part is that it has a firmware feature that protects the battery from overcharging. Thus, prolonging battery life and long-term performance.
Other Impressive Features
Versatile Trimming Guards (sizes 1-4). The adjustable sizes ensure you're covered; whether you're going for a smooth look or just a light trim.
Waterproof for Easy Wet/Dry Grooming. In a rush for a quick morning shower trim? No problem. The Lawn Mower 4.0 is a champ in both wet and dry conditions. It has an IPX7 waterproof rating that's solid for about… 30 minutes…?
Travel Lock to Keep Accidental Activation at Bay. This ensures your trimmer won't accidentally power up in your bag. Three quick clicks on the ON/OFF button and it's locked, ready for a hassle-free journey.
Ergonomic Design. Lastly, I've got to hand it to Manscaped for a simple, easy-to-hold, and comfortable design. Plus, the fact that this trimmer is lightweight means that you can tend to hard-to-reach spots without a fuss.
I know you're wondering, "All of these features bundled into one compact hair trimmer?"
Yes. It's insane (but with a few caveats).
And don't even get me started on the elegance of its packaging. These intricacies form part of its overall appeal.
With that in mind:
Features on paper might not paint a broader picture. So, here's how my experience was.
Usability and Handling Experience After 6 Months of Use
Now, let's talk about usability and handling.
The Manscaped Lawn Mower 4.0 isn't just about flashy features. It also offers a lot of comfort and maneuverability.
How?
For starters, it feels good in hand. Doesn't heat up like the Lawn Mower 3.0. Plus, this trimmer has smooth edges and a non-slip housing design that makes for a firm and comfortable grip.
The Lawn Mower 4.0 is also impressively lightweight.
Therefore, you won't have to worry about it tiring your palm or fingers as you maneuver about. Moreover, you get ample control over the whole grooming process.
So, is it easy to use?
Yes. The power button is conveniently placed to offer effortless, one-touch operation. Plus, by clicking it three times, you get to activate/deactivate the travel lock feature. 
Speaking of this feature:
If your Manscaped Lawn Mower 4.0 keeps blinking three times and won't turn on, it's not broken. I've seen people cancelling or sending it back for this. 
The issue?
That's just the trimmer trying to notify you that either Travel Lock is On or in some cases, it's charging/requires a recharge.
Anyway:
Much like cutting facial or scalp hair, the 4.0 comes with blade guards for size adjustability. You get four size options that let you tailor your trims to perfection.
Whether it's a close cut or a more casual trim, the choice is yours.
That said…
Compared to the Wahl Cordless Peanut or the Philips Norelco OneBlade, this waterproof electric trimmer is also relatively quiet. Not to mention, more powerful and with a longer runtime.
You can use it to trim hair in:
Pubic areas (groin)
Armpits
Arms and legs
Back and chest
And sometimes, for facial hair touch-ups
And, yes, it's a great option for men with sensitive skin or those who detest razor burns, rashes, or ingrown hair.
Drawbacks?
Yes, plenty. Naturally, not everyone is happy about it.
The thing that irks me the most about this trimmer is that I have to get $19 replacement blades.
Yes, you read that right.
According to MANSCAPED 4.0 FAQs, you should consider replacing the blade once every three months to maintain peak performance and hygiene.
So, it's not only expensive to buy this trimmer but also unnecessarily costly to maintain it.
Bummer, right..?
Head-to-Head Comparison with Closest Alternatives
Well:
Compared to its closest alternatives - the Wahl Cordless Peanut, Lawn Mover 3.0, and Philips Norelco OneBlade - this trimmer is slightly bulky.
By that I mean…
It's heavier and bigger in size compared to the Peanut. However, it's smaller than the OneBlade.
Now:
When compared to its predecessor, the Lawn Mower 3.0, the 4.0 comes with a few upgrades.
For example:
The former (3.0) does not offer features like the travel lock, guard sizes, and wireless charging. Plus, the 4.0 has improved waterproofing.
Bottom line?
The Lawn Mower 4.0 is still impressively compact and fits comfortably in small hand sizes.
Impressive, right?
MANSCAPED Lawn Mower 4.0 Accessories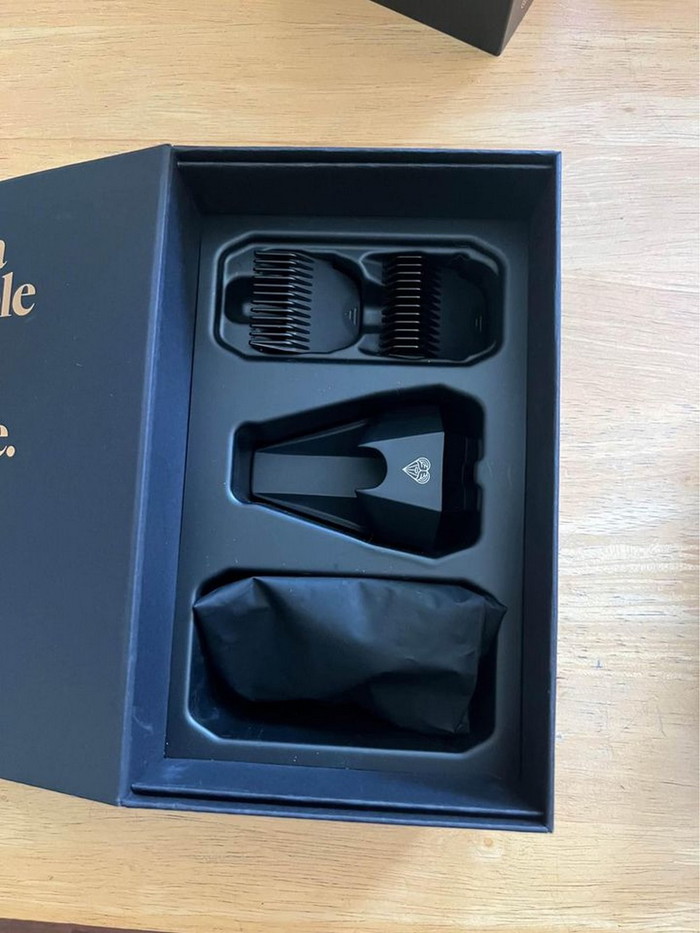 So, what's in the box?
Well, aside from the actual Lawn Mower 4.0 trimmer and a few cheeky puns on the container, you'll also get a:
Wireless charging/docking station
Two adjustable guards (4 sizes)
A cleaning brush
A 3ft Type-C braided cable
Power adapter
And an instruction manual
All wrapped up in a very premium and lavish-looking container.
With that in mind:
Here's a quick summary of merits and demerits.
Pros
Among the best tools for manscaping
Compact and lightweight
Easy to use and handle
Ergonomic design
Waterproof
LED light for better visibility
Ample runtime
Travel-friendly features
Has a 3-light, LED battery level indicator
Cons
Pricey compared to its alternatives
Frequent blade replacement required
Not ideal for thick or coarse hair
Wrapping It Up…
Final verdict?
Based on my opinion and experience using this groin grooming trimmer, it's worth considering.
Yes, it's easy to use and feature-packed. And yes, the MANSCAPED 4.0 is designed to handle the intricacies of pubic grooming like a champ.
It has impressive blades, a powerful motor, waterproof capabilities, a strong battery, and more.
Additionally:
It outperforms most of its closest alternatives.
BUT:
I wouldn't break my neck trying to buy it; unless it's Black Friday. I still feel like a lot needs improvement.
The main turn-off I've had with this grooming tool is having to replace the $19 blade heads every three to four months. But, arguably,  that's the norm with most pubic hair shavers.
Well:
Is it something you'd buy? Do you have any other related questions? Or would you like to share your experience?
Feel free to say something in the comments section below.
More from Mike Medders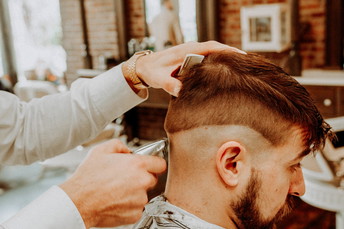 Trust me, I've been on both sides of the chair. I can't count the number of times a client has sat down and struggled…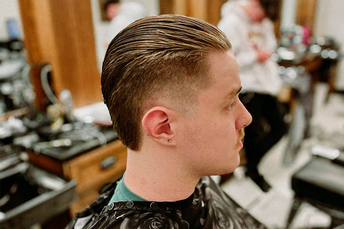 50 Different Ways to Rock the Slick Back Hairstyle for Men 1. Slick Back Fade @jules.thebarber Look: The slick-back…