WiseBarber's Top 4: Reuzel Pomade Review in 2023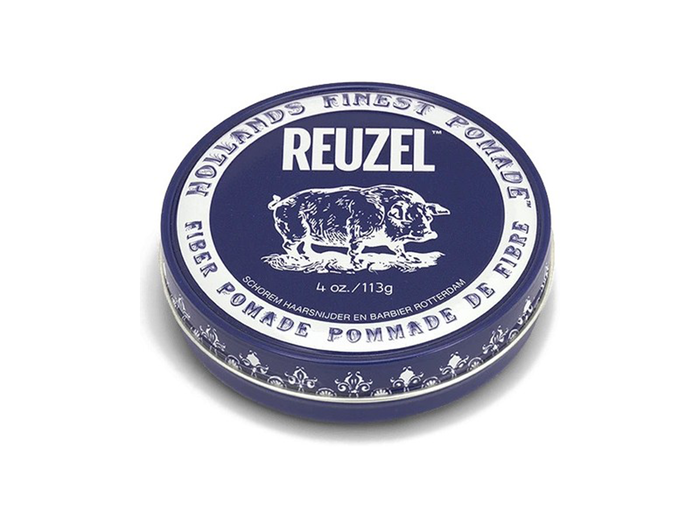 WiseBarber Top Pick
Reuzel Fiber Pomade
It's a fact:
Reuzel is one of the best hair styling products brands today.
They offer a myriad of products including pomades, clays, waxes, tonics, shampoos, creams, grease, balms, powders, and so on.
However:
The brand's popularity among men stems from its incredible pomade lineup.
Compared to other hair pomades on the market, Reuzel produces some of the best ones; ideal for all kinds of hair and styling needs.
So, regardless of your hair type or the style you want to achieve, this brand has something best-suited for you.
Now:
When presented with multiple options, making the right decision can be hard. I mean, you may find yourself asking, "Which is the best Reuzel pomade for me?"
If so, this post is exactly what you need.
Ready?
If so, let's dive in.
Rating Summary
| Rank order | Product name | Features (max. 10) | Usability (max. 10) | Value (max. 10) | Overall Rating | |
| --- | --- | --- | --- | --- | --- | --- |
| 1. | Reuzel Fiber Pomade | 10 | 9.5 | 9.7 | 97.3 % | See details |
| 2. | Reuzel Clay Matte Pomade | 10 | 9.3 | 9.7 | 96.5 % | See details |
| 3. | Reuzel Blue Pomade | 9.8 | 9 | 9.6 | 94.5 % | See details |
| 4. | Reuzel Extreme Hold Matte Pomade | 9.8 | 9 | 9.6 | 94.5 % | See details |
That said:
Let's dive into individual reviews to see what makes each of these Reuzel pomades unique and worth buying.
2023's Top 4 Reuzel Pomades to Buy
Aside from being one of the best styling products for men today, the Reuzel Fiber Pomade is well-known for its ability to meet expectations. It not only works great but is also easy to apply and clean off.
Question:
What makes the Reuzel Fiber Pomade worth it?
That's one of the most common questions I get. And my answer has always been the same, "It's the best pomade I've used so far."
Why?
Well, for starters, it works on all hair types. So, whether you have kinky, dry, curly, thin, or thick hair, the Reuzel Fiber guarantees proper styling with ease.
Now, one thing I love about this pomade is that it gives a pliable hold. Hence, reactivation and restyling are easy.
Other benefits of using it include adding texture and volume. And, even better, it's easy to apply and wash off thanks to its water-based formula.
Impressive, right?
Pros
Smells great
User-friendly
Water-based formula
Great value for money
Impressive ingredient composition
Available in multiple sizes
Nice, sturdy packaging
Final Verdict
With the Reuzel Fiber Pomade, you get a truckload of perks including usability, practicality, versatility, and affordability. Whether you are new to pomades or a long-time user, it will be pretty hard to experience disappointment after using this product.
For men who want to style their hair while retaining its natural appearance, the REUZEL Clay Matte Pomade is a great choice. Plus, this pomade comes imbued with awesome and healthy ingredients.
Now:
With the REUZEL Clay Matte Pomade, you get almost the same qualities from the REUZEL Fiber; but with one distinct difference.
Unlike the Fiber, this clay pomade offers a matte finish.
With this kind of finish, you get to retain your hair's natural look and texture; even after styling.
Aside from that:
You'll also love this product's formulation; which includes key ingredients like Vitamin E, Kaolin, Aloe Vera, and Quinoa.
Thus, you not only get to style your hair but also keep it looking healthy and well taken care of.
Pros
Great ingredient formulation
Easy to apply and wash off
Offers value for money
Lightweight, pliable hold
Lifts hair and adds texture
Final Verdict
The REUZEL Clay Matte Pomade is a great option for men looking to enjoy the styling and hold benefits of a hair pomade; while, at the same time, exploiting the health perks of a clay product.  
Forget about the Reuzel Extreme Hold, if you want a high-hold styling product that won't disappoint, try the REUZEL Blue Pomade. It's a true performer and your go-to pomade for thick, untamable hair.
Get this:
The REUZEL Blue Pomade is probably Reuzel's best, high-hold pomade that's also water-based. Plus, unlike the other products on this review, this one offers high shine and a glossy finish.
Now, this pomade works on any hair type. And is the ideal Reuzel pomade for you guys with thick, untamable hair.
It comes with a gel-like or waxy consistency that's also known to prevent flaking.
All in all:
It's a great product that guarantees a polished look with all-day styling.
Pros
Great for thick, unruly hair
Offers strong hold
The best option for a polished, glossy look
Water-based, hence, easy to wash off
Ideal for all hair types
Nice, comfortable scent
Cons
Weak packaging. Easily dents
Final Verdict
Without a doubt, the REUZEL Blue Pomade offers you everything the rest of the products on this list don't. That includes a super-strong hold, glossy finish, and smooth consistency that's easy to apply.
Reuzel Extreme Hold Matte Pomade
With the Reuzel Extreme Hold Matte Pomade, you can easily tame thick hair types. It's designed to keep hair in place for long without messing with its natural appearance. Should you buy it? Let's find out.
First:
I have to admit I was a bit skeptical about adding this product to the list. And don't get me wrong, it's awesome.
But:
With numerous complaints about its "Extreme Hold," most users feel misled because the pomade doesn't perform as advertised.
Anyway:
I gave the Reuzel Extreme Hold Matte Pomade a try.
For me, yes, it wasn't as advertised but also not that bad. It offers a decent amount of hold; especially, when applied to dry hair.
That aside, it's a great pomade for men with thick hair. And you can use it to add volume and fullness to thin hair.
The Reuzel Extreme Hold Matte Pomade also has a nice scent and washes out effortlessly.
Pros
Water-based formula
Easy to use and wash off
Great for all hair types
Offers value for money
Matte finish for a natural appearance
Cons
The hold isn't as "extreme" as advertised
Final Verdict
Yes, the Reuzel Extreme Hold Matte Pomade isn't perfect. In fact, many have been left disappointed. However, given the chance, it's an awesome hair styling pomade. It works on all hair types including thin hair and comes with a nice, smooth, creamy consistency for easy application.
In Conclusion
REUZEL is, by far, one of the best Pomade companies today.
And, as is evident from the products above, the brand has a pomade for every man's desired style and hair type.
I love the fact that they offer quality products at pocket-friendly prices.
However, to avoid getting disappointed, always make sure you do research before making a purchase; to ensure you buy a pomade that will meet your hair and styling needs.
Got any questions? Well, I'd love to hear from you in the comments below.
#StaySafe
Frequently Asked Questions
Yes. Most of their pomade formulations comprise healthy and hair-growth ingredients.
Yes. All its pomades are water-soluble except the Reuzel Pink and Green Pomades.
Yes. But it's advisable to go for a water-based pomade. Because they are usually lightweight and won't weigh down thin hair strands.
Learning how to use hair pomade is easy. However, to get the best hold out of your Reuzel Grey (Extreme Hold) pomade, you should apply it to dry, textured hair.
More from Mike Medders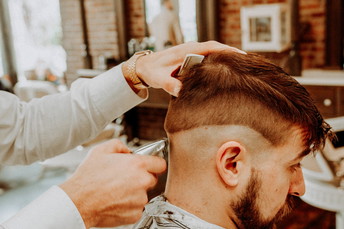 Trust me, I've been on both sides of the chair. I can't count the number of times a client has sat down and struggled…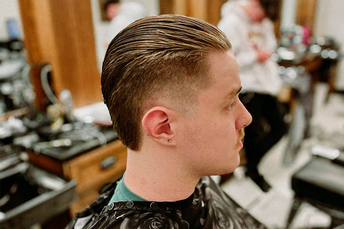 50 Different Ways to Rock the Slick Back Hairstyle for Men 1. Slick Back Fade @jules.thebarber Look: The slick-back…
Newest articles
Trust me, I've been on both sides of the chair. I can't count the number of times a client has sat down and struggled…
50 Different Ways to Rock the Slick Back Hairstyle for Men 1. Slick Back Fade @jules.thebarber Look: The slick-back…
Here is the thing: Manscaped's Peak Hygiene Plan subscription might be one of its sneakiest marketing tactics. Thanks…