In-Depth Review of the Best Hair Paste for Men in 2023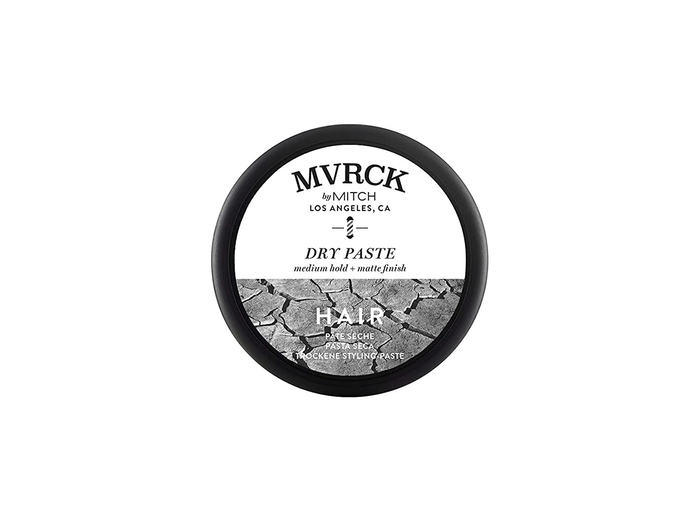 WiseBarber Top Pick
MVRCK by MITCH Dry Paste
Question:
Is there a product that offers the strength of a hair pomade; the natural matte finish of a cream; and the rich texture of hair clay?
Well, yes.
That's exactly what you get from hair styling paste.
Now, get this:
Hair paste is a versatile product that can do almost anything; from taming frizz to adding texture/volume to different hair types and styles.
Moreover, the best hair pastes offer pliable styling, are easy to use, and give an all-natural finish.
But:
Choosing a suitable hair paste for your hair type and style can be pretty challenging.
And that's why you're here.
Below, I'm going to discuss everything there is to know about the top eight hairstyling pastes for men today. 
So:
Let's dive in.
Rating Summary
| Rank order | Product name | Features (max. 10) | Usability (max. 10) | Value (max. 10) | Overall Rating | |
| --- | --- | --- | --- | --- | --- | --- |
| 1. | MVRCK by MITCH Dry Paste | 10 | 9.9 | 9.7 | 98.6 % | See details |
| 2. | American Crew Defining Paste | 10 | 9.8 | 9.6 | 97.8 % | See details |
| 3. | Redken Brews Molding Paste | 10 | 9.4 | 9.7 | 96.9 % | See details |
| 4. | Axe Flexible Paste | 10 | 9.3 | 9.6 | 96.2 % | See details |
| 5. | Cremo Thickening Paste | 10 | 9.1 | 9.5 | 95.4 % | See details |
| 6. | 18.21 Man Made Hair Paste | 9.7 | 9.4 | 9.3 | 94.5 % | See details |
| 7. | Aveda Thickening Paste | 9.7 | 9.3 | 9.2 | 93.7 % | See details |
| 8. | Hair Craft Co. Hair Paste | 9.7 | 8.8 | 9 | 91.4 % | See details |
So:
With all that out of the way, it's time to give each product a closer look to see why it made the list.
Top 8 Paste Hair Products for Men to Buy in 2023
MVRCK by MITCH Dry Paste is an incredible hair styling product that delivers medium hold and matte finish for every hair type and length. And, even better, it comes with a vegan, organic formulation.
Get this:
MVRCK by MITCH is one of those hair styling products you simply have to try.
Why?
This product delivers an impressive amount of texture for all hair types. It does a great job of holding your hair together and in place while making it easy to restyle and reshape. 
The MVRCK grooming cream also delivers a low shine, matte finish to give your hair a natural and relaxed look.
What's more?
It combines excellent natural ingredients like castor oil and sunflower seed oil to keep your hair and scalp healthy and moisturized.
Moreover, this styling cream also capitalizes on kaolin clay to prevent hair breakage and reduce dandruff.
Fragrance-wise:
The MVRCK by MITCH Dry paste has a smooth and refreshing Agave citrus scent.
And the best part?
The product is easy to wash off.
Pros
Easy to wash off
Medium, reworkable hold
Matte, natural finish
Great value for money
Nice, light scent
Keeps hair and scalp healthy and moisturized
Cons
The scent can be underwhelming and dissipates quickly
Final Verdict
MVRCK by MITCH fits the bill as one of the best hair products for men. The product delivers a matte finish, incredible texture, and a medium, easily reworkable hold like a cream, wax, and hair pomade combo. 
American Crew Defining Paste
It's a fact that the popularity of the American Crew Defining Pate can't be understated. Mainly because it's a brand that always goes above and beyond to provide some of the best hair care products for men.
To start:
The American Crew Defining Paste is formulated using all-natural ingredients; like beeswax, lanolin, and glycerin.
Simply put:
The beeswax gives the paste a stronger, pliable hold with a low-shine/matte finish; making application and restyling relatively easy.
Lanolin conditions and moisturizes your hair and scalp.
While the glycerin will provide extra volume to your hair, making it look thicker and fuller.
Moreover:
This styling cream paste is water-soluble, meaning it's not only easy to rinse off but also to apply. Plus, it won't leave any residue or flakes.
That said:
This paste allows you to get a solid and reliable hold throughout the day but with a matte, natural hair finish.
It works wonders for either damp or dry hair; all you need to do is rub a small amount between your palms, work it throughout your hair, and style accordingly.
Scent-wise?
The styling cream has a sweet, original, and lightweight scent derived from its natural ingredients.
Pros
Natural ingredients
Water-soluble
Provides a natural, matte finish
Adds volume and texture
Great value for money
Easy to use and apply
Cons
Not for every hairstyle – especially thick and long ones
Final Verdict
The American Crew Defining paste is an excellent way to effortlessly define and style your locks for any occasion; from a typical day in the office to one at the beach. Hence, it's worth your consideration.
Redken Brews Molding Paste
Redken Brews Molding Paste offers a reliable and robust hold for most men; regardless of their hair type and style. Moreover, it has a smooth consistency that makes it easy to use, apply, and style with.
It's been said:
The Redken Brews Molding Paste is a game-changer for men all around the world.
Why?
Well, for starters, it's formulated using limonene essential oils; thus, it possesses anti-inflammatory and antioxidant properties.
This hairstyling paste is also infused with poly stretch fibers that give you maximum control over your hair and make remolding extremely easy.
Moreover:
It also utilizes castor oil's antibacterial and antifungal properties to ensure your scalp and hair remain healthy.
And that's not all.
Redken has designed this paste to give you a natural matte finish with a solid and enduring hold throughout the day.
And that allows you to mold messy or polished hairstyles effortlessly.
Plus:
It won't leave your hair feeling sticky or flaky.
Pros
Strong and reliable hold
Anti-inflammatory and antibacterial properties
Natural matte finish
Reworkable
Easy to apply and remove
Cons
You have to shake the bottle well before use Otherwise, you get uneven cream consistency
Final Verdict
The Redken Brews Molding Paste is a top-tier hair care product for men that deserves a place on this list and your styling arsenal. 
Infused with all-natural ingredients like beeswax and grapefruit oil, this hair paste is designed to give your hair strand the highest amount of texture they can hold; while keeping them in place all day.
For starters:
The Axe Hair Paste for Men comes packed with great benefits for your hair, scalp, and style.
It is formulated using grapefruit oil; which acts as an antioxidant. Thus, protecting your hair from brittleness, breakage, graying, and hair loss.
What's more?
Grapefruit oil can also act as a conditioner for your hair and scalp.
And, due to its latest formula –consisting of beeswax – this paste has a creamy, silky-smooth consistency making it easy to apply and distribute.
And the finish?
This Axe Hair Paste for Men is the ultimate styling product for men looking for a relaxed, textured finish with a moderate hold.
The product works for all hair types, but short and medium-length hair is preferred.
In terms of scent:
The paste also has a subtle, citrus fragrance with coconut undertones; that will keep you feeling fresh and dapper all day long.
Pros
Provides a lot of texture and volume
All-natural ingredients
Easy to apply
Refreshing scent
Cons
Can make hair a bit crispy – especially when applied to dry hair
Final Verdict
Due to its pliability, natural formulation, and flexible hold, this Axe Hair paste has earned its place as one of the best hair products for men. And, hopefully, a spot in your grooming kit. 
Designed with professional barbers in mind, the Cremo Premium Barber Grade Thickening Paste will work wonders for short, fine, or thinning hair. Plus, it's very cost-effective and user-friendly.
Evidently:
Cremo gives competitors a run for their money with this barber-grade styling paste.
How?
To start, this paste is formulated using beeswax to give you a silky-smooth consistency.
Now, when you scoop it out of the can, it's a bit sticky. But once you warm it in your palms, this paste becomes relatively smooth and pliable.
More so:
It's also infused with castor oil; which increases blood flow to the scalp. Not forgetting, it has antibacterial and antifungal properties.
And that's not all…
This styling paste also employs lanolin wax to keep your hair and scalp moisturized and conditioned.
And once applied, it gives hair with loads of texture and volume; especially, for men with thin and short hair.
Anyway:
With the Cremo Thickening Paste, you get a high hold; that is sure to keep your hair locked in place throughout the day.
Moreover:
You won't have to worry about flakes or sticky residue.
And that's because it washes off quite easily without leaving your hair damaged or dry.
Fragrance?
This styling paste product has a warm, pleasant, original smell – derived from its botanical ingredients to make it fresh and enjoyable.
Pros
All-natural formulation
Long-lasting hold
Easy to apply
Pleasant scent
Hair and scalp-friendly
Very affordable
Final Verdict
Without a doubt, the Cremo Barber Grade Premium hair paste is an excellent styling product with incredible hold, a matte finish, and loads of texture to last a full day. And the best part is that it's very affordable; hence, great value for money.
18.21 Man Made Hair Paste
Designed to mold, shape, and sculpt all hair types, the 18.21 Man-Made Hair Paste delivers a lasting but reworkable hold with a sweet luxurious scent. Plus, it is a great option for frequent travelers.
Now:
The 18.21 Man-Made Hair Paste features an incredible, paraben-free formula; designed to texturize, add volume, and eliminate frizz.
The manufacturer achieves this by using all-natural ingredients like glycerin and humectants (specifically, Lanolin) to conserve moisture.
Moreover:
This paste also uses macadamia to fortify and nourish hair strands.
Great, right?
It's also smooth and easy to apply – with a medium hold and textured finish on both wet and dry hair.
What's more, you can use it to mold, sculpt, and shape different hairstyles.
Pro Tip:
Use a comb for a sharp, well-groomed look or style with your fingers for a relaxed, tousled appearance.
Anyway, the best thing about this hair paste has to be its scent.
This paste exudes an enchanting, sweet, tobacco scent with undertones of barrel whiskey. Plus, it is also water-soluble; meaning it rinses off quite easily.
Pros
Paraben-free formula
Easy to use
Provides rich, natural texture
Easy to wash off
Hair and scalp-friendly
Cons
The firm, sweet tobacco scent can be overwhelming
Final Verdict
The 18.21 Man-Made Hair Paste is an excellent choice for men looking for a texturizing paste with medium hold, all-natural ingredients, and a rich aroma. 
This Aveda Thickening Paste is yet another reason the brand is world-renowned. This premium-quality paste combines healthy, natural ingredients to produce an awesome men's hair styling product for men.
There are a lot of qualities that make this thickening paste world-renown.
For example:
The Aveda Men Pure-Formance Thickening paste comes packed with natural ingredients; like castor oil and jojoba esters that thicken hair and promote healthy growth.
These ingredients and other extracts also minimize frizz and breakage; while enhancing and revitalizing your hair.
And that's not all…
The paste also provides a versatile, reworkable hold that will keep your hair in place throughout the day; while making it easy to restyle.
And speaking of style:
You can use the paste to style all kinds of hairstyles – from sharp and polished to tousled and rugged; all with a natural matte finish.
And, did I mention the texture?
Well, this paste offers loads of texture; especially, for thin hair.
Moreover:
It is unscented; so, it's void of artificial additives or fragrances.
Pros
All-natural formulation
Versatile hold
Promotes hair growth
Texturizes and thickens
Premium quality packaging
Cons
Lack of scent might be a deal-breaker for some
Final Verdict
Now, for men who prefer shopping on the premium aisle, the Aveda Men Pure-Formance Thickening Paste is a great choice. It combines potent ingredients to produce a world-class product that you and your hair will enjoy. 
Hair Craft Co. Hair Paste
The Hair Craft Co. Hair Paste comes from a top-tier hair care brand for men. It's a premium hair paste designed to offer men texture, lift, volume, and quality, all-day hair styling. So, why not give it a chance?
It's easy to wonder:
What makes the Hair Craft Co. Hair Paste special? Or why is it worth buying?
Well:
Designed to style thick and wavy locks, this paste makes good use of beeswax to give it a thick, non-sticky flow. Thus, making it extremely easy to apply.
Moreover:
The beeswax moisturizes and conditions hair strands while soothing the scalp.
And if that's not good enough…
This impressive men's hairstyling paste also incorporates castor oil to tame frizz and flaking; while increasing blood flow to the scalp.
That said:
The Hair Craft Co. Hair Paste offers a medium, reworkable hold; that will keep your hair in place without making it stiff.
It also provides a semi-matte finish for a more natural, relaxed look.
Not forgetting, this paste comes with a subtle, masculine scent to keep you fresh all day.
Pros
Natural ingredients
Incredible scent
Texturizes and conditions
Offers pliable, reworkable styling
Cons
It can be a bit hard to rinse off
Final Verdict
Regardless of its shortcomings, the Hair Craft Co. Hair Paste comes highly recommended. It's ideal for men looking for a matte finish, medium hold, and a good amount of texture.
And that's it.
Now, in case you didn't find something you like, don't fret. Here are a few useful tips to use when shopping for men's styling paste.
5 Important Factors to Consider When Shopping For the Best Hair Paste for Men
So:
As hair pastes continue to gain traction and popularity, it's becoming harder to find quality products. Why?
Because numerous products on the market translates to having a lot of inferior ones. 
And while the main purpose of this post is to save you the trouble of having to sift through hundreds of styling pastes, it's understandable if you've not gotten what you're looking for.
Therefore:
Here's are a few useful tips you can use to find the best hair paste for your hair.
1. Check the Formulation/Ingredients
Note:
Most of the hair pastes available in the market are water-soluble, making them easy to apply and rinse off. The ease of removal is one of the best qualities a hair styling product can ever have.
Why is that so?
Well, easy removal prevents product buildup on hair and scalp, which – if unchecked – can cause acne and even hair loss.
Moreover, water-soluble pastes won't clump up during application and make restyling your hair much more effortless.
But:
You may also come across oil-based pastes. And while these pastes may offer a relatively stronger and durable hold than water-based ones, the tradeoff is having to spend more time washing it off.
Get it?
You should also consider the ingredients used in the paste.
A good paste should have all-natural ingredients; e.g. beeswax and lanolin that will protect and nourish your hair and scalp.
2. Consider Your Hair Type/Length
Yes.
Your hair type and length are also major factors to keep in mind.
While anyone can use paste, it works incredibly well for men with thinning hair.
Why?
Unlike other hair styling products, which tend to weigh down thinning hair, most hair pastes possess texturizing, volumizing, and lifting qualities; thus, making thin hair appear fuller.
And it even works for other hair types and lengths.
3. Hold Strength and Pliability
When it comes to the level of hold offered by hair paste, there are mainly two classes – strong or high hold and medium or 'flexible' hold.
Firm hold pastes are ideal for hairstyles that require structure and definition. They are also perfect for keeping hair locked in place throughout the day with minimal restyling. So, if you constantly find yourself having to restyle your hair, then a high-hold paste is worth a try.
Medium hold pastes are perfect for loose and relaxed hairstyles; the famous "I-woke-up-like-this" look. Plus, these pastes also give you the flexibility to restyle your hair throughout the day.
4. Scent Type and Strength
Now:
When it comes to scent, there is always something for everyone.
Some prefer a subtle, clean fragrance that won't clash with body wash or irritate others and will dissipate gradually throughout the day.
On the other hand, others are into fragrant, powerful scents.
But, to be on the safe side, I'd recommend you go for lightly scented or unscented styling products.
The last thing you want is to irritate your boss or those around you because you opted for a distinctive smelling paste.
5. Texture and Finish
Most hair pastes offer a medium to low shine with a natural, textured finish.
These products leverage your hair's natural shine giving you a fuller and relaxed look while distinctly separating and layering your locks.
Moreover, pastes can be used for any finish; from smoothening hair over and taming frizz to locking your hair in place without the need to deal with cream, hair pomade, or clay.
In Summary
And that's a wrap.
Now, finding the right paste for your hair type and style isn't an easy feat. But I hope this post has helped – in some way.
Notably, styling paste is a versatile product with the ability to provide loads of benefits to your hair and scalp – not to mention, style.
That said:
Do you have any questions or thoughts to add on this topic? If so, feel free to drop them in the comments section.
#StaySafe
Frequently Asked Questions
Well, it's easy. Simply, rub a small amount between your palms and distribute it evenly throughout your towel-dried hair. However, if the paste you're using has a thick consistency, you'll have to rub it a little harder to melt/soften it.
Yes. While it's usually recommended for men with thin hair, styling paste also works great on thick hair. Just make sure to buy one with sufficient hold strength (depending on how tough your hair is).
Both are beneficial in many ways and give the same results. So, your choice will depend on your preferences. With pastes, you get a balanced formulation containing various ingredients including a little wax, clay, and essential oils. However, pure hair clay products have clay as the main ingredient.
No. Despite serving the same purpose, they are different. For example, most pastes are clay-based while hair waxes contain beeswax as the dominant/main ingredient. Also, pastes are versatile and reworkable, unlike hair wax. Plus, most pastes are water-based and easier to wash off.
It isn't recommended. Why? Because facial strands and skin aren't as tough as head hair and the scalp. Therefore, using hair products on your beard can overwhelm the strands and skin beneath them.
More from Mike Medders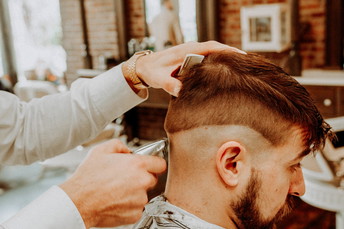 Trust me, I've been on both sides of the chair. I can't count the number of times a client has sat down and struggled…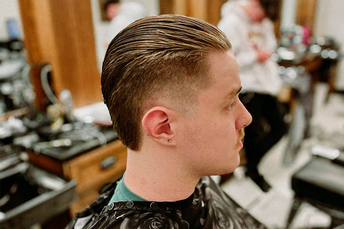 50 Different Ways to Rock the Slick Back Hairstyle for Men 1. Slick Back Fade @jules.thebarber Look: The slick-back…
Newest articles
Trust me, I've been on both sides of the chair. I can't count the number of times a client has sat down and struggled…
50 Different Ways to Rock the Slick Back Hairstyle for Men 1. Slick Back Fade @jules.thebarber Look: The slick-back…
Here is the thing: Manscaped's Peak Hygiene Plan subscription might be one of its sneakiest marketing tactics. Thanks…