How to Find a Good Barber: Top Tips for Getting the Best Haircut
We understand:
There are several steps involved in getting a great haircut. Finding the right hairstyle for you is only the first step.
You still need to find a skilled barber who can tailor the hairstyle to you specifically.
Sometimes you find a nice barber shop with all the aesthetics and comfort lacking skilled barbers. Other times, you find skilled barbers but with a not-so-conducive barber shop.
To this end:
Not anymore. In this article, we've explained how to find a unique blend of the two. Let's dive in!
1. Ask Online
Listen:
The internet makes it easy for us to find people who share similar problems. There are countless people who have faced the same trials as you, waiting to share their experiences online.
So:
Grab your phone and ask for people's recommendations on Twitter or Facebook, and you'd be surprised to find great barbers who offer quality barbering and grooming services.
You'd also be shocked to find that they operate closer than you think.
Additionally:
If you live in Louisiana, Washington, or Utah, you're in luck!
The Bureau of Labor Statistics shows that these States have the most barber shops. So, start looking and you'll be sure to find one that suits your needs just fine.
2. Ask Your Friends With Great Haircuts
There's always that one friend that shows up with unique and impressively done hairstyles, and what better way to know their barbers than asking them?
Get this:
Asking your friends will help ease the stress of looking for new barbers all by yourself. However, if you're sporting a different hair type or face shape from your friend, pay more attention to the precision of the haircut itself rather than the hairstyle.
3. Look Out for the Busiest Barbershop in Town
Now:
Another good way to find a good barber is to identify the busiest barber shop in town. If a lot of people get their haircuts from a particular barber shop, it's likely because the barbers know their onions and offer great haircut services.
However:
This may not always be the case. The busiest barber shop in the city may be the most affordable which is why most people get their haircuts there.
So:
Before visiting the barber shop, check out the haircuts of people who frequent the shop.
Neven Radovic, celebrity hairstylist and lead stylist at Ian McCabe Studio, also recommends booking a consultation with the barber first.
This will help you determine whether their style is a good fit for you before getting a haircut.
4. Check Online Reviews

You see:
We all know how important reviews are; they're like personal recommendations that help you make an informed decision.
According to Invesp, 72% of consumers are more inclined to trust a business with positive reviews.
Not only that, but they won't take any action until they have seen these positive reviews.
In addition, 92% of consumers will definitely patronize businesses with 4-star ratings and above.
In this vein:
There are several online websites dedicated to helping you find a good barber in your city. Yelp is one of them.
However:
If you're still unsatisfied, you can easily type out the name of the barbershop you'd like to visit on Google and read general reviews about it.
5. Visit Barber Shops
Here's the thing:
A barber shop says a lot about a barber. Chances are, if the barber shop is comfortable, well designed and provides good customer service, you'd be inclined to get a haircut there.
Next:
What about the barbers? Are they confident? Do they have the tools necessary to provide a satisfactory haircut?
Are they focused on understanding your requests and implementing them? If yes, then you're likely in the right place. 
Chad Seale, professional hairstylist and winner of the 2017 SWHA Avant-Garde award, suggests that you ask the barbers about their experience and portfolio.
He also recommends going further to contact their past and current clients and inquire about their experiences.
Keep in mind:
The haircut standard in a barbershop may shift from barber to barber. Each employee has their area of expertise.
Consequently:
They might be able to perform to varying degrees of satisfaction depending on your request.
6. View Instagram and Website Portfolios
Another way to know a good barber is by checking their social media pages. Look for before and after images and check the comment section for customer reviews.
Also:
If the barber has a website, all the better. You'd get to see their portfolio, the services they offer, and their rates. Some barbers also include their years of experience and other important details to help you decide if they are what you need.
7. Check "theCut" App
Now:
theCut is an app created by talented barbers to bridge the gap between barbers and clients and ease the problem of finding barbers and stylists in your city.
In addition to seeing all the barbers in your area, you can peruse their profiles and portfolio to deduce the level of their barbering skills and grooming expertise.
You can also check out the gallery on the app and ratings to enable you to find the barber with the best cuts.
8. Check WiseBarber's Recommendations
Finally:
WiseBarber has curated an extensive list of top-rated barber shops, including their locations, services offered, and price lists. Feel free to explore our list and decide on a barber shop that offers what you need.
Conclusion
Note:
The above tips guide you in selecting the right barber for your needs.
But:
In all honesty, you won't know for sure if a barber is good until he cuts your hair.
On the flip side:
If your barber asks for constant feedback while cutting your hair, it shows that the person is genuinely committed to offering you the best haircut possible.
This will also help you guide the barber into understanding your desired haircut and averting any mistakes or haircut disasters.
One more thing:
Which new tips did you discover from our list? Did we miss out on any of your favorites? Let us know your thoughts in the comment section below!
Frequently Asked Questions
Finding the right barber for you means finding a barber who understands your face shape and hair type and knows how to make a variety of haircuts work for you. To do this, you'd need to ask your friends with great haircuts, check online reviews, and visit barbershops yourself.
You can get a regular haircut in the US for as low as $15. However, depending on your age, the barber/stylist, and the city, you might spend more than $15. Nonetheless, anything from $15-$42 should be enough to get you a good haircut.
Simply check Google or local reviews to find good barbers near you. Local reviews will help to find out more about the store from people who have visited the shop before. You can also check theCut app or ask your friends or neighbors for recommendations.
More from Sunny Kambo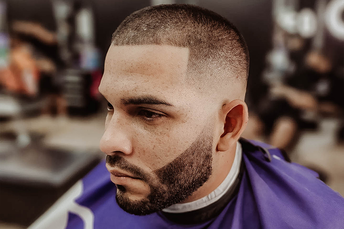 Here's the deal: As a seasoned barber instructor, I've had the pleasure of transforming hundreds of men with the…