5 Ryan Gosling Hairstyles
You see:
From simple to trendy, Ryan Gosling's suave hairstyles have been a complete match for masculinity over time. Seen sporting a variety of short haircuts on and off screen, he's made short hairstyles a thing of admiration and class.
Best part? Most of Ryan's hairstyles are easy to maintain, so relax and look great without having to stress your hair strands daily.
5 Ryan Gosling Haircuts You Should Try
1. Short Taper Haircut + Soft Side Part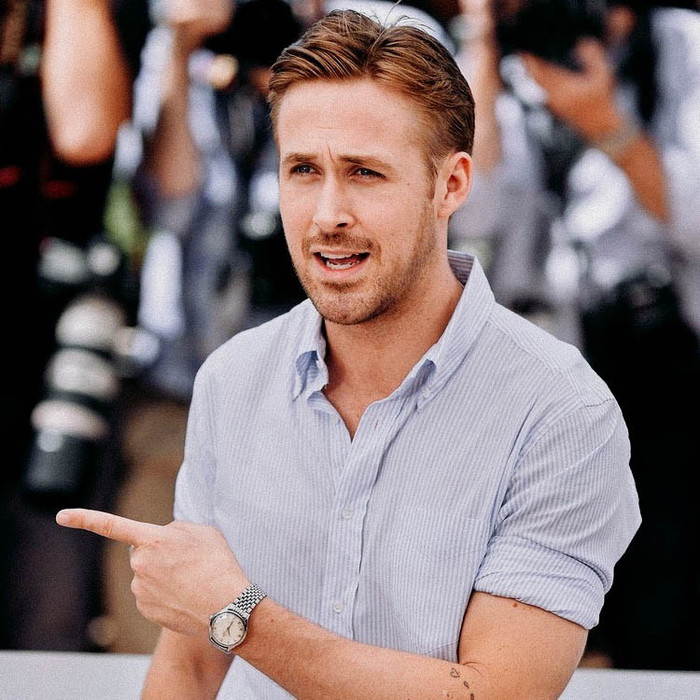 Now:
This hairstyle features a soft side part and tapered sides.
For this style:
Keep the top hair a bit fuller than other parts of the hair, then slick the top hair to the sides to resemble a short quiff.
Styling Tips:
Pair with neatly shadowed beards
Work a bit of pomade into the top hair to add texture.
You can slick top hair to the back or sides of your hair if you like.
2. Buzz Cut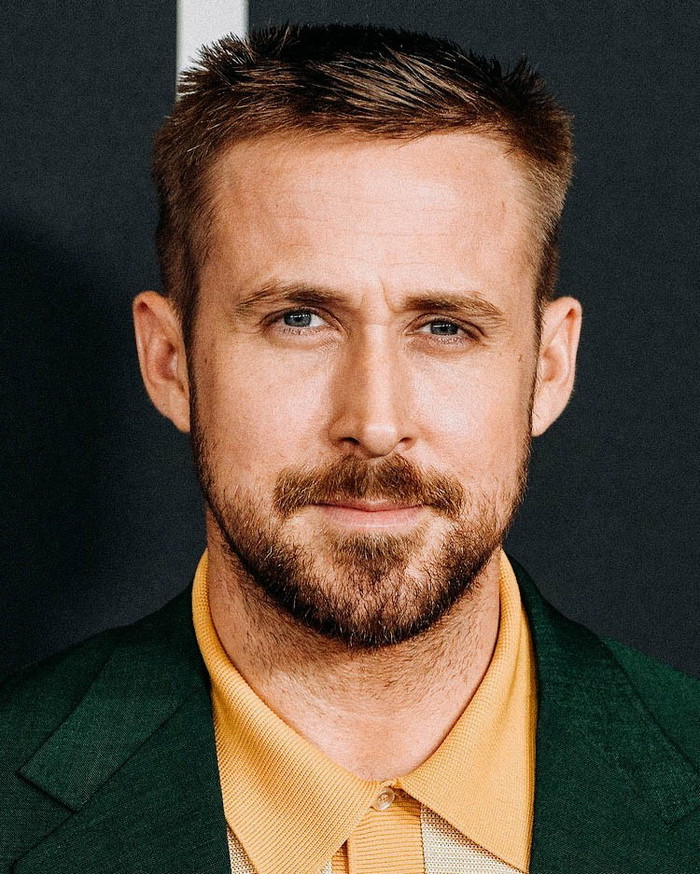 For the buzz cut haircut:
Evenly cut your hair short on all parts of your head. Feel free to go with the short length you're most comfortable with and pair it with a soft line-up to highlight your edges neatly.
Ideal Face Shapes:
Oval, diamond, and square
Styling Tips:
You can fade the sides a bit to give an edgy look.
Slightly brush top hair to add a bit of style to front hair.
Make sure to keep hair edges neat.
3. Short Hair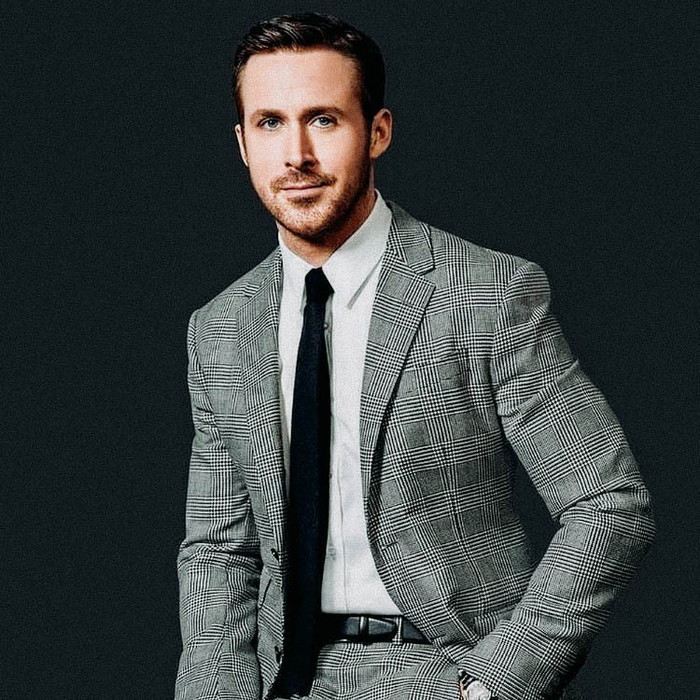 Get this:
This Ryan Gosling haircut is another excellent way to rock short hair.
To achieve this look:
Trim your hair till it's short or medium-length. Pay close attention to top hair and style neatly.
Styling Tips:
Pair with a soft line-up and shape-up to subtly highlight your edges.
Style top hair as you wish.
You can combine this look with facial hair if you have one.
4. Ryan Gosling's Drive Haircut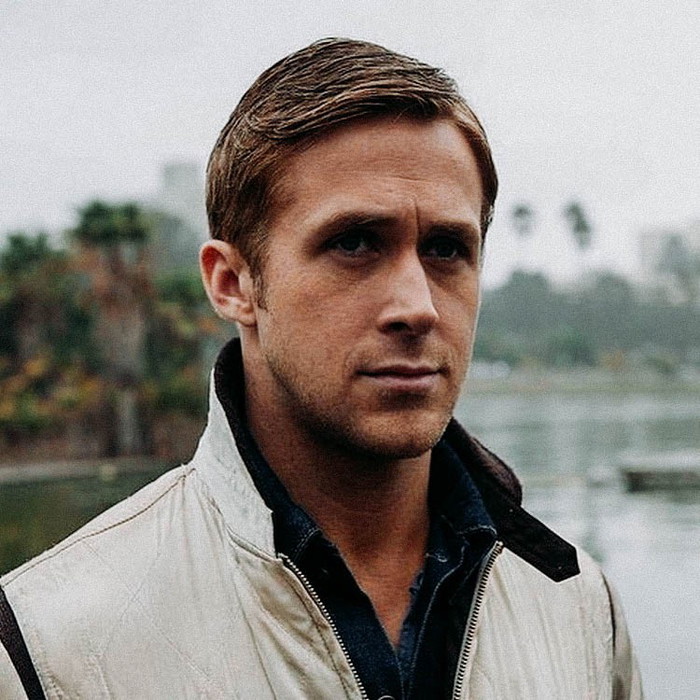 So:
Ryan Gosling's haircut in the "Drive" film is another short hairstyle inspiration. To achieve the ivy league haircut, trim your front hair short and cut the back and sides shorter.
Styling Tips:
This hairstyle works great with or without facial hair.
Opt for styling products that work best with your hair texture.
Finish your look by styling top hair to the side for a classic vibe.
5. Ryan Gosling's Blade Runner Haircut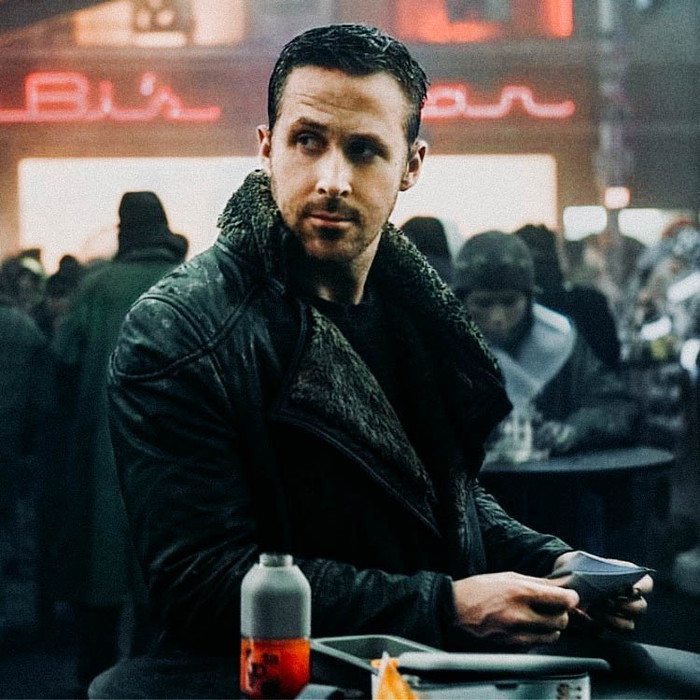 You see:
Ryan Gosling's hairstyle in Blade runner is a huge contrast to his natural hair color, yet he rocked it nicely.
For this look:
Dye your hair to your desired shade of black and get a short crew cut.
Ideal Face Shapes:
Heart, round, oval, oblong, angular and square
Styling Tips:
Opt for the shade of black that best suits your skin color.
Pair with a low fade at the sides of your hair.
If you have no facial hair, worry less. You can rock this hairstyle without it.
How to Ask For a Ryan Gosling Haircut
So:
If you're not already sporting short hair, ask your barber to cut your hair short to your desired length. Keep top hair longer and pair with a side part if your face shape supports it.
Additionally, you can fade the sides of your hair slightly- a low fade is recommended since most of Ryan Gosling's haircuts already give a polished, edgy look.
Conclusion
Note:
Ryan Gosling's hairstyles are usually kept short, so this collection is a great option for those looking to rock their short hair or try new looks. Don't forget to:
Apply styling products and texturizers.
Keep your hair edges neat and nice. Line-ups and shape-ups are great combinations with short hair.
Take regular trips to your barber to maintain your look.
Also:
Did we miss any of your favorite haircuts? Do you have any recommendations? Share your thoughts in the comment section below!
Frequently Asked Questions
Ryan Gosling's natural hair color is blonde, but his on-screen personality requires him to take on different haircuts and colors at different times. If you want to recreate a particular Ryan Gosling hairstyle, simply dye your hair to that color and trim your hair short.
Ryan Reynolds is usually seen sporting an Ivy League or a crew cut. The hair is kept medium-length on top and short on the back and sides. The top hair is sometimes slicked back or combed back and usually combined with a side part.
For Ryan Gosling's La La Land haircut, trim the sides and back of your hair short; 2 inches is perfect. Add extra length to the top hair so it's slightly longer than other parts of the hair. Then comb back all of your hair neatly to highlight your natural hairline, or pair it with a soft line-up.
More from Mike Medders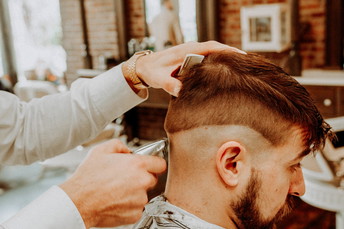 Trust me, I've been on both sides of the chair. I can't count the number of times a client has sat down and struggled…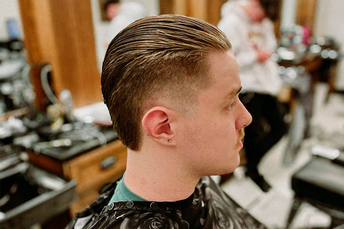 50 Different Ways to Rock the Slick Back Hairstyle for Men 1. Slick Back Fade @jules.thebarber Look: The slick-back…