WiseBarber's 8 Best Haircuts For Square Faces Men in 2023
What does a square face mean?
It's an angular, symmetrical jawline that's equal both in length and width. This, together with a square forehead that complements the sharp straight sides, makes up a square face shape.
Got it?
So, is this the best way to describe your face? If so, you're in the right place.
This WiseBarber list of the 8 best haircuts for square faces for men explores a few suitable options for you.
But first:
Let's run a confirmatory test. 
How? 
Well, follow the instructions below to confirm whether you truly have a square face.
How to Tell If You Have a Square-Shaped Face In 5 Easy Steps
Using a measuring tape, take the measurements listed below and compare as instructed;
Face length: Extend the tape from your hairline, across the face length, and down to the chin. Write down the length.
Forehead: Measure from the outer corner of one eyebrow to the other and write down the measurement.
Cheekbones: Starting from one cheekbone, measure to the other side.
Jawline: Measure from below one earlobe to the chin. Repeat this for the other side.
Compare: Are all the measurements taken similar? Are both the length and width parts of your face almost equal in size?
If Yes? 
Good, this confirms that you have a square face shape.
And, in that case, the eight best haircuts for square faces men listed below are for you.
Note:
This list is in 3 categories namely trendy, casual, and formal. However, you can play around with them to find out what works best for you.
8 Best Trendy Hairstyles For Square Faces Men in 2023
1) Comb Over Skin Fade
A Comb Over is one of the best celebrity haircuts for square face shape men. You may have seen it on Justin Timberlake, Cristiano Ronaldo, and Leonardo Dicaprio.  
Technically:
This style has a side-swept look; attainable by combing the hair to one side and matching it with a hard side.
On the plus side, you can style it to your liking and even combine it with an Undercut for added contrast and style.
2) Pompadour Fade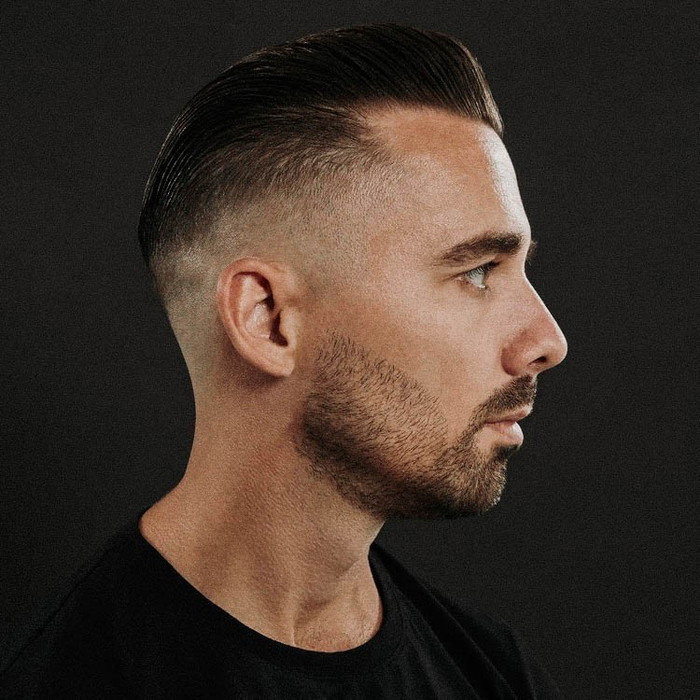 Notably:
Bruno Mars, David Beckham, Adam Lambert, and Miguel have all been associated with a Pompadour several times.
Now:
Men with a Pompadour stand out from the pack with plenty of shine and volume.
With this, the entire hair is styled upward and away from the forehead. Take yours up a notch with clean fades and a beard to match.
3) Ivy League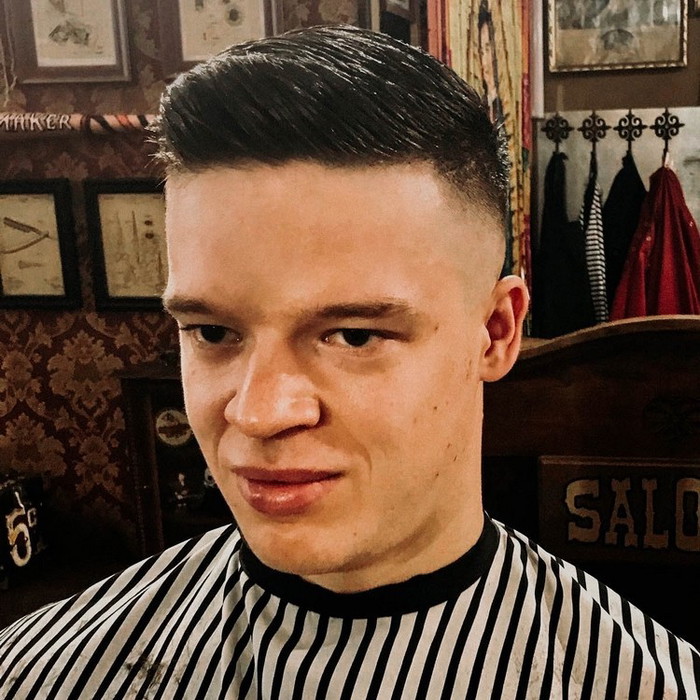 This group of haircuts for square faces men originated in Ivy League schools. They are stylish, masculine, and popular among great athletes and scholars.
Basically:
They are Crew-Cuts with longer top-front hair that's styled to a preferred side. Depending on your judgment, you can go for Messy Ivy League cuts or Curly Ivy league styles.
Meanwhile:
There's also the modern style that gives your hair a more relaxed appearance.
4) Slicked Back Undercut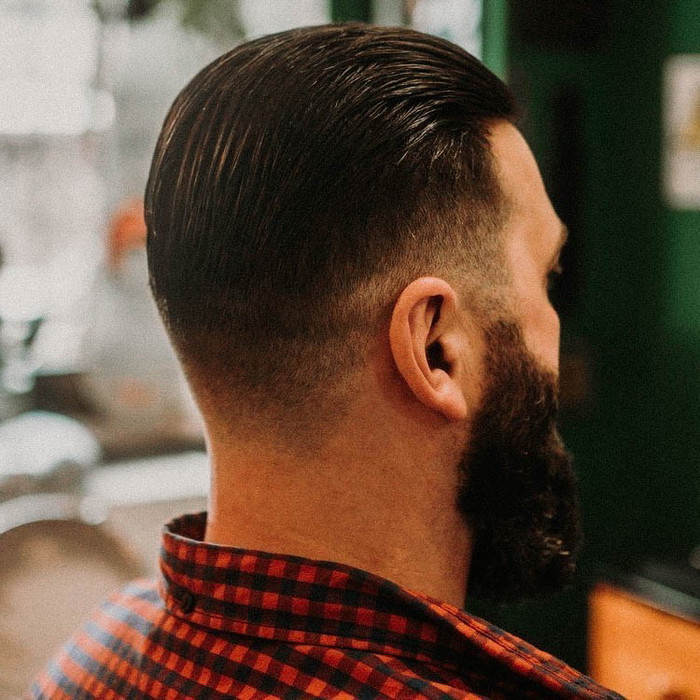 A Slick Back is ideal for men who want to look professional and simple in an interview, first day at work, or any other formal occasion.
Think of Brad Pitt in the 2014 American war movie - Fury.
Generally:
The Slicked Back Undercut is popular among square-faced men because it adds elegance to the jawline.
Now:
To achieve it, fade or cut the sides of your hair and comb the longer top backward.
5) Buzz Cut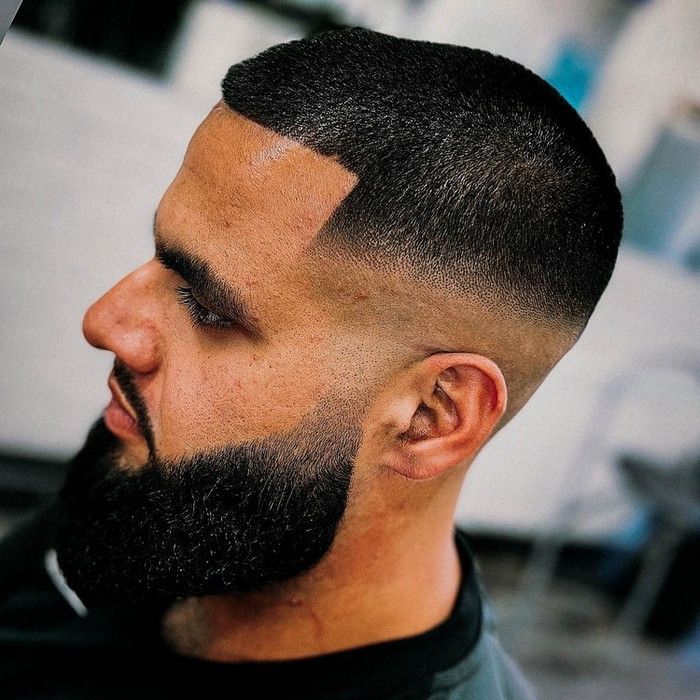 A Buzz Cut is a gender-friendly haircut. It is a low-profile style for men and women who want to look masculine or want to regrow damaged hair.
Now get this:
This low-maintenace haircut features evenly short-trimmed hair all over the head and is sometimes paired with a Fade or an Undercut.
6) Crew Cut Fade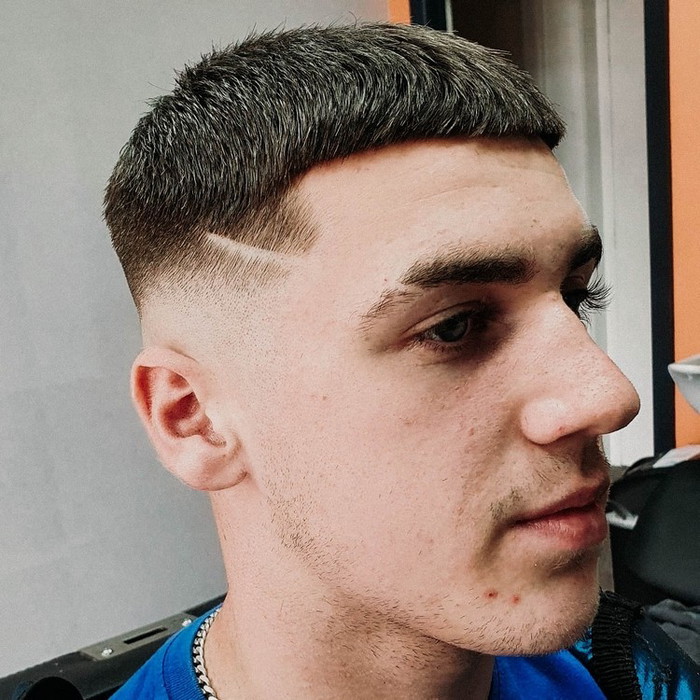 Unlike a Buzz Cut or a skin-level Close Cut, a Crew Cut features medium-length hair uniformly around the head. It is then combined with a Fader to look more stylish and youthful.
Always remember this:
A Crew Cut Fade could mean a Lower Fade, Medium Fade, or Lower Fade. So, it's important to get specific when requesting a Crew Cut Fade from your barber.
Now, to the last category of the best haircuts for square face men.
7) Top Knot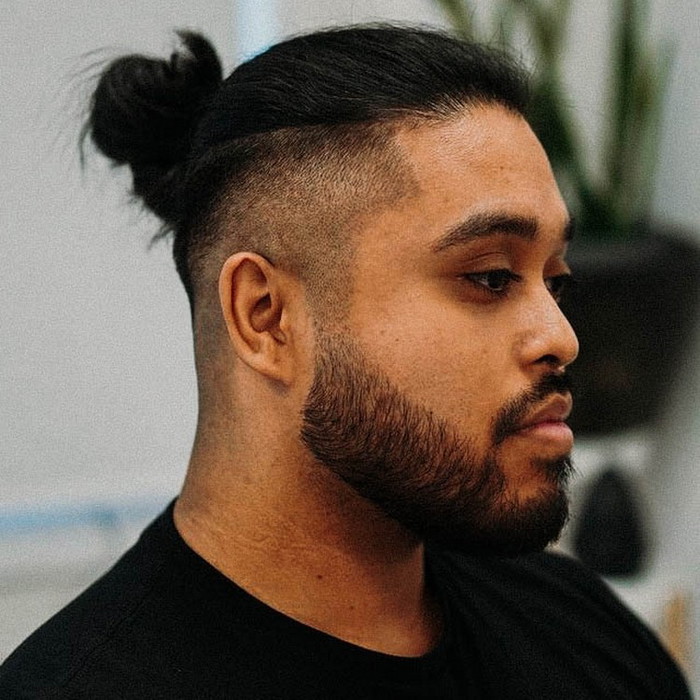 AKA the Chonmage.
A Top Knot is a hybrid of long and short haircuts; where the sides and back are trimmed into shorts or fades. Then the longer top is styled backward where it is tied into a bun.
Get this:
Top Knots are common among Japanese Sumo wrestlers. They flawlessly keep hair off the back, especially, on hot summer days.
8) Faux Hawk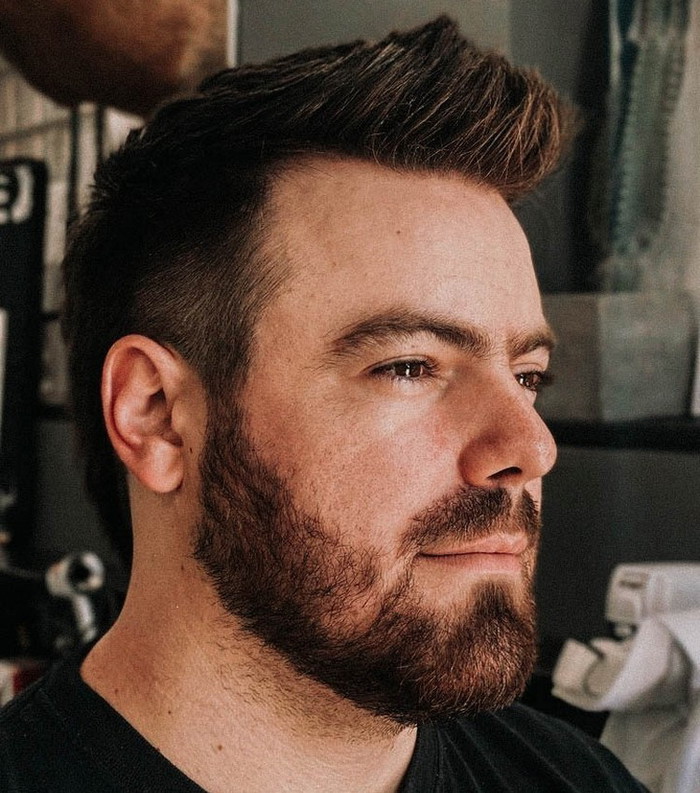 Ladies generally love men that look masculine in all shades. But while you may not have those rock-solid abs and six packs just yet, you can style a Faux Hawk as long as you have long voluminous hair.
What does it do?
Well, a Faux Hawk makes you look cocky in a cute way. It features upward-brushed hair to the top of the hair while a Fader of a Taper is 
In Conclusion
Remember:
When choosing haircuts for a square face, avoid those that add more sharpness to your angular features. Likewise, keep away from haircuts that stress the jawline.
More so:
Steer clear of styles that add roughness and width to your face.
You can experiment with the eight best men's haircuts for square faces reviewed above to figure out the perfect ones for you.
Anyway:
For questions or personalized recommendations, reach out to me in the comment box.
Until then, stay safe and keep looking awesome
Frequently Asked Questions
Short haircuts soften the sharp jawline of a square face. And that's the key to a better-looking, square-shaped face.
A square face is the symbol of masculinity. It looks attractive, especially, to the other gender.
Do facial workouts. An effective facial exercise is to suck in your cheeks while standing on your feet and looking up at the ceiling for 3-4 minutes every day.
Know this, a square face is practically a round face with sharp angles. By wearing beards, you automatically make your face round. So, if this is what you want, go for it.
More from Mike Medders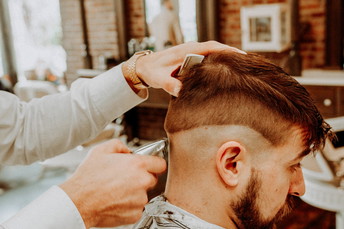 Trust me, I've been on both sides of the chair. I can't count the number of times a client has sat down and struggled…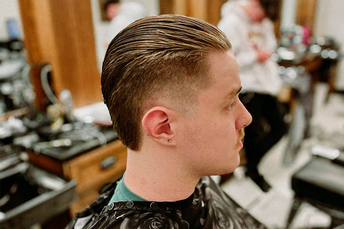 50 Different Ways to Rock the Slick Back Hairstyle for Men 1. Slick Back Fade @jules.thebarber Look: The slick-back…