Top 9 Beard Styles For Round Face Men
Fact:
Folks, beyond doing it for the culture, most of us gentlemen personally love to keep our faces as solidly square as bricks.
And for good reasons:
It's our masculinity juice. A symbol of self-confidence, authority, self-respect, and other alpha male qualities; which other people (especially, ladies) dig in us. 
Evidently, our beard choices play a pivotal role in helping us achieve this.
Therefore:
If your face is round or chubby, you're likely wondering what the right beard style for a round face is. 
Because, to look 100% manly, you need to choose a perfect beard style and haircut. 
And:
While you can check out my previous post on the best haircuts for round face men, today I'll walk you through;
Top 10 awesome styles for men with round face shapes
Answers to frequently asked questions about beard styles for men with round faces
Now:
Let me begin by reviewing the…
WiseBarber's 9 Best Beard Styles For Round Face
1. Short Boxed Beard Style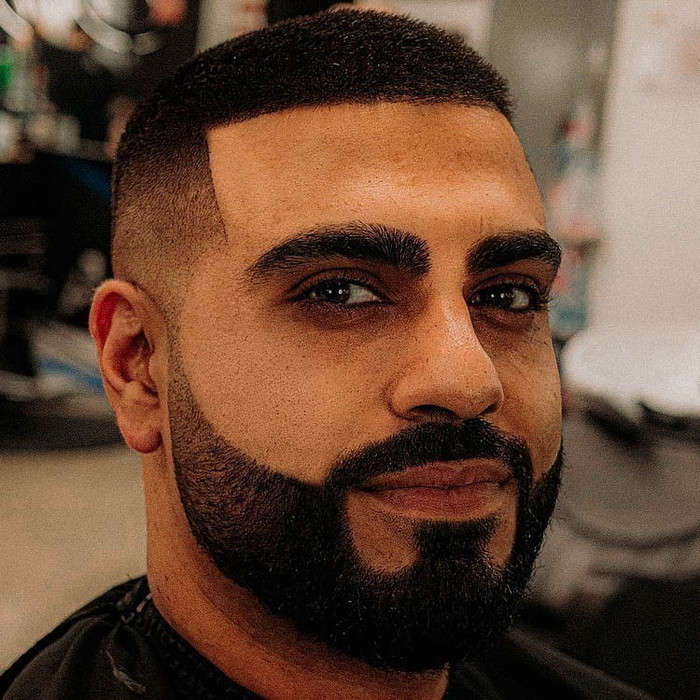 The Short Boxed beard style forms, of course, a frame-like box around the jaw. It's a corporate style, recommended for working-class men with busy lifestyles. 
However:
A Short Boxed macho style is also awesome for men who don't like the ruggedness and volume of the classic full beards. Those are very high-maintenance.
In a nutshell:
The Short Box is a non-voluminous, full beard of an evenly trimmed length of 1/2-inch and has an angular, boxed edge. It is completed by a sharp clean neckline situated 1-inch above the adam's apple.
2. Thick French Beard Style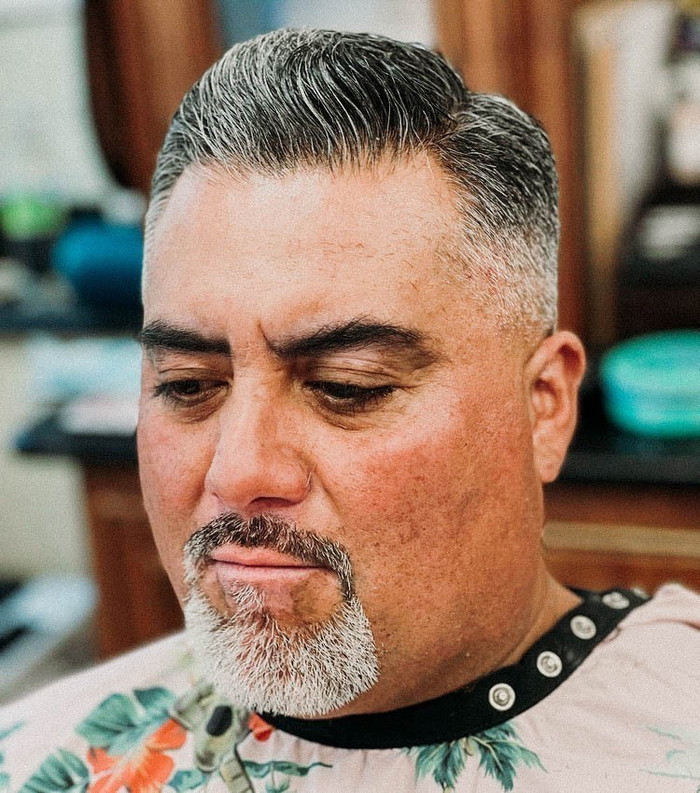 This is for those who want to go from plain bald to bold and classy like, guess who…? The Rock (yes, Dwayne Johnson). A Thick French Beard will easily pull off your charm.
Okay, what's so great about it?
Well, unlike every other French Beard style, this one adds volume and length to the chin and ultimately elongates the face.
Caution though:
If the jawline is so sharp, trim down (taper) the side hair of the beard to create a softer and smoother appearance.
3. Curled Van Dyke Beard Style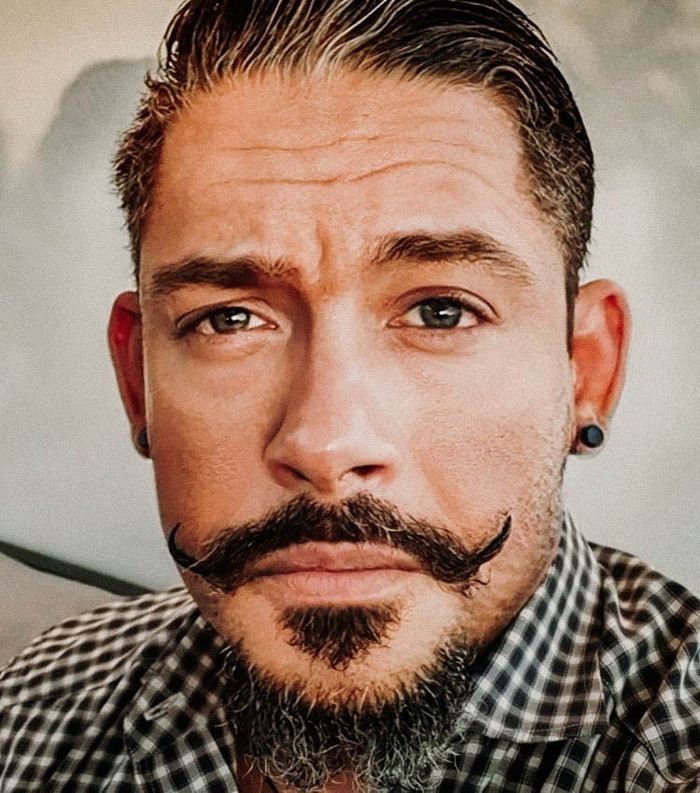 Ever since the 17th-century Flemish Painter (Anthony Van Dyck) invented and wore a Van Dyck beard, there have been over 30 variations. Yes, thirty. From informal to casual and everything in-between. 
However:
All Van Dycks are characterized as having pointy chin hair and a pointy mustache, with the sides of the face completely shaved clean. 
But take note:
This particular one is downright artsy; standing out with a curly mustache and fine stubble on the jaw. Thus, making it one of the best beard styles for round face.
4. Ducktail Beard Style
As one of the best beard shapes for round face, the Ducktail has variants too. You can rock a Thin Edged, Two-Tone, Round Bottom, Long Pointed, or a Short Pointed Ducktail. 
And guess what:
They all are awesome beard styles for men with a round face; especially, for those who want a Viking look. However, the two most modern and spectacular variants are the Long Pointed and Short Pointed types. 
Note this:
A Short Pointed Ducktail, though easier to keep, needs to be combined with a high-top haircut for round-faces. 
However:
A Long Pointed Ducktail is more versatile (works for bald heads too) but is a high-maintenance style.
5. Anchor Goatee Beard Style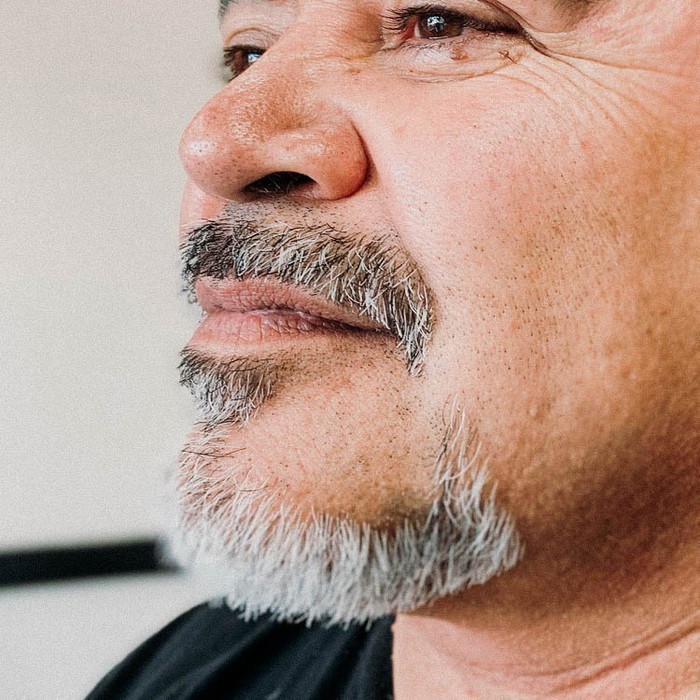 Get this:
An Anchor Goatee gets inspiration from the shape of a ship's anchor. Sideburns and the hair below the cheeks are completely shaved off.
This way, attention is drawn to the chin and the lips.
Take note:
An Anchor Goatee looks like a Van Dyke. But just like any other beard style for round face on this list, they differ in a few ways; as deduced from the Dyke's description above. So, you better be watchful to avoid letting your Barber give you the wrong style.
6. Verdi Beard Style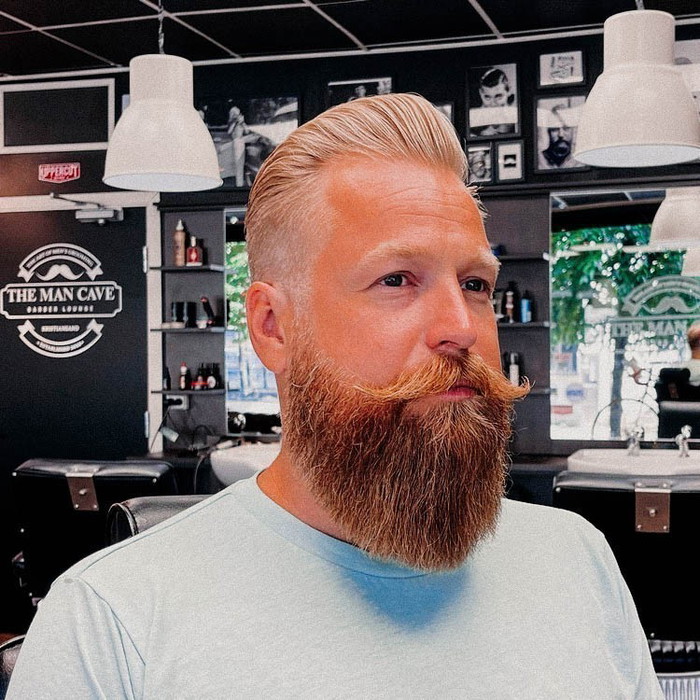 For those who can commit to a long beard and want to "groom it like real men", go for the Verdi.
Without a doubt, the Verdi is among the best facial hair for round face.
Listen:
This beard takes you from a round face to an inverted triangle appearance. And you can combine it with a high-top haircut for an ultra-male look.
But how does it look like?
Going by the popular description, there's an oval-shaped chin hair extending longer than 3-inches. At the top of this is a pointed (sometimes curly) mustache.
7. Garibaldi Beard Style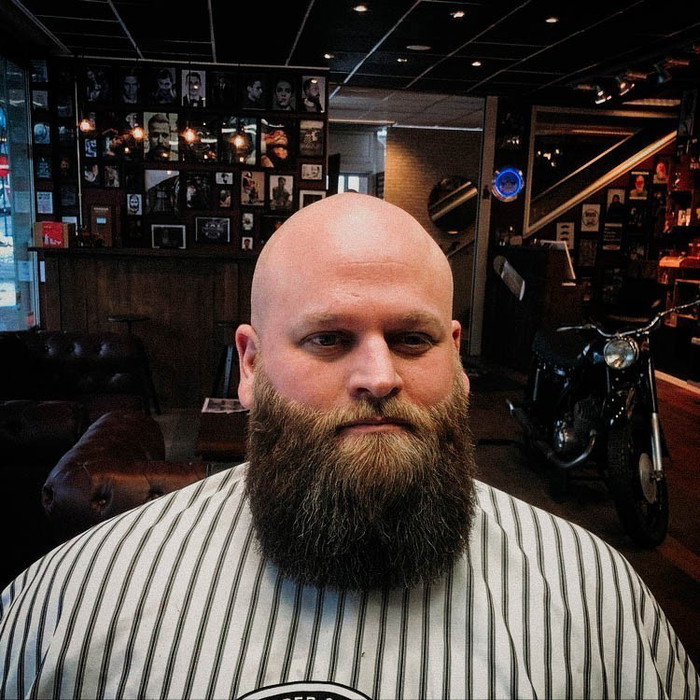 Named after the Italian General Giuseppe Garibaldi, the Garibaldi is another transformational beard style for a round-face man who likes fullness.
At first glance:
You would almost take a Garibaldi for a Verdi beard. But after a closer look, it becomes obvious that the mustache is connected with the chin hair unlike in a Verdi.
Here's another difference:
While the ideal length of a Verdi starts from 3-inches, a Garibaldi requires 7-inches. Overall, if you're chubby, the Garibaldi Beard is one of the few facial hairstyles for chubby faces that are round.
8. Mutton Chop Beard Style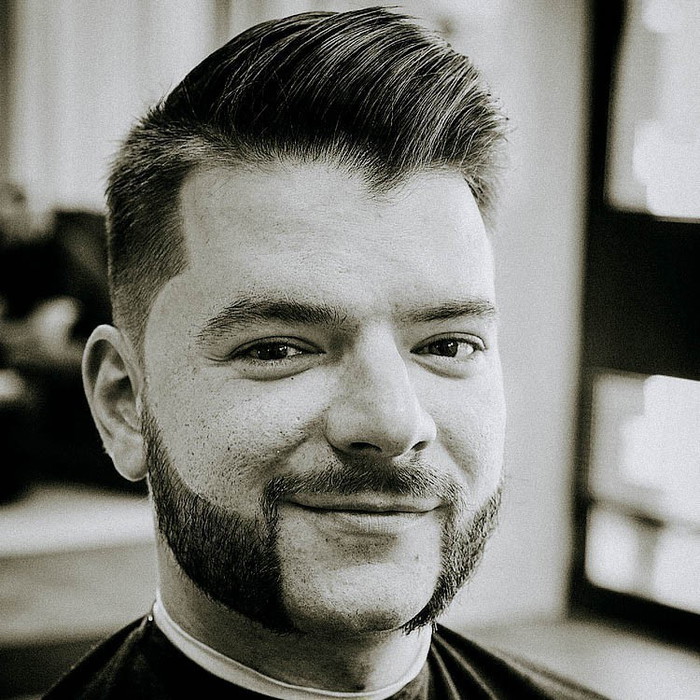 Every superhero has a unique costume except Wolverine. However, the metal-clawed man stands out with that Mutton Chop beard; that never fails to give him a serious look of alertness.
So:
For y'all unapologetic outlaws who love to break from the status quo, this style will do it for you. A Mutton Chop breaks the culture of focusing on the chin hair by completely shaving it off.
To be clear:
A Mutton Chop beard focuses on growing sideburns that are connected to a clean mustache.
Unusual?
Yes. But this is an outstanding style of facial hair; for chubby guys especially.
9. Balbo Beard Style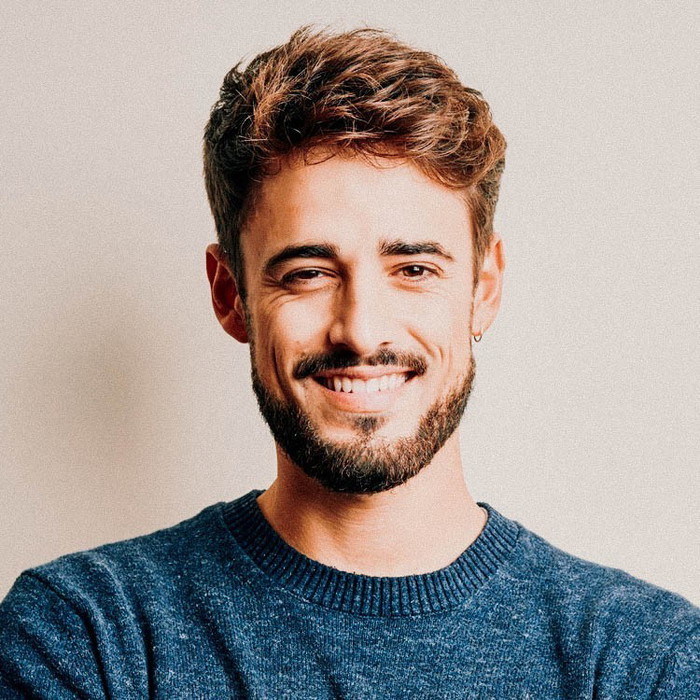 Don't mistake this for an Anchor. The Balbo is a thick short macho. A keep-it-simple style for both casual and official occasions. It enlarges the face without overly elongating it.
Unlike in an Anchor:
The jawline hair of a Balbo beard runs thicker toward the jaw and vanishes towards the earlobes.
If you're grooming for simplicity and boldness, a Balbo is an awesome, substance-adding beard style for round-face men.
And:
That completes this list of stylist beards for men with round faces.
In Conclusion
Choosing the wrong beard style for a round face can make it look fatter and out of shape. Luckily, the 10 beard options listed above eliminate the confusion and make looking good easy.
Anyway:
It's now up to you to experiment with them and create a personal shortlist from here.
Please:
If you miss anything, want to share your experience with any of the facial hairstyles listed so far, or want to make a suggestion, feel free to use the comment area below.
Until next time. Stay safe.
Frequently Asked Questions
Well, it depends on what you want to achieve with your face. But professionally, the goal is to convert from the rather feminine round face to a more manly shape (square or triangular). To achieve this, go for any style that gives a defined appearance to the jawline and chin.
Yes, well-groomed structured beards with a decent amount of thickness tend to add masculinity to round faces. And if you're comfortable with keeping a longer beard, it creates the illusion of an elongated face.
Grow the length of your beard and keep your sideburns shaved always. This gives it a thinner, elongated appearance. To supercharge the thinness, wear high-top haircuts with faded sides to match your beard.
More from Mike Medders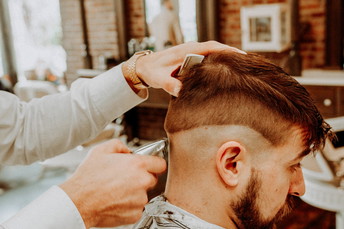 Trust me, I've been on both sides of the chair. I can't count the number of times a client has sat down and struggled…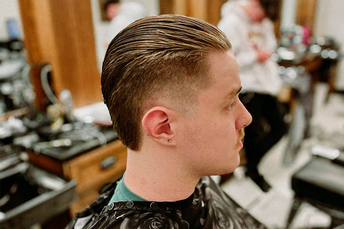 50 Different Ways to Rock the Slick Back Hairstyle for Men 1. Slick Back Fade @jules.thebarber Look: The slick-back…