WiseBarber's List of the 9 Best Andis Clippers in 2023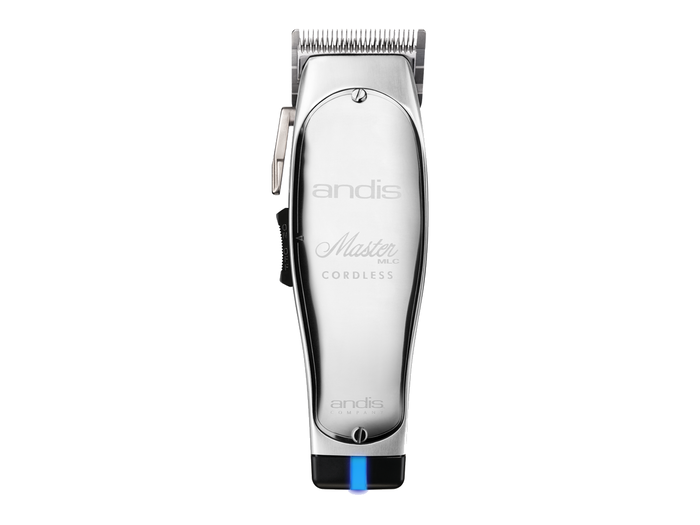 WiseBarber Top Pick
Andis Master Cordless
It's no secret:
Andis is one of the best hair clipper manufacturers on the planet.
You don't believe me?
Just walk into any barbershop and you're bound to see an Andis product being used.
Anyway:
This brand is popular mainly because of its reliable and versatile clippers; most of which are very affordable.
In this post, I'll walk you through nine of their best clippers that you can buy today.
Now:
Each product on this list has been chosen on account of its performance, power, design, flexibility, quality, and effectiveness among other attributes.
So, sit back, relax, and enjoy your reading.
Let's get down to it!
Rating Summary
| Rank order | Product name | Features & Functionality (max. 10) | Usability & Handling (max. 10) | Accessories (max. 10) | Overall Rating | |
| --- | --- | --- | --- | --- | --- | --- |
| 1. | Andis Master Cordless | 9.8 | 9.7 | 8.5 | 93.3 % | See details |
| 2. | Andis Cordless Fade Combo | 8.5 | 9.5 | 9 | 90.1 % | See details |
| 3. | Andis Speed Master 2 | 9 | 9.5 | 8.3 | 89.4 % | See details |
| 4. | Andis Supra ZR 2 | 8.8 | 9.7 | 8 | 88.1 % | See details |
| 5. | Andis 68120 Headstyler | 8.3 | 8 | 10 | 87.8 % | See details |
| 6. | Andis ProAlloy | 8.3 | 9.2 | 8.3 | 85.8 % | See details |
| 7. | Andis Supra Li 5 | 8.3 | 9.2 | 8 | 84.7 % | See details |
| 8. | Andis Fade Master | 9.3 | 8.5 | 4 | 72.5 % | See details |
| 9. | Andis Ceramic BGRC | 8.3 | 9.2 | 4 | 71.4 % | See details |
Top 9 of the Best Andis Clippers 2023
When it comes to cutting hair, the Andis Master Cordless clipper is an absolute master. In fact, very few cordless clippers in the market can compete with it. Here's why.
Without a doubt:
The Andis Cordless Master has earned its spot on any top-tier hair clipper's list.
Why?
Well, for starters, it is an impressive performer; cuts through hair without any snags or pulling; offers a lot of control and convenience; ideal for all types of hair; plus, it's very ergonomic.
All of these perks point to one thing – a better haircutting experience for both the barber and their client.
Anyway:
It's one of those clippers that not only look and feel good when in use but also are built to last longer; offering you more value for your money.
In terms of power and cordless convenience:
The Andis Master Cordless clipper features a Lithium-Ion battery that offers a mere 90-minute runtime and requires just 1 hour to fully charge.
Not much runtime – but just enough to squeeze in a haircut or two.
Pros
Powerful motor
Great ergonomic design
Long-lasting Lithium-Ion battery
Durable aluminum housing
Extremely efficient blade
Cons
Noisy compared to the corded Masters
No accessories (just oil)
Final Verdict
Despite the fact that it doesn't come with any accessories, that cordless Master is still one of my favorites. I won't lie – its battery life is crap. However, in terms of usability, handling, and performance, it's undoubtedly the best cordless Andis clipper you'll find.
Andis Cordless Fade Combo
The Andis Professional Cordless Fade Combo Envy Li offers a rather convenient and efficient set of grooming tools for both professional barbers and home users.
Are you looking for a product to take care of both your cutting and trimming needs?
Well:
The Andis Cordless Fade Combo might be your best bet.
Why?
This combo kit's clipper is equipped with a Lithium-Ion battery that requires only 90 minutes to fully charge and serves up 2 whole hours of nonstop runtime.
It is also elegant, lightweight, and features an ergonomic design; making it easy to handle and use over extended periods of time.
What's more?
The Cordless Envy Li clipper in this combo pack features close cutting, adjustable fade blades (#00000 to #000); which gives you greater cutting precision and easier fading operations.
Also:
You get a Slimline Pro Li trimmer and other essential accessories to ensure that you complete any kind of hairstyle without needing other tools.
Pros
Lightweight and ergonomic
Extremely close-cutting blades
Comes with a hair trimmer
Long-lasting Lithium-Ion battery
Comes with the necessary accessories
Offers more value and convenience
Final Verdict
More value and a better hair clipping experience – these are two guarantees you get when you use the Andis Cordless Fade Combo. It's worth it.
When it comes to affordable medium-budget clippers, the Andis SpeedMaster II Hair Clipper definitely stands out.
They say, "Never judge a book by its cover."
And when I look at the Andis SpeedMaster II, the best words I can think of are, "Don't judge a clipper by its price tag."
Now:
I'm not saying that it's cheap - getting one of these bad boys will set you back around $85.
All I'm saying is that you get more value with this purchase.
For example:
The SpeedMaster 2 from Andis looks lavish despite having a plastic housing.
It's chrome-plated, sleek, and very ergonomic making it easy for anyone to work for long without feeling fatigued.
Moreover:
It comes with a powerful motor, quality (#000 to #1) blades, smooth taper lever, and a power cord long enough for the best fades.
Pros
Great value for the price
Lightweight and easy to handle
Durable blades
Comfortably quiet
Ergonomic design
Sufficient accessories
Cons
Not so powerful motor
A lot of vibration
Final Verdict
If you are looking for a nice Oster Fast Feed alternative that's more affordable, I'd recommend that you get the Andis SpeedMaster II. It has an ergonomic design, quiet operation, and efficient blades just to mention a few perks.
In the arena of premium cordless clippers, the Andis Supra ZR II Cordless Clipper gets very little competition. It's stylish, adaptive, powerful, and very ergonomic.
Without a doubt:
The Andis Supra ZR II has a lot of features that make it great; but here we'll discuss just a few.
For instance, this clipper's design.
It features a slim ergonomic design which makes it easy and comfortable to use over long periods.
In terms of power:
The Supra ZR II clipper is equipped with an impressive, 5-speed rotary motor offering cutting speeds of between 1500 and 3800 SPM.
Moreover:
This clipper features a detachable ceramic blade (#000); plus, you can also get different blade sizes that suit your cutting needs.
Lastly:
The Andis Supra ZR II comes with a Lithium-Ion battery which serves up an impeccable 3-hour runtime and takes just 2 to fully charge.
Pros
Powerful, 5-speed rotary motor
Impressive battery performance
Highly flexible
Lightweight and ergonomic
Run cooler and quieter
Great for busy barbers
Cons
Limited accessories
Not very pocket-friendly
Final Verdict
In my opinion, the Andis ZR II Cordless Clipper is a great choice for professional barbers and stylist, but a bit ''over the top'' for home users.
Looking for a two-in-one value-pack? Well, the Andis Headstyler/Headliner combo has all the tools needed to provide a powerful clipper trimmer combo making at-home hair-cutting a breeze.
So:
What makes this combo so great?
To begin with, this clipper has a sleek and user-friendly design with the housing made from tough ABS polymer ensuring you get a comfortable and firm grip.
What's more?
It features a powerful magnetic motor that provides up to 7200 strokes per minute.
As for the blade, the Andis Headstyler clipper is equipped with high-quality, stainless steel, adjustable blades.
And to ensure you get more value from your purchase, you get a neat Andis Headliner trimmer for awesome finishes.
Lastly:
The accessories that come with the combo make it easy for both professional and home use.
Pros
More value for the price
Two-in-one combo
Impressive design
Very Durable
Relatively strong motor
High-quality blades
Comes with a complementary trimmer
Numerous accessories
Cons
A bit bulky and heavy
Relatively loud
Final Verdict
The Andis Headstyler/Headliner Combo is a reasonable choice for casual users as well as seasoned professionals. I believe it comes with all the necessary tools needed to get the job done.
For a clipper that boasts of a great design and impressive features, the Andis Pro Alloy Adjustable blade clipper guarantees you a better haircutting experience and more convenience.
What's so special about this clipper?
Well:
The main selling point for the Andis ProAlloy is its XTR technology (Extreme Thermal Reduction).
XTR essentially means that this clipper runs cooler, quieter, and with very gentle vibrations, unlike the powerful Andis Master.
And I know you might be wondering:
Doesn't that mean that the clipper has a weaker motor?
No. That's far from the truth.
The ProAlloy clipper comes with a high-speed, magnetic motor with 7200 SPM and carbon-coated, adjustable blades for the best performance.
Also:
This clipper has an ergonomic body; meaning you'll get a better and more comfortable grip while working.
Pros
Minimal Vibrations
Runs cooler and quieter than other Andis clippers
Carbon-coated stainless steel blades
Powerful 7200SPM Motor
Ergonomic design
Numerous accessories
Cons
Has compatibility problems with old Andis guide combs
Flimsy taper lever
Final Verdict
If you are looking for a professional heavy-duty hair clipper with an ergonomic design and medium price then the Andis ProAlloy Adjustable blade clipper is a great choice.
The Andis Supra Lithium-Ion 5 clipper is an awesome grooming tool featuring a sleek ergonomic design, easily adjustable blades, and a reliable battery life; making it flexible and efficient.
There are a lot of things to love about the Supra Li 5.
For starters:
Its housing is made of a tough polymer with a brushed nickel finish; this gives the clipper an elegant and stylish look.
And with up to 5500SPM, this clipper's motor delivers more than enough power to cut all kinds of hair.
Moreover:
If you are more interested in reliability, you'll be happy to know that the Supra Li 5 can be used as both corded and cordless, offers up to 2 hours of runtime, and only takes 90 minutes to fully recharge.
What about its blades?
Well, this amazing hair clipper also features stainless steel 5-position precision blades that easily adjusts from #0000 to #1.
Pros
Lightweight and easy to handle
5-position, high-precision blade
Powerful rotary motor
Stellar battery runtime
Compact and ergonomic design
Very reliable
Cons
Sometimes noisy
Can heat up when used for long
Final Verdict
Everything about the Andis 73500 Supra Lithium-Ion clipper makes it worth buying. It's reliable, stylish, ergonomic, lightweight, and very easy to use.
With an extremely close-cutting, adjustable blade, and a powerful motor to back it up, the Andis Professional Fade Master Hair Clipper is a true icon when it comes to fading.
Now:
Just like the Andis Master, the Fade Master features a tough but lightweight aluminum body.
The only downside to having a metal housing is that it heats up after extended use.
Anyway:
In terms of design, the Fade Master is ergonomic, easy to hold, handle, and maneuver.
And that's not the best part…
This clipper also features a powerful magnetic motor offering up to 14000 strokes per minute.
Therefore, you get enough power and speed to cut through any kind of hair.
Lastly:
The Fade Master features an extremely close cutting carbon steel blade. The blade can be adjusted from #00000 to #000.
Pros
Extremely close-cutting, #00000 blade
Quality design and easy to use
Powerful, 14000 SPM motor
Durable housing
Convenient taper lever
Cons
Quickly overheats
Doesn't come with any useful accessories
Final Verdict
The Fade Master's powerful motor, close-cutting blade, and ergonomic design make it a reasonable choice for both professional and home users.
If you are searching for a true hair clipping performer, the Andis BGRC Hair Clipper is definitely among the best. It's small, lightweight and very efficient.
What makes this clipper so great?
Well:
Starting with its usability, the Andis BGRC is lightweight and ergonomically designed to fit perfectly and comfortably in your hand.
What's more?
This clipper comes with a standard rotary motor that offers up to 2900 strokes per minute – not much, but just enough to get the job done.
Now:
When it comes to the blade, the Andis BGRC clipper features detachable carbon steel blades.
And the best part is that it is also compatible with UltraEdge and CeramicEdge blades.
Lastly:
This clipper can be used for cordless operation using the BGR+ battery pack and charger – although you'll have to buy this separately.
Pros
Ergonomic design
Powerful motor
Can be used for corded and cordless operation
Versatile and comfy to use
Lightweight
Less noisy
Cons
Low speed and weak motor
Limited accessories
Final Verdict
Considering all the perks you'll get Andis BGRC hair clipper, I think the price tag is a justifiable and worthwhile-investment – especially for a professional barber.
5 Things to Consider While Shopping for the Best Andis Clippers 2023
Now:
I've listed the nine best hair clippers from Andis. And I know that you are ready to make a purchase.
The question is:
Do you know how to pick out a quality Andis clipper?
If not, here are some quick shopping tips you can use before buying.
1. Don't Fret Over Pricing
Note:
Price never indicates quality.
What I mean is that there are some highly-priced, low-quality clippers and, at the same time, inexpensive, high-performance cutters in the market today.
Therefore, you should focus more on the clipper's features, functionality, usability, and handling; rather than pricing.
Pro Tip:
Don't want to spend more than you need – but, also, don't be afraid to pay higher if the clipper's quality and features are exceptional.
2. The Amount of Power You Get
What about power?
Well:
Having a powerful clipper means you can cut hair easier and faster.
A powerful motor also means that the hair won't pull or snag owing to the fact that it's fast enough to cut down any hair that enters the blade.
3. Usability and Flexibility
We can all agree that:
A clipper's flexibility is heavily dependent on whether it's corded or cordless.
You might think that a corded clipper offers more power than a cordless one but that could not be further from the truth.
With better battery technology, some cordless clippers can offer as much power as corded ones.
However:
While cordless clippers give you greater flexibility they will eventually run out of juice – something you won't have to worry about with corded clippers.
4. Design and Ergonomics
It goes without saying:
Ergonomics are always important; whether you are cutting your own hair at home or working in a busy shop.
Why?
Having a comfortable and firm grip is key to a successful haircut; most Andis clippers are usually lightweight with rubber grips to prevent them from slipping.
5. Quality and Type of Blades
Lastly:
Having an efficient blade that's sharp and precise enough to cut through any hair type is always an advantage.
With Andis clippers, you can choose from a variety of blades that are durable and stay cooler for long and don't irritate your skin.
Pro Tip:
If you want the best blades, consider finding an Andis clipper with ceramic, titanium, or carbon steel blades.
In Summary…
Well, there you have it.
I hope that this guide will come in handy if you are looking to buy an Andis clipper.
But:
In case Andis isn't your brand of choice, check out this review of the best Wahl clippers and see if you can find the right one for yourself.
Anyway:
Thanks for stopping by.
And if you have any questions or contributions to the topic, please feel free to leave them in the comments below; I'll get back to you as soon as I can.
#StaySafe
 
Frequently Asked Questions
Both brands have given us some of the best clippers on the market. That's why no list of the best clippers can be complete without models from these two brands. For instance, Andis has the Andis Master, which is our pick for the best corded clippers, while Wahl has the Wahl Magic Clip, the best professional clipper you can get.
Yes, Andis has some of the best hair clippers on the market. That's why it's rare to find a barbershop that does not have an Andis clipper. The brand has been on the market for almost a century now and understands the secret to designing professional-level clippers.
Most of the Andis clippers we have reviewed above have a runtime of between 1.5 hrs and 3 hours, which is the highest runtime you can get from a clipper The best thing is that these clippers charge fast making them ideal for barbershops.
Andis clippers are so good that they have withstood the test of time for almost a century now. Their annual revenue is almost a billion dollars. This shows the brand has developed a loyal fanbase that loves its products. In return, the company is always inventing and creating some of the best hair-cutting products.
More from Mike Medders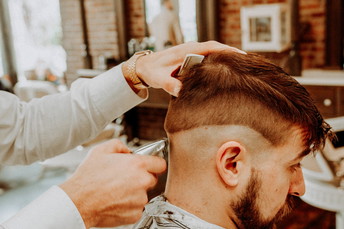 Trust me, I've been on both sides of the chair. I can't count the number of times a client has sat down and struggled…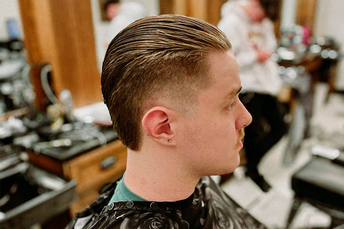 50 Different Ways to Rock the Slick Back Hairstyle for Men 1. Slick Back Fade @jules.thebarber Look: The slick-back…
Newest articles
Ever wondered how often you should be visiting the barber? Well, you're not alone. It's a question that's crossed the…
In the challenging world of barbering, it's not just about mastering the latest trends and techniques. The real game…
Ever wondered how to walk into your barber shop and confidently ask for the perfect fade haircut? Well, you're in the…