Revealing The 10 Best Haircuts for Oblong Faces Men
Get this:
Every well-groomed man knows that tailoring a haircut to the shape of the face makes all of the difference. 
Generally, with the perfect haircut for your face shape, you can have that smooth facial and personality change.
Anyway:
In today's post, I'll share with you the 10 best haircuts for oblong faces men. Plus, a few answers to a couple of related questions.
Ready to dive in?
Here's every hairstyle you can wear with an oblong face.
1) Fringe Haircut
A well-styled Side Fringe takes away the attention from the length of the face. It was probably one of the most popular oblong face hairstyles for men in 2017.
What should you expect?
Well, your face will look shorter since this type of Fringe is diagonal and covers most parts of the forehead. It's clean, yet messy. And thus, gives you an appealing masculine look.
2) Side Part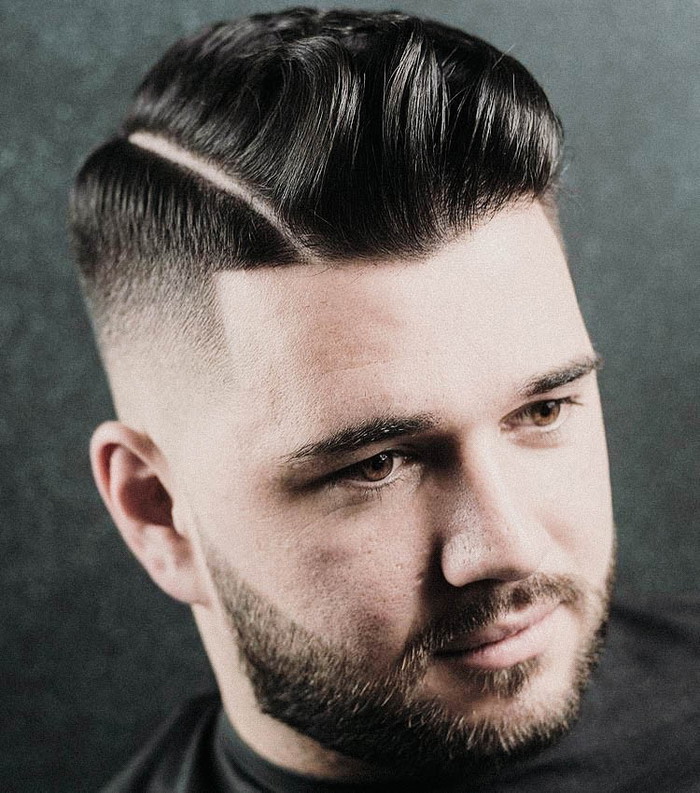 Part your wax-activated hair to one side, throw in some fades, and press in your best hairspray. That's how to make jaws drop when you wear a Side-Part. 
The Side-Part hairstyle is another option for men with oblong face shapes. Having some volume (on the top and sides) makes the face appear shorter and broader. 
And:
The Fringe on the top also helps to broaden your forehead. 
But, be careful not to make the top too long or it will elongate your face. You can also pair your Side-Part with a short beard to make your chin look shorter.
3) Buzz Cut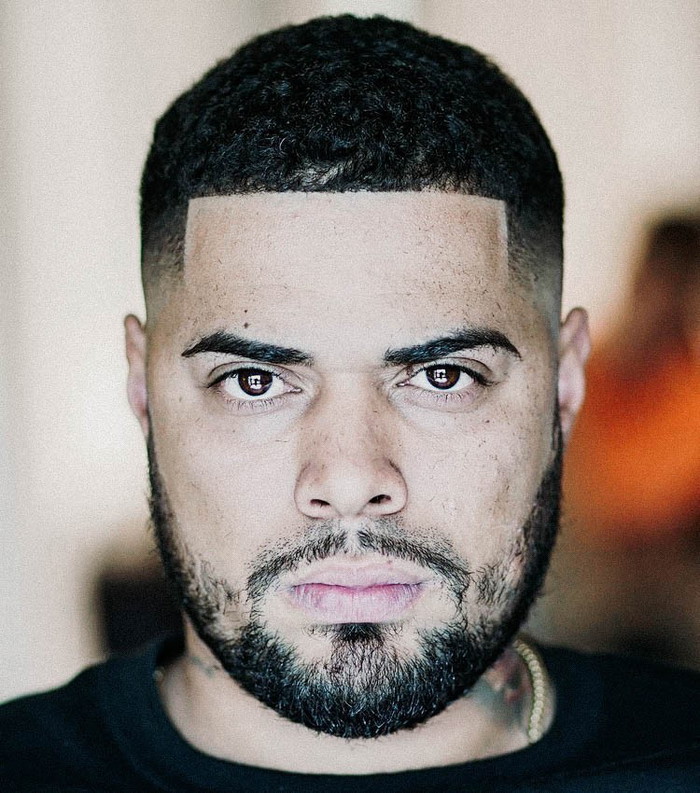 Wondering why the Buzz Cut made it into my list of the best men's haircuts for oblong face shapes?
Simply put, it keeps you looking like a military guy – neat and organized.
As an extremely short hairstyle with uniform length all over, the Buzz Cut doesn't add length to the top of your head. Hence, its popularity among men with round face shapes too. 
Also, it's low-maintenance and DIY-friendly. 
Picture Eminem.
Yes, that's the right kind of Buzz Cut for an oblong face shape. Moreover, you can have all the hair off, or retain a decent amount of length. 
You know… get creative.
4) Comb Over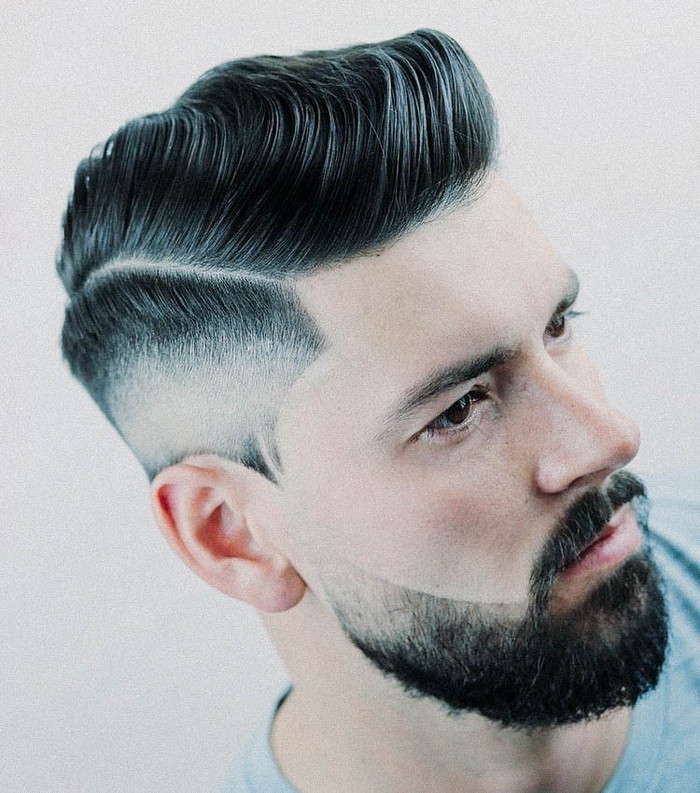 A Comb Over is definitely one of the most stunning hairstyles for oblong faces. It features a fuller top hair brushed to one side of the head and a deep, wide side part for an edgy look.
And if you're wondering:
This hairstyle is perfect for business events and can even make a perfect haircut for interviews or the first day at work.
But, here's the downside:
A Comb Over is a high-maintenance haircut. This means that if you lead a busy lifestyle, you may wind up with an ugly-looking Comb Over after a few days of inadequate upkeep. Guys beware.
5) Caesar Haircut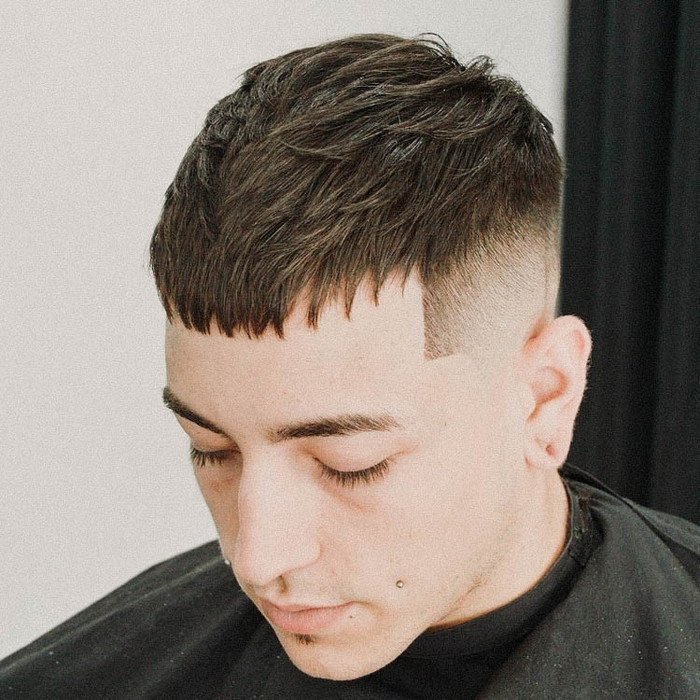 Whether your hair is straight, wavy, or curly, anyone can rock a Caesar haircut.
Howbeit:
There's one condition that has to be met; which is that your hair needs to have a minimum length of 1inch or a maximum of 3inches.
Did you make the cut? Yes?
Awesome. Now, you can rock a Caesar haircut – one of the modern low-profile cuts for all settings. Primarily, a Caesar haircut is a punk distinguished by a short, sexy fringe that barely covers the forehead.
Would you like to get the most out of this hairstyle?
If yes, after leaving the saloon, make sure you style the top hair of your Caesar cut to the front using a good hairstyling wax. This will give your hair a lasting texture and structure, and make it shine.
One more thing:
You should also consider visiting your barber for retouches after every 2 weeks of recreating a Caesar haircut to make it look neater and slicker always.
6) Skin Fade + Quiff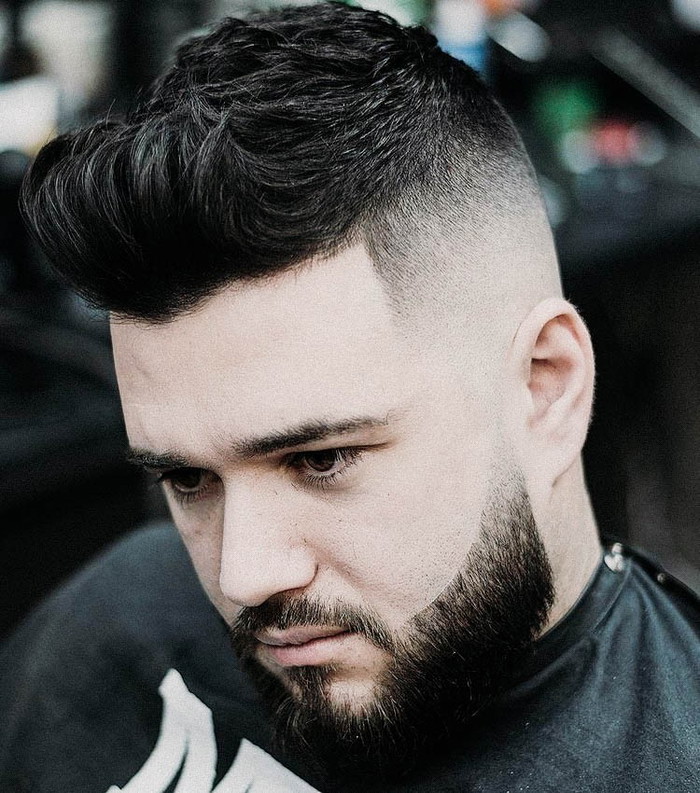 Is this a controversial hairstyle for oblong face men? No. Not when it's done right.
Here:
The underlying idea is to keep it short and simple. 
Therefore, the Taper Fade should be so low that you can almost see the skin underneath (a typical skin fade) and it should only begin to fill out halfway to the top. 
That way:
You're able to get a Quiff at the top without looking too shabby. Remember, for oblong faces, you want to avoid hairstyles that elongate the face. 
7) Short Wavy Haircut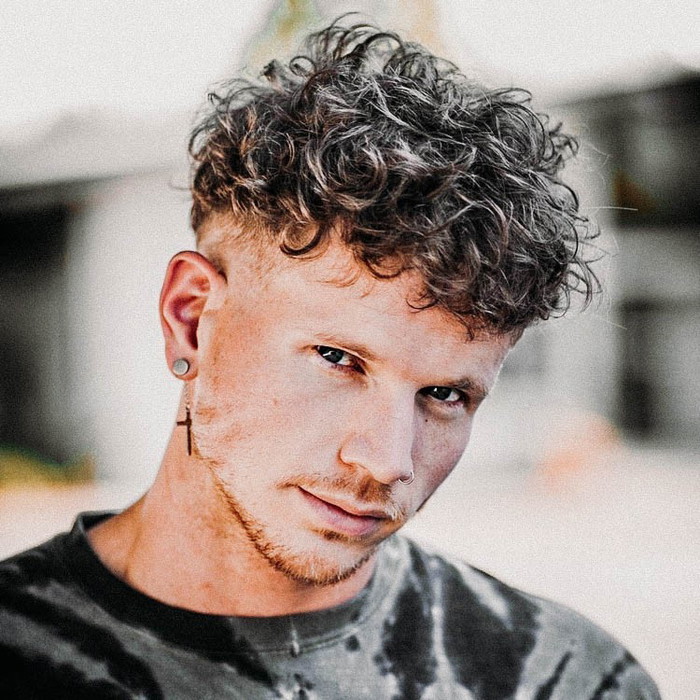 With a Short, Wavy haircut, you can look charmingly badass with ease. Nowadays, it's one of the best haircuts for oblong-faced men. 
A Short Wavy haircut is perfect and suitable for any occasion. It is neat and easy to maintain. Also, it is ideal for men in their 30s to 50s. 
Career man style? Yes.
8) Short Pompadour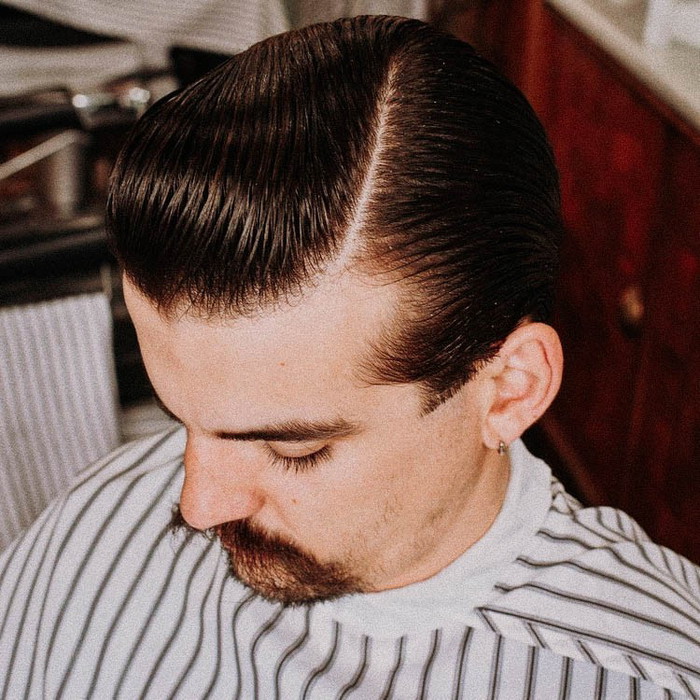 Now:
Short straight hair with side parting and a cone-like top, this Pompadour variation hardly goes wrong. And if you have an oblong face, you will always look good with it.
The Short Pompadour makes it to my list of haircuts of Oblong face men because of its timeless and trendy nature. 
On top of that, it is also relatively easy to maintain with the right hair products.
Any specifics?
Yes, a Short Pompadour is perfect for new-age professionals who love to make a statement.
9) Man Bun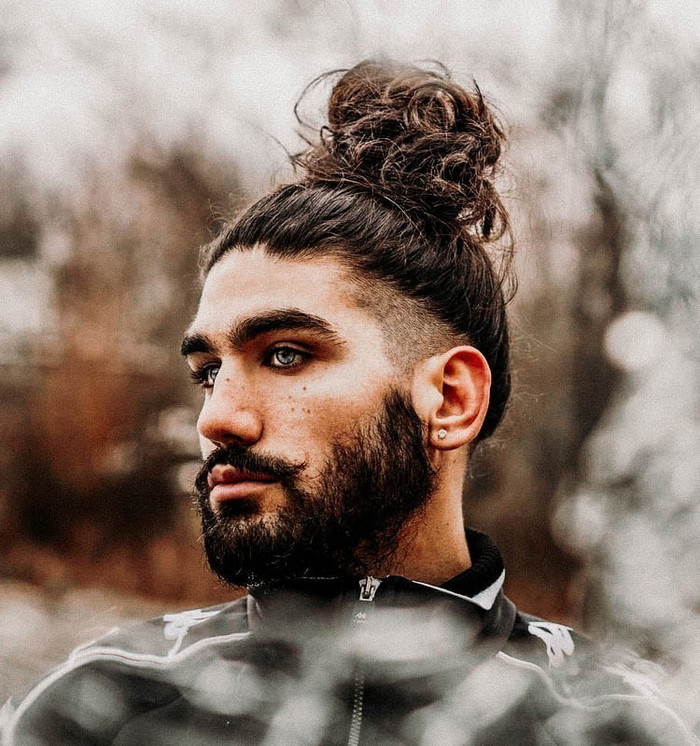 A lot of fashion nerds and professional barbers have argued that a Man Bun is a symbol of new beginnings, masculinity, and rebellion. But one thing is certain which is that a Man Bun is an artful hairstyle that's only accessible to men with long hair.
Ultimately:
This hairstyle will give you a hipster look and this is why it is popular among athletes (mostly fighters), gangsters, musicians, and spiritualists.
Anyway:
This hairstyle is easy to achieve as all you'll need to do is pull your hair backward and tie it into a knot. And if you happen to be a lover of modern styles, you can pair your Man Bun with a Fader or an Undercut.
10) Undercut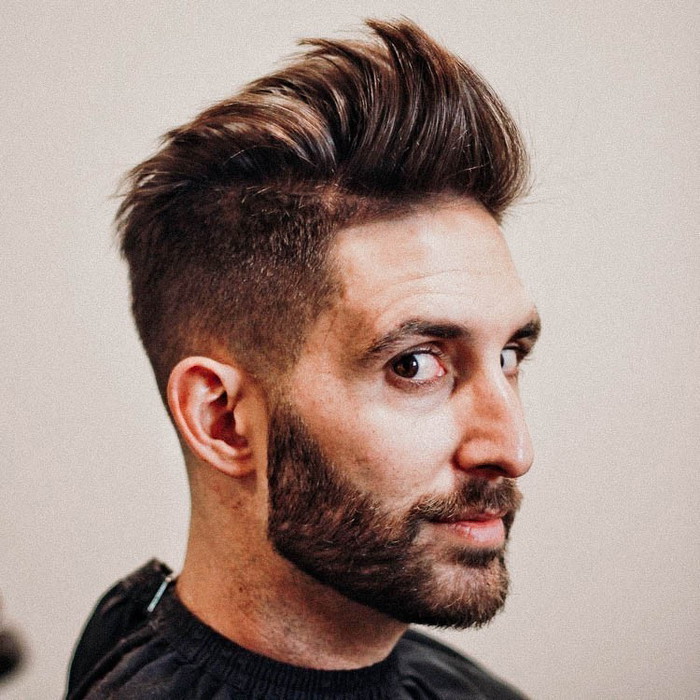 An Undercut comes in shades and sizes, opening the doors to fashion diversification, creativity, and experimenting.
Technically:
It is an even shave/trim of the hair on the two sides and the back of the head, paired with a styled long top hair.
Do you get it?
Regardless of your hair texture, your face shape, and your hair length, there's always a perfect Undercut to achieve the look you want for a setting.
And that's it:
With this complete, Wisebarber's list of stunning oblong face shape haircuts for men, you've got 10 awesome options to choose from.
Anyway:
Be sure to check out my answers to Frequently Asked Questions about this topic at the end of this post.
Conclusion
As you can see, it's actually easy to find stylish haircuts for your oblong face. The objective, don't forget, is to keep the face visually wider or shorter.
Putting it all together:
Consider haircuts that are uniform in length or add volume to the side and avoid any that add height.
Have questions?
Don't hesitate to ask in the comments section below.
Still your number one barber, Mike.
Frequently Asked Questions
The first confirmation is equality in the width of the following:The width of the jaw and the forehead,The width of the jaw line and cheekbones.Finally, the vertical height of the face is greater than the horizontal length.
Men with oblong faces have nice-looking, masculine features. Other than their extensive face length (which can be "shortened" with the right hair and beard styles), everything else (jaw, cheek, forehead) seems well balanced and moderate.
Face length is the major contrast between the oblong and diamond faces. You most likely have an oblong face if your cheekbone, forehead, and jaw line have similar measurements. Otherwise, every diamond face shape man has a pronounced cheekbone (and pointed chin) that's the longest portion.
The oblong face has a length longer than the cheekbone, jawline, or forehead. The oval face has a length longer than the cheekbone width, as well as a forehead width that's larger than the jawline.
A man with an oblong face can keep a beard. But grow it short; because full beards tend to elongate the face even further. Applying volume to the sides whilst shortening the length on the chin should help create a chiseled structure, which is a better alternative.
A Stubble or any other short beard styles is ideal for the length along the jawline of an oblong or square face. For oblongs, a thick mustache can also help detract from the elongation.
More from Mike Medders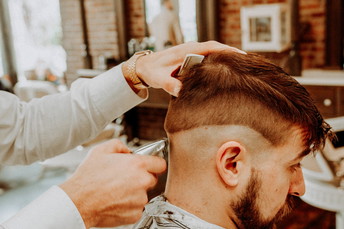 Trust me, I've been on both sides of the chair. I can't count the number of times a client has sat down and struggled…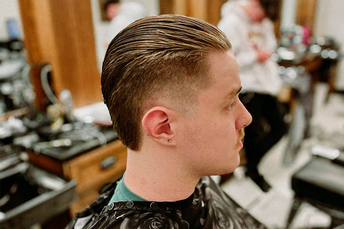 50 Different Ways to Rock the Slick Back Hairstyle for Men 1. Slick Back Fade @jules.thebarber Look: The slick-back…