Your Essential Guide to Haircut Terminologies and Techniques
Here's the thing:
The men's grooming scene is experiencing rapid growth, with myriad haircuts and haircutting terminologies being created and utilized in barbering sessions.
While these terms seem more important for barbers and hairstylists to know, clients and DIY enthusiasts need to understand them as well.
Now:
After dealing with several clients who have trouble with these terminologies, I've compiled a comprehensive list of haircut terminologies. This includes popular men's hairstyles and the various techniques used during grooming sessions.
What's more?
Sunny Kambo, an experienced barber and hairstylist with 14 years under his belt, has also joined me on this mission. 
Let's get to it!
Major Difference Between a Haircut and a Hairstyle
Get this:
A haircut, as the name implies, is the trimming or cutting of hair to a specific length.
While:
A hairstyle is the appearance or arrangement of the hair after a haircut.
Additionally, texture, hair length, daily routine, and styling preference can influence a man's hairstyle.
Classifications of Hair Length
Look:
Every man with a haircut or a hairstyle features in any of these hair length categories below.
Well, except he is sporting a bald haircut, but that still falls under the short hair category, right?
Anyway:
Below are four categories of hair lengths, descriptions, and hairstyle examples.
| Hair Lengths | Description | Common Hairstyle Examples |
| --- | --- | --- |
| Short | Cut very close to the scalp, usually 1-2 inches in length | Buzz cut, crew cut, and Caesar cut. |
| Medium | Has more length than short hair, usually 2-4 inches in length | Faux hawk, undercut, textured crop, and quiff. |
| Long | Typically 4-8 in length, reaching the neckline or shoulders. | Man bun, ponytail, and boho braids. |
| Extra Long | Offer more length than long hair, extending past the shoulders to the mid or lower back. | Wavy locs, mullets, dreadlocks, and long straight hair. |
1. Short Length
Know this:
Short hair is cut very close to the scalp, about an inch or two in length.
And:
It's often simple to create, easy to maintain, and pairs well with various hair types and face shapes. Short hairstyles include buzz cuts, crew cuts, Caesar cuts, and Ivy leagues. 
2. Medium Length
You see:
Medium hair offers more length and styling options compared to short hair.
Typically:
It features around 2 - 4 inches of hair length, making them perfect for formal and informal occasions.
Some excellent medium hairstyles include the undercut, quiff, and faux hawk.
3. Long Length
Long hair for men features 4 - 8 inches of hair length.
In most cases:
Long hair is described as hair reaching the neckline or draping over the shoulders. Man buns, ponytails, and long curly hairstyles are good examples of long hair.
4. Extra Long Length
Listen:
Extra long hair for men starts at 8 inches and could extend well over 12 inches, often reaching the mid or lower back.
Some men may even consider longer lengths reaching up to 14 inches. Examples of extra long hair include long mullets, dreadlocks, and wavy locs.
7 Trendy Men's Haircut Styles
| Hairstyle | Description |
| --- | --- |
| Buzz cut | Features a uniform cut around the head, usually ⅛ to 1 inch of hair length. |
| Crew cut | Features shorter hair length at the sides and back, and longer top hair. |
| Fade | Hair is cut very close to the scalp at the neckline but there's an increase in length at the sides of the hair. |
| Pompadour | Features very long and voluminous top hair |
| Quiff | Features voluminous top hair like pompadours but shorter hair length. |
| Side part | Has a parting on one side of the head, and the other side of the hair is styled as desired. |
| Slick back | Features long top hair, which is usually combed or brushed back and finished with styling products. |
Here's the thing:
Men's haircut styles are numerous and diverse. And as more trendy hairstyles continually grace the men's fashion scene, it might be hard to keep track of what's in vogue.
Thus:
I've listed seven popular hairstyles that never get old. You can always try them and style them as desired, so your hair game remains on fleek.
1. Buzz Cut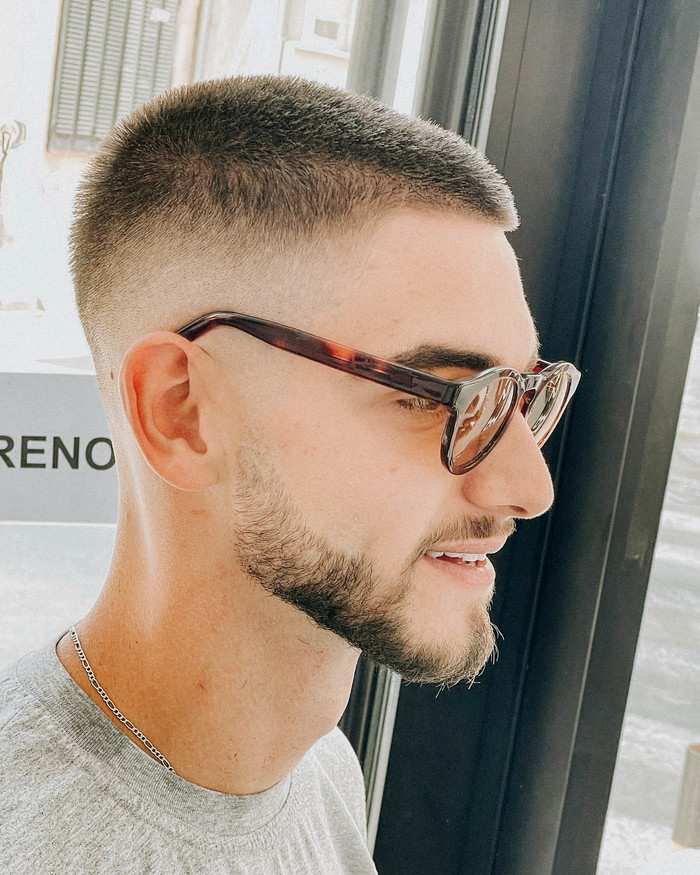 A buzz cut is an extremely short hairstyle where hair is cut evenly around the head, featuring ⅛ inch to ½ or 1 inch of hair.
Clipper guards, nifty graduation techniques, skin fade, and scissors over comb are techniques used to create chic buzz cuts.
What's more?
Buzz cut requires minimal styling and is easy to maintain.
2. Crew Cut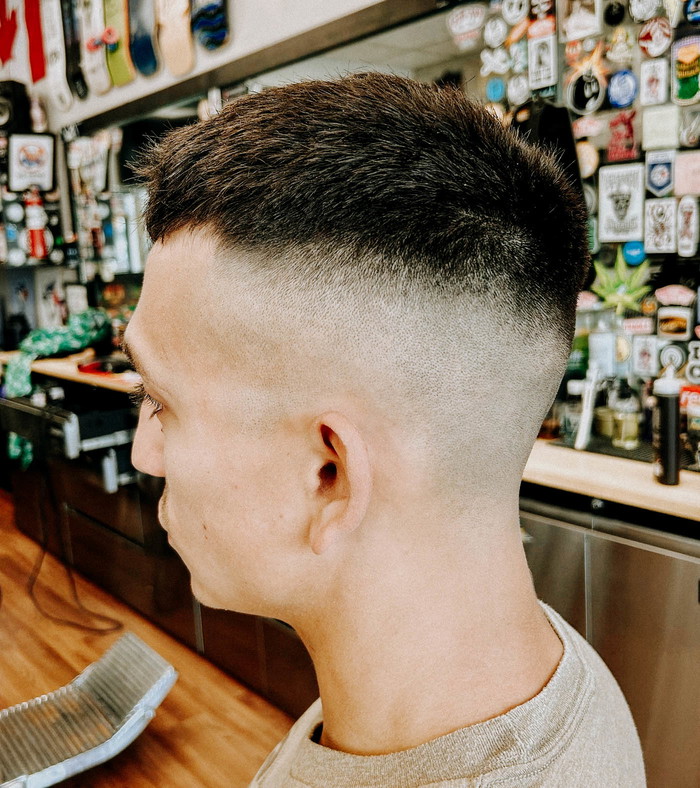 Listen:
A crew cut is another popular short hairstyle for men, characterized by shorter sides and back with more hair length on top of the head.
Typically, clippers are used to create crew cuts.
However:
To achieve a consistent length and a smooth blend on the sides and back of the hair, apply the scissors-over-comb technique.
Additionally, you can taper the sides of your crew cut for a polished look.
3. Fade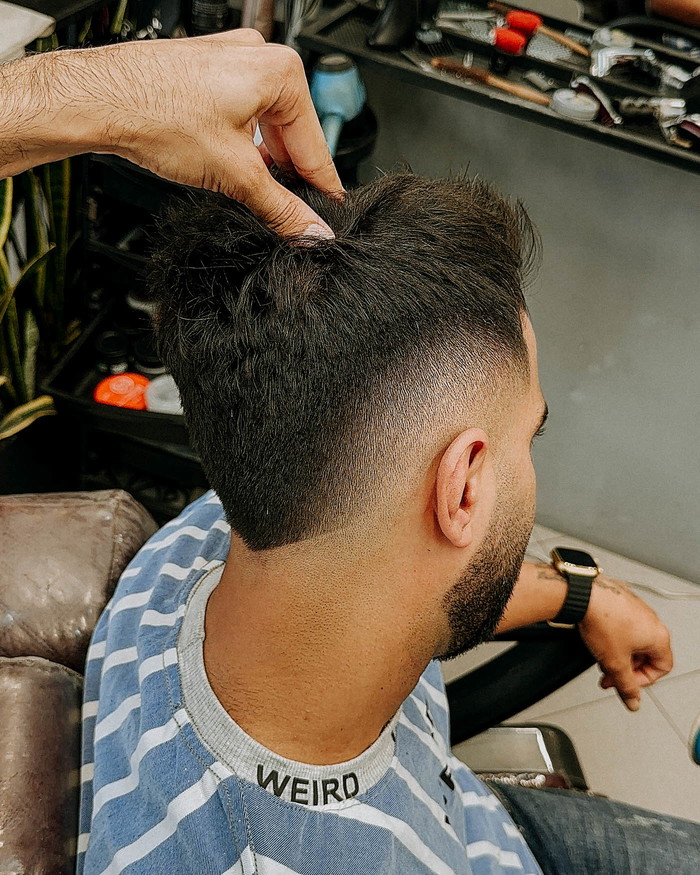 The fade hairstyle features shorter hair at the neckline, which gradually increases in length as you approach the sides of the hair.
Now:
Clippers with different guard sizes, scissors over comb, blending, and tapering techniques can be used to achieve transition between different hair lengths.
4. Pompadour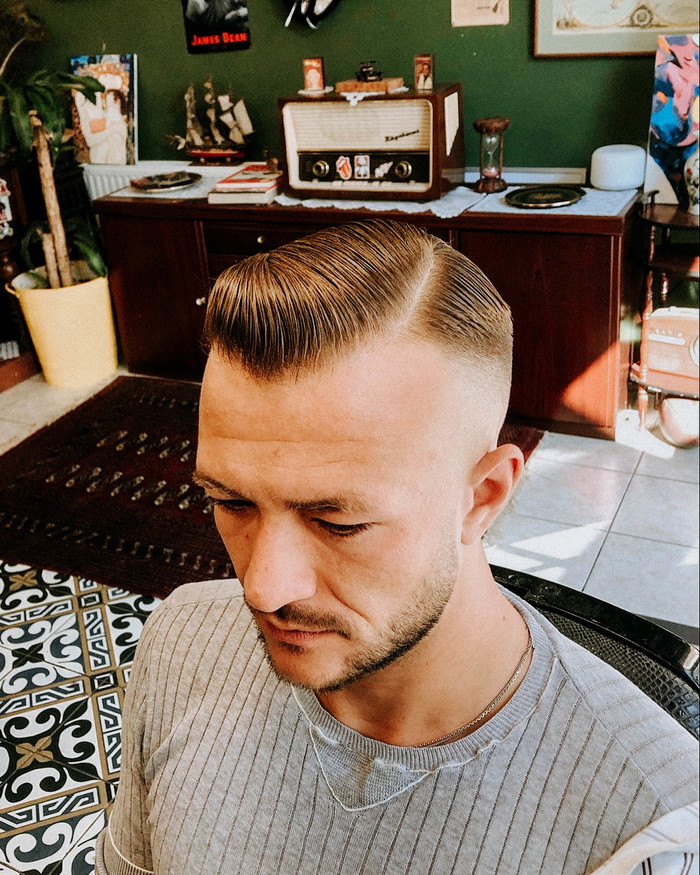 Note:
The defining feature of a pompadour is the top hair, which typically features voluminous hair and a longer length.
Usually:
The top hair is styled upwards, away from the face, to create a statement look while emphasizing height and volume.
The hair on the sides and back is usually kept at a short or medium length.
Know this:
You can use the scissor-cutting technique to create the foundation for the pomp.
However:
To create the desired volume and hold, finish your look, and keep your pomp in place, apply styling products such as pomade or hair wax.
5. Quiff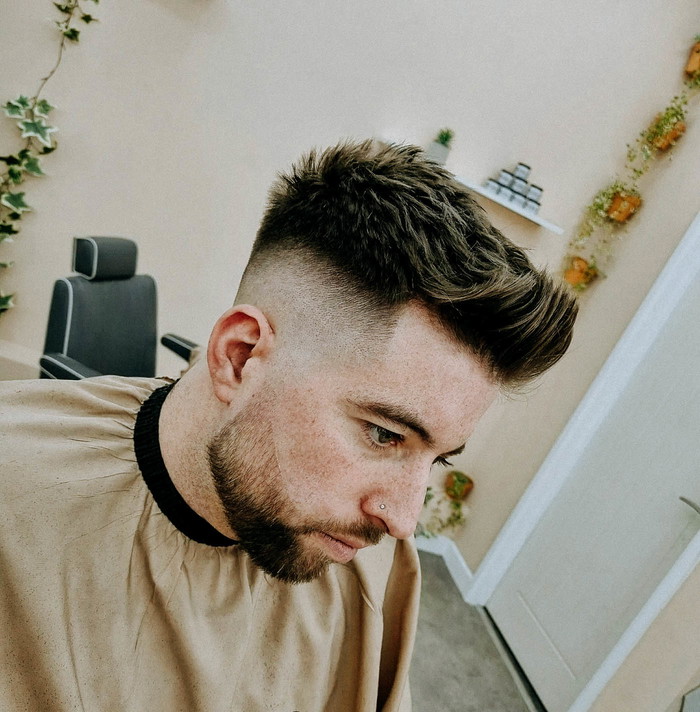 The quiff resembles a pompadour but with less exaggerated styled top hair.
Remember to:
Use the point-cutting technique to soften and add texture to the ends of your quiff.
6. Side part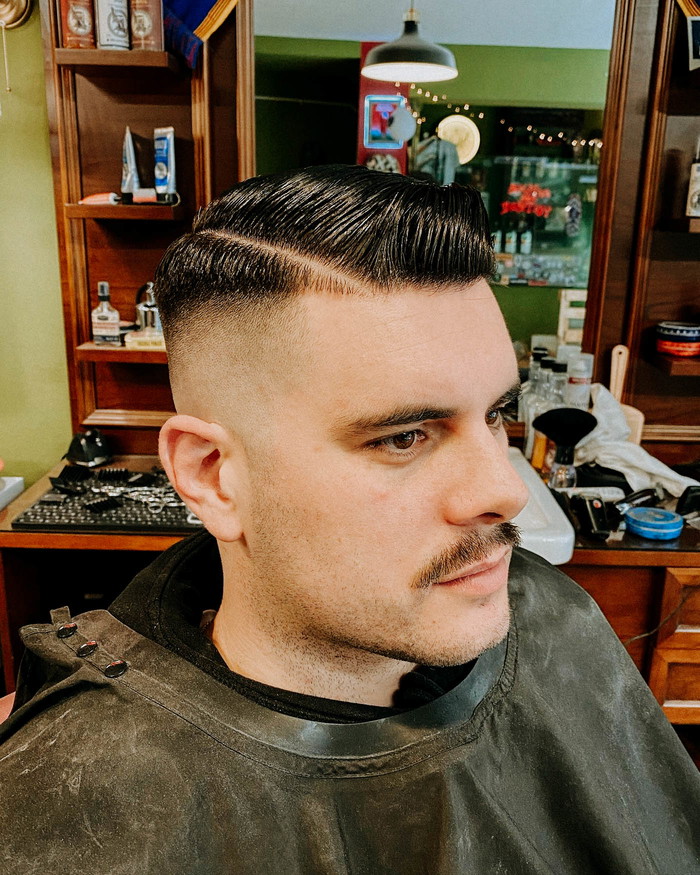 The side part hairstyle features a parting on one side of the head.
For this style:
The primary technique is to create the side part using a fine-toothed comb and style appropriately with styling products to create a classy look.
7. Slick-Back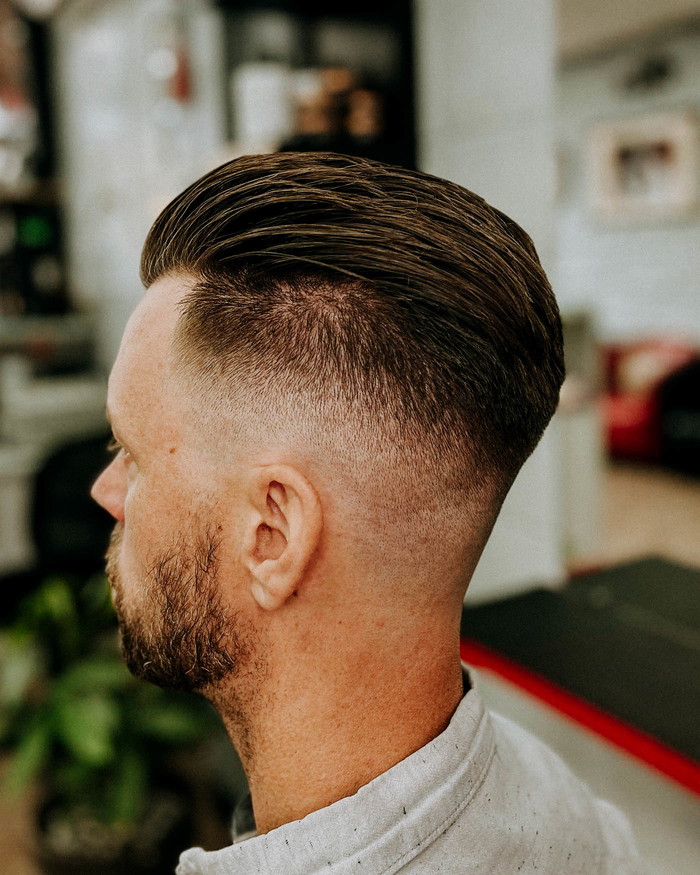 Fortunately:
The slick-back hairstyle features longer hair at the top, which is usually combed or brushed back.
Note:
The scissor-cutting technique creates the desired length and shape, while the tapering and blending technique is used for the sides and back of the hair.
Remember to:
Add styling products to secure your look and keep hair in place.
How to Customize Hairstyles for Various Hair Types and Face Shapes
| Hairstyle | Ideal Face Shapes | Ideal Hair Types |
| --- | --- | --- |
| Buzz cut | All face shapes | All hair types |
| Crew cut | Square, diamond, oval, heart, round | All hair types |
| Fade | Square, round, oblong, inverted triangle | Straight, curly, wavy |
| Pompadour | Triangle, oval, round, square | Straight, long, thick, voluminous |
| Quiff | Round, oval, triangle, diamond, square | Thick, voluminous |
| Side part | Heart, round, diamond, square, oval | All hair types |
| Slick back | All face shapes | All hair types |
Adapting a hairstyle for all face shapes and hair types requires considering individual features and making slight adjustments to achieve a clean look.
To this end:
I've outlined a few hairstyles and ways to adapt them for various face shapes and hair types.
1. Buzz cut
Buzz cut is one of the elegant, short hairstyles that pairs nicely with all face shapes and hair types.
So:
If you want to rock a short hairstyle that requires less maintenance, I highly recommend buzz cuts.
2. Crew cut
While crew cuts work excellently for all hair types, it doesn't pair well with all face shapes.
Sunny suggests:
"If you have an oval face shape, aim for a uniform length all around the head."
He adds:
"For a rectangular face, create short lengths around the head and on top so as to accentuate the width and not to elongate the face further."
3. Fade
Know this:
Fades are ideal for square, round, oblong, inverted triangle face shapes.
In my experience:
You can adapt fades for other face shapes and hair types. How? Just pair the fade with more length on top, a beard, a side part, or fringes to create a more balanced look.  
4. Pompadour
Pomps require voluminous hair to create that signature pomp look on top.
But:
Even with the voluminous top hair, pomps are only ideal for individuals with a triangle, oval, round, or square-shaped face.
Sunny says:
"To adapt the pomp for other face shapes, opt for a medium-length pomp and taper the sides for a suave look."
Also:
If you're sporting a short or thin hair type, consider adding volumizing products to your hair.
5. Quiff
Quiffs are not so different from pompadours—they just have a less flattering length on top.
To adapt quiffs for a rectangular-shaped face, opt for a medium length on top and less volume.
6. Side part
Hear me out:
Side parts are characteristically chic and perfect for all hair types.
But if your face isn't heart, round, diamond, square, or oval-shaped, you'd need to make little adjustments to adapt this hairstyle to your face shape.
You could aim for more volume on the top or sides of your hair and pair your side part with fringes to reduce the length of your forehead.
7. Slick back
This hairstyle is fantastic and incredibly versatile, pairing well with all face shapes and hair types.
So:
If you want to rock a slick back hairstyle, go hard.
4 Popular Hair Techniques Used in Men's Grooming
1. Scissor Cut
Get this:
With scissors, you can cut hair, blend edges, and add texture to your overall hair look.
What's more?
You can apply this technique in creating curly, shag, tapered, and blunt haircuts.
2. Point-cutting
The point-cutting technique involves cutting the hair with the scissors in a vertical or diagonal direction.
That is to say:
The barber holds the hair at an angle away from the head and cuts into the hair with the scissors in a "pointing" motion.
Sunny adds:
"Barbers and hairstylists utilize this technique to add texture to hair ends."  
3. Texturizing
Texturizing involves the usage of scissors, razors, or texturizing shears to reduce bulk from hair, add texture and dimension, and soften the hair edges.
This technique is usually used to finish a hairstyle, creating a lighter and more natural look.
4. Clipper Over Comb
Listen:
For this technique, a hair clipper is used with a comb to cut the hair to a specific length.
Meaning:
The comb is positioned vertically against the clipper, and the hair is cut downward to the length of the comb.
Essential Men's Haircut Terminology
1. Taper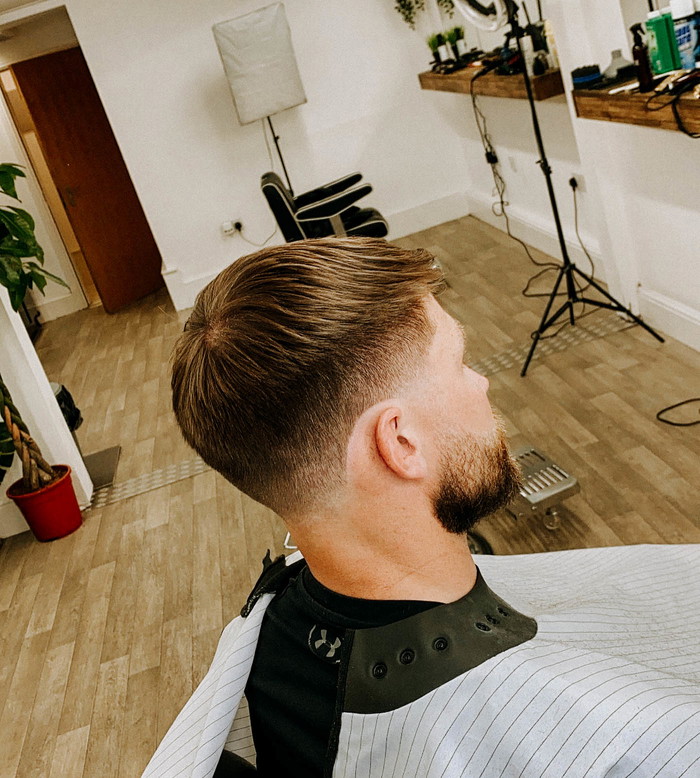 Here:
Hair features a shorter length as it moves from the top of the head to the neckline, creating a tapered effect.
2. Blend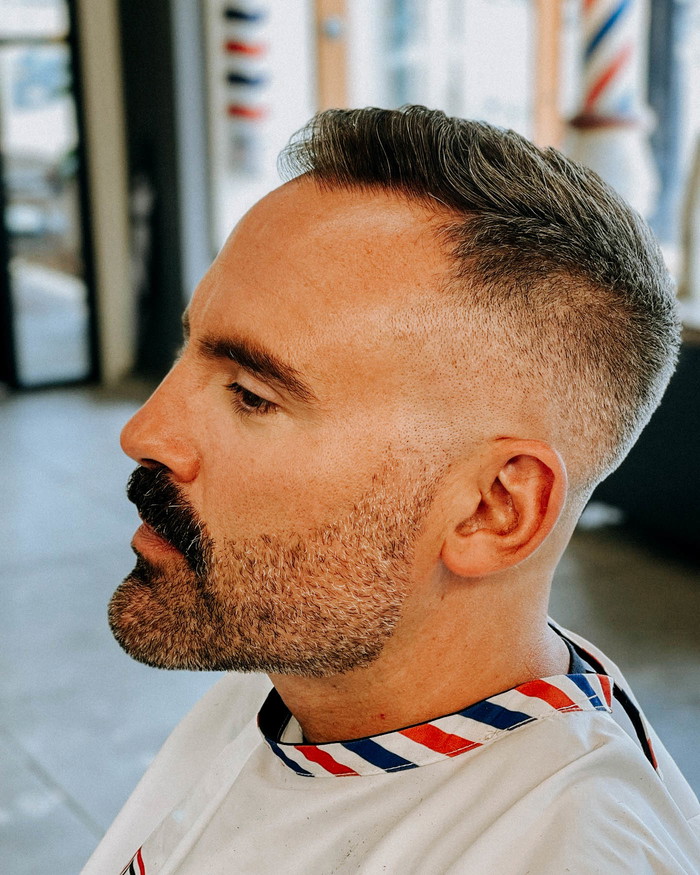 Blend refers to the seamless transition between different hair lengths, eliminating uneven lines and creating a smooth appearance.
In Sunny's opinion:
"Barbers use this technique to achieve a sleek and balanced haircut."
3. Neckline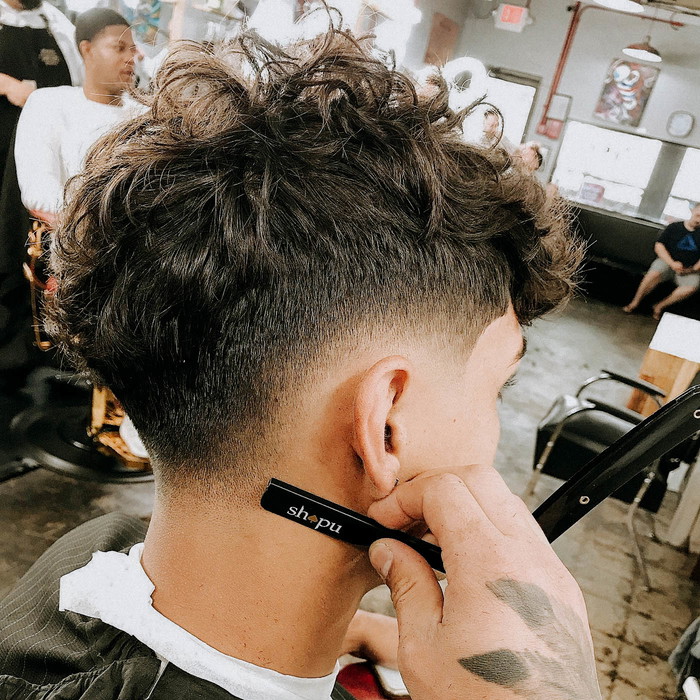 The neckline refers to the area at the lower back of the head where the hairline meets the neck.
It is an important element of many hairstyles, and it impacts the overall appearance of a haircut.
4. Sideburns
Look:
A sideburn is a small piece of hair that grows down the sides of the face just in front of the ears. You can keep your sideburns long, extending them to the jawline, or just short enough to cover the area before the ears.
5 Effective Ways to Communicate With Your Barber
If you find trips to your barber shop unsuccessful because you have trouble communicating your desired style to your barber, worry no more.
Sunny has recommended some helpful tips to ensure an easy conversation and a satisfying haircut experience on your next visit.
1. Establish a Good Rapport with Your Barber
The first step to helping you have an unburdening haircut experience is understanding your barber and building a good rapport with him.
Be polite and exercise patience if it's your first time at the barber shop.
Listen:
A Reddit user, also a licensed barber, said that on a client's first visit, he prefers to be quiet until he gets comfortable with them.
So:
To help your barber warm up to you easily, let him know your hair history, daily routine, styling culture, and overall lifestyle.
Sunny also adds:
"Providing this information to your barber gives him an insight into your styling preferences and what haircuts might be ideal for you."
2. Show Pictures to Your Barber
If you have a specific haircut or hairstyle in mind, come along with pictures to show your barber.
Listen:
The pictures should provide a front, back, and side view of the haircut. This will help your barber quickly understand your desired style and reduce miscommunication.
3. Use Clear and Concise Language
If you have no reference pictures, explain your desired style in clear and specific terms.
So:
Instead of ambiguous terms like "short" or "long," you could specify the exact length in inches.
4. Provide Feedback During the Haircut
During the grooming session, it's essential for you, as a client, to provide feedback.
If you need to refine a particular section of your hair, do not hesitate to let your barber know. 
5. Ask Questions
From styling tips and products to the best maintenance tips and hair care suggestions, feel free to ask your barber questions to help you maintain your hairstyle.
Also:
If you need clarification about a particular product or the frequency to which you'd need regular trims or touch-ups, ask your barber.
Conclusion
Both haircuts and hairstyles require the use of clippers alongside other haircutting techniques.
However, a haircut sets the foundation for a hairstyle and may require less maintenance.
Another thing is:
Two key characteristics to consider in creating hairstyles are the ideal face shapes and hair types for that particular haircut.
However, with specific haircutting techniques and styling products, any hairstyle can be adapted for a variety of face shapes and hair types.
Lastly:
Communication with your barber gets easier when you:
Establish good rapport with your barber
Use clear and concise terms to describe your desired haircut
Bring reference pictures
Provide feedback during the haircut experience
Ask questions
The best part?
Adopting these tips will help you get haircuts that match your expectations, and help your barber consistently deliver fantastic haircuts.
Finally:
Are there areas in this article that aren't clear to you? Would you like to know more about the various haircut terminologies? Feel free to reach out to us in the comment section below.
More from Mike Medders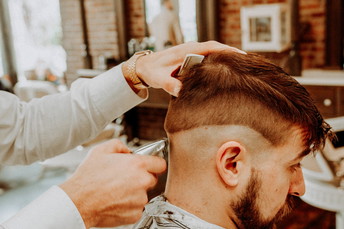 Trust me, I've been on both sides of the chair. I can't count the number of times a client has sat down and struggled…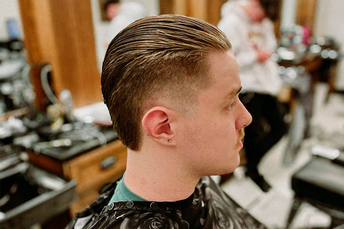 50 Different Ways to Rock the Slick Back Hairstyle for Men 1. Slick Back Fade @jules.thebarber Look: The slick-back…