Pomade vs Gel? Discover What Works for You in This Guide!
Get this:
Adding styling products to your hair makes it easy to pull off any style, regardless of your hair type.
With pomade and gel being two commonly used hair products, deciding which is best for your hair could sometimes get confusing.
Well:
Calm your nerves! This article explains the purpose of these products and lists some hairstyles you can try them with.
Pomade vs Gel
Pomade is a variation of hairstyling products that adds a long-lasting shine and a greasy finish to your hair. It also doesn't dry out, giving room for restyling. Alternatively, gels give your hair a strong initial hold and pair well with multiple hair lengths, types, and textures.
Differences Between a Pomade and a Gel
Here are some notable differences between a pomade and gel:
| Pomade | Gel |
| --- | --- |
| Water-based pomade doesn't dry out after application, allowing you to restyle your hair anytime. | Gels dry out after application and do not allow restyling. |
| Pomades give your hair a shiny look. | Gels hold your hair strands firmly together. |
| Pomades give your hair a bit of hold. | Gels give your hair extra hold than pomades. |
| Pomades come in two types: water-based and oil-based products. | Gels are only water-based. |
| Pomades complement natural texture with their flexible hold, giving a flake-free texture. | Gel has a plastic-like, frozen-stiff finish, giving a hard, crunchy texture. |
| Pomades are alcohol-free, making them safer for your hair. | Gels contain alcohol, and excessive use of it renders your hair unhealthy. |
What Is a Pomade?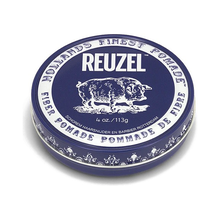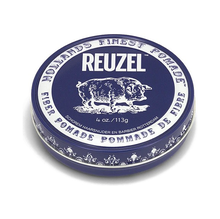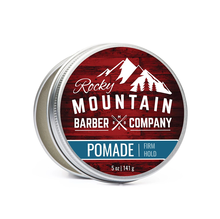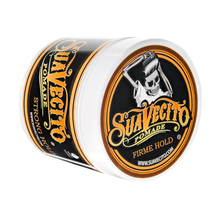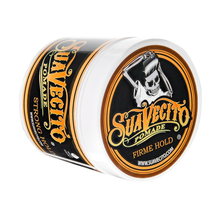 Suavecito Firme Hold Pomade
Listen:
Pomade is a perfumed substance applied to the hair for the purpose of making it shiny and styling it to perfection.
Pomades come in two types: Oil-based pomade and Water-based pomade. While pomades and gels share some qualities and abilities, they differ in shine, consistency, grease, texture, and hold. 
Now:
The oil-based pomade contains a higher oil and wax content than the water-based pomade and is more affordable compared to the water-based pomade.
This pomade isn't easily washed off with water owing to its water-insoluble ingredients. This might be quite unhealthy for your hair as it rids your hair of natural oils and nutrients, resulting in breakouts, dry scalp, acne, and clogged hair follicles.
You see:
The upside to this pomade remains in its ability to give your hair a remarkable long-lasting shine as well as add a polished, greasy finish. 
Note:
Water-based pomades are more expensive than oil-based pomades. However, they are more hair-friendly because they can wash out easily with water, reducing your hair's proneness to breakouts, dry scalp, and acne.
Although the water-based pomade doesn't give a lasting shine as the oil-based pomade, it still gives the right amount of shine and doesn't dry off.
Also:
Pomades are incredibly flexible and can be applied to mustaches, sideburns, beards, and scalp hair. Additionally, they are excellent for achieving classic hairstyles such as ducktail, pompadour, and quiff.
5 Pomade-Styled Hairstyles
1. Pompadour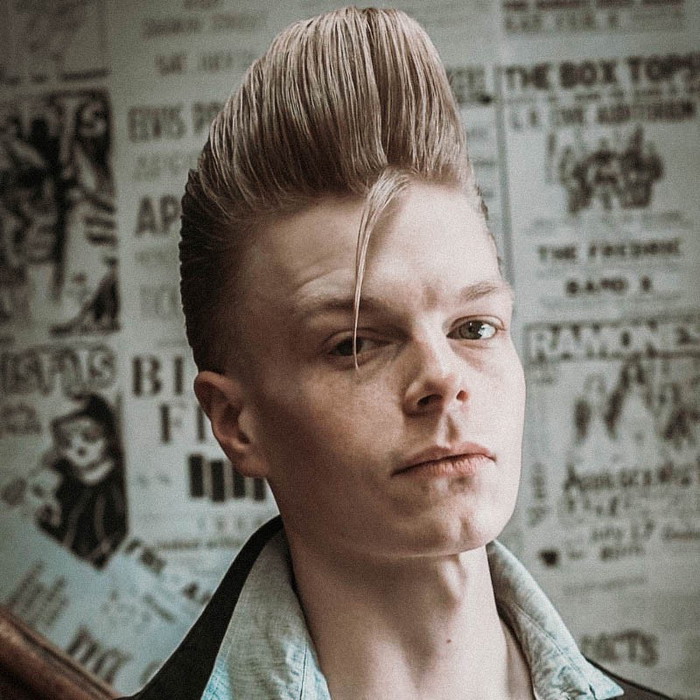 Know this:
This hairstyle features a long top and slicked back sides. Scoop up some pomade, smear it on your hands, and work your hands through every part of your hair nicely.
Then, slick top hair back to form the pomp, continuously combing it up and forward.
Styling Tips:
The oil-based or water-based pomade can be used to achieve this style.
Work more pomade into the layer of top hair and base for a strong pomp foundation.
You can combine your pomp with a soft side part to add a bit of style.
2. Quiff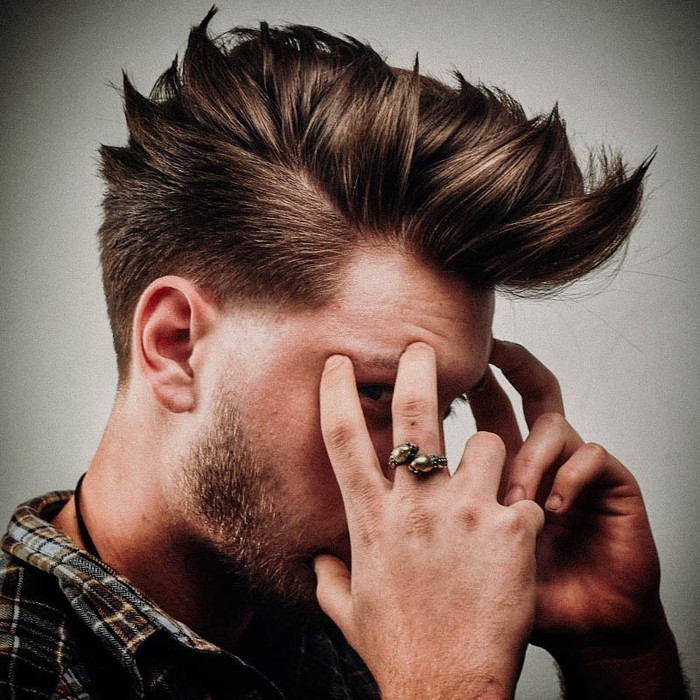 So:
This classic quiff hairstyle keeps the hair at the sides shorter than the top. Get your hair damp and comb your hair to the side.
Work some pomade into your hair and gently sculpt your quiff, then use a blow dryer to blow your quiff up and over into shape and style.
Styling Tips:
Freestyle with top hair and style as desired.
Straighten hair first if it's frizzy; this style is easier to pull off with straight hair.
You can also pair your quiff with beards for a balanced look.
3. Comb Over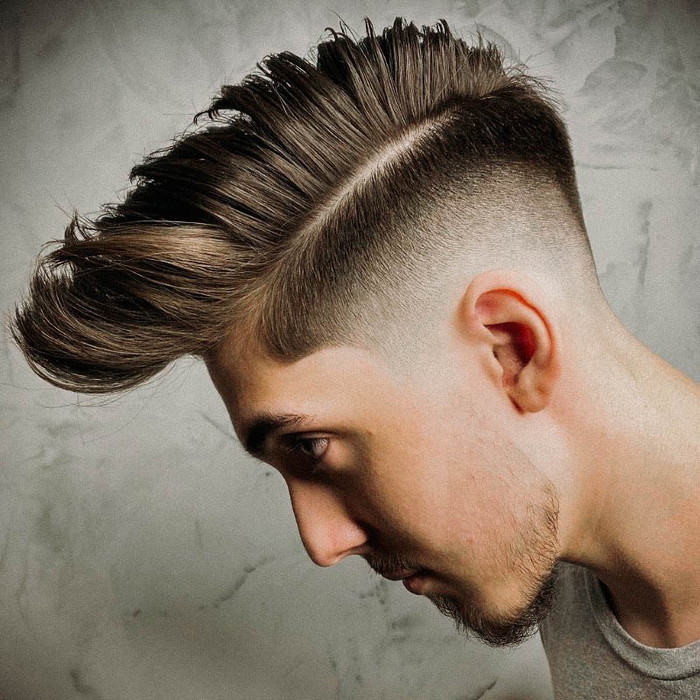 Now:
Keep the top hair long and the sides trimmed short for this style. Brush off the top hair to the side and blow-dry the crown hair. Then, run some pomade through your hair for a shiny look and volume.
Styling Tips:
Comb hair over to the angle that best compliments your face.
Pair with a side part and a high fade for an edgy look.
Beards work nicely with this style as well.
4. Undercut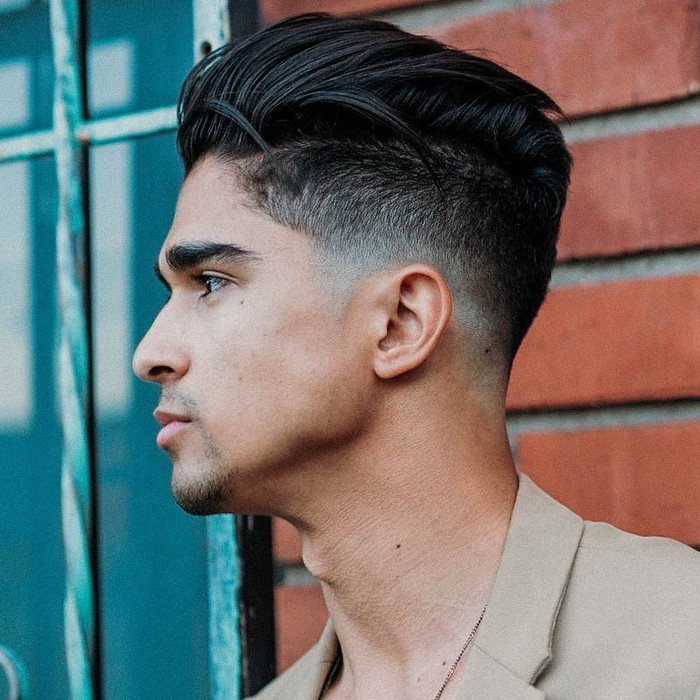 To create this style:
Get your hair damp and apply pomade to your hair strands. Slick top hair back using a comb or brush and finish neatly with your hands.
Styling Tips:
You can combine this style with a few bangs at the front or side of your hair.
Keep your edges neat and sharp.
If you're rocking a quiff or pomp, you can pair it with an undercut.
5. Slick Back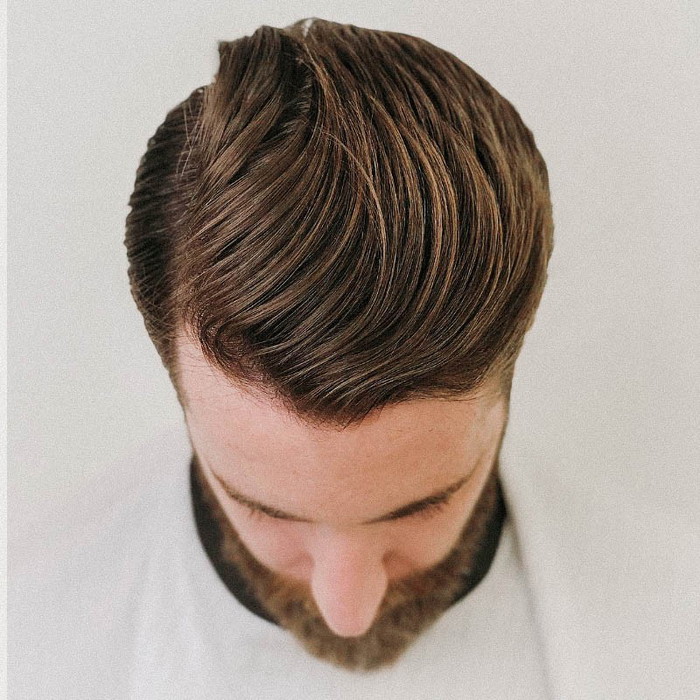 Note:
Pomade is easily one of the best styling products to pull off slicked-back hair easily. Start with damp hair and coat your entire hair with pomade.
Run a comb through your hair, starting from the front to the back, and keep combing until you achieve your desired look.
Styling Tips:
Opt for a fine-toothed comb instead of a wide one.
Slick-backs work nicely with all hair lengths, so worry less if you have short hair.
Partner this style with a side part if you wish.
What Is a Gel?
Here's the thing:
A gel is a substance applied to the hair to hold hair strands together and for a stylish look. The history of hair gels can be traced back to the ancient time of Egyptians.
This is because they used gels to style the mummies' hair based on the belief that their hairstyle must remain intact both in life and in the afterlife.
Now:
Gels are water-based styling products, hence can be washed off easily. The downside to gels, however, is their lack of flexibility. Gels leave your hair stiff and rock hard, giving no room for restyling without complete removal of the previously applied gel.
5 Gel-Styled Hairstyles
1. Spiky Hair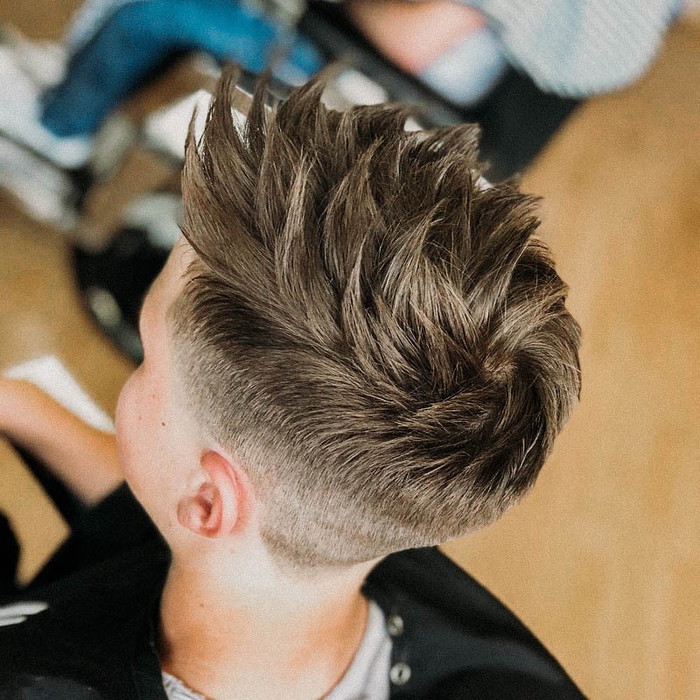 Listen:
Squirt some gel in your hands and apply it to your damp hair to achieve this style. Work the products carefully through your strands repetitively until spikes begin to form.
Slightly brush your hair upwards if you want uniform spikes, and finish your look with hairspray.
Styling Tips:
Shampoo and condition your hair for a fresh start.
Detangle your hair with a wide-toothed comb.
You can part your hair into sections, so it's easier to form the spikes.
2. Curly Hair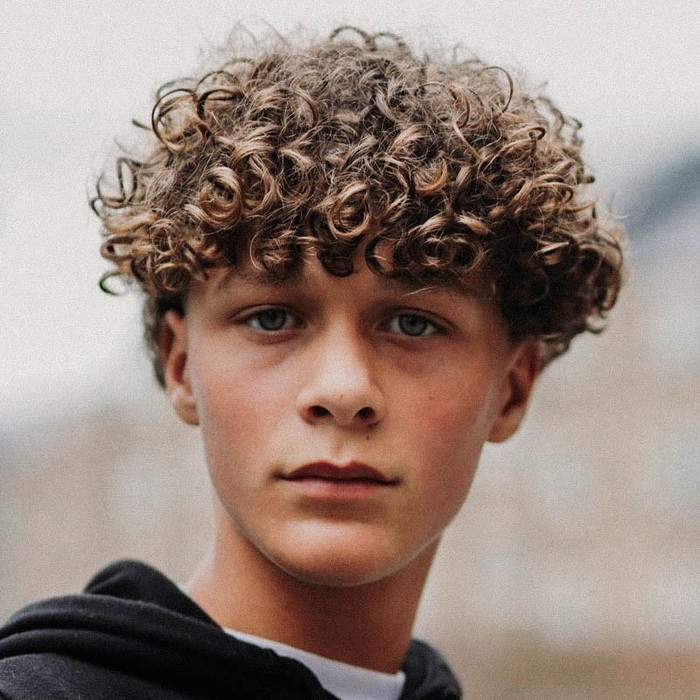 Get this:
For a fresh start, wash and towel dry your curls before coating them with hair gel. Lightly scrunch them up into shape and allow them to air-dry.
Styling Tips:
Use curl cream to shape your curls and eliminate frizz.
Apply curl enhancers to maintain your curls.
Pack your curls into a man bun or ponytail if you want a different look.
3. Fringe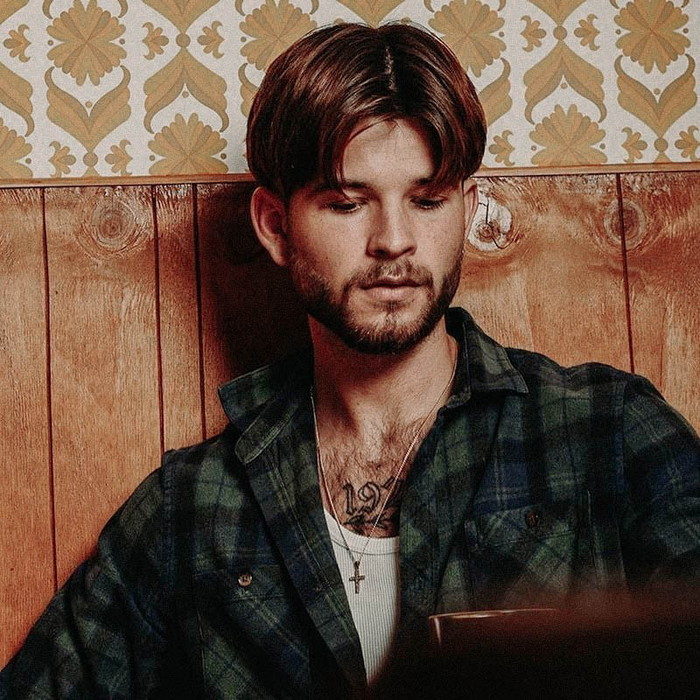 Now:
Fringes can be pulled off with short, medium, and long hair. Although, the longer your hair, the longer your fringes. Simply blow dry your fringe down toward the face and apply gel to secure them in place.
Styling Tips:
To add more height to your fringe, wax the crown of your hair.
You can style your fringes towards the front or side of your face.
Fringes also work great with undercuts and tapers.
4. Military Haircut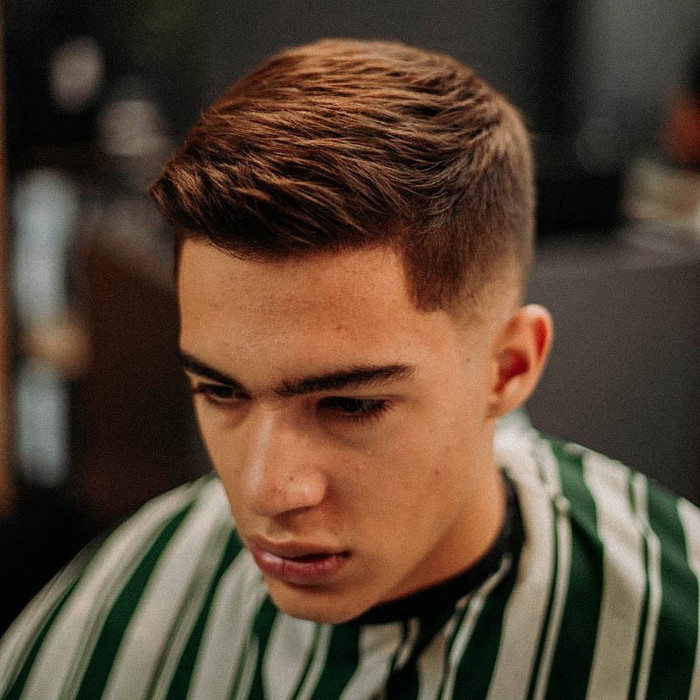 Here's the thing:
Although quite easy to pull off, military style requires frequent trips to your barber. All you need to do is buzz your hair short to your desired length, and apply gel to keep your hairstyle intact.
Styling Tips:
Keep your edges sharp and crispy.
You can pair your military cut with a side part and a fade if you wish.
Balance your look with beards.
5. Side Part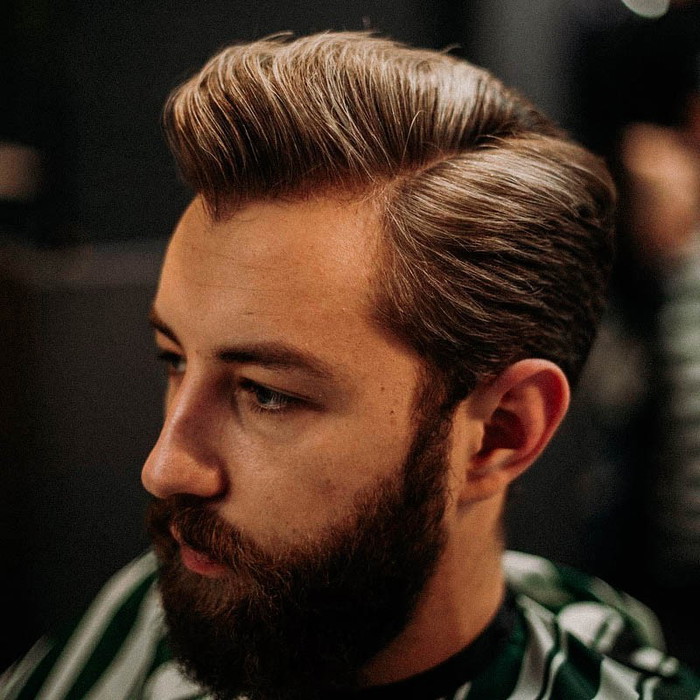 You see:
A side part gives the illusion of thicker hair while highlighting the edges neatly and giving an angular style.
For this style, comb your damp hair to your side and blow-dry. Then, work the gel into your hair and style it as desired.
Styling Tips:
Apply volume-enhancing products to top hair.
Add extra gel to your style for a wet-look finish.
Feel free to pair this style with a beard if you have one.
Conclusion
Listen:
Both pomades and gels work great with a variety of hairstyles. However, you should note the following:
Getting your hair damp before applying pomade or gel and styling is the best.
Start with a mild amount of gel or pomade, rub them together, and then you can add more as you go.
If you want a matte texture or shiny finish, opt for pomade.
If you want a strong hold on your hair, go for hair gels.
Finally:
We hope our article addressed and clarified all you needed to know about pomades and gels.
Kindly reach out to us if you have more questions about pomades and gels, or leave a message for us in the comment section below.
Frequently Asked Questions
Both are quite effective, depending on your ultimate hair goal. If you want a polished look with a bit of a strong hold on your hairstyle, go for a pomade. It adds a lot of shine and some amount of volume to your hair while maintaining a bit of softness and flexibility, allowing you the luxury of restyling your hair at any time. However, gels are the better option if your hairstyle requires a super strong hold and you want it locked in place all day.
Gels hold hair strands firmly in place and keep them intact, while pomade gives your hair volume and makes it shiny.
Generally, yes. While the water-based pomade is more expensive than the oil-based pomade, it's healthier. It can be rinsed off in a single wash preventing you from ridding your hair of natural hair oils, proteins, and nutrients. On the other hand, oil-based pomade is not easily washed off and could make your hair susceptible to various hair diseases if not used sparingly.
Pompadours, quiffs, comb-overs, slick backs, and ducktails work best with pomade. It helps to push hair back easily and gives a shiny, refined look.
More from Mike Medders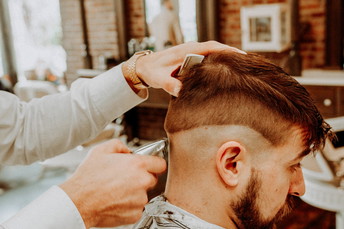 Trust me, I've been on both sides of the chair. I can't count the number of times a client has sat down and struggled…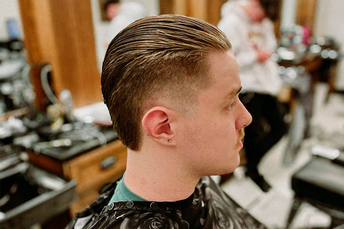 50 Different Ways to Rock the Slick Back Hairstyle for Men 1. Slick Back Fade @jules.thebarber Look: The slick-back…